"SIDEKICK" envisions a new future that thoroughly explores the insight of young men who "value individuality"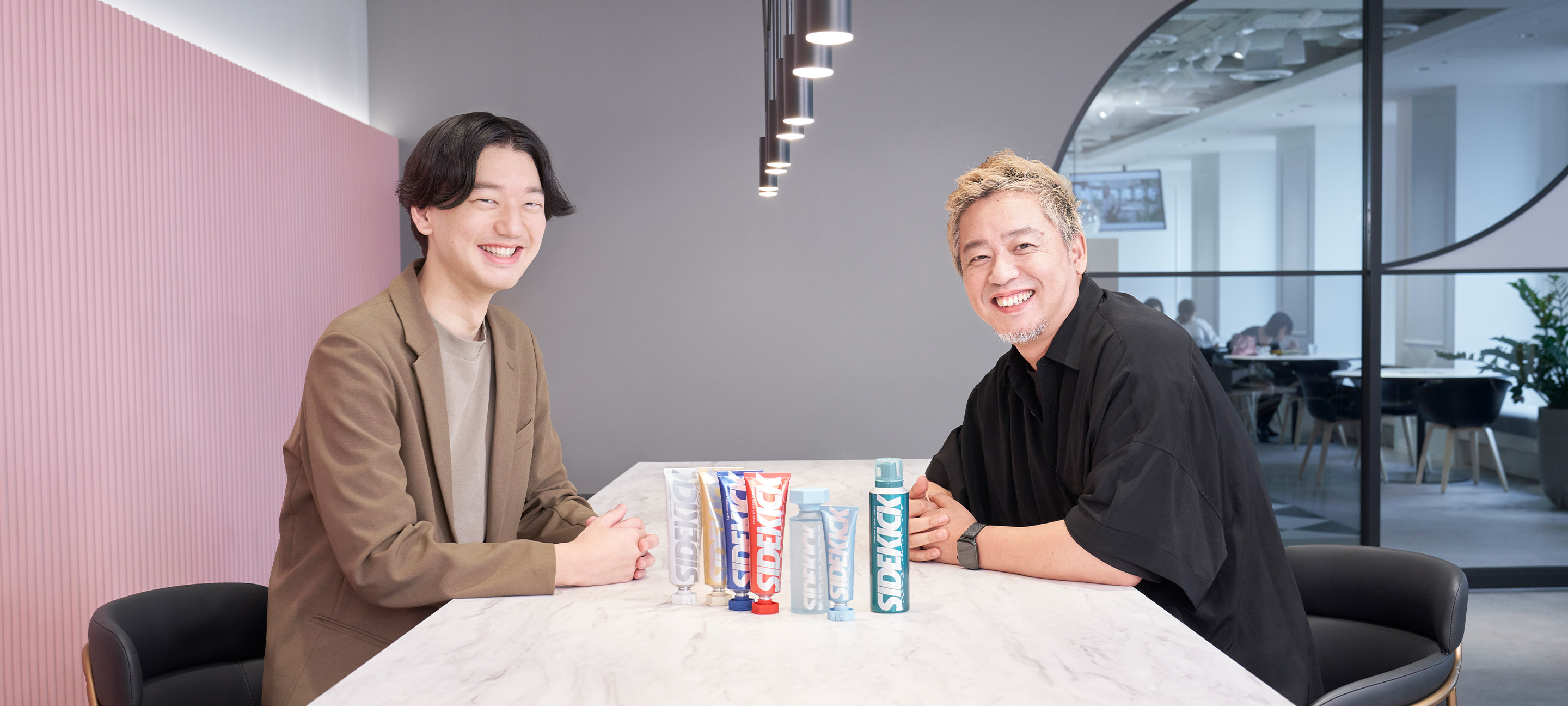 Shiseido Group, which aims to become the world's No. 1 in the skin beauty field by 2030, launched "SIDEKICK," a new skin care brand that focuses on skin concerns specific to Gen Z men, in order to support the realization of a unique way of life for Gen Z* men in Asia. Starting in July, the brand is on sale mainly through the EC channel in the growing China market and had an early release in Japan in June.
SIDEKICK breaks the mold of traditional men's cosmetics and focuses on the "now" of Generation Z men who value individuality and creativity more than other generations. We interviewed Satoru Fujita of Corporate Strategy Department, Shiseido Company Limited and Akihiro Yamada of SHISEIDO CREATIVE COMPANY Limited about their wishes for the brand, which they took about three years of planning to complete.
*

Generation Z refers to the generation born after the mid-1990s.
Aiming for #1 brand for men's cosmetics in China, a rapidly growing market
―Why target Generation Z?
Fujita:
 There are two main reasons. The first is their high interest and desire for beauty. Nearly 100% of consumers use cleansers, and data show that skin care products are also used at a higher rate than other generations.
The second is the need for products that address the unique skin conditions of Generation Z men. According to Shiseido's male skin research, the skin of young men in particular is prone to fluctuations due to seasonal changes, and they face various skin troubles occurring repeatedly. With no product on the market today that can solve their skin concerns, we saw value in offering one.
―Why create a brand that focuses on China as a main market? Please tell us the current situation of the Chinese market.
Fujita: In China, individualities or personal uniqueness is well respected, and moreover, male interest in beauty is on the rise. Along those same lines, there is more value placed on how different and unique a person can be from others. With customers having this mindset in their background, the skin care category in particular is growing rapidly.
The market is polarized into "mass" and "prestige" segments. In the price range of facial cleansers, the price in the mass market is about 1,000 yen, while that in the prestige market is about 4,000 yen. Focusing on this four-fold difference in the price of those two markets, we have positioned SIDEKICK in the premium market, which is in between the mass and the prestige. By setting the price in an affordable range while offering a new feel during use and new value with high efficacy through natural ingredients, we believe we can provide greater selection for both mass and prestige segments.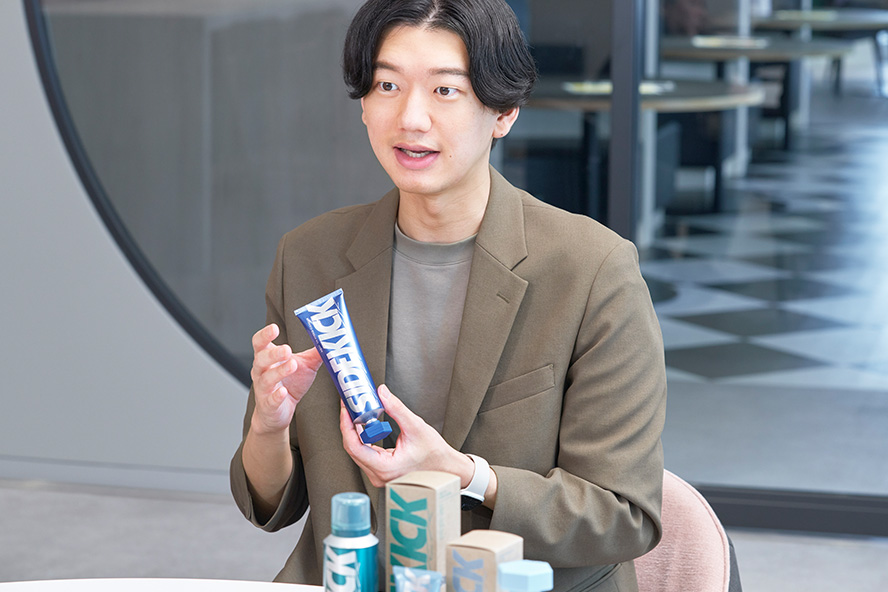 ―With China's large population, can we anticipate the brand to spread?
Fujita:
 Yes. We think that the size of population of China could give a great influnece, as it is more than ten times larger than that of Japan. Firstly, we offer a product value that resonates with Generation Z who cherishes showing their individuality, by which our products and brand will earn support in China. Then, in the future, we aim to become the #1 brand in Asia for men's cosmetics supported by Generation Z.
―What do you think the uniqueness of SIDEKICK in the market is?
Fujita:
 Due to men's awareness of skincare being lower than women's, it is still of course important to talk about the skin mechanism or the ingredients of products, but it is also important for them to think "It's cool to have that product," and, "It helps me express my individuality." Moreover, Generation Z men are good at taking in authentic styles and mixing them with their own interpretations to create one or two additional styles rather than replicating what is presented. Therefore, we, on the brand side, should not tell them what is cool. Instead, we should put out our package designs and our brand's world view in a way that would inspire them. We have named it "New Luxury."
To achieve this, first of all, we must make sure to align ourselves in the direction Generation Z men, our main target, are currently facing. Then, we must carefully consider what kind of new skincare products to offer them. We design our products while placing importance on this process, and we believe this is the uniqueness of SIDEKICK.
Being considerate of Generation Z men individually with "Hybrid Skincare"
―What is "Hybrid Skincare" of the SIDEKICK concept?
Fujita:
 As I said earlier, Generation Z men have skin problems specific to this generation in the turn of the seasons. Therefore, SIDEKICK is designed to allow them to approach their existing skin problems as well as to maintain a healthy skin, when they use SIDEKICK. While being safe and gentle on the skin with its naturally derived ingredients, SIDEKICK gives users a solid sense of effectiveness. We are pursuing these kinds of hybrid features.
―Please tell me the characteristics of each product.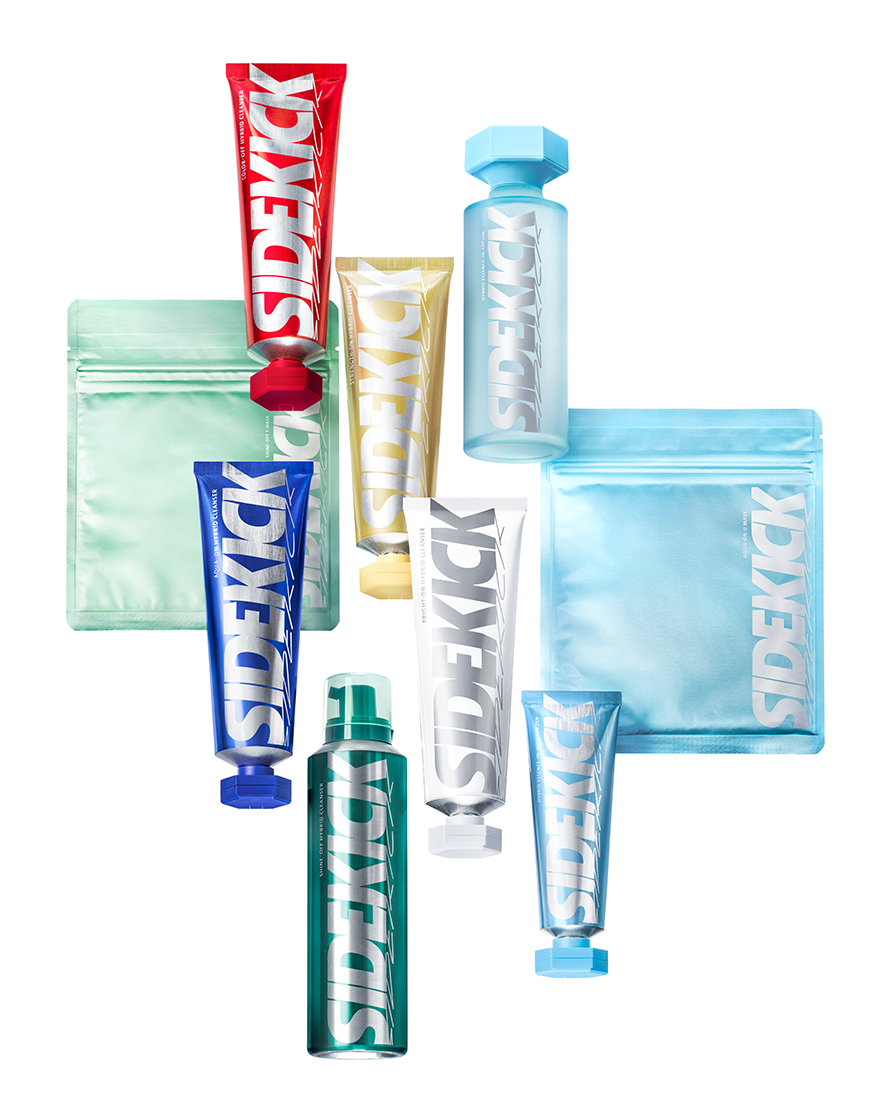 Fujita: We are offering four kinds of products; facial cleanser, lotion, moisturizer and mask. Five types of facial cleansers are available, developed according to the skin problems of target customers. For example, washing your face with the Sidekick Shine Off Hybrid Cleanser in the green package can control oiliness. The Blue Sidekick Aqua-on Hybrid Cleanser which keeps your face moisturized after washing. In this way, we make our lineup available to customers so that they can each choose the product depending on benefits they are looking for. The lotion and the moisturizer work for existing skin concerns and the skin's moisture barrier function. Accordingly, these products help your skin in good condition. The mask contains two types of sheets. One is for the T-zone to be used for sebum problems; the other is for the U-zone to be used for dry skin problems. The standout characteristic is being that it allows consumers to address both concerns at once.
Becoming more than skincare. SIDEKICK is your everyday buddy.
―What do you think is the value of experience created by SIDEKICK?
Fujita:
 Generation Z men feel that it is important to be different from others, and such differentiation can lead to self-creation. For this very reason, the value of experience is not to be proposed as this and that by the brand but to be decided by themselves. The name "SIDEKICK" comes from the small pocket on the front of jeans. It was thought of as the only place you could put valuables such as keys and coins and trust that they would not be stolen. Nowadays, the word more often means partner, so we aim to make SIDEKICK reliable to Generation Z men so that it can be their "buddy," a life-long partner, not just a skincare product.
―How did you formulate the design to achieve that?
Yamada: While sorting out the meaning of the word "buddy," we considered various angles and worked on organizing what position SIDEKICK should take to customers and began giving it shape. For example, the lifestyle of Generation Z men is not stereotyped. They do not blindly believe when others say, "this is good," but apply their filters and value their own individuality.
Initially we had simple, premium-looking design proposals. However, as we surveyed the insights of our target customers, we realized that designs with pop and positiveness were preferred. Therefore, we adopted a product lineup with vivid colors and an assertive logo that expressed what they thought of as cool and individualistic.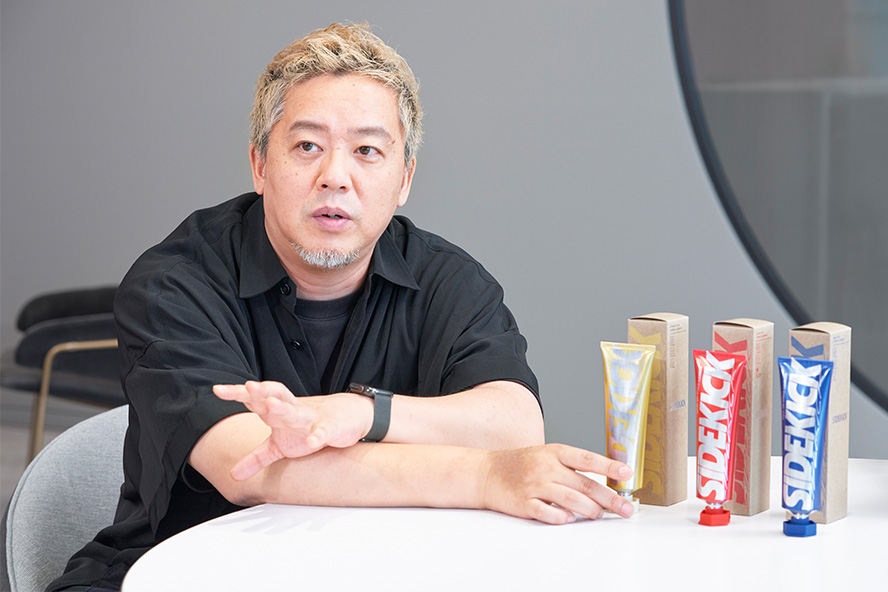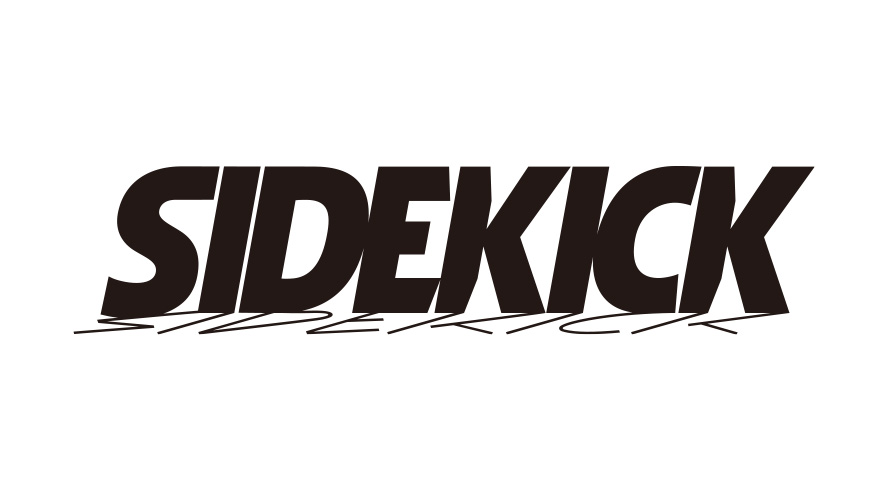 We chose the logo from over 100 options. The logo is composed of two different typefaces: one for representing the logo itself and the other for representing its shadow. This expresses the idea that the shadow, which is inseparable from your person, is your buddy. Furthermore, when a logo is placed on a cosmetics package, blank space is usually created to ensure legibility and readability. However, with SIDEKICK, since we place the most importance on the coolness and impact, we have set the logo so large that it does not entirely fit on the package.
Fujita:
 We are also committed to the use of a metal tube for the product packaging. With a plastic tube, the package, even when pressed, will return to its original shape. It remains the same no matter how it is used. On the other hand, the shape of a metal tube changes, depending on how it is used. It is similar to the image of leather shoes: the more they are worn the better they look over time. While giving customers a sense of attachment and luxury through the "making a product just for me" experience, we would like SIDEKICK to be a product that makes its users feel inspired and encouraged as they use it in their own way. We make the metal tube with these wishes in mind.
Yamada:
 Shiseido has set a goal for plastic cosmetics containers so that we can achieve "100% sustainable packaging by 2025." For instance, aluminum is reborn as 100% pure aluminum when it is recycled. Therefore, there is a possibility that used packages can become new packages of SIDEKICK.
Once you open the outer box with its earthy texture, you will find a vividly colored metal tube. Don't you think this contrast is nice, too? This is what we call "Excited!"
Fujita:
 This also makes a good gift, because you can expect that surprise when someone opens the box for the first time.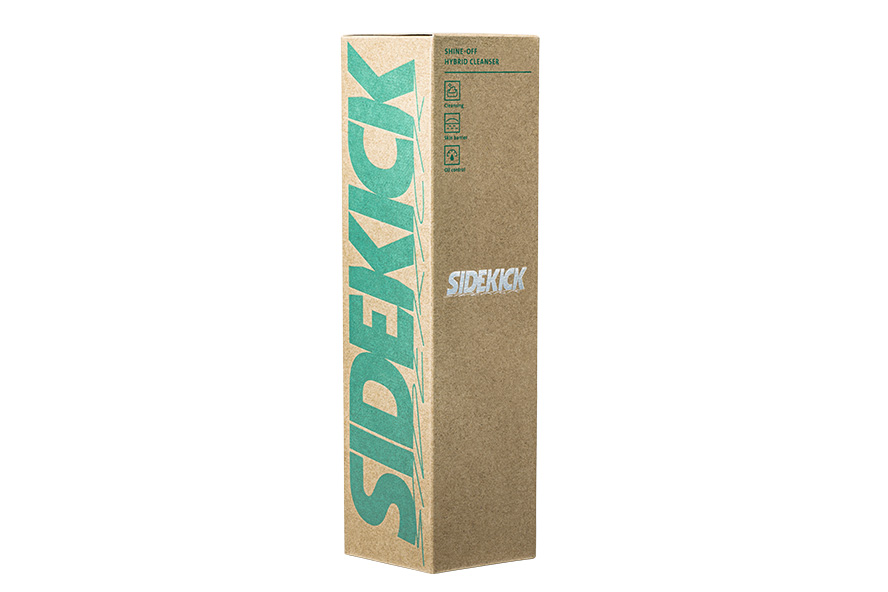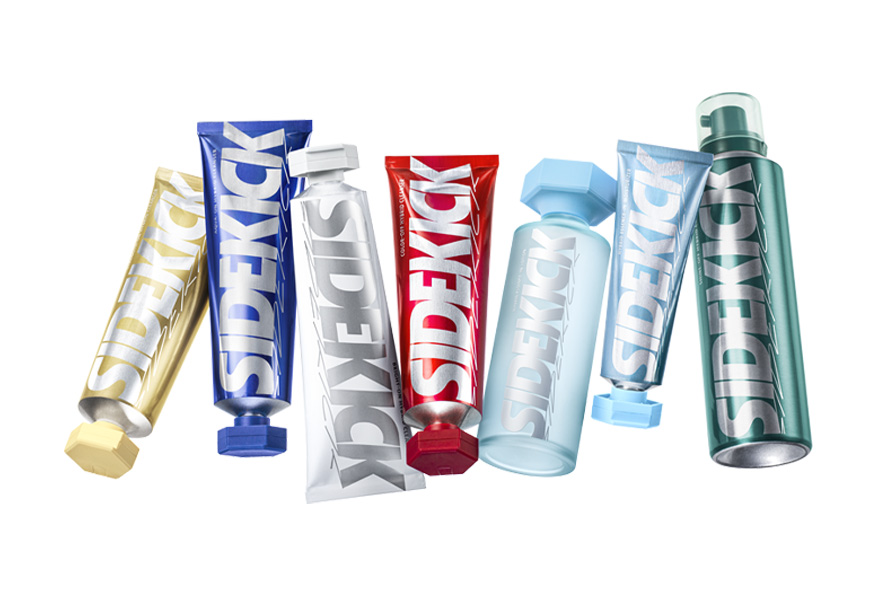 What is the future to be achieved with SIDEKICK?
―Finally, how do you want to improve people and the society with SIDEKICK?
Fujita:
 Though it is true that the men's skincare market is currently growing, since they prioritize their interest in fashion and lifestyles, it can be said that men's interest and investment in beauty is just budding., With our lead in providing new value, I hope that in 5 or 10 years skincare will be natural for men. In addition, the same is also true of men's makeup. I think men's skincare and makeup could be major ways to express their individuality. I would like to create "futuristic common sense" by providing such value.
Yamada:
 On the major premise that we provide the products committed to the quality and safety, I want to create and provide the value that goes beyond cosmetics with SIDEKICK, like "It is fun!" or "I've never seen anything like this!" The loop of creating goods, sharing, being inspired by and creating again… is the driving force of Generation Z. The brand will absorb what they have created with the inspiration Generation Z gained from SIDEKICK, and create a newer SIDEKICK that stands out through the passage of time. It would be great if we could enjoy this kind of co-creation with our customers.
Related news