Creating a bridge to deliver beauty to people. The story behind the birth of a new supply chain base with four functions: factory, logistics, consumer center, and factory tour course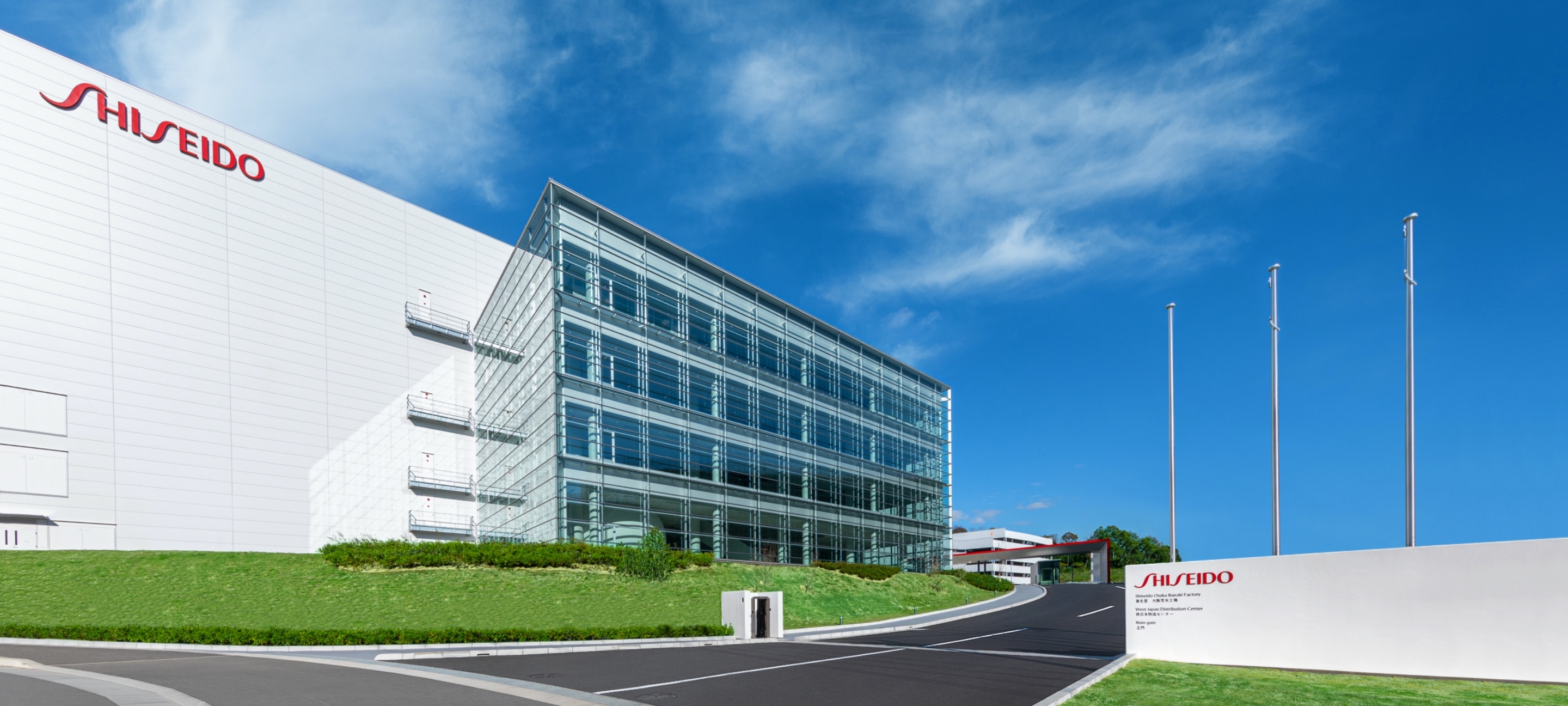 Shiseido aims to become the world's No.1 company in the skin beauty category by 2030. As part of our efforts to achieve this goal, we have launched a new supply chain base in Ibaraki City, Osaka Prefecture, with the intent to further our lead in Japanese craftsmanship and the beauty that people pursue through skincare, one of our core strengths backed by many years of extensive research.
This supply chain base possesses the following four functions: factory, logistics, consumer center, and factory tour course. In December 2020, the Osaka Ibaraki Factory and the West Japan Distribution Center were newly established with the purpose of continually expanding Shiseido's prestige skincare products on a global scale. This is Shiseido's first attempt to integrate production and logistics. The factory also has an annex of the consumer center to utilize customer feedback in manufacturing and SHISEIDO BEAUTY SITE, which is open to the general public.
The goal of this new base is to create a system for providing higher quality beauty to people around the world on an ongoing basis. We asked Ryohei Nakajima, General Manager of the Osaka Ibaraki Factory; Satoshi Inoue, Director of the West Japan Distribution Center; and Akiko Kanazawa of the General Affairs Group, Factory Management Department, Osaka Ibaraki Factory about their thoughts on the project to establish the new base and the kinds of initiatives that are currently underway.
Aiming to create a new sustainable base to deliver higher quality beauty
―Please tell us about the background and thoughts behind the establishment of the new supply chain base.
Nakajima: This project was launched in March 2016 under the vision of creating a base to communicate Shiseido's high-quality manufacturing with an eye on the next 100 years of the company's existence. However, to be honest, employees working on the ground found it difficult in some respects to digest such a grand undertaking spanning the course of a century. Therefore, we launched a project called the Bridge Project in order to align ourselves with the awareness of young employees on the ground and to have each team member work on the project for themselves. We used the word "bridge" in the project name in the sense that we want to achieve things that were previously beyond our reach and that we want to realize our vision by working as a team to take the initiative in connecting various products and undertakings. The introduction of new technology into our production process is also a kind of bridge, as is the supply of products to the world from our new production base in Ibaraki, Osaka.
We also set three concepts that are absolutely essential for this project: co-existence and co-prosperity with the local community, high quality, and PEOPLE FIRST.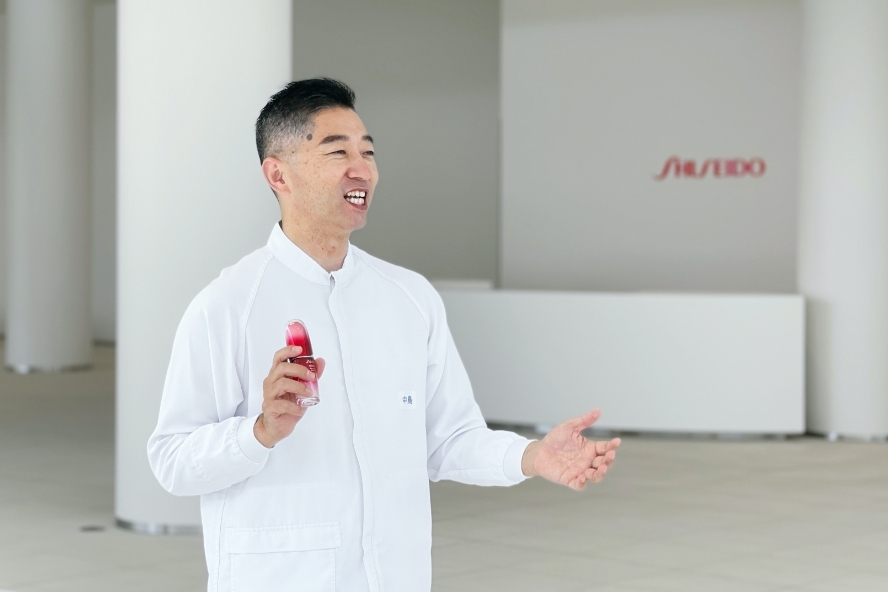 ―Regarding the first concept, "co-existence and co-prosperity with the local community," how did you build a relationship of trust with the local community when you set up a large factory on their doorstep?
Nakajima:
 We paid a visit to the local authorities in the run-up to starting the project. On this occasion, we received a lot of constructive feedback, but they of course also raised many objections. Seeing the reaction, we decided to hold a briefing session for local residents as soon as possible. We held a series of briefing sessions and listened to the honest opinions of the local residents so that we could reflect them in the design. In order to make the project better and more sustainable, naturally we could not just forge ahead by imposing our will on the surrounding area. It is essential to build a relationship of trust with local residents. We had many discussions until we and the local residents came to a mutual understanding. For each issue that came to light, we opened up our plans and carefully communicated them to the local residents. We also discussed our plan for the effective use of groundwater and decided to proceed in a way that was beneficial for both parties. We were able to resolve issues while eliciting understanding, and thanks to these efforts, we now have people saying that they are proud to have a Shiseido base in their town and inviting us to do such things as carry the portable shrine at local festivals (laughs). We have spent a long time building relationships with the people in the community, and we will continue to do so in the future.
―The building itself has an environmentally sustainable design, doesn't it?
Nakajima:
 The first thing we focused on in terms of environmental friendliness was the structure of the building itself. It has a thermos-like structure that prevents heat from escaping and entering, and it is highly airtight and thermally efficient, so we don't need to run the air conditioning more than necessary, and CO₂ emissions are shockingly low. Compared to other factories of the same size, data shows that the CO₂ equivalent has been reduced by 30%. We have also taken care to minimize waste in the construction process and achieved zero landfill disposal. The factory received an A rating from CASBEE (Comprehensive Assessment System for Built Environment Efficiency), which is a standard for evaluating the environmental performance of buildings. Apparently, it is very rare for a factory of this size, which runs various processes and has difficulty avoiding waste disposal and noise issues, to obtain an A rating.
PEOPLE FIRST leads to quality in everything we do
―What exactly does the second concept, "high quality," mean?
Nakajima: For us, high quality is non-negotiable and something we must achieve. First of all, we have designed our production area in accordance with the international standard ISO 22716 (Cosmetics GMP) and have achieved a clean production environment by ensuring pharmaceutical-level air cleanliness. In areas exposed to the contents of products, workers change their uniforms twice to prevent the introduction of microscopic substances that may have adhered to people, and thorough zoning (separation of clean areas) has been put in place to prevent the introduction of dust and other contaminants.
In terms of strict quality standards and thorough quality control, we have built a system that prevents defective products from being passed on to the next process by combining the latest IoT technology with the expertise that we have cultivated over a long period of time at our production sites, such as the use of camera technology to detect flaws that cannot be seen by the human eye and manual quality checks.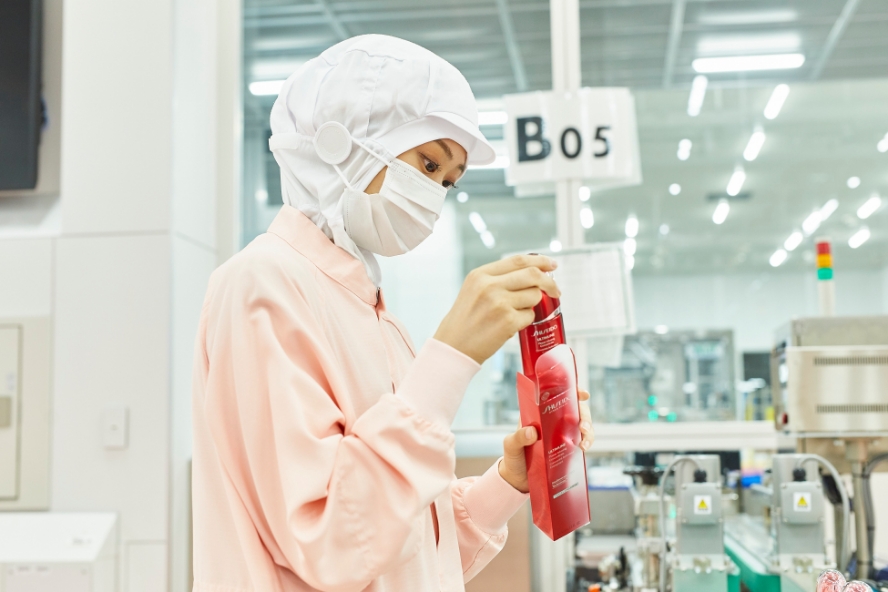 ―In other words, this combination of IoT and people results in high quality. What specific actions are you taking in the area of PEOPLE FIRST, which is an important policy for Shiseido as a company?
Nakajima: People are also the most important element of factory operations. First and foremost, we are taking steps to improve the workplace environment. During a discussion that took place when Mr. Uotani, Shiseido's president, visited a factory in Japan, a younger employee expressed the opinion that the factory should be made to be more "Shiseido-like." This prompted us to take initiatives to revamp the image of the factory, such as creating an environment where employees working in the factory can feel excited and switch on and off between work and break time and enhancing employee facilities including cafeterias, restrooms, shower rooms, powder rooms, and break rooms.
Furthermore, we aimed to create a people-friendly workplace. For example, in the area where ingredients are manufactured, we have drastically improved the process of melting raw materials and using boiling water to create a cooler manufacturing area. Also, by keeping the floor dry, we have made it possible to work in an environment in which it is easy to move around in with regular shoes without having to wear boots. In addition, we introduced the Just In Time System, which automatically delivers the materials necessary for the production of cosmetics to the workers in the required quantity and at the right time, thereby reducing the heavy labor of carrying things by hand. This has created a safer workplace where all employees can work with peace of mind, as well as an environment where we can continue to deliver high quality products to our customers.
―Is the new GP3 system at the West Japan Distribution Center one such example?
Inoue: Yes. I think this system is the part of the distribution center that best embodies our PEOPLE FIRST policy. Logistics is an industry where it is difficult to attract employees because the work is generally perceived as hard. For example, at our previous distribution center, collecting products required a lot of physical strength, as workers had to push a cart weighing nearly 100 kg around a distance of 800 meters several times a day. I think it was the kind of work environment that not so many people would want to work in. We thought we could attract workers by dispelling this negative image and designing a more worker-friendly environment for all, regardless of age or gender. To this end, we introduced a system called GP3, Goods to Person for Pick and Pack. Simply put, it is a walking-less system that delivers products to the worker. We also took other proactive steps to automate the processes, such as by introducing robots that automatically load and unload cases on and off pallets. As a result, efficiency has been improved, and an employee who used to work at another distribution center commented that, "My work has become so much easier."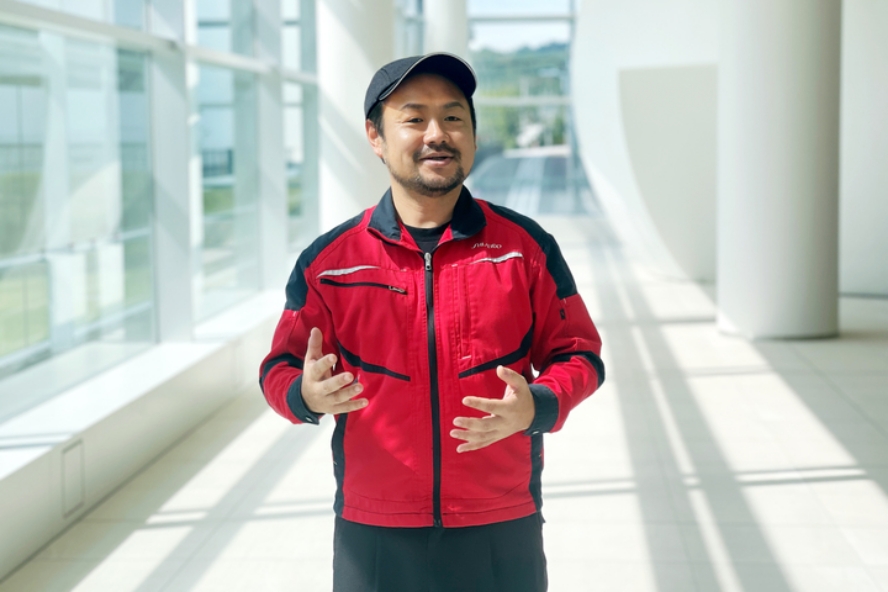 ―Shiseido was the first in the world to introduce GP3, right?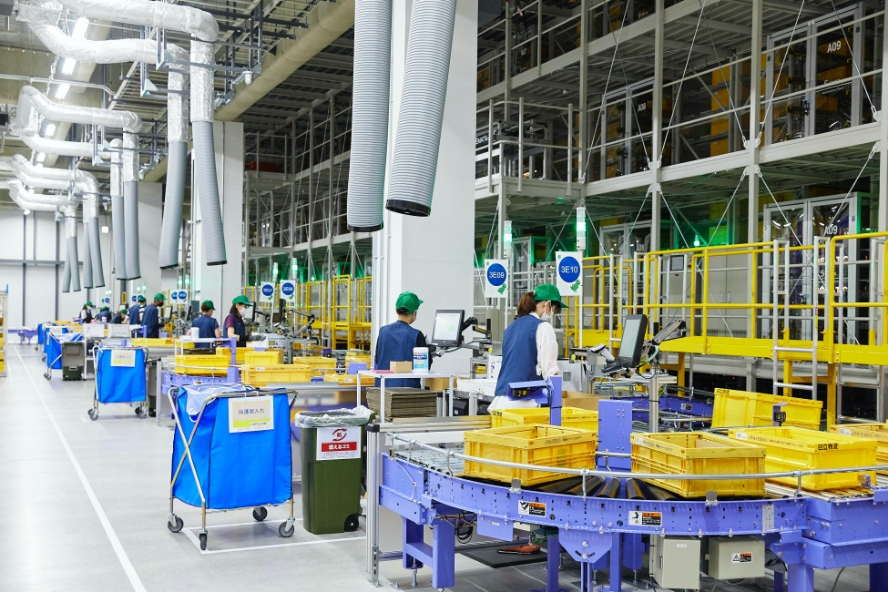 Inoue: There have been cases in which factories have introduced a multi-shuttle system, which is a component of GP3. The design of our system, which incorporates the box-making process within GP3 and uses two floors in a three-dimensional manner to increase the number of work stations is original to Shiseido and is said to be a world first. In our previous distribution center, collecting products and packing them in boxes for shipment were two separate tasks. However, with GP3, these boxes for shipping are automatically supplied to the picking station along with the products, making it possible to complete picking, packing, and labeling of cargo tags at the same station. Since we designed our warehouse on the premise of installing GP3, we were also able to make effective use of space by eliminating floors and using GP3 on two floors (two-tiered structure).
―At the Osaka Ibaraki Factory, production and distribution are integrated. This is also a first for Shiseido, isn't it?
Inoue:
 When the project was launched, the plan was not for production and logistics to coexist. We were both looking for ways to enhance our respective capabilities. However, the timing of the establishment of the Osaka Ibaraki Factory and the fact that logistics would not be feasible in the future unless a new large logistics base was established in the Kansai area with the same timing and schedule led to the creation of an integrated system. As a result, the Osaka Ibaraki Factory became the first factory in Shiseido to incorporate a logistics function.
―What effects did you see as a result?
Inoue:
 By adding a logistics function and connecting it with a conveyor belt, we have been able to improve efficiency by allowing employees to receive packages without moving their hands. This is another example of PEOPLE FIRST, and it has produced positive effects in many ways, including increased supply speed and work efficiency, as well as reduced transportation costs and CO₂ emissions during transportation.
Our wish to create a manufacturing and logistics culture that will support Shiseido into the future
―You have also set up a consumer center at the factory, right?
Kanazawa: The consumer center was established in Tokyo as a department that is in charge of making use of customer inquiries and requests in product development and other activities. We have also set up an annex at the new base, so that we can directly listen to the voices of customers in Osaka and reflect their feedback in product development and in making improvements. My main job is to accompany visitors on the factory tour course, and I feel that having the consumer center on site allows me to get a closer sense of the opinions of our customers, which I can utilize in my work.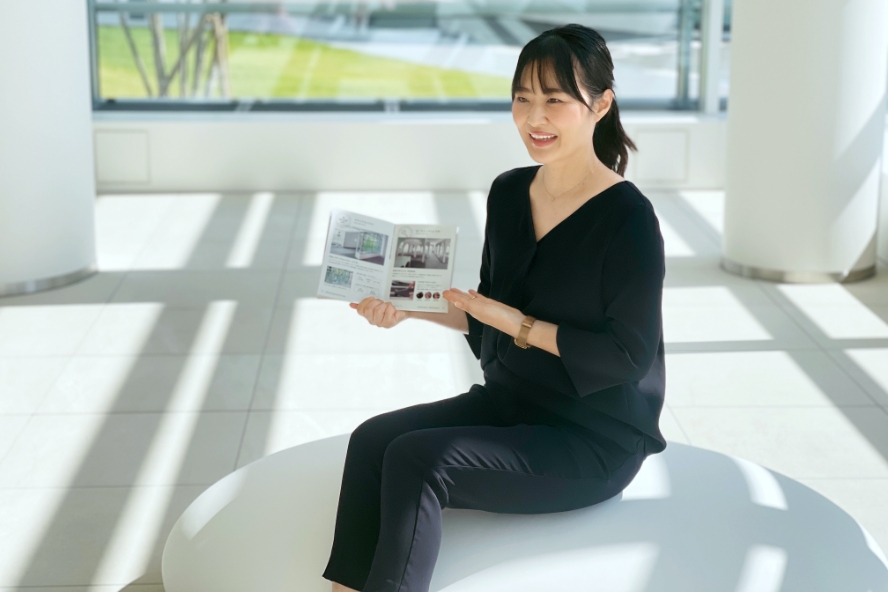 ―In the future, customers will be able to visit the factory, but what will that entail?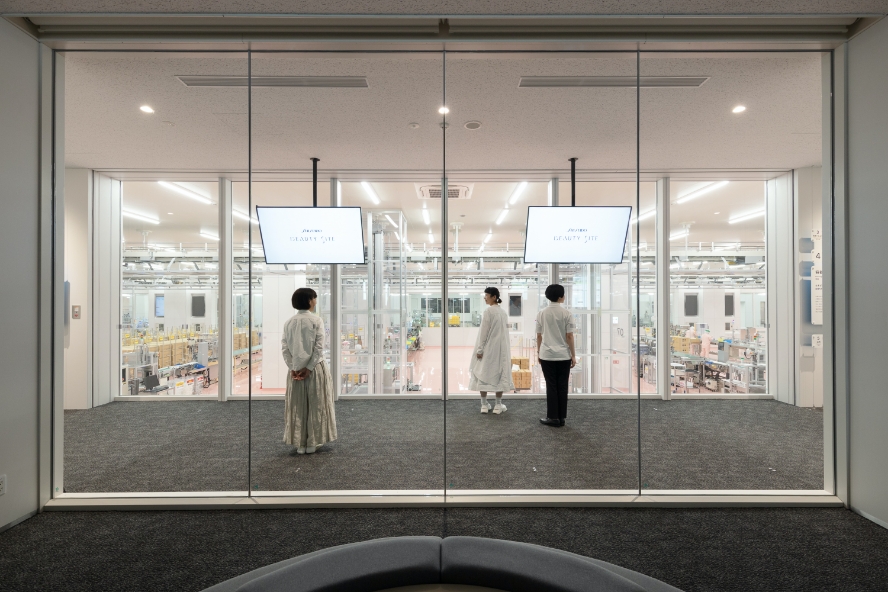 Kanazawa: We are planning to start accepting visitors to SHISEIDO BEAUTY SITE, a reception building which serves as a factory tour facility for customers, in 2022 or later. As a place for customers to come and experience Shiseido's safe, secure and high-quality manufacturing, I hope that it helps people discover more about Shiseido and become fans. The concept of the factory tour course at the Osaka Ibaraki Factory is "The journey to beauty." SHISEIDO BEAUTY SITE is like a city, with a variety of contents for visitors, including a museum displaying Shiseido's history and products, a workshop school where you can experience making fragrances, a laboratory where you can experience quality inspections of cosmetics using all five senses, and a marché where you can actually try our products out. We hope that many people of all ages and genders will be able to come and find out many things about beauty, and that elementary and junior high school students will be able to have new experiences that they cannot learn in school. When the current COVID-19 pandemic settles down, we hope to prepare events and fun projects that will create further ties with the local community.
―Finally, please tell us about your hopes for the future.
Nakajima:
 As the general manager, the project team and I were able to handle matters relating to construction work, negotiations with the local authorities, and other on-site affairs. I believe this was possible thanks to the support of many people. Just as I have benefited from much support, I would like to do my best to support the employees working at this new factory and the young employees who will be responsible for the future in taking on challenges. I also believe that only when the employees working at the factory take pride in their work can we make good products and deliver high-quality products to people around the world. I believe that the accumulation of these efforts will help us create a base to communicate Shiseido's high-quality manufacturing with our sights set on the next 100 years of the company's existence. In addition, I would like us to continue adopting an attitude of coexistence and co-prosperity with our neighborhood and local authorities.
Inoue:
 We want our employees to be able to work comfortably here. I would also like to make many people involved in the distribution center proud of the fact that it is located here in Ibaraki, Osaka, as a base for creating Shiseido's logistics culture for the next 100 years. In order to achieve this goal, I believe it is our mission to introduce more advanced technology and to connect the knowledge gained here to other facilities, rather than increasing the burden on employees even if demand increases.
Kanazawa:
 As an attendant, I have a lot of contact with customers, so I want to listen to what they have to say and keep updating the factory tour course to make it more appealing.
I hope that the time spent at SHISEIDO BEAUTY SITE will be special for our customers.
Related website