Protecting Our Hands,
Supporting Medical Professionals on the
Front Lines
~Our thoughts behind the Shiseido
Hand in Hand Project~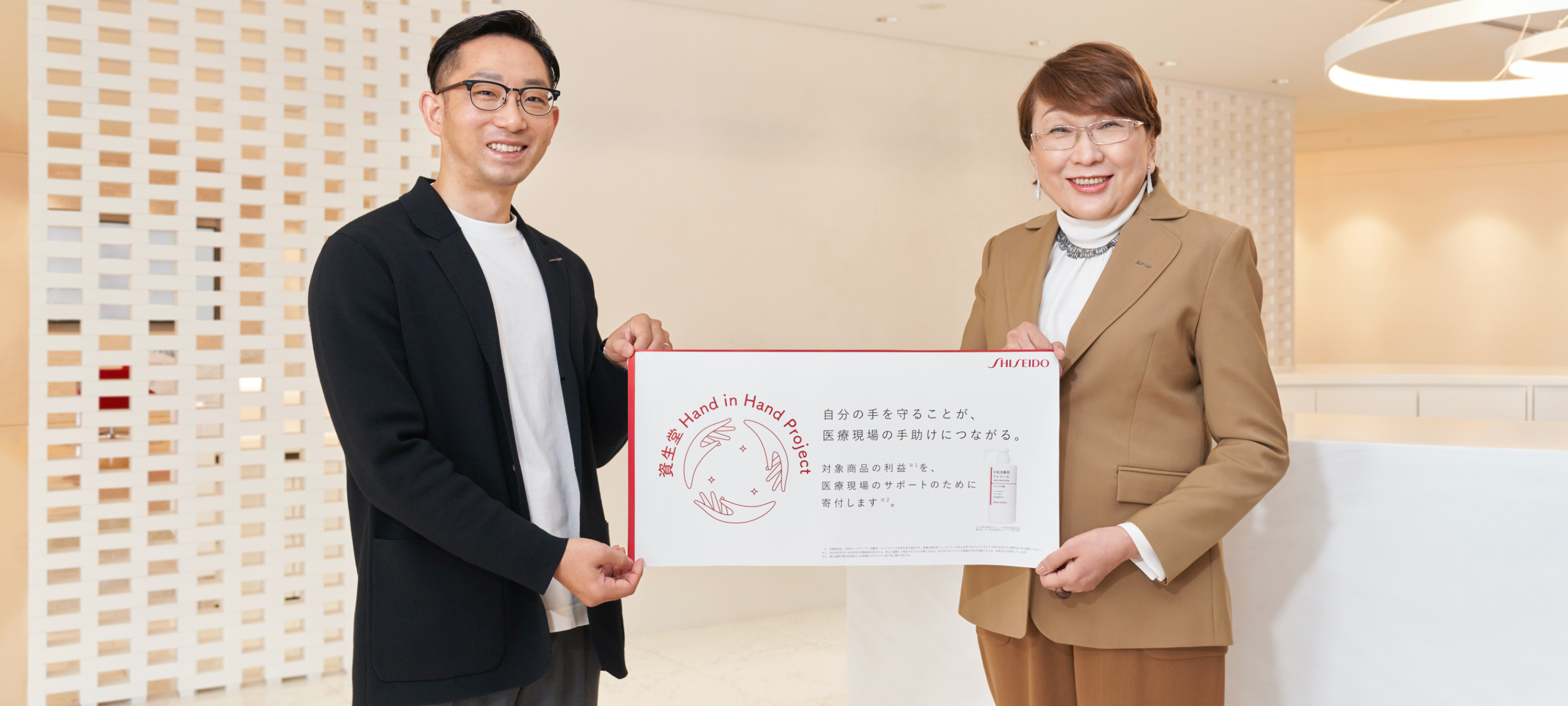 Kiyotaka Yanagiuchi, Deputy Senior Vice President of the Premium Brand Division of Shiseido Japan Co., Ltd, and Yukiko Ishikawa, Chief Marketing Officer
With the advent of COVID-19, we rapidly responded by developing new hand sanitizers (a designated quasi drug) focusing on rough hands in Japan, and started production from April 2020 at four domestic factories. We then offered these products to the Japan Medical Association through relevant ministries and agencies, and to consumers in August, bringing aid to Japan's hand sanitizer market at a time of serious supply shortages. Globally, we enacted and carried out various initiatives to support medical institutions struggling with hand sanitizer shortages, such as quickly starting production in the Americas and Europe.
As the latest of these efforts, on February 1, 2021 we launched the "Shiseido Hand in Hand Project." The project is our message of respect and thanks to all medical professionals who work hard every day on the front lines across Japan in the treatment and prevention of COVID-19. We provide support to dedicated medical professionals on site through the project, in which not only do Shiseido employees team up to spontaneously carry out the "Hand Protection Habits," but also infection control measures are taken to prevent the spread of COVID-19 in cooperation with customers and business partners.
In this article, we learn details about the thinking behind this project from Yukiko Ishikawa, Chief Marketing Officer of Shiseido Japan Co., Ltd. who supervises the project, and Kiyotaka Yanagiuchi, Deputy Senior Vice President of the Premium Brand Division of Shiseido Japan Co., Ltd. who serves a leading role in calling for support for the project from business partners.
What is the Shiseido Hand in Hand Project?
We aim to support medical professionals by conducting infection control through the promotion of good hand hygiene, disseminating information about "Hand Protection Habits," a skincare practice for preventing rough and dry hands caused by handwashing and sanitizing, and implementing various initiatives for infection control in collaboration with business partners and customers who agree to the concept of the project.
In order to support medical professionals, we will donate*1 profit*2 from the sales of handwash, hand sanitizers, and hand creams specially produced for the project for the following duration. Furthermore, Shiseido will donate 10 yen per "online action," where we treat online actions as proof of increased prevention awareness and support for the project.
Project Duration: February 1, 2021–June 30, 2021
(Extended from April 30, 2021)
*1 Detailed information about donations (amounts, recipients, etc.) will be disclosed after the conclusion of the project.
*2 Revenue gained from marketing and sales of products for the project from February 1 to June 30, 2021 after costs relating to activities in the promotion of the project are separately handled by Shiseido.
This project was completed on June 30, 2021.
On July 26, 2021, a total of 503,771,457 yen was donated to the Japanese Nursing Association.
Identify what medical professionals really need, and agilely respond.
That is Shiseido's ambition as a beauty company.
― What was the trigger to launch the project?
Ishikawa: Shiseido's mission is BEAUTY INNOVATIONS FOR A BETTER WORLD. We always hope to realize a better world with the power of beauty, and become a company that can contribute to society.
Around late December when COVID-19 started to spread again, Shiseido President and CEO Masahiko Uotani said, "Is it possible to change our feelings toward medical professionals into something tangible?" Then, we asked ourselves, "We would like to convey our gratitude and respect to medical professionals. What can Shiseido do for that?" This was the starting point of the project. Firstly, we thought it would be important to know what medical professionals really need, and conducted hearings and questionnaires; we found that as professionals who protect people's lives, they always wish that "each and every person stays healthy, COVID-19 subsides, society gets back to normal, and people no longer need to stay away from each other."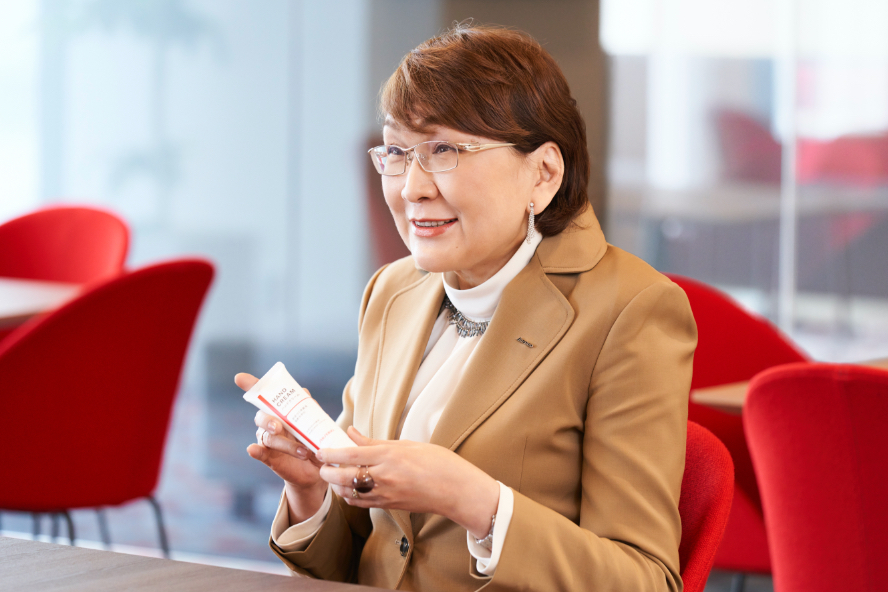 ― How did you conduct the project?
Ishikawa: We shared medical professionals' wishes with the project members and concluded that what would be of help to medical professionals would be not only physical or financial contribution, but also the unity of effort among consumers, business partners, and Shiseido for infection control. Then, the concept of the project was decided as "There is something that Shiseido can do as a promoter for the health of every single person in collaboration with customers and business partners. This is 'Hand Protection Habits,' where we should first take action, and then deliver our gratitude to medical professionals working on site!"
Although we had to prepare everything from planning to deployment in a short period of time, all members understood the significance of this project, and spontaneously took the initiative, which made things work even in a tight timeframe.
The feelings of all project members are mutual.
Many initiatives were conducted by project members and supporters who took voluntary action.
― It seems you were able to start the project in a very short period of time.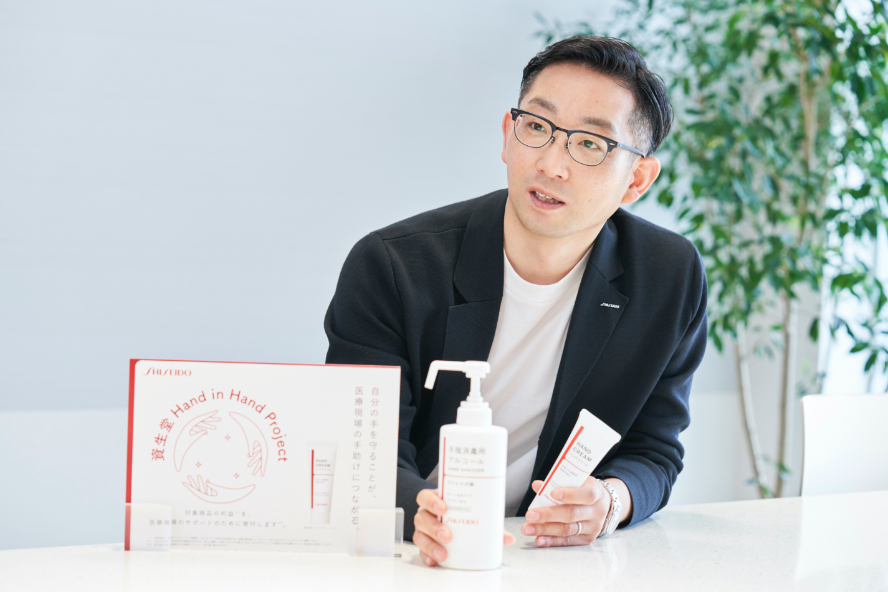 Yanagiuchi: I strongly felt that we should support medical professionals at any cost since I had wanted to do something for society for many years. And then, what occurred to my mind at first were three challenges to launch the project.
First, what should we do to ask our business partners to agree to the concept of the project? Second, can we get support from stores for conducting sales floors to promote this project?
Third, how should we deliver our message to raise awareness among customers at stores? I immediately started to work with different departments to tackle these challenges, and I was happy to learn that all members concerned strongly agreed with me saying, "We should do it at any price." Each member spontaneously took action sharing the same feeling, which created a chain of inspiration and empathy that was a strong driving force.
― Is there any feedback on the project from sales representatives, BCs, customers, and business partners?
Yanagiuchi: Many people feel every day that health systems are under pressure. Retailers struggling to keep their business afloat strongly wish for an end to the COVID-19 pandemic in any way. More or less all of our project participants wanted to give form to their feelings and take action, even though having different motivations. Many customers also support this project wishing to change the current situation. Their strong support has encouraged sales representatives and BCs who can clearly say that they are proud of their activities, and they are happy to be part of this company.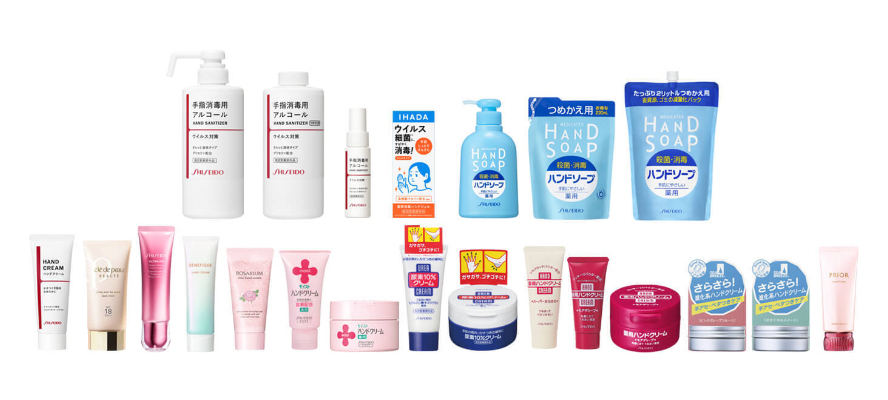 We have received feedback from business partners saying that this project is a "Shiseido-like" activity. The number of business partners supporting the project reached 1,539 as of the end of March 2021.
Also, voices wishing to express gratitude to business partners supporting the project spontaneously arose from project members, who sent out thank-you letters.
Everyone concerned, including business partners, are thinking about what they can do themselves to take action. I am very thankful to all who support this project both inside and outside the company.
We will sincerely do what we can do now, believing in the power of beauty to support customers in this anxious time.
― Lastly, any thoughts you wish to share about this project?
Ishikawa: Amidst the spread of COVID-19, we have faced day after day of unknown events with repeated trial and error. Yet in this difficult situation, as ever, factory workers have operated production lines and BCs at stores and sales representatives have strived to give as much as possible, paying great attention to even trivial matters. They have worked hard with the desire to provide emotional support to customers who spend every day with a sense of insecurity. Regardless of where we work and what we do, we are united to continue to "Deliver Beauty," believing in the power of cosmetics and beauty, as well as thinking about what each of us can do now.
Also, each Shiseido employee sincerely strives to make this project successful in cooperation with their precious families, customers, and people in the world in the hope that controlling the spread of infection could be of help to medical professionals.
We would like to continue to carry out "Hand Protection Habits," and call for people's support even beyond the end of the project.
Related website