PRIOR Supports "Happy Days" of Middle Age Consumers
~Becoming a brand that pursues the happiness beyond
the seven struggles of middle age beauty~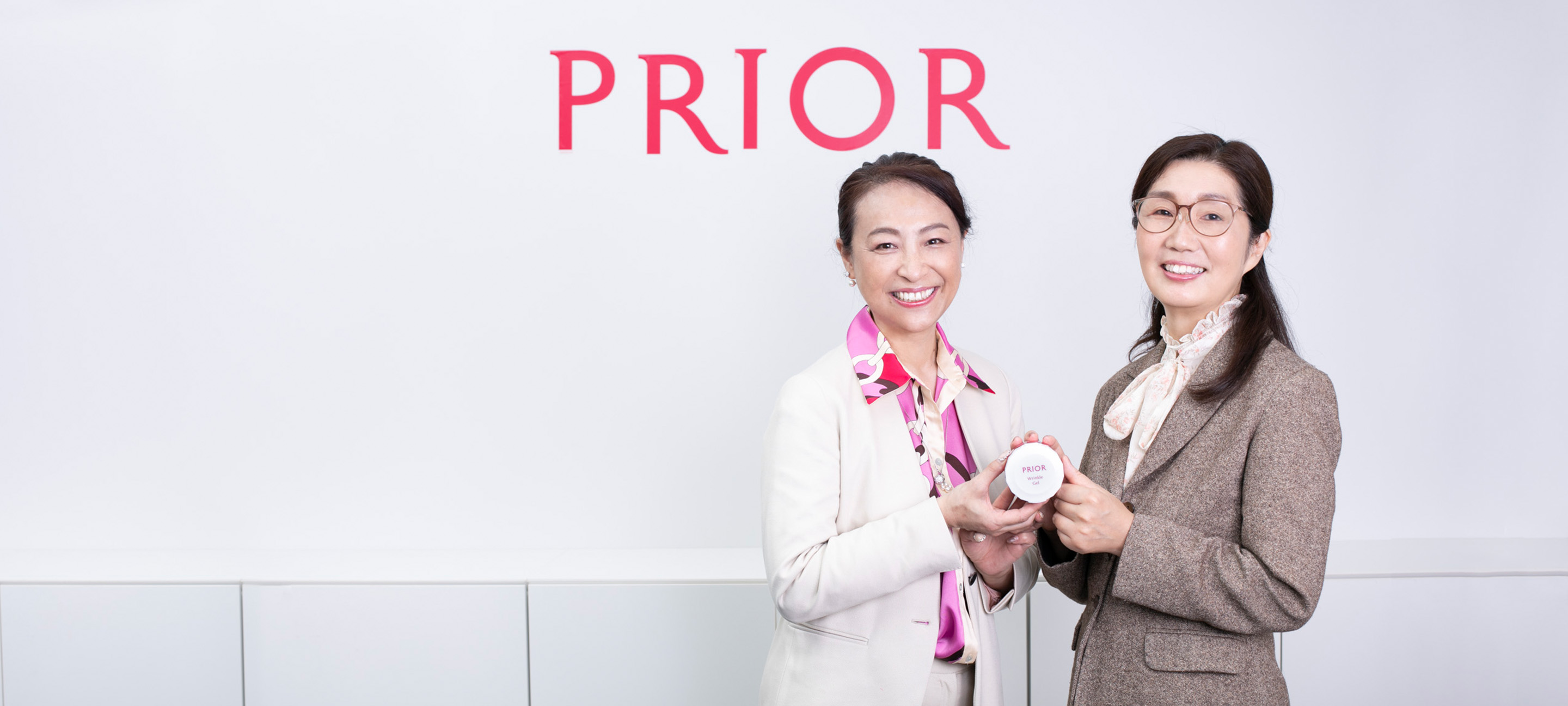 Since its debut in 2015, PRIOR has been loved by active middle age consumers as a brand that supports their generation. PRIOR has been revamped marking the 150th anniversary of Shiseido's foundation. In August 2022, a quasi-drug skincare item, PRIOR Wrinkle Gel, was released as a flagship product that symbolizes the revamped PRIOR. It uses innovative technology developed from the perspective of "inside and outside" of the skin under Shiseido's peculiar R&D philosophy "DYNAMIC HARMONY". We created an all-in-one skincare product of a new feeling with expectations for wrinkle improvement and a brightening* effect.
What is the background of new development for the brand based on the insights of the generation trying to stay positive while facing the changes in their skin and mind that come with aging? We interviewed Maki Hatakeyama, Brand Manager, and Tomoe Hirose, of Skincare Product Development Manager.
*

Suppressing melanin production and preventing blotches and spots
PRIOR has been revamped to support active middle age consumers living today
―What is the background of the new development?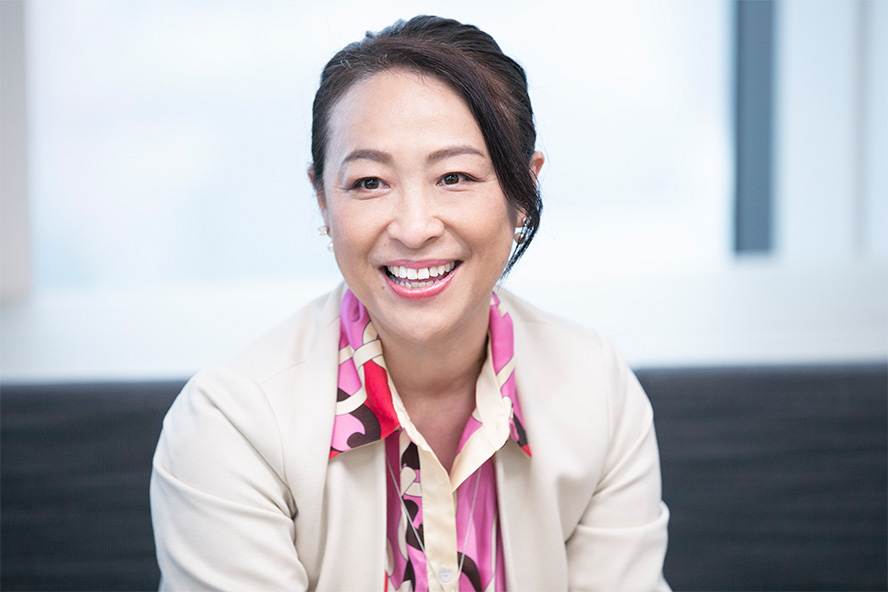 Hatakeyama: We conduct an annual questionnaire survey on 10,000 women of the generation, and face-to-face interviews with about 300 persons. The results suggest that, whereas half of respondents are enjoying their lives, many other respondents find difficulty in having a positive outlook on their lives going forward. Their reasons for having mixed emotions include the feeling of emptiness after their children become independent and concerns about their lives beyond a certain age.
Moreover, about one in every four respondents believe that their happiness decreased due to the COVID-19 pandemic over the past few years. We on the PRIOR team considered this a social issue and determined to advance our brand in this "100-year life" era to help consumers enjoy their lives now and in the future instead of focusing on their age.
―What were the key points in this development?
Hatakeyama:
 We collected input from consumers of the target ages under the PRIOR concept of countering their aging skin concerns, and we came to know that they had various dilemmas and insights. For example, they wanted to have certain hopes even if they could not get rid of their concerns and to keep bright smiles on their faces.
This is why we announced a new message to "feel at peace with aging skin concerns," which expresses the happy feeling despite the issues that the consumers may be facing. PRIOR will continue to provide products and experiences that can bring happiness as captured in seven keywords them: "shining" "smiling," "taking on challenges," "quick and easy beauty care," "doing more," "being excited," and "feeling fulfilled"
―Wrinkle Gel is a product developed as the symbol of the revamped PRIOR.
Hatakeyama:
 We set a mission to create an innovative item that would symbolize the 150th anniversary of Shiseido under the new message. More than a few consumers of the generation have feelings torn between the hope of caring their skin and the difficulty of achieving improvement.
We must provide a product that achieves pleasant application and easy care, while satisfying their expectation to improve wrinkles simply through application. Despite in-house opinions that this would be difficult, we started to go on a challenging journey to develop a product.
Wrinkle Gel not only achieves authentic care, but also thoroughly cherishes having a pleasant feeling after application
―The tagline "feeling supple as soon as applied" impressively expresses the feeling of gel application.
Hirose:  I'm glad to hear that! It was the most important point we pursued in product development as the desired reaction from the gel users. We are excited and encouraged to hear that this feeling after gel application is most frequently mentioned in the actual voice of consumers.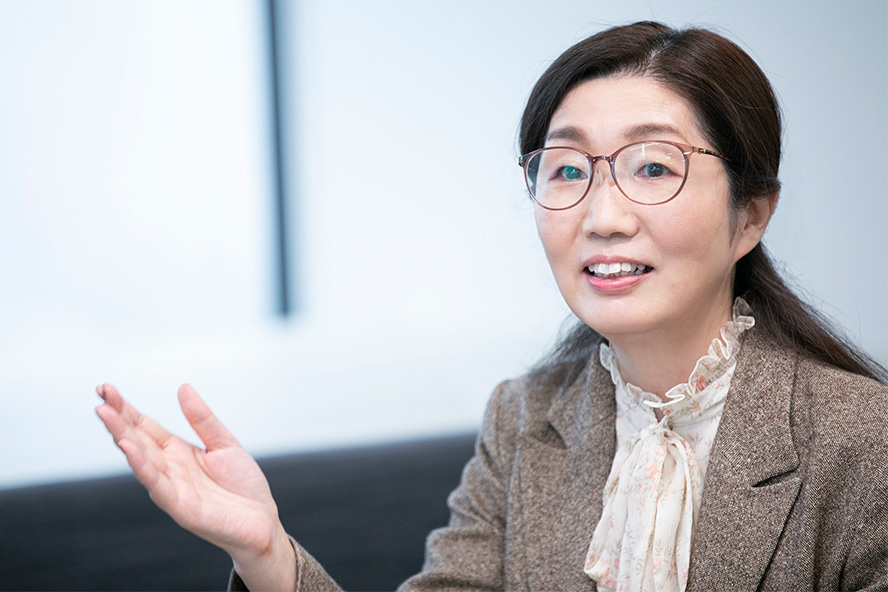 Hatakeyama:
 Over the two months since the release, we have actually come across with some consumers who specifically mentioned "I want try the product that says 'feeling supple as soon as applied'." It makes us happy that the keyword has been effectively communicated to consumers.
Hirose:
 I have pursued a career in the skincare field, as Ms. Hatakeyama has in the makeup field, for many years. I suppose that this product combines the makeup concept to instantly feel the effects and the skincare concept to cherish the feel of the skin and consumers' feelings.
All members engaged in the product development had certain hurdles, and we made challenges one after another toward the development of a product to mark the 150th anniversary as an important milestone for Shiseido.
―What were the difficulties and key points in development?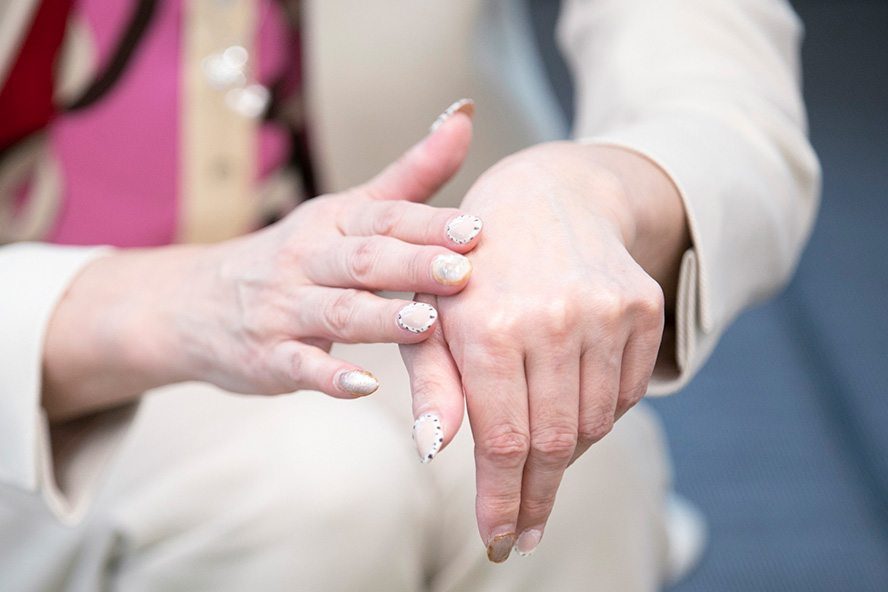 Hatakeyama: It was difficult to achieve the touch that would enable consumers to feel the effects. We repeated trial production at least 300 times to achieve the texture of an ideal balance that enabled consumers feel supple by simply applying it based on the state-of-the-art beauty corset technology, while making the gel spread easily over the face but maintaining hardness that prevents the finger touch from becoming excessively slippery.
Hirose:
 At the same time, we focused on a package design that would cheer up consumers because it is a product to be used every day. The polyhedron case not only achieves aesthetic appearance that has a brilliant shine under light, but it also prevents slipping when held in hands.
With sensitivity measurement procedures, we pursued universal beauty design that would be both easy to use and beautiful.
Hatakeyama:
 We did not forget the perspective of sustainability. Refills are available. We made trials and errors to achieve specifications that enable middle age consumers to easily open the cap of the case without straining.
―That makes me want to try the product!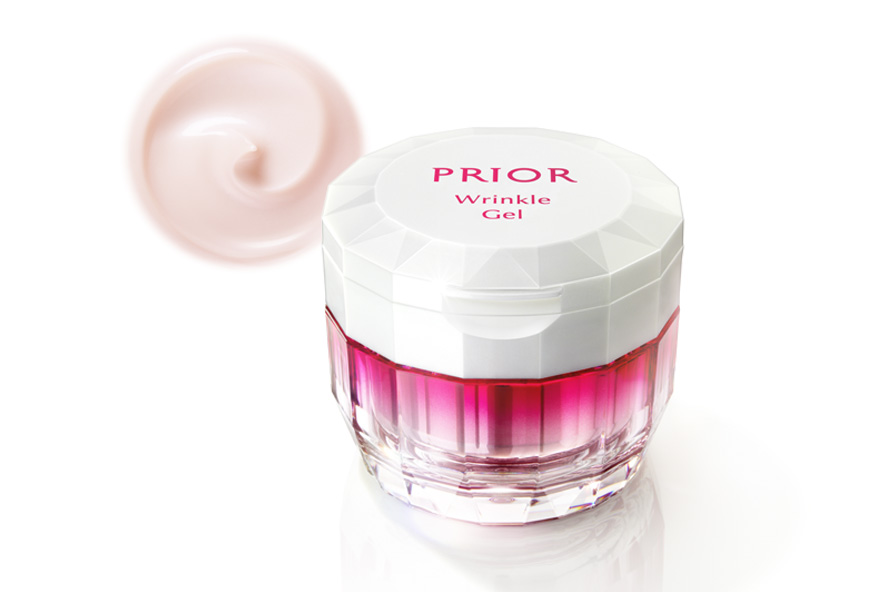 Hirose: Thank you! The gel is in bright pink color to cheer consumers up when they use it. We emphasize the feeling of anticipation that caters to the hope for becoming more beautiful, closer to the excitement of makeup rather than simple skincare.
Hatakeyama:
 We also emphasize the bright appearance of the gel. Makeup and other products for the target ages tend to make their skin appear matted due to the focus on concealing wrinkles. However, consumer voice often indicates that they like bright items regardless of their ages.
We developed this bright gel by combining findings accumulated through skincare and makeup, thereby not only making wrinkles inconspicuous, but also achieving bright and glowing skin.
Hirose:
 Fragrance is another key point. In addition to the "Happy Element," the scented ingredient common to all PRIOR skincare products, we blended a subtle and pleasant aroma bouquet that wafts to produce happy time while using the product.
Skincare is the only time for consumers to care for themselves on busy days. We hope that they love and indulge themselves during that time. We hope that skincare with PRIOR will produce valuable moments that help them feel happy in their lives ahead.
―The skincare method written on the package seems like a great way for consumers to take good care of their skin.
Hatakeyama:
 We developed a self-massage technique that stimulates the fascia at the depth of the skin by picking the skin with the fingers of both hands in the shape of peace sign (V sign). We call this massage "peace technique" referring to the concept of this product. We strongly recommend this really refreshing massage. The aesthetics team and the research team joined efforts in clearing hurdles and formulating various patterns until they achieved this technique. We received consumer voice that the difference was clear when they tried the massage on half of their face.
Hirose:
 We adhered to providing an easy, anytime technique. This technique focuses on the fascia in the face. After massaging, you can feel your eyes open wider and feel clearer, with your expressions brightened up.
It is strongly recommended to practice this technique in time like today, because we tend to lack expressions in this of life wearing a mask!
―What was consumers' response to the product like?
Hirose:
 We conducted a consumer test over two months. It was impressive that the expressions of participating consumer became increasingly bright and cheerful each time we met them. We received inputs such as the product even brightened up their mindset, and that their stiff expressions were relaxed, and their faces became clearer. We were glad that skincare could also affect their mind. Some participants reported that the product encouraged them to dress up and go out.
Hatakeyama:
 We received great responses to the all-in-one skincare product with a remarkable antiwrinkle effect and immediate feeling following application, with comments like "It changed my image of skincare" and "even I can keep up this routine."
We received more than twice as many responses as for other products, and the sales of the product have been successful.
Hirose:
 We have heard emotional uncertainties unique to the generation, including not only skin problems but also the anxiety of declining eyesight and feeling lazy in doing things.
On the other hand, we are aware that there are data suggesting that the happiness index tends to decline in one's 50s but takes an upturn afterwards. This suggests that lives can be changed in many ways depending on our mindset and perspective beyond these ages. This is why we on the PRIOR team find a great significance in supporting consumers of these ages.
Empowering middle age beauty to come with PRIOR
―In conclusion, how would you like to empower people and society with PRIOR?
Hirose:
 It would be difficult for those in middle age to make substantial efforts to take care of their skin concerns. This is why we aim to establish a brand that will provide products that reassuringly address those concerns, while providing them with peace of mind and happiness through PRIOR.
We hope to brighten up their days with a cheerful PRIOR brand spirit when they feel depressed or exhausted. I am also feeling refreshed by PRIOR every day. I wake up saying "PRIOR!" in the morning, and it seems to help me stay cheerful throughout the day.
Hatakeyama:
 We would like to win the largest market share by acquiring outstanding recognition among consumers of the target ages by impressing upon them that PRIOR is the very product that helps live peaceful days and feel more attractive. We also hope to lead the brand so that the social norm itself is freed from the constraints of age bias, and all consumers can be beautiful and enjoy themselves every day throughout their lives.
Our mission on the PRIOR team is to update the mind of beauty from "looking back fondly" to "enjoying the present" and "looking forward to the years to come." Upon hearing from the consumers that we all share the same concerns helps all of the team members, myself included stay positive moving forward.