Nasu Factory's Innovative Initiatives in Conserving Clean Water
~Appreciating the Value of Ohtawara City's Water
While Delivering High-Quality Skincare Products~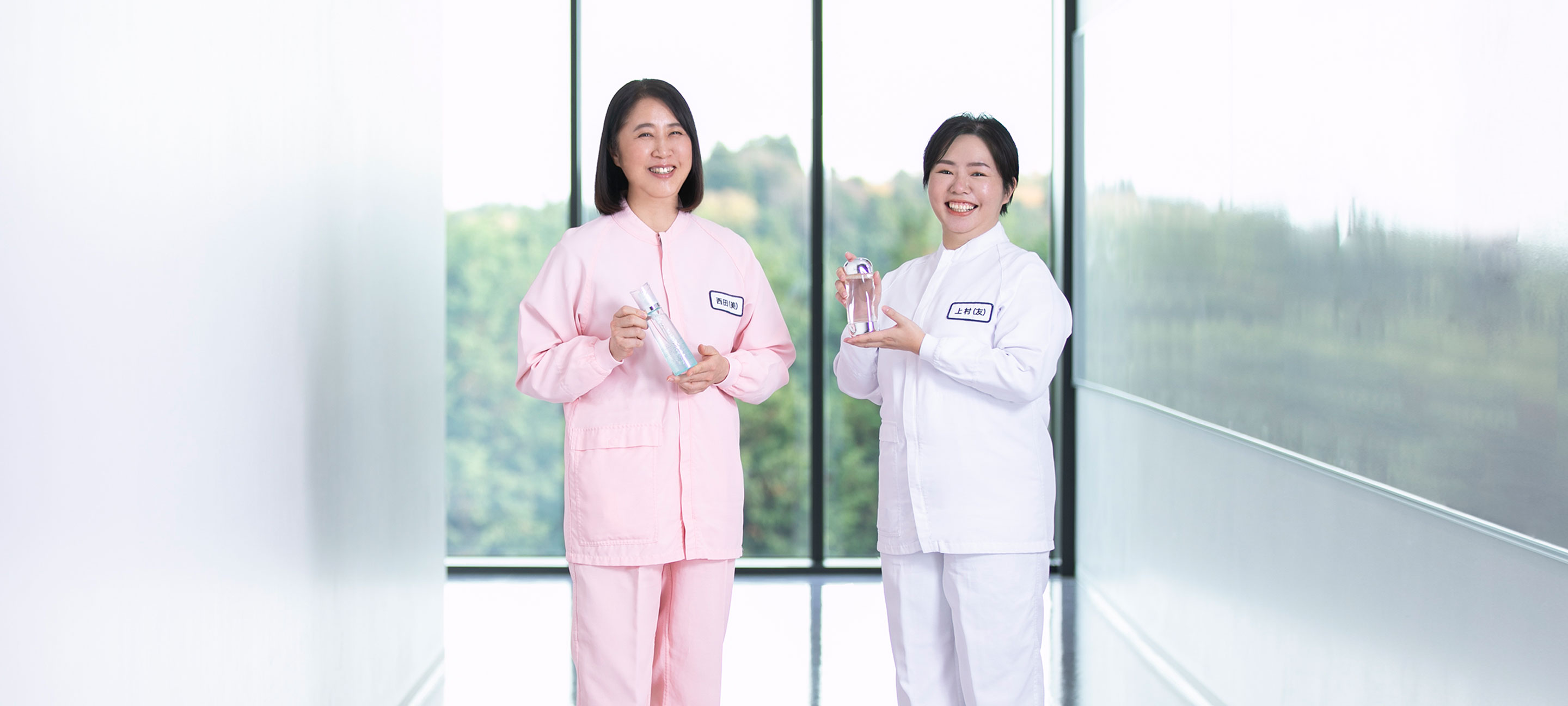 The name "Shiseido" is derived from a line in the Chinese Yi Jing (Book of Changes) which says, "Praise the virtues of the Earth, which nurtures new life and brings forth significant values." Our mission of sustainable value creation that is part of our company's past, present, and future, is engraved in our name "Shiseido." As such, we have undertaken various initiatives to address environmental issues that have grown more and more serious in recent years.
Water is indispensable to our lives and businesses, and it is also one of the critical raw materials in the manufacturing of skincare products. The Nasu Factory was completed in Ohtawara City, Tochigi Prefecture, in 2019 and utilizes the area's local features, such as its abundant water resources. Moreover, it uses high-quality manufacturing practices and carries out environmental initiatives from the unique perspective of appreciating and respecting Ohtawara's pure water, so that recirculating it as well.
We interviewed Nasu Factory Manager Miharu Nishida and Tomomi Kamimura from the Environmental Secretariat of the Nasu Factory to discover more.
Conserving water and manufacturing more environmentally and human-friendly products
―What kinds of products are primarily manufactured at the Nasu Factory?
Nishida: Shiseido currently has six factories in Japan, and the Nasu Factory was completed in 2019 as its fourth domestic operation.
The production line at the Nasu Factory mainly manufactures mid-to-high price point skincare products such as ELIXIR for the Japanese and overseas markets. The Nasu Factory is designed and fully equipped to achieve the "premium quality" that is Shiseido's strength. It also provides an environment where those who put quality first can work comfortably and grow. For these reasons, we are able to manufacture high-quality products both sustainably and reliably.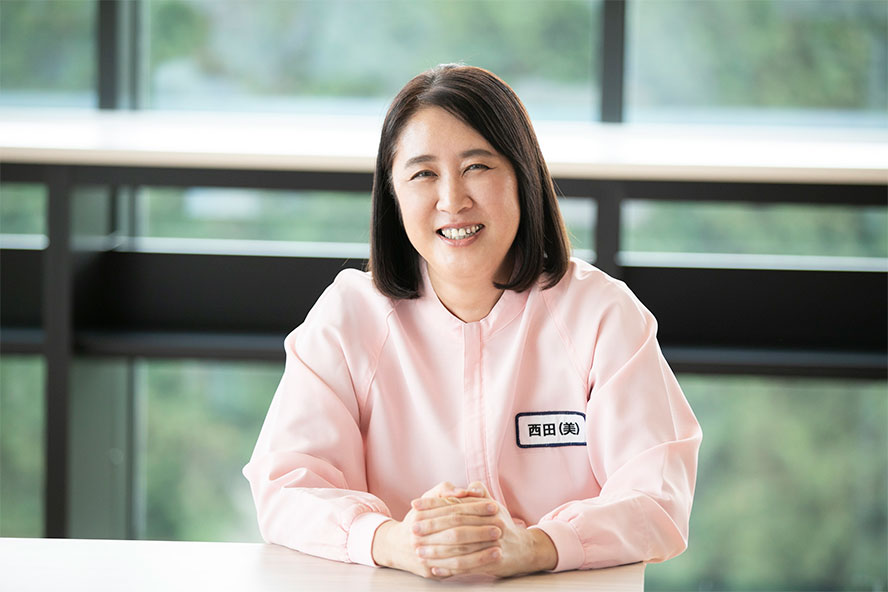 ―What are some of the special characteristics of the water you use to manufacture skincare products at the Nasu Factory?
Nishida:
 Ohtawara City, where our factory is located, is lush with greenery and commands a view of the Nasu Mountain Range. The city has retained the traditional Japanese landscape of mountains, rivers, and villages. Four rivers—the Naka, Hoki, Sabi, and Kuma Rivers—flow in the vicinity of the factory and provide an abundance of clean water.
The beauty of the water is evidenced by the presence of fish such as
miyakotanago
(Tokyo bitterling) and
itoyo
(three-spined stickleback). These fish, which have been designated as protected species by Japan and Ohtawara City, respectively, can only survive in clear, clean water, and it is in these rivers they breed. Moreover, as the area is blessed with fertile land home to extensive rice paddies, rice cultivation and sake brewing also thrive here.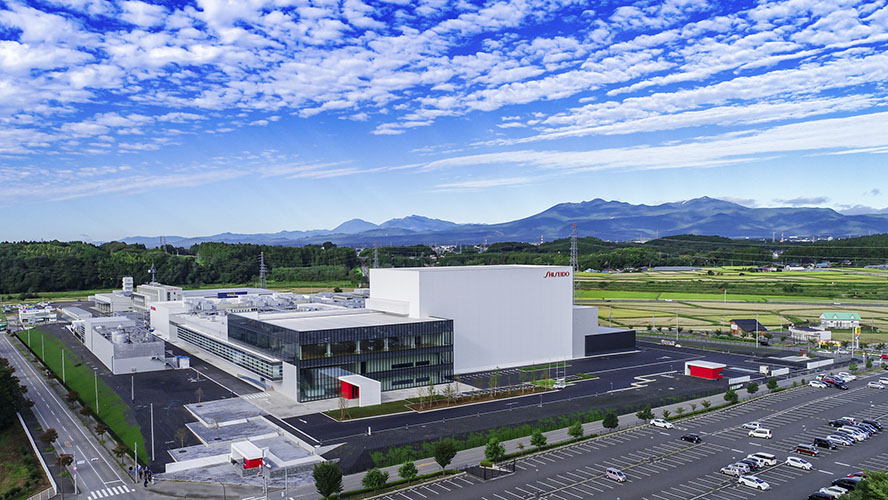 ―How do you manage and utilize the local water?
Nishida:
 The water used at the Nasu Factory is mostly high-quality well water pumped up from underground. Even though we talk about water as a singular concept, there are different standards for water used for drinking, cosmetics, and quasi-drugs. First, we must purify the water to meet the corresponding standard.
Kamimura: The quality of the well water pumped up from underground in this area is quite good and is pure enough to drink as is. But, in order to use it for high-quality skincare products that give customers peace of mind, we purify it even further.
We have a ten-step process that includes additional purification, filtration, electrical treatment, sterilization and more. It is only then that the water is permitted for use as a raw material for cosmetics.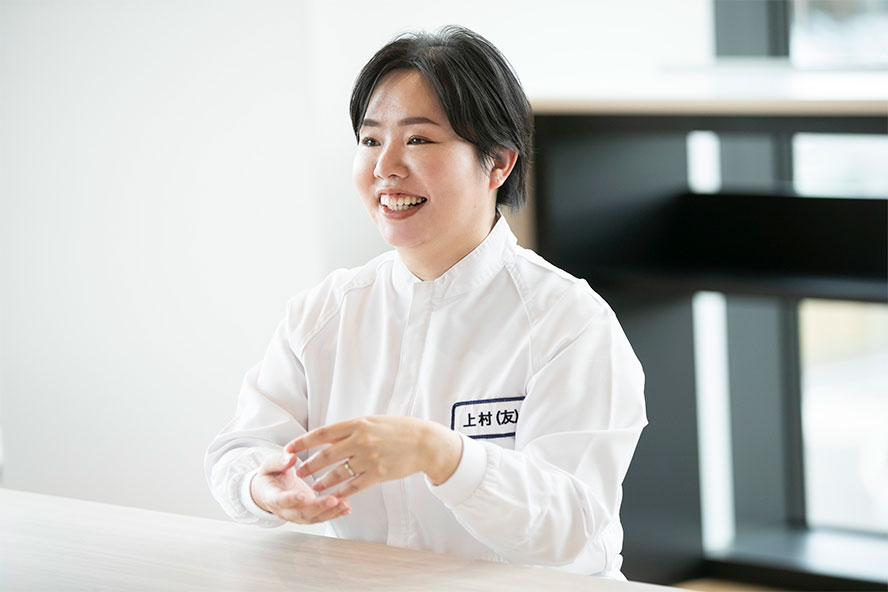 ―Ten steps! That is a very strict standard.
Nishida:
 There are unique standards for water used in cosmetics. If the mineral content and other components are not carefully controlled, they will affect the texture and aroma of the products. In order to produce cosmetics that do not compromise quality or usability, we here at the Nasu Factory have established even stricter standards for water purification.
―I understand there are also very strict in-house standards for wastewater.
Kamimura: As you can see, the wastewater treatment facility at our factory is very impressive. Here in Tochigi Prefecture, agriculture is thriving.
Therefore, strict wastewater standards have been stipulated by prefectural ordinances. We have established even more stringent in-house standards for the Nasu Factory, and we treat water after it is used in manufacturing based on these standards.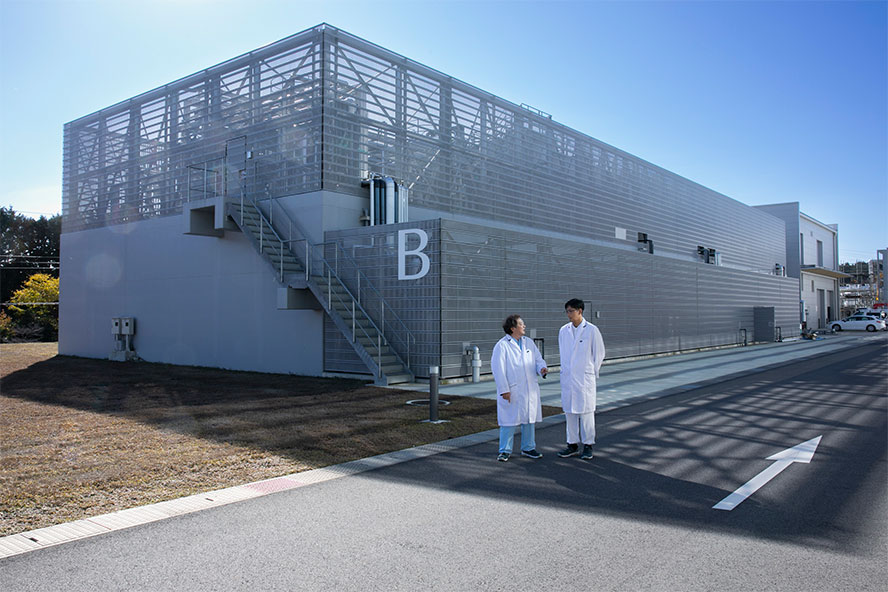 Wastewater is discharged only after it has undergone a four-step process and its quality has been thoroughly confirmed by measuring equipment and a central monitoring system. Naturally, any water to be discharged must meet a higher standard because it will have a direct effect on the environment around the factory.
We here at the Nasu Factory aim to ultimately "recirculate" the water rather than just "consume" it.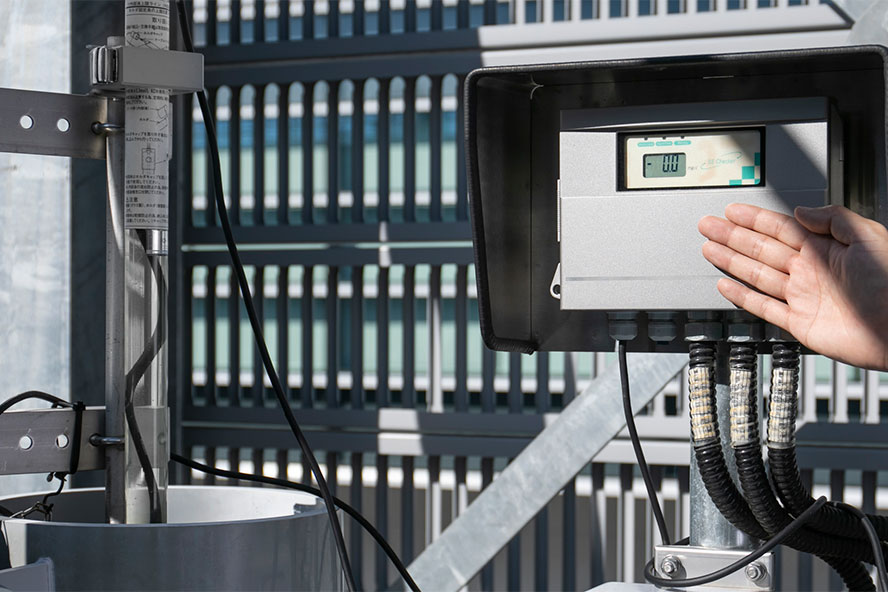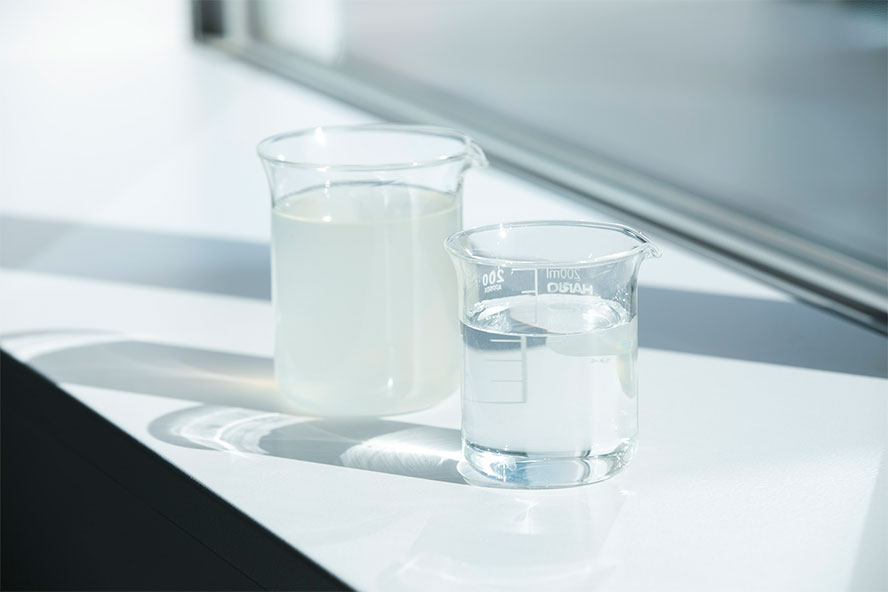 ―I heard the Nasu Factory has a system for water conservation.
Kamimura:
 Looking at our water usage, half of the water consumed throughout the entire Nasu Factory is used in the water purification process for formulating products. So, we reexamined operation methods for the equipment that filters and purifies the water during the ten-step process, and we also worked to develop a system to recirculate the filtered water so it would not go to waste.
In the end, we achieved a reduction of about 45% in our water consumption in the purification process.
―A reduction of nearly half is significant, isn't it?
Kamimura:
 Yes. At the Nasu Factory, while we are taking the lead in promoting water conservation, we are also encouraging everyone to become more environmentally aware. As a member of the Environmental Secretariat of this factory, I have been certified as an Environmental Specialist so I could deepen my own knowledge and lead the entire secretariat.
Since becoming a member of the secretariat and gaining more opportunities to distribute information related to the environment, I have started receiving more questions and consultations from colleagues in the factory.
So, I feel environmental awareness at the factory is increasing as well.
Working with the local community to conserve Ohtawara's water
―It looks like the Nasu Factory is coexisting in harmony with the local community as well.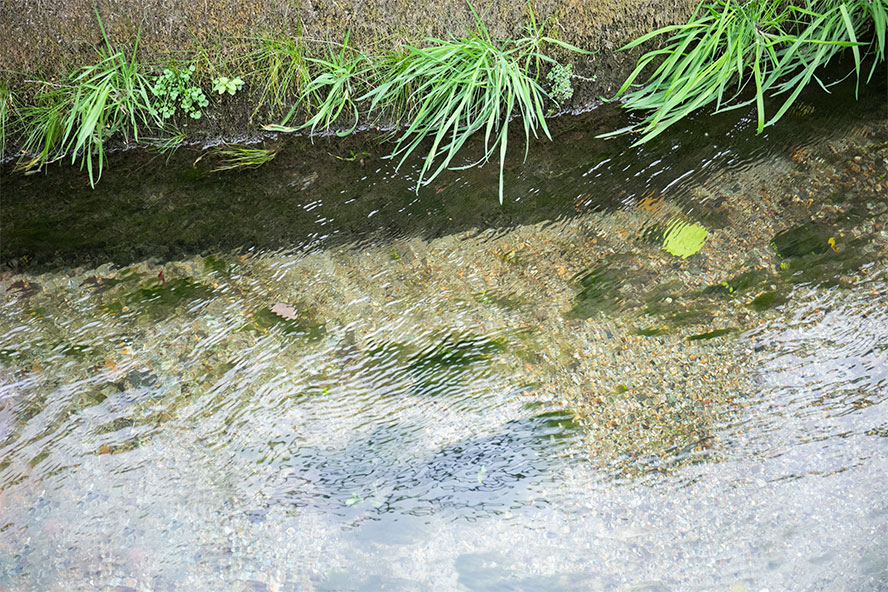 Nishida: Exactly. Water is a resource that circulates on a worldwide scale. Globally speaking, not all countries have an abundance of water like Japan does.
Thankfully, though, Japan has plenty of water with an average rainfall that is twice the world average. Even within Japan, Ohtawara City is particularly rich with water. I believe we have a responsibility to the local community and always be aware that we are using precious local resources. Saving water is of course one of the things we must do, but it is also important to keep recirculating the water.
I also believe another of our missions is to be proactive in communicating the fact that the products manufactured at Shiseido's Nasu Factory come from Ohtawara, located in the heart of nature's bounty. We should be vocal in advertising the quality of the local water we use in these products that are shipped worldwide.
―Did you encounter any opposition from the local community when this new factory was built?
Nishida:
 Thankfully, Ohtawara City had an extremely welcoming spirit when we came to construct the factory. I think it is because we explained our approach to water usage, and they were understanding. In light of this, we will continue our efforts so as not to disappoint the expectations of people in the community, and even more so that we may repay them.
I hope we can deepen our relationship of trust with them and work towards a future in which we can do more and more together.
Talking water conservation with the Nasu Factory
―Do you have other environmentally focused initiatives?
Kamimura:
 Since the Nasu Factory began operations in December 2019, we have used Tochigi-generated electricity with the support of Tochigi Prefecture and have achieved 100% renewable electricity derived from hydroelectric power.
This year, we also became certified under the international environmental management standard ISO14001. In addition to the careful use of water, we will continue other efforts to be environmentally friendly.
Nishida:
 I always keep in mind that all the factory team members have a high level of awareness of environmental issues, so we can balance both manufacturing activities and reducing environmental impact at the same time.
―What challenges do you want to undertake at the Nasu Factory in the future?
Nishida:
 I would like to uphold each and every one of our initiatives and continue to develop our efforts in collaboration with the local community. To give a specific example, my current mission is to enhance our factory tours. I would like to be more proactive in spreading the word about the value of experiencing skin beauty using products made with Ohtawara's clean, pure water.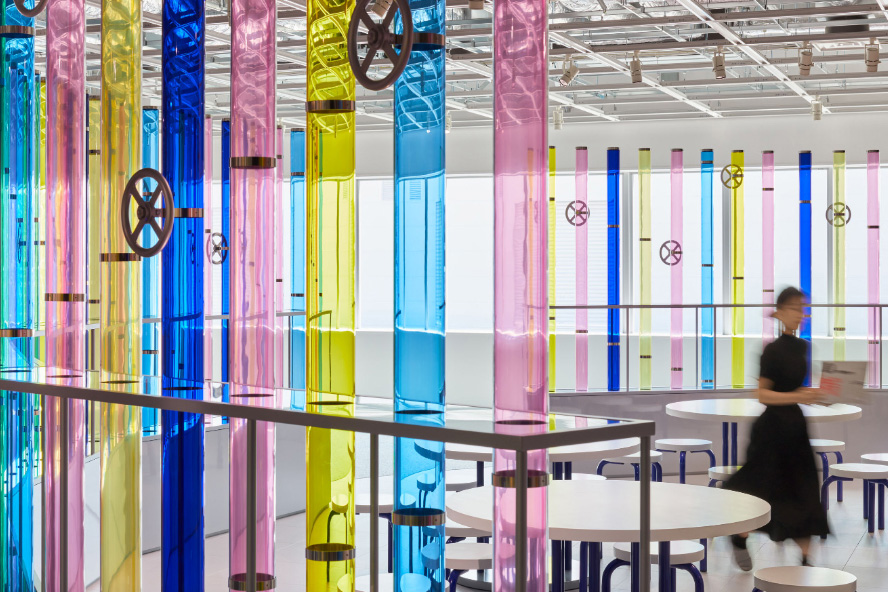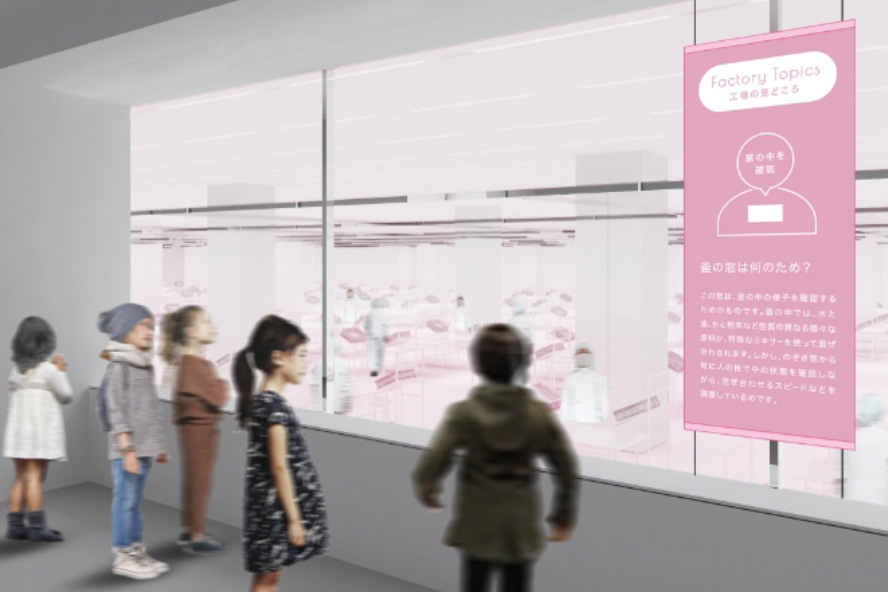 Kamimura:
 I have focused on water in this interview, but our goal is to become an environmentally friendly factory by balancing our manufacturing activities and approaching everything we do from a perspective of sustainability.
As a company engaged in manufacturing processes that use local water from Ohtawara, we will put more effort not only into water conservation, but also recirculating water as well. I would also like to boost the factory's public relations activities in its capacity as a hub for information.
For example, I would like to spread awareness about Shiseido's initiatives to the local community, society, and individuals through environmentally minded activities; for instance, holding water-related workshops during factory tours for local elementary school students. Like water, which is a precious resource to all of us, I hope our activities can give back to both people and society.