LIVEN UP YOUR LOOK, OWN YOUR FUTURE
Envisioning the Future with the New SHISEIDO MEN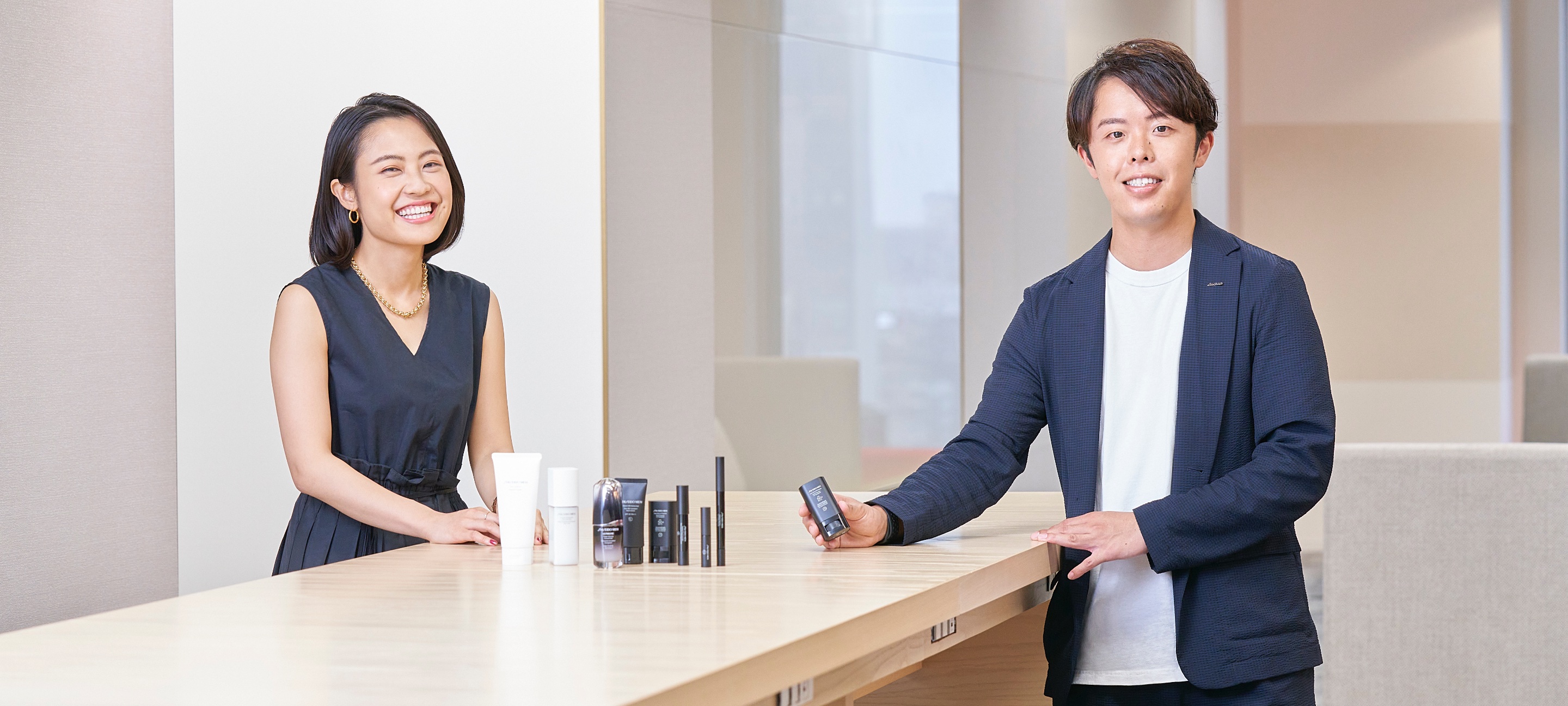 Men have become more beauty-conscious with increased online demand in the era of COVID-19.
SHISEIDO MEN, the men's series of prestige brand SHISEIDO whose products are marketed in 88 countries and regions around the world, has reinvented itself in 2021. The new lineup includes "SHISEIDO MEN Ultimune™ Power Infusing Concentrate," developed with a focus on three newly identified areas of concern*1 regarding men's skin. Moreover, for the first time, makeup products have been added to the brand's lineup along with new skincare products.
*1

:Defense, Balance, Recovery
This article features the background and details of the renewal project presented by Ayaka Yamanashi from SHISEIDO Global Brand Unit, who was involved throughout the project, and Naruhiko Ito, Assistant Brand Manager of Shiseido Japan's Prestige Brands Marketing Department.
Vulnerabilities unique to men's skin identified through 19 years of efforts
― Could you explain the background of this renewal?
Yamanashi: It's been 19 years since the launch of SHISEIDO MEN, during which the men's cosmetics market has undergone a significant change. Throughout this period of rapid change, SHISEIDO MEN has addressed consumers' concerns based on its knowledge of skin since its onset. With time, we were able to identify vulnerabilities*1 unique to men's skin. Based on the growing interests of men in beauty and new knowledge in the field, our SHISEIDO MEN brand was renewed and reborn.
― What knowledge have you gained in this project?
Yamanashi:
 We identified three major vulnerabilities
*1
in men's skin that could lead to skin problems, such as excessive sebum, dryness, and chapped skin. We applied this knowledge to develop new high-quality, high-performance products that will help keep men's skin healthy and enhance the vitality and suppleness of the skin. In particular, for the flagship product Ultimune™, Shiseido developed a new base material that achieves both non-sticky texture and high moisture retention, in order to address weaker physiological functions of men's skin compared to women, and realize a refreshing texture favored by men.
― There are differences in skin characteristics between men and women, right?
Yamanashi: Gender doesn't matter when it comes to pursuing beauty, but there are characteristics unique to men in terms of skin physiology. As a skin expert, Shiseido develops products based on factual knowledge obtained through many years of research.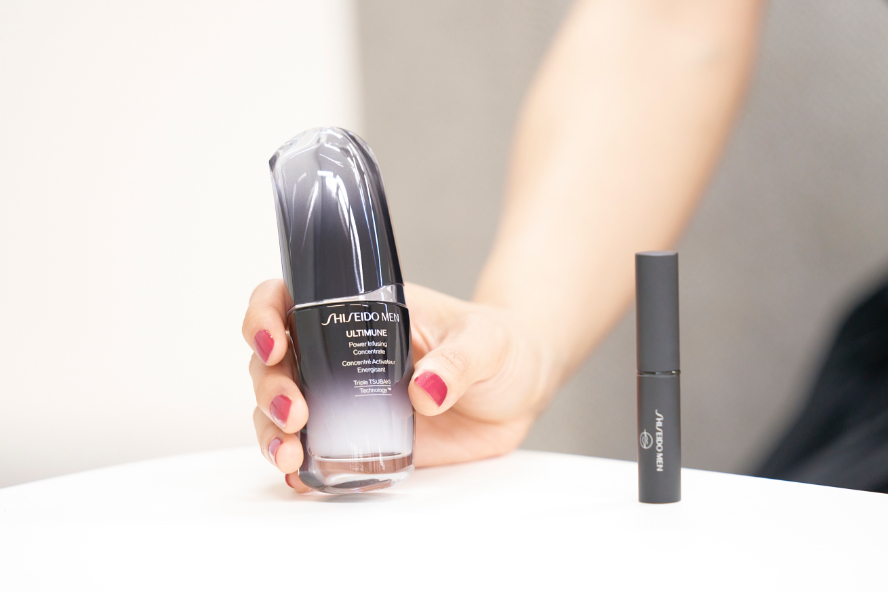 Makeup as an important component of self-expression
― In renewing SHISEIDO MEN, what types of changes have you noticed in men's beauty consciousness?
Yamanashi: Globally, from 2010 to 2019 the men's cosmetics market grew by approximately 5.2 percent each year, and is expected to grow further in the future*2. In major cities around the world, there are dedicated men's cosmetics counters at department stores, and many of the counters are renewed and upgraded. In China, one of SHISEIDO MEN's major markets, there is a sense that more and more people with a positive view of men in makeup. Through this promising trend, we're seeing more acceptance of men's skincare and makeup, and the increasing importance of its ability to express one's self, regardless of gender.
Ito: Japan also has a similar tendency. According to an awareness survey by Shiseido*3, 90% of men said that they wanted to try makeup, including those who said they "want to try if given the opportunity." This indicates that many men are highly interested in makeup. Aside from the fact that the market is growing yearly, we believe that increased teleworking due to COVID-19 has led to rising demand for men's skincare and makeup. Since people now have more opportunities to see their own faces during online meetings and on other occasions, we suppose that more and more people are cognizant of their skin tones and skin problems.
*2

:Source: Euromonitor (updated in December 2020), "Men's Grooming Market Size"

*3

:Shiseido survey "Questionnaire on men's makeup" (October 2019), Men aged 20s to 50s, n=439
Continuing support for living positively
― Could you talk about the packaging and design in more detail?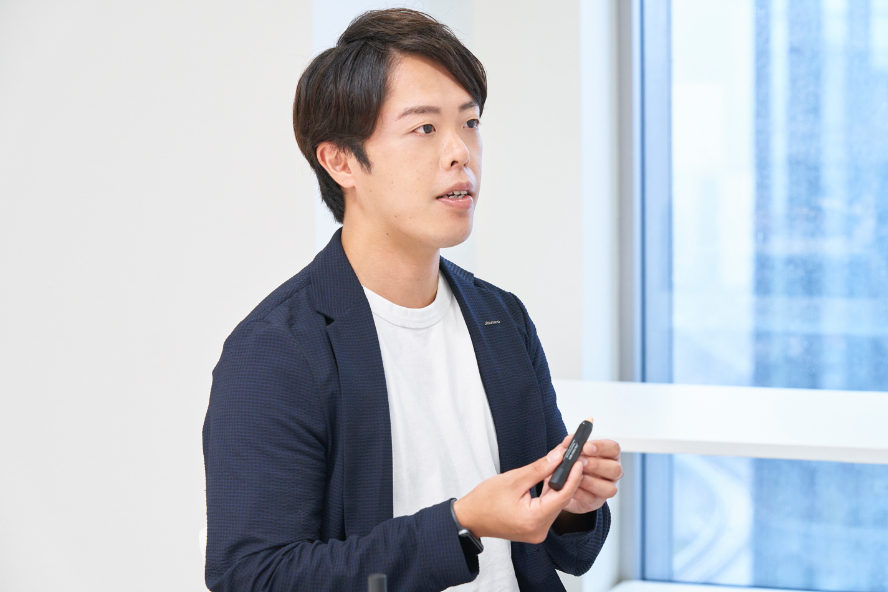 Ito: We put a lot of effort into design. For example, the makeup products have black packaging because it blends in with the inside of men's bags. Additionally, we have paid close attention to details such as making the tip of the eyebrow pencil thick so that makeup beginners can use it easily, and designing a harder less breakable pencil.
― Who do you want to use the new products?
Ito: We would like busy people to use them. The key concept of SHISEIDO MEN is, "LIVEN UP YOUR LOOK, OWN YOUR FUTURE" We hope that SHISEIDO MEN's skincare and makeup products give users more confidence in their skin, cheering them on in the face of various milestones and to take on new challenges. The makeup line, sold mainly in Japan and Asia, includes not only BB creams but also makeup items such as concealers and eyebrow pencils. We hope that consumers will start experimenting with even just a single SHISEIDO MEN's item, as they will be able to experience the difference it makes and become more positive.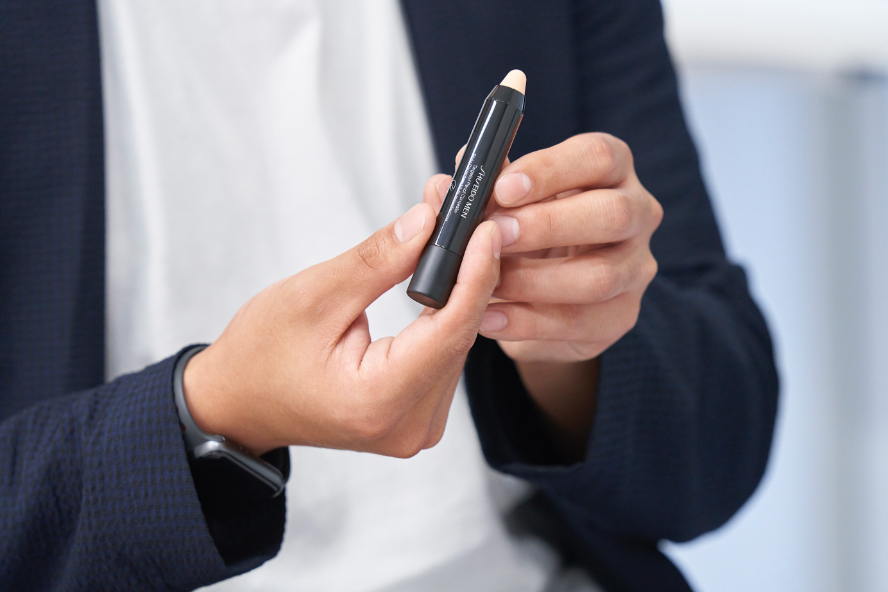 ― Finally, could you tell us about your enthusiasm regarding the latest renewal project?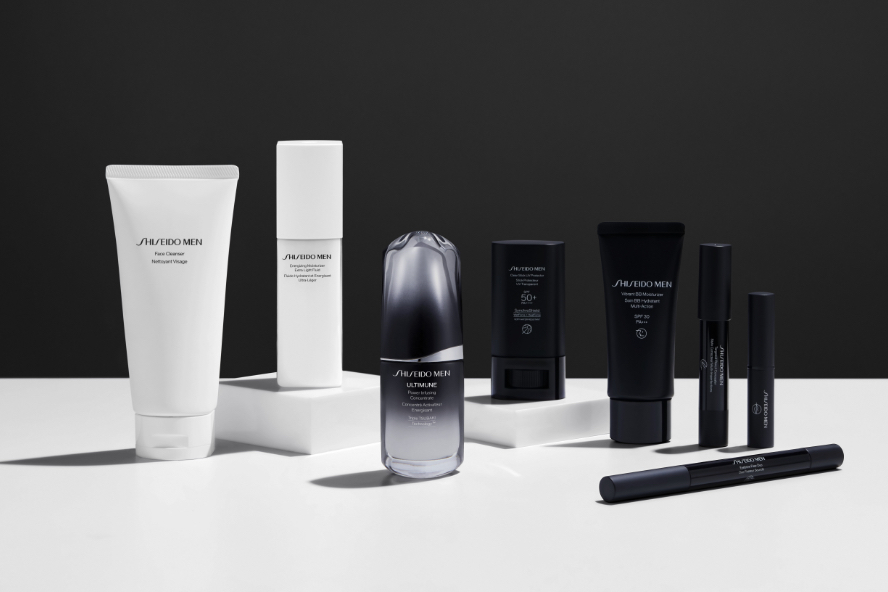 Yamanashi: SHISEIDO MEN aims to be a brand that accommodates the needs of men who fully enjoy every aspect of their professional and private lives. According to our survey, many men feel that being confident in their appearance allows them to be more optimistic. For this reason, our skincare lineup intends to make skin healthier in order to help customers be more self-confident. In addition, for the makeup lineup we've held many discussions to develop products that respond to the growing demand for men's makeup, especially in the Asian markets, and help users express their personalities. We recommend that people who want to improve the texture and look of their skin try our products.
SHISEIDO MEN was reborn to accommodate the needs of people who want to live positively and be themselves. In addition to this initiative, Shiseido aims to realize a diverse world where everyone can feel happiness.
Related website