Universal Design Initiatives
Universal design takes into account the environments in which all kinds of consumers live. It is an important approach for Shiseido given our commitment to create products that all consumers can enjoy with confidence and peace of mind.
Shiseido has further developed the Shiseido Universal Design Guidelines, adopted in 2005 based on expert theory and legislation, and renewed them in 2017 into more comprehensible, specific guidelines following our basic policy of "creating more attractive designs while giving priority to safety, security and user-friendliness."
In the current new product development process, we share actual information among related divisions, in line with the guidelines, about potential consumers who will use the products, possible situations where they will use them and how they will use them, in order to successfully carry out the design work.
"Is this designed as intuitively usable?", "Are appropriate amounts to be used and the usage instructions clearly displayed?" or "Will this be comfortably finished up?" – Asking ourselves those questions, we always seek safe, easy-to-use and comfortable package/container designs for every user of various physical sizes and abilities.
<Specific examples>
Shiseido launched PRIOR (in Japan)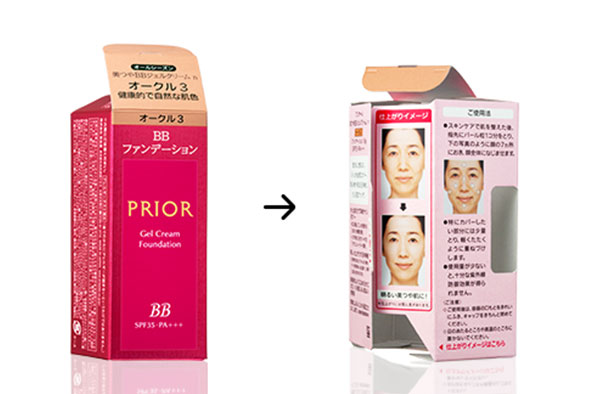 To develop the containers and packages, we directly interviewed a number of consumers in the target age group in order to repeatedly conduct the study, such as hearing about what they find inconvenient in their daily makeup routine and asking them to use the prototype. We have reflected the requests, which we heard in the course of this process, in the containers and package designs shown in the above photos.
The comprehensive brand PRIOR for women over 50 won a Gold Award at the IAUD International Design Awards 2018 organized by the International Association for Universal Design.