Richer and more sustainable.
The founding members of the skin & mind care brand "BAUM"
give a behind-the-scenes account of its creation.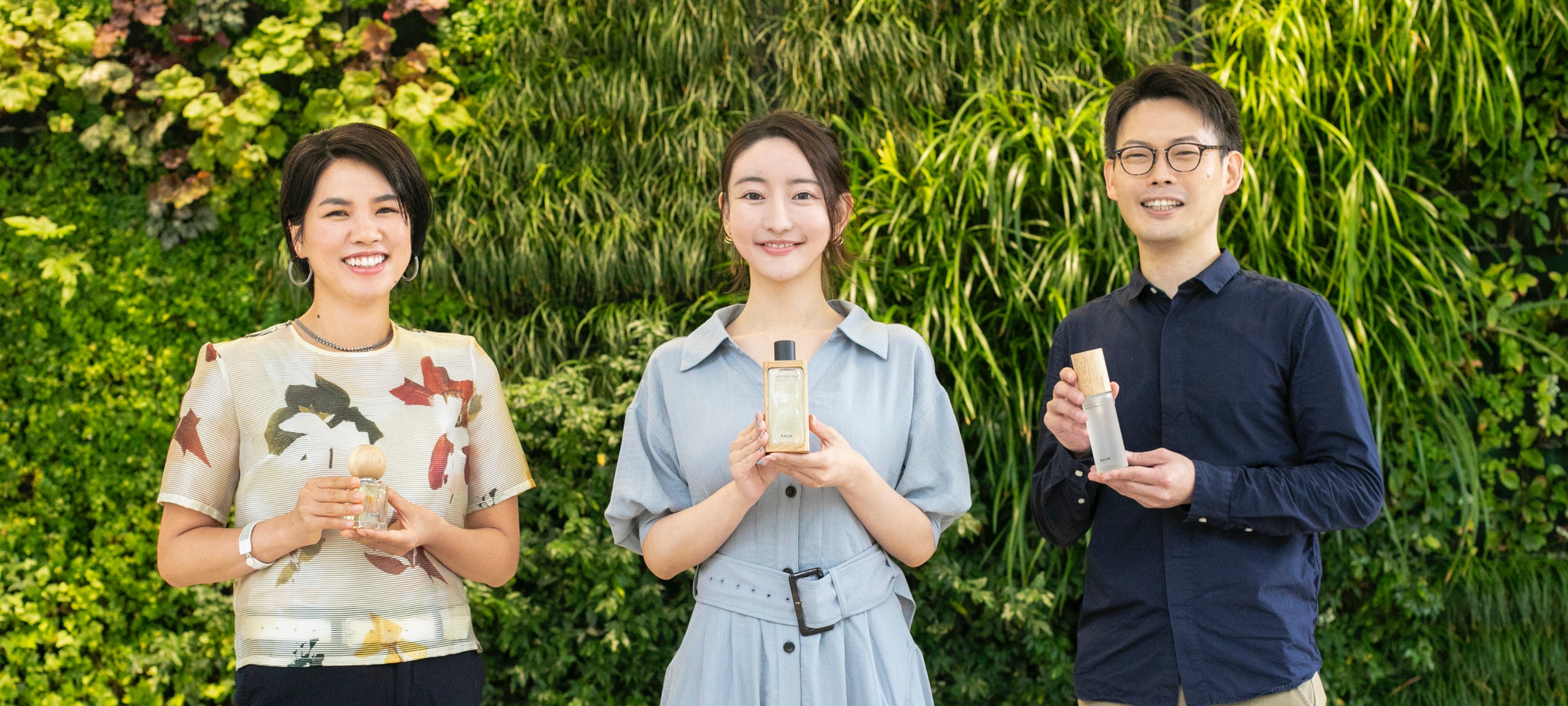 In June 2020, BAUM made its debut as a global skin beauty brand in the prestige category. It focuses on the "power of trees" that have been harmonizing with the changing environment since ancient times, while promoting the initiatives to solve social issues and reduce environmental impact under the Shiseido's philosophy "BEAUTY INNOVATIONS FOR A BETTER WORLD." Three years after its conceptualization, it was launched as a skin & mind care brand under the theme of "coexistence with trees." What are the thoughts of the project team that endeavored to balance a sustainability mindset and the beauty business and then tackled the new unconventional challenge of using wood for cosmetics packaging to embody the theme? We talked with three members: Ayami Nishiwaki, BAUM Brand Manager, Motoki Okoshi responsible for the outer packaging design at Global Innovation Center, and Midori Yamada, Package Designer of the Creative Division.
To create what inspires a "genuine desire to use" instead of "imposing a sustainable product"
―Could you talk about the background of launching BAUM?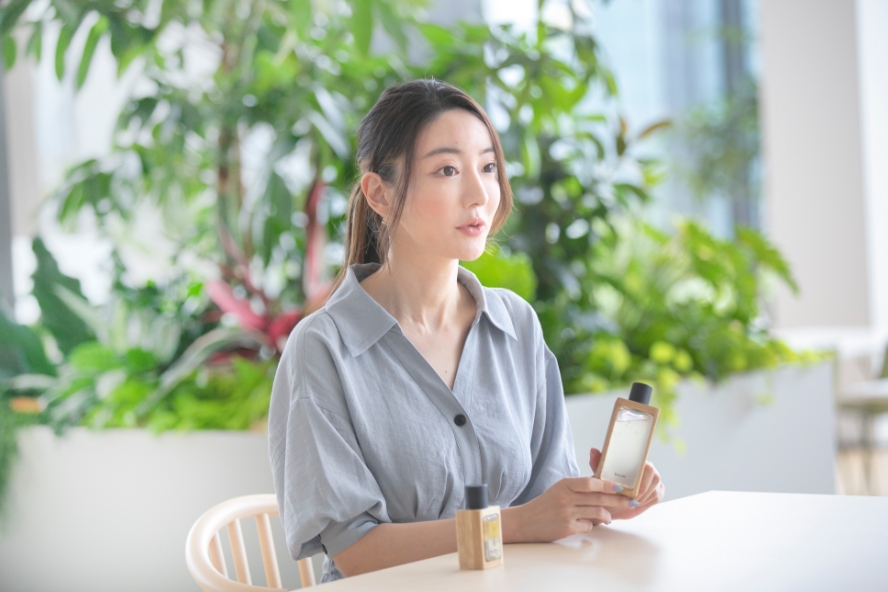 Nishiwaki: We started by reviewing what actually constitutes prestige or "richness" reflecting the times in developing a new brand in the prestige category. In doing so, we found a shift from "material" richness to "psychological" richness. The younger generation, particularly, seems to emphasize with psychological richness rather than enjoying a material-rich life, such as by connecting their purchasing behavior to society in certain ways and thus increasing a sense of self-affirmation and self-satisfaction. This naturally leads to highlighting "sustainability" as a key word.
When we as a Japanese company think about "sustainability," "coexistence with nature" is the first thing that comes to mind.
As symbolized in the phrase "itadakimasu (thank you for the meal or offering)," maintaining a sense of awe and gratitude towards nature and living by efficiently circulating the limited resources in this island nation are deeply engrained elements of Japanese culture. We started brand value development with that stance. Among a wide variety of ideas, we ultimately decided to use the idea of "coexistence with trees." Trees are familiar materials for Japanese culture and symbolize the circulation of resources. We think them the best motif to represent what a prestige brand should look like in the coming age.
―I heard that your team focused on "a sense of familiarity upon use" as the consumers' motive for selecting products while being aware of sustainability.
Nishiwaki: Yes. We had considerable doubt about unilateral promotion of the sustainability mindset, which might not have taken root in the market. Everyone can agree that the right choice for humanity is "something that is good for the global environment." Although we did wonder to what extent people would be able to identify with such an idea in the "cosmetics" field which involves a greater range of preferences. When pursuing sustainability to the fullest extent, the end is minimalism. Yet cosmetics have an aspect of enjoying luxury, and what matters here is the emotional uplift brought about by using the product. In such a sense, emotional elements in design and quality mean a lot. How we can pursue sustainability as "a new style of richness" without depriving people of the "familiarity" upon use is the most important element and determines the success of the brand, we believe. That's because we thoroughly committed to finding the right balance. Aiming to induce reactions such as "curiosity lead me to this product, but it's also sustainable," we never compromised in the pursuit of overwhelmingly "cool" products and products that people would truly want.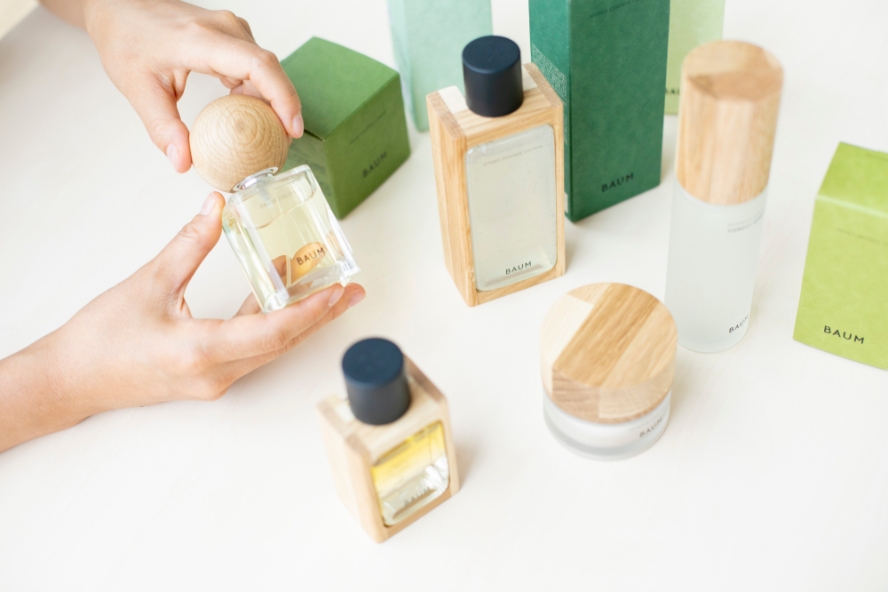 All senses deeply healed. We want to provide such a "skin & mind care" experience.
―BAUM has been realized through solid building of the brand story that "consumers' rich experience is organically connected with the context of being sustainable." Am I right?
Nishiwaki:
 Yes. What we care about is how concepts like "sustainability" could be conveyed to consumers in a substantive manner. So, it is very meaningful to use "trees" as a familiar and simple symbol. Trees have rings that are added annually and increase their value over time. This matches with our aim of "creating a better world." So, we thought "this is it!" and then named the brand BAUM, meaning tree in German.
―What kind of experience is the "skin & mind care" that BAUM touts?
Nishiwaki:
 The most important thing is what people expect from beauty care today. Modern people are exposed to huge amounts of information every day and are always under psychological stress. To satisfy them, we want our products to touch their minds, rather than simply be cosmetics applied to their skin. That is another reason behind us focusing on trees. It is the existence of "phytoncides," volatile compounds released by trees, which have the therapeutic use of refreshing the mind when walking in the forest. Their scent inspired us. By providing this forest therapy-like experience at home in the city, we aimed to realize a mindful beauty experience beyond pin-pointed symptomatic skincare. So, BAUM also offers candles and room sprays. We want people to enjoy a new skincare "ritual (experience)" in the scent-produced space.
―Could you talk about the package design next? How did you incorporate the themes like "sustainability" and "trees"?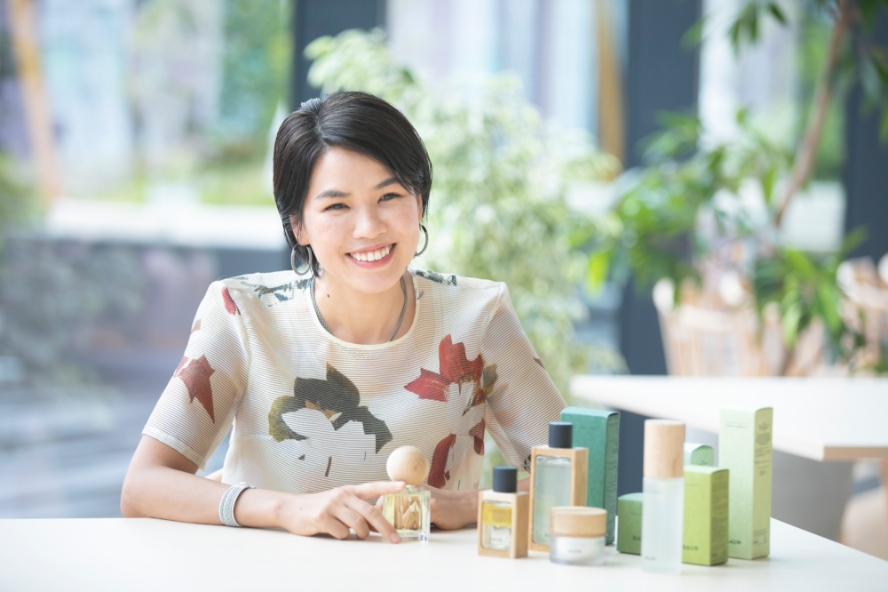 Yamada: Since the brand concept is "coexistence with trees," we use real recycled wood for packaging. Many of the cosmetics packages in the current market promote clever design, but BAUM aims to be something that can easily share any space in a house, with interior-like elements in mind.
―You use upcycled wood from Karimoku Furniture for packaging, don't you?
Yamada:
 Yes. There were countless challenges in using wood for packaging and this project would have never been completed without professional insights. So, we welcomed Mr. Wataru Kumano, a furniture designer who understands the characteristics of wood in detail. When we were talking, we learned that a large volume of leftover materials is generated in the process of making furniture. Considering their use for packaging, we started the project with the cooperation of Karimoku Furniture, an established Japanese furniture maker.
―There aren't many cases of using wood for cosmetics packaging.
Okoshi: Indeed. I'm in charge of packaging, but with little experience of using wood for the product itself, I was very worried in the beginning. Because wood is a natural material and it generates woodchips, there were many issues regarding hygiene management. But thanks to the efforts of Karimoku, for example, by making a special clean room to prevent woodchip generation, we could eventually overcome the hurdles. We also worked with factory and quality management staff to solve the concerns one by one to prevent woodchip generation, worm contamination and microbial infection.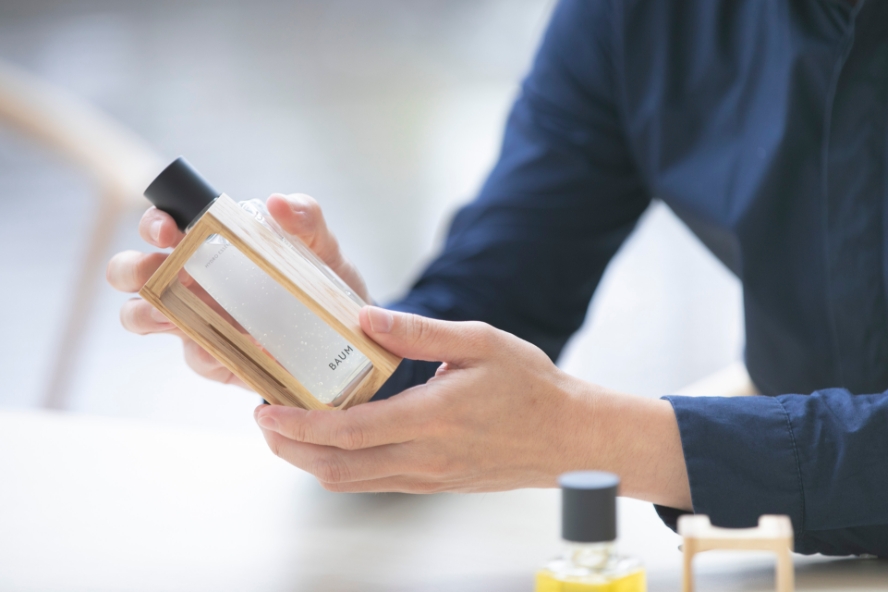 ―Had refill design been planned from the beginning as a means to create a sustainable brand?
Nishiwaki:
 Yes, we had planned this from the start. Once a product is purchased, the wooden part of the package can be permanently used with only refill replacement required. Refills use materials with little environmental impact such as bioPET resin and recycled glass. The wooden part fits comfortably in the hand like luxury furniture thanks to the leftover materials from the prestige furniture maker Karimoku Furniture, enabling extended use. There are individual differences in the combination of wood grain and leftover materials, and no two pieces are the same, making users feel attached to their one and only, unique product.
―What were the difficulties in producing actual packages?
Okoshi:
 It was difficult to fit the wood frame, which expands and shrinks with temperature and humidity, and plastic refill. We repeated test production. We thought about using shock-absorbent materials, but this would disturb the visual appeal. We were committed to a simple completion of the product with the wood frame and plastic refill alone. That was really challenging. We nearly decided to put very small stoppers separately on the inner bottom of the wood frame but held back thinking "it does not look cool. Let's do something without stoppers." Since we set sustainability as the brand theme, we wanted to have wood only and nothing else. So, we pushed the clearance between the wood frame and bottle right to the limit and adjusted the dimensions and shapes of minor parts and the neck bottom by tenths of a millimeter. It was simple tenacity (laugh). You can take it out smoothly and it clicks into place. We want many people to enjoy this "pleasant feel" of refilling, even including the clicking sound. The wood frame also develops a nice look over time, a kind of "aging glorification," which hopefully brings another level of joy in using the product.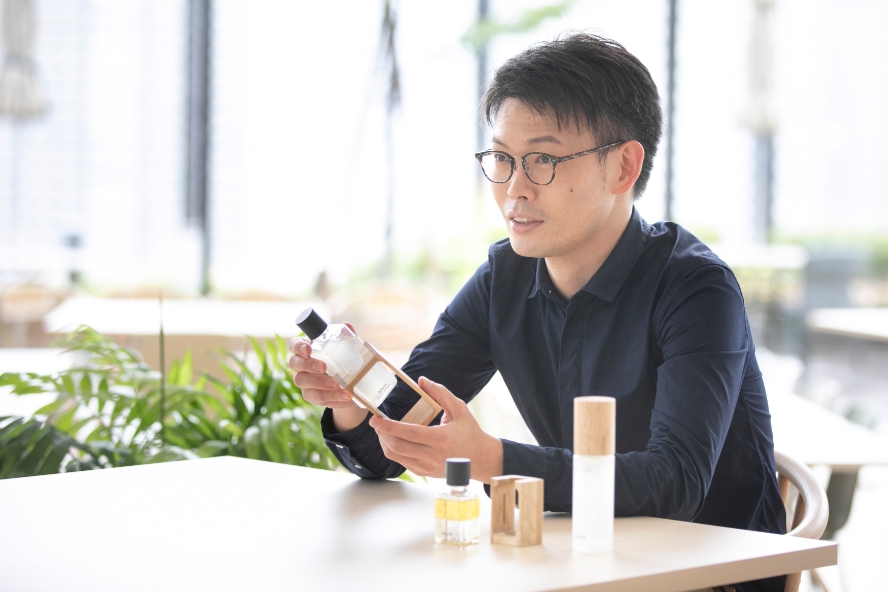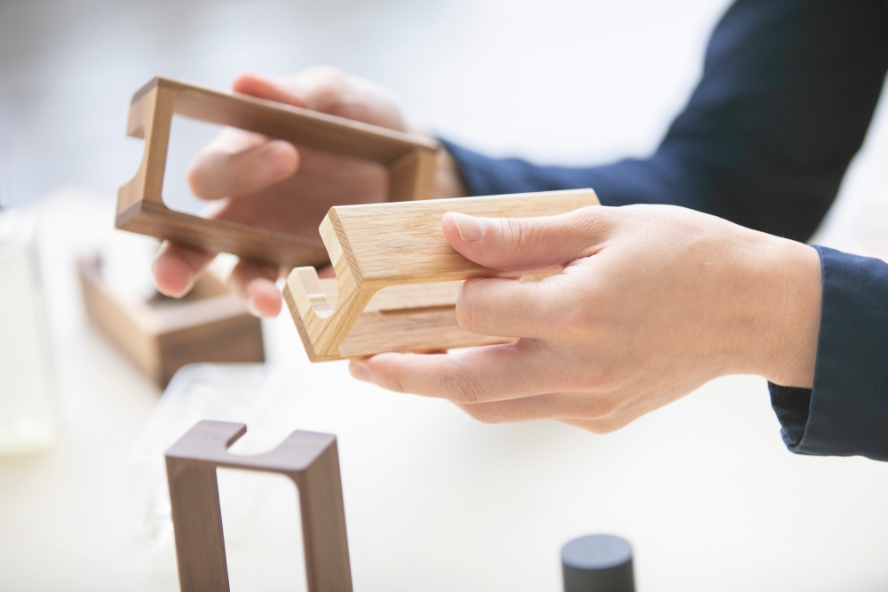 One year since its launch. Happy to know many users experienced its value on various levels.
―One year has passed since its launch. How did you feel about the reactions of customers and society in general?
Nishiwaki:
 We were confident that we had made something inspiring in terms of design and value of experience, rather than pushing the notion of something sustainable, but we initially thought that a little more time might be required to make the sustainability mindset and the brand story a direct motivation of purchase in the true sense. There were, surprisingly, many people who bought BAUM to support its concept of sustainability. The ratio of people in their 20s, younger than the target we expected initially, was the highest among the purchasers. It was a happy surprise to know many people sympathized with the concept from the beginning. Some like the design, some like the scent, some show interest in the ingredients, and some are inspired by its concept. There are various reasons behind purchase, indicating people feel BAUM has a variety of value options. That is exactly how BAUM should be, and we want it to be the brand that accepts value at various levels.
Okoshi:
 The contents matter for cosmetics, but as one who designed the package, I am glad that many people bought BAUM because of its packaging (package-induced purchase). Its wooden frame design and forest bath scent appeal to people regardless of gender (gender neutral), and the fact that many purchases are based on the concept matches the outcome we aimed for. I am also happy that the package received many design awards and is highly evaluated.
Yamada:
 Design awards place importance on not only beautiful design, but also on the story behind it. While design awards are definitely given for the design, they are also for the brand itself, I think. So, I feel great satisfaction because the product is the result of our teamwork with so many people involved including outside companies.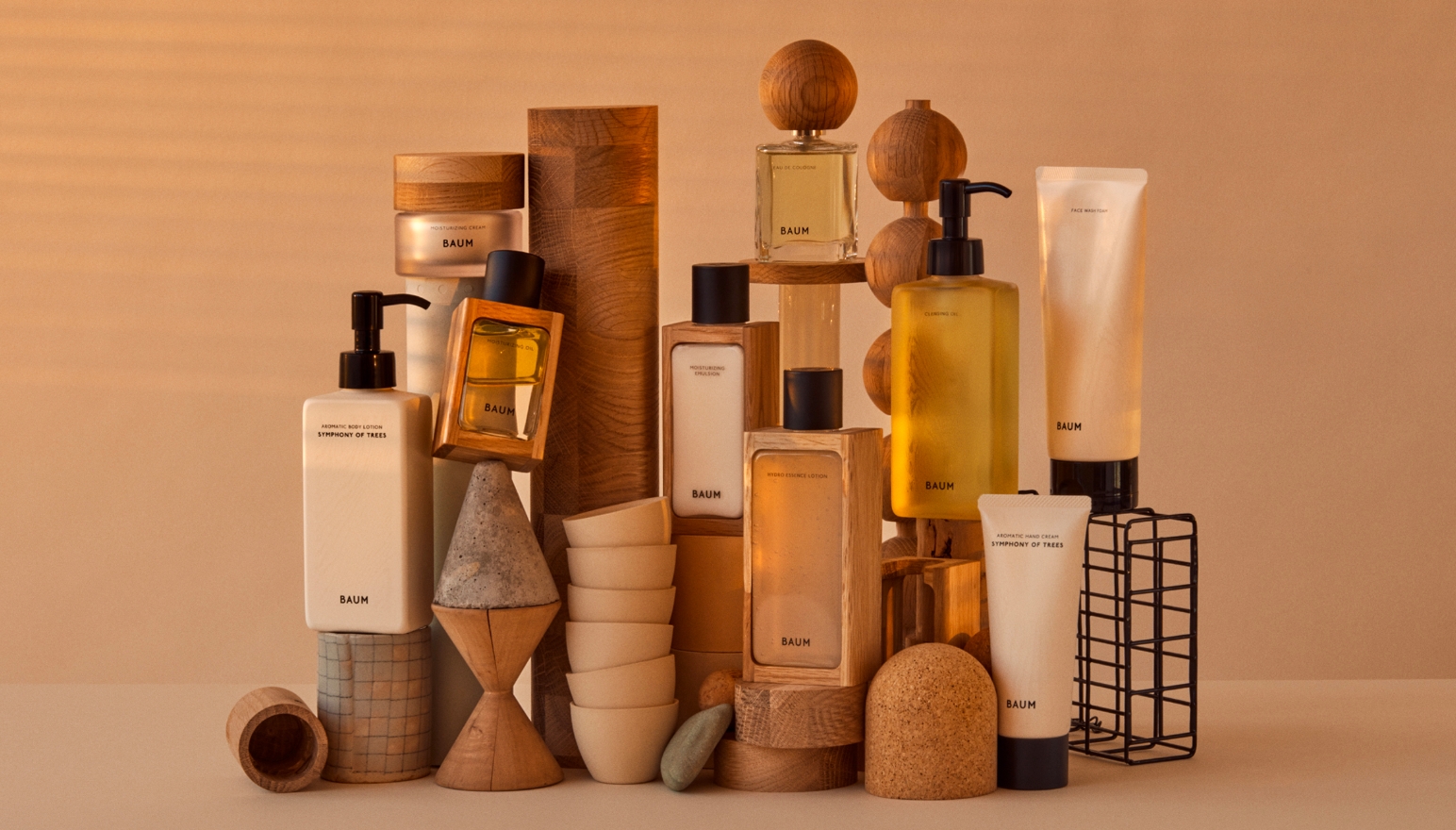 Return and circulate blessings. Future sustainability sought by BAUM.
―So BAUM keeps on evolving.
Nishiwaki:
  Yes. We will further develop both the contents and packages. We now use oak trees from the Tohoku region for packaging. As part of the brand's initiatives, and because we want to circulate such blessings of nature, we are engaged in the forestation activities of growing saplings mainly of the oak trees in our stores and planting the grown ones in the "BAUM Oak Forest" in Iwate Prefecture. The first planting is planned for autumn 2021 in cooperation with Sumitomo Forestry.
―It was the passion of all the members that realized this unprecedented project through repeated trial and error, wasn't it?
Nishiwaki:
 Indeed. We have overcome so many hurdles to get here. Almost everything was a first and unprecedented challenge, and we fought while feeling cornered by walls of negative thoughts constantly closing in from all sides. Each time, we stubbornly kept on exploring how we could realize our aims. Our enthusiasm was widely supported, winning new members and gaining support from many people inside and outside the company. The result is BAUM. Since its launch, we have received many inquiries from both Japanese and overseas consumers. It will be available in China in autumn 2021. We are happy that many more people will experience BAUM.
Related website