INNOVATION
SUPPORTING GROWTH WITH INNOVATION AND SUPPLY NETWORK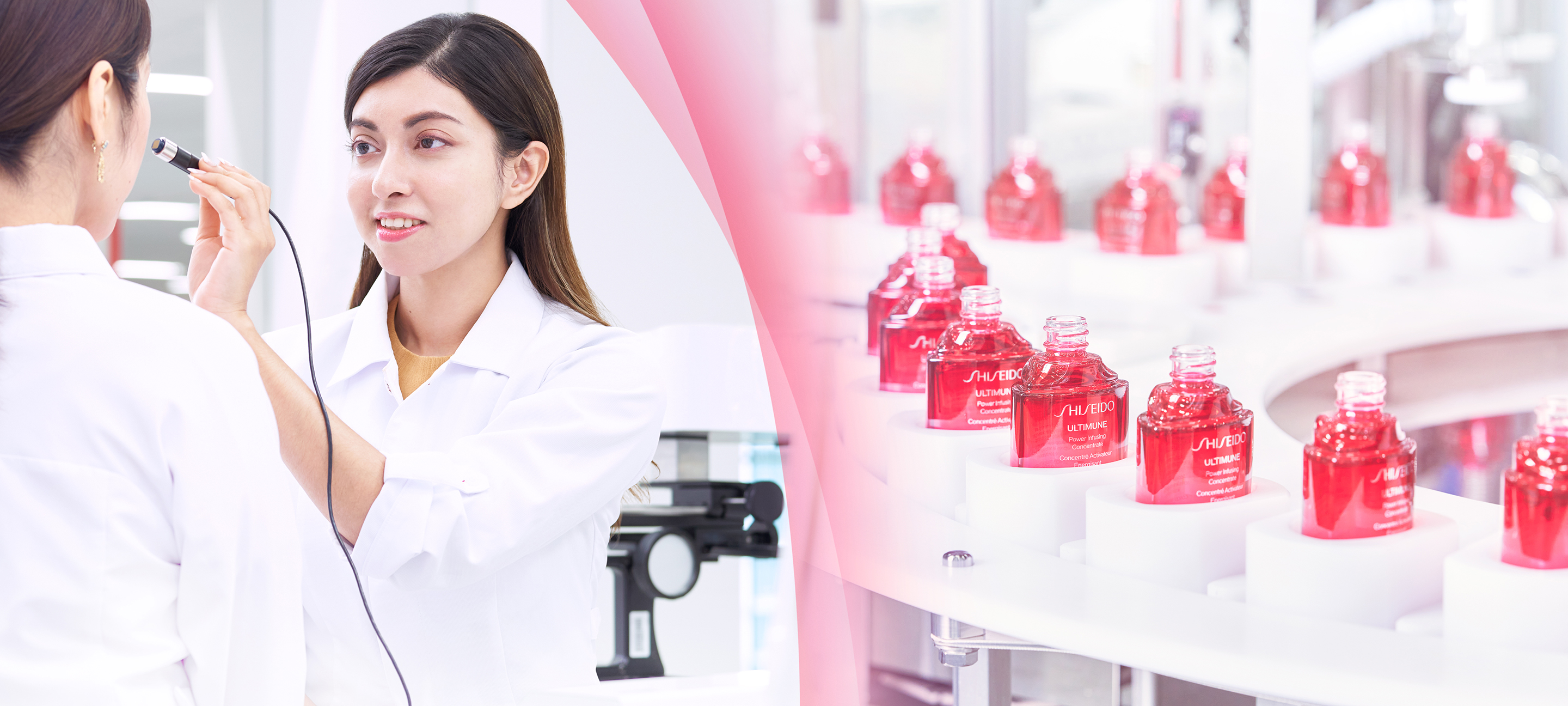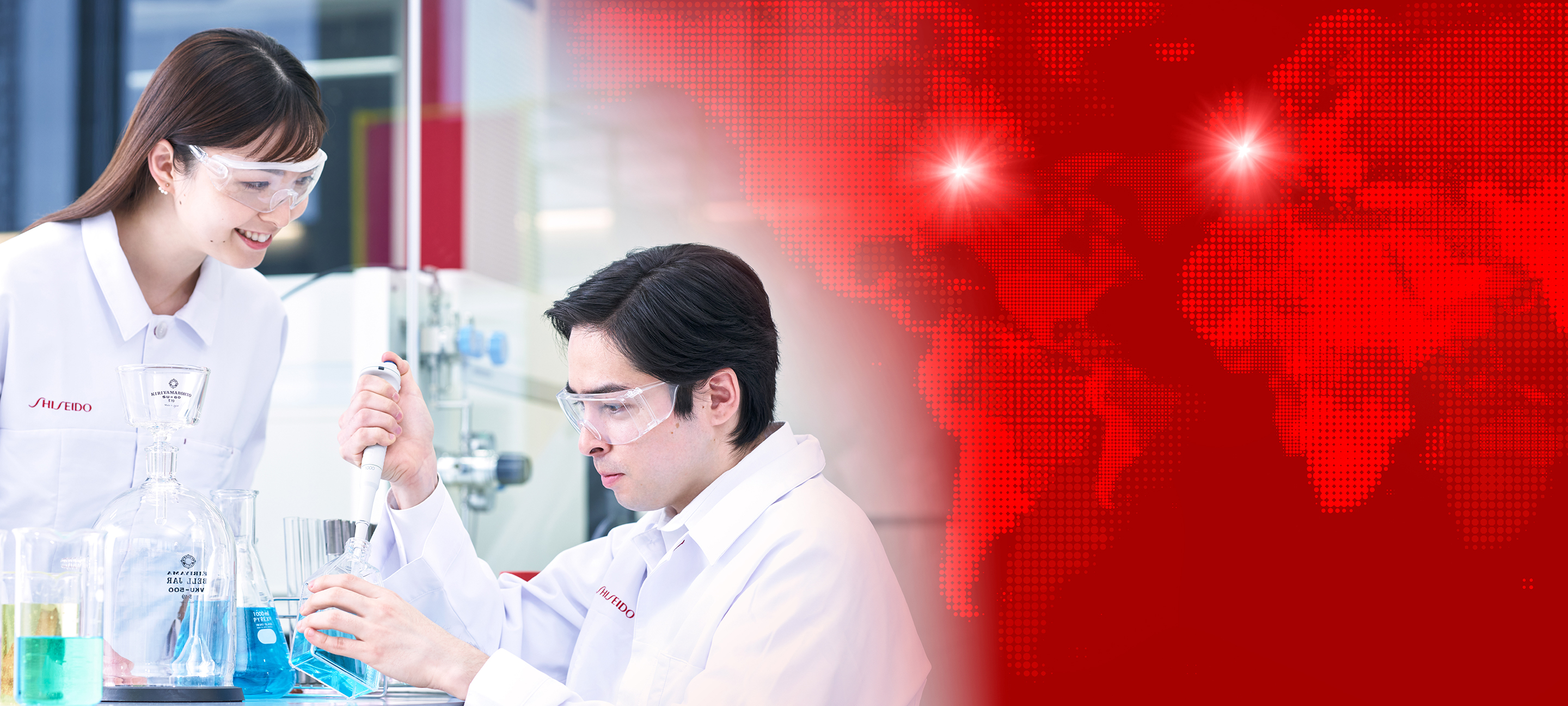 R&D
The fusion of knowledge and people from diverse backgrounds
continues to create innovation and new value.
Under the philosophy of DYNAMIC HARMONY, Shiseido R&D will drive innovation.
DYNAMIC HARMONY is derived from the origins of Shiseido, a fusion of the Western science and Eastern wisdom, which has been pursued since our founding in the Meiji era as Japan's first private Western-style pharmacy. We have redefined and articulated our strengths as our unique R&D concept of creating unique unprecedented value by fusing seemingly opposite, oil-and-water values.
To promote the creation of new value based on DYNAMIC HARMONY, we are developing a variety of environments and proactive initiatives that will create the fusion of diverse knowledge and people inside and outside of the company, mainly at the Shiseido Global Innovation Center, our research and development base called S/PARK.
These new attempts will spawn new products, services and create beauty experiences that go well beyond traditional cosmetics to inspire our customers and bring about a new lifestyle around the world.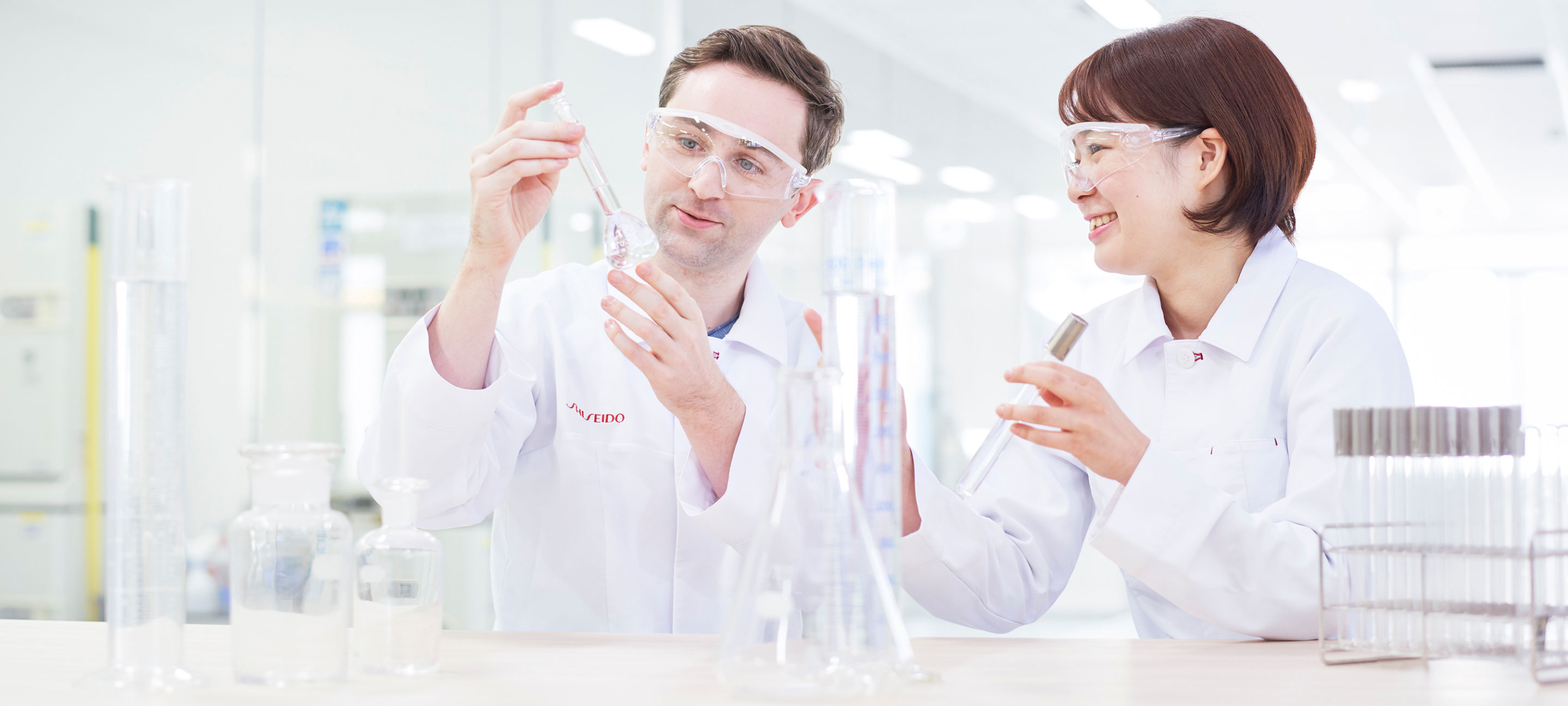 Promoting a sustainable environment.
Preserving the beauty of our earth.
Consumers in every corner of the world are increasingly aware of and sensitive to sustainability. To them––and to us––respecting the earth and safeguarding its treasures and all the life it holds within is paramount.
For years, we have been pioneers in developing and using packaging that is friendly to the environment. Recently, we proactively began working at creating and introducing biodegradable packaging.
We are currently in the process of tackling issues such as marine litter and the use of limited resources in ways that are both efficient and effective by advancing our unique technology and collaborating with other companies and organizations. All of us at Shiseido are fully committed to continuing our tireless efforts to create value by procuring ingredients and developing formulations with minimum environmental impact.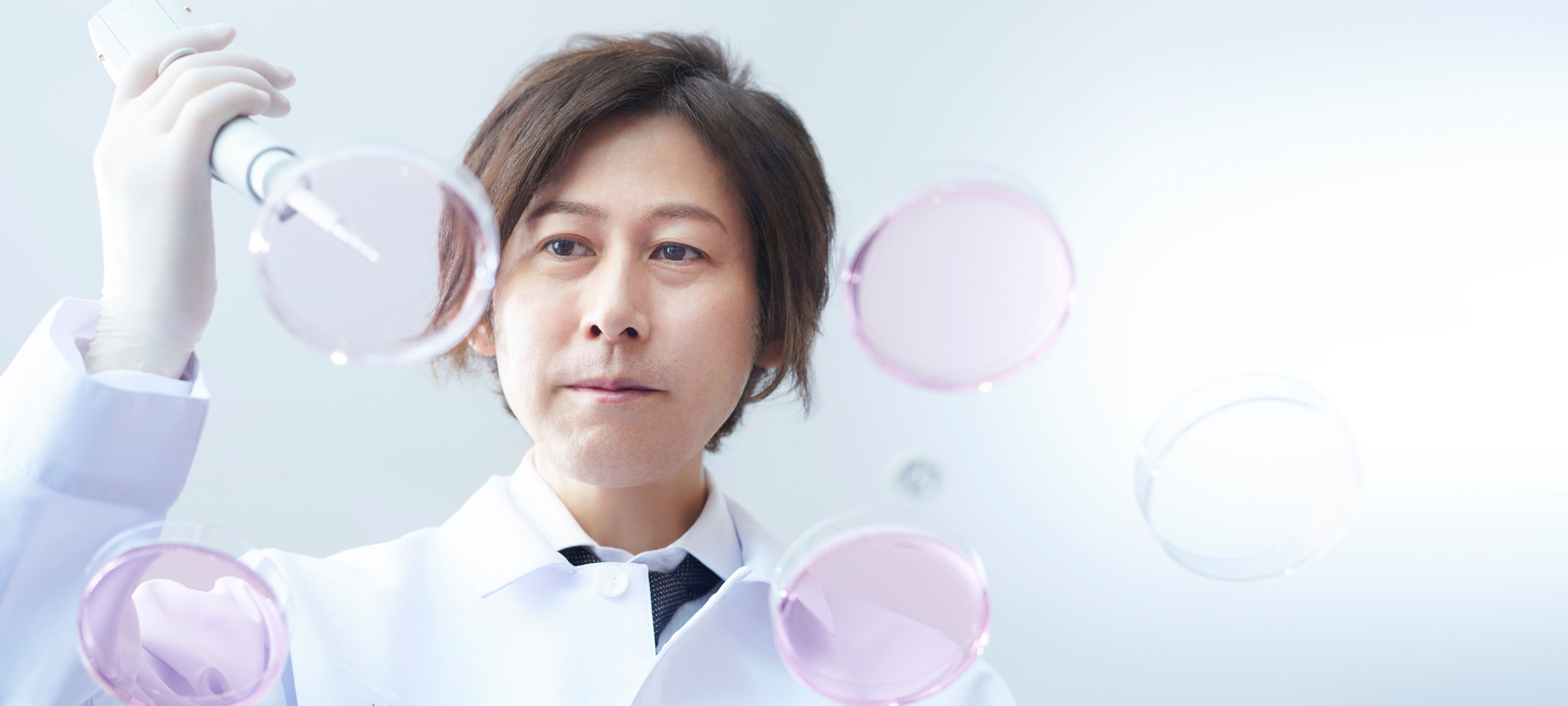 The safety, comfort, and peace of mind of our consumers are our utmost priority. Our commitment to and full compliance with the highest safety and quality standards is unwavering and non-negotiable.
Safety assurance is achieved through compliance with our own stringent standards in addition to laws and regulations.
We prioritize quality and safety above all and work to ensure our consumers' peace of mind.
Research Areas
Our areas of research are expanding in response to changes in consumer lifestyles and society in general. In addition to our seminal achievements in psychological research, material science, and skin research, which have been accumulated over more than a century of research and development, we are making strides in regenerative medicine as well as cutting-edge digital fields such as AI and IoT.
1. STRONG RESEARCH AREAS
Psychological Research
We untangle the hidden connections between our physical senses and our mind. We reveal the feelings associated with cosmetics and consumer preferences using psychology and neuroscience.
Material Science
Creating materials and base formulas that can deliver functionalities to fit consumer needs.
Skin Research
This medical field involves the in-depth study of skin from multiple perspectives in order to develop technologies that solve consumer concerns.
2. NEW RESEARCH AREAS
By combining information science and digital device research with holistic research that covers the entire body, we will create a variety of beauty approaches, including cosmetics, and a new beauty experience.
The beauty company most awarded by IFSCC.
The International Federation of Societies of Cosmetic Chemists (IFSCC) is the world's most prestigious and respected cosmetics association, and the ultimate global forum at which the latest cosmetic technologies and scientific findings are presented. No beauty company has received more IFSCC awards than Shiseido – further proof of our passionate commitment to research and development, and our unsurpassed level of technology.
Staying true to Shiseido company's name, we have committed to living up to the expectations of our consumers in ways promote sustainability.
OUR PRODUCTS DEVELOPMENT POLICIES
Technological prowess that supports "beauty" as seen in the video.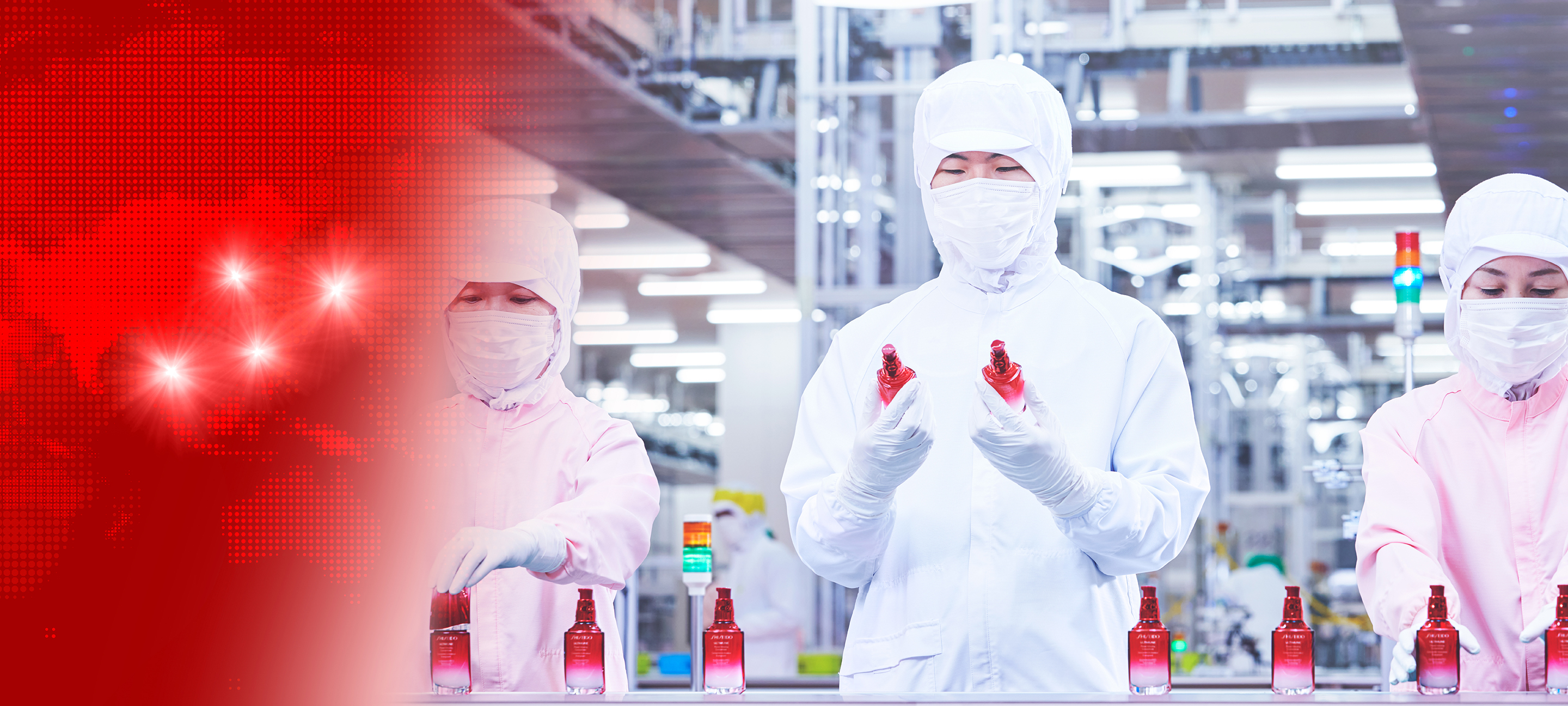 Supply Network
Our Supply Network Vision is to become a powerful enabler to our brands, create new values for the consumers and deliver BEAUTY INNOVATIONS FOR A BETTER WORLD.
Our role is expressed in the three missions below:
1.
To deliver the most agile, efficient and responsible "end to end" solutions, creating new values for the consumers
2.
To be actively engaged teams, always honoring Shiseido's heritage, values and working principles (TRUST 8)
3.
To be a diverse and inclusive team, able to adapt with best in class agility to the ever changing market conditions and consumer expectations all around the world
Global Supply Network Strategy
Our Supply Network teams are actively engaged in all the regions of the World, in our offices, factories or distribution centers. Our Global Supply Network Footprint allows us to keep a very close ear to our markets, developing solutions that address their specific needs and proactively adapting our strategies with agility and speed.
Sustainability
With the active engagement of all our teams, we have developed a concrete roadmap for each of our facilities to reach our ambitious sustainability goals like carbon neutrality, zero waste landfill, 50% reduction of water consumption, 30 % reduction of waste, 100% sustainability assessment of our suppliers.
High Quality
With the concept of "TAKUMI – EXCELLENCE" in our heart, our Supply Network teams are committed to deliver the best quality performance in the beauty industry is terms of product safety, product functionality and consumer experience.