It's ELIXIR, Japan's No.1*1 skincare brand that can do it!
Contributing to create a sustainable environment in Asia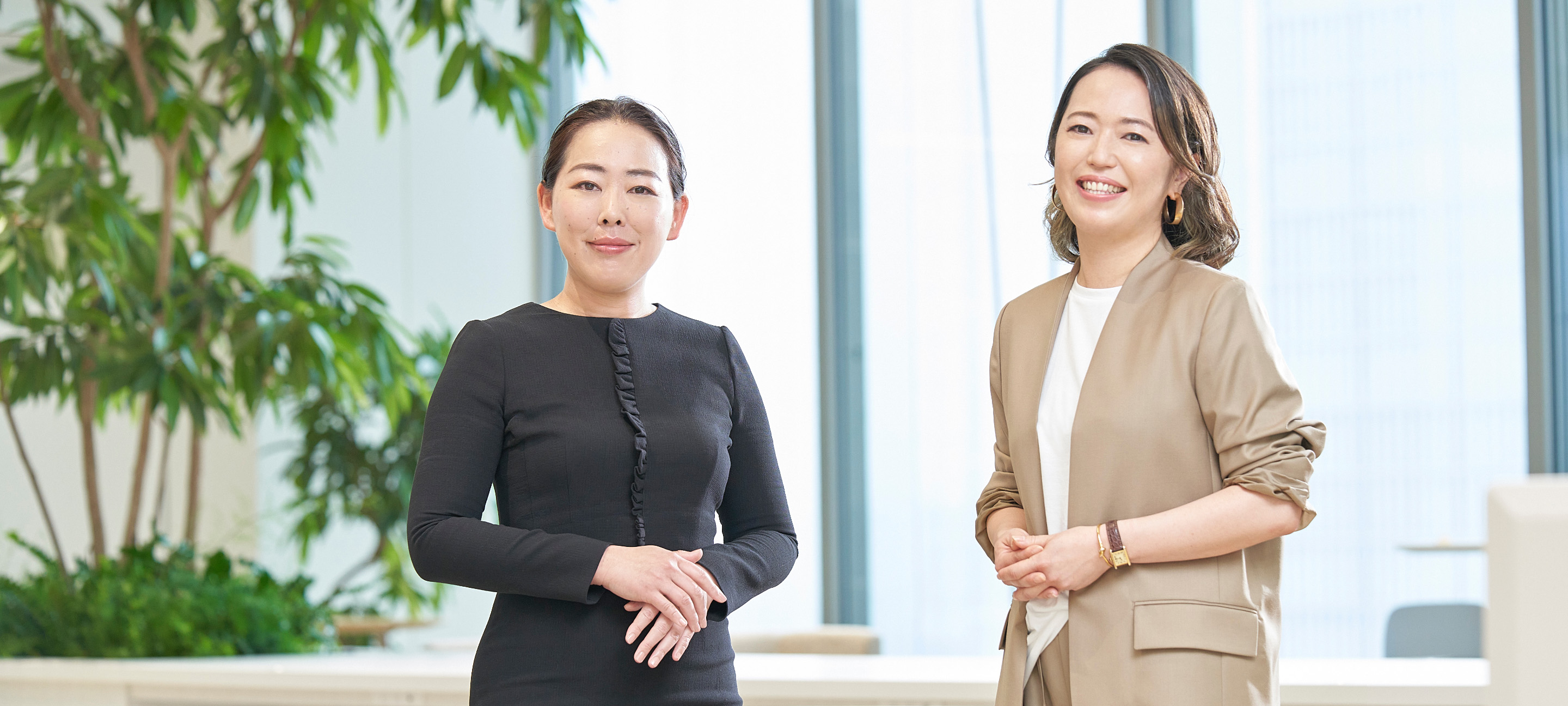 Shiseido strives to accomplish 100% sustainable packaging* by 2025 in its desire to protect and respect people, society and the environment under the 5R initiative: "Respect," "Reduce," "Reuse," "Recycle," and "Replace."
To this end, in 2012 Shiseido launched refillable lotion/emulsion products through its skincare brand ELIXIR in Japan, "wishing to contribute to the sustainability of the environment by reducing plastic waste." Now, ELIXIR serves as an important driving force for Shiseido's sustainability activities through the distribution of refillable products, including lotions and emulsions as well as creams and serums.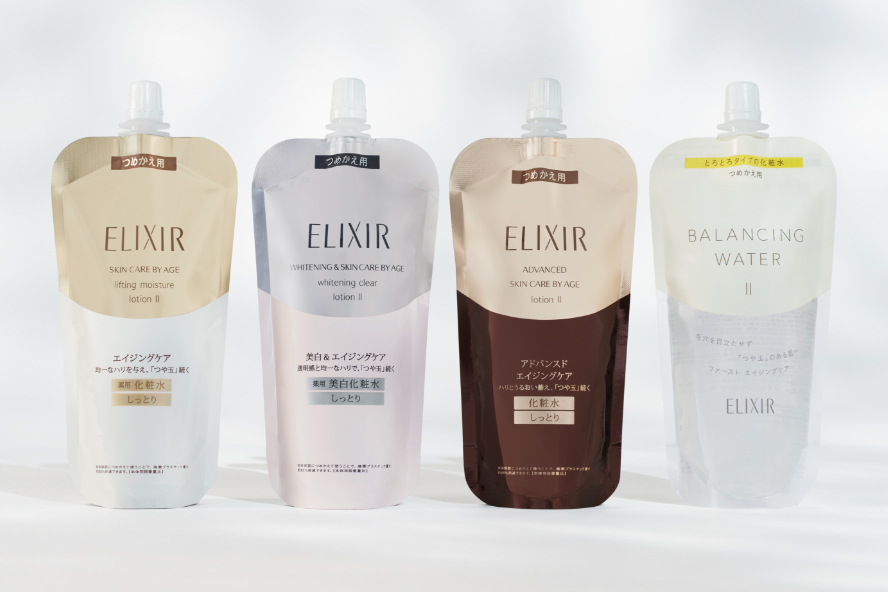 Four Shiseido employees share their thoughts on ELIXIR's sustainability activities:
●

Shiseido Co., Ltd., ELIXIR Global Brand Unit, Global Vice President, SEIKA TERANISHI

●

Shiseido Co., Ltd., ELIXIR Global Brand Unit, Assistant Brand Manager, KEI FUKAZAWA

●

Shiseido Japan Co., Ltd., ELIXIR/ANESSA Dept., ELIXIR G, Brand Manager, MICHIKO MATSUKAWA

●

Shiseido China Co., Ltd., Cosmetic Premium Dept., ELIXIR Brand Unit, Brand Director, AN MANG
Wishing to enhance ELIXIR's social values as a skincare brand representing Japan
― Could you please talk about ELIXIR's sustainability activities?
Teranishi: Thanks to customers' support, ELIXIR has become the No. 1 skincare brand*1 for all sales channels in the Japanese market, including departmental stores and e-commerce, while also achieving continued double-digit growth in the Chinese market for four consecutive years*2 since 2017. Thus, we should set a higher goal not only aiming to enhance ELIXIR's economic values but also its social values, as Japan's No. 1 skincare brand.
This year marks the 10th year since we first launched ELIXIR's refillable lotion/emulsion products in Japan in 2012. We have begun sales of these products in China from January 2021, with plans to also expand into Asian countries and regions.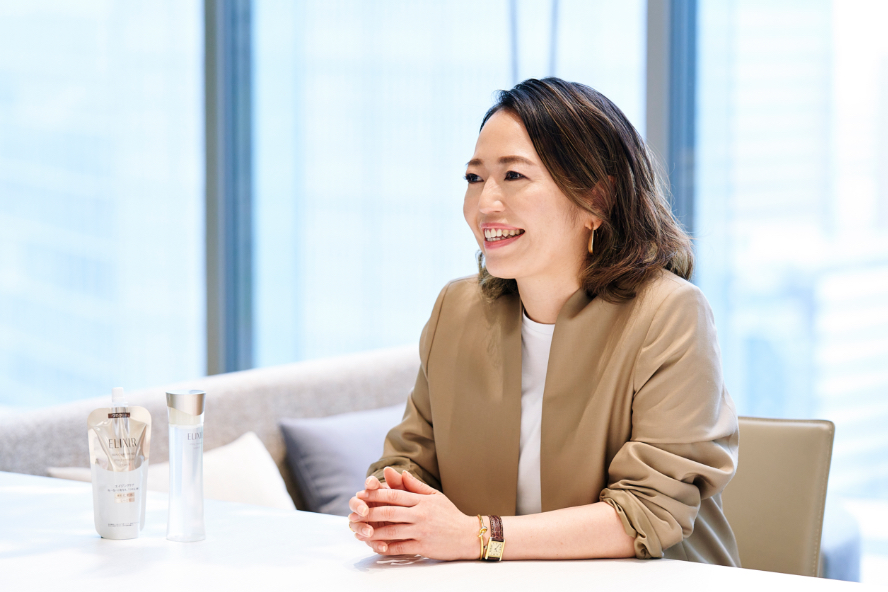 Refillable products currently account for approximately 50%*3 of total sales for ELIXIR lotions and emulsions. Given that they also account for approximately 20%*4 of sales for all lotions and emulsions in the Japanese market, it is clear that ELIXIR's sustainability activities have taken root in society, earning the sympathy and support of many customers.
We're communicating the importance of sustainability activities to people through our "Global Sustainability Campaign," a promotional campaign for refillable products in collaboration with "Doraemon," which is a popular and loved character in Asian countries.
These initiatives will not be accomplished in a short period of time, but will continue to be implemented in the medium to long term. We intendto keep striving to create a sustainable environment going forward.
― Do you have any specific goals?
Teranishi: With ELIXIR's refillable products, we can reduce plastic usage by approximately 85%*5. However, our goal is to reduce global plastic usage by popularizing the new skincare practice of using refillable products in Asia, for a reduction of approximately 400 tons*6 per year in 2023. On top of that, we aim to make all major products refillable in ELIXIR's lineup by 2025.
*1

INTAGE SLI skincare market January 2018 – December 2020 sales share by main series

*2

Shipment value from 2016 to 2020

*3

Sales volume of ELIXIR's lotions/emulsions (excluding Day Care Revolution) shipped in 2020

*4

INTAGE SLI lotion/emulsion market January - December 2019

*5

Weight ratio in plastic usage against bottle-type product packaging (lotion)

*6

Based on the formula: in-store sales volume (target) of lotion and emulsion refillable products in 2023
x (plastic weight in product packaging (original version) – plastic weight in refillable product packaging)
(The difference in capacity between original product packaging and refillable product packaging is included in the calculation.)
Providing safe and sustainable packaging by carefully verifying each product
― What challenges did you encounter while developing refillable product packaging?
Fukazawa: Different cosmetics have different properties; therefore, we need to verify every detail of each product, while considering various elements of the container such as shape, material, and design, as well as focusing on the characteristics of the product's formula.
For example, ELIXIR's anti-aging lotion is categorized into three texture types with different formulas. We need to conduct refill packaging tests for each texture type, over and over again, to check if the package is designed to easily move the contents to the original container, while securing the stability and safety of those contents during mass production.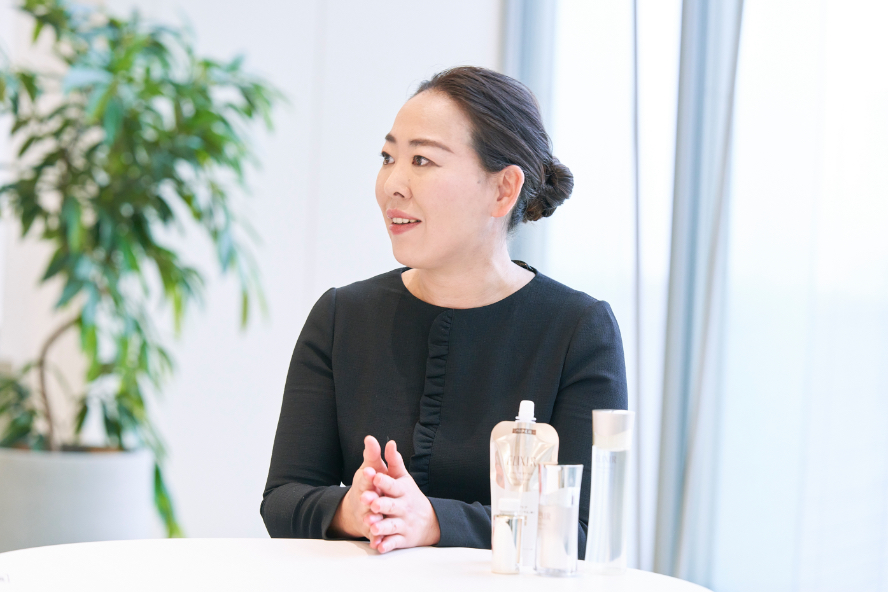 ― The lotion needs to be verified by texture type regardless of product line, right?
Fukazawa: Yes, that's right. We provide safe and sustainable packaging by developing a container which is appropriate to the formula of each refillable product like this.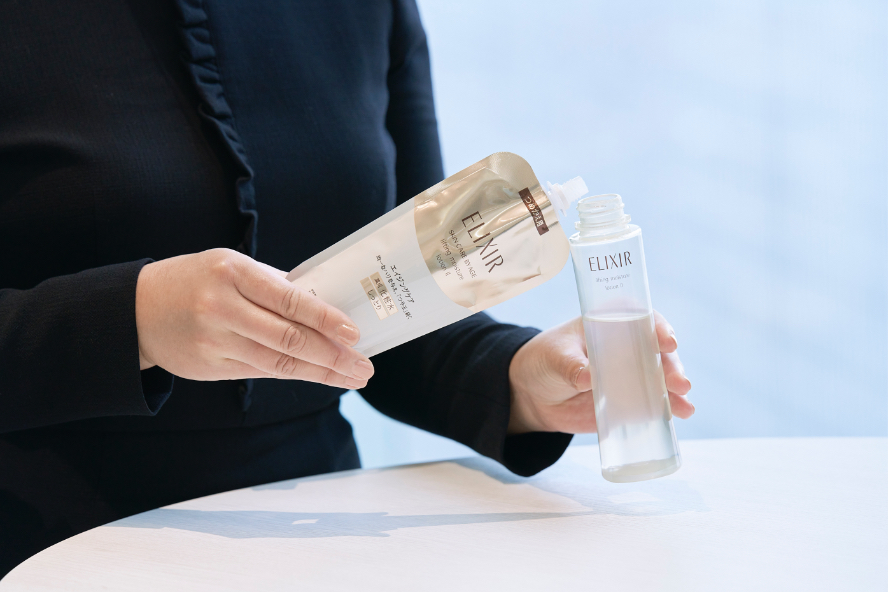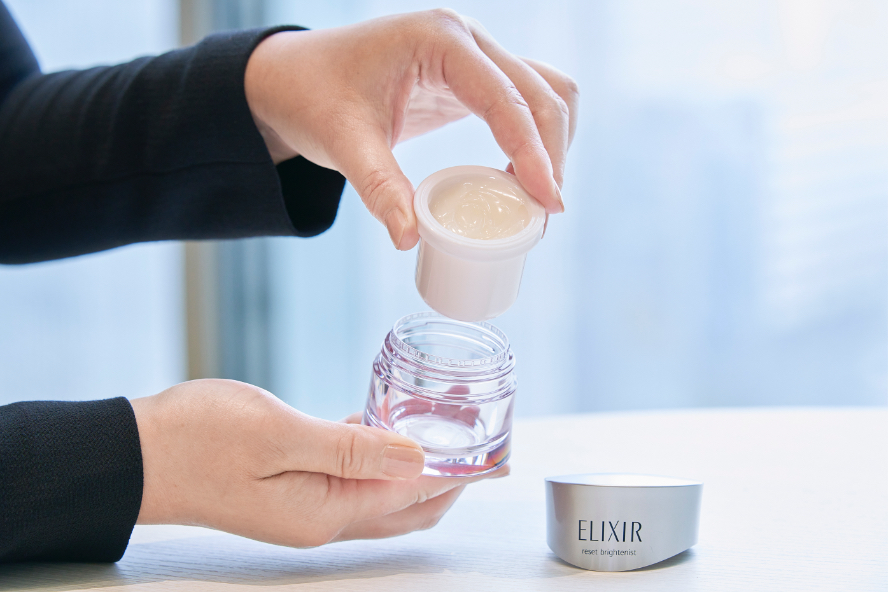 Refillable products will lead to the creation of a beautiful environment in the future
― Could you please talk about customers' feedback for the "Global Sustainability Campaign" started in Japan in April 2021?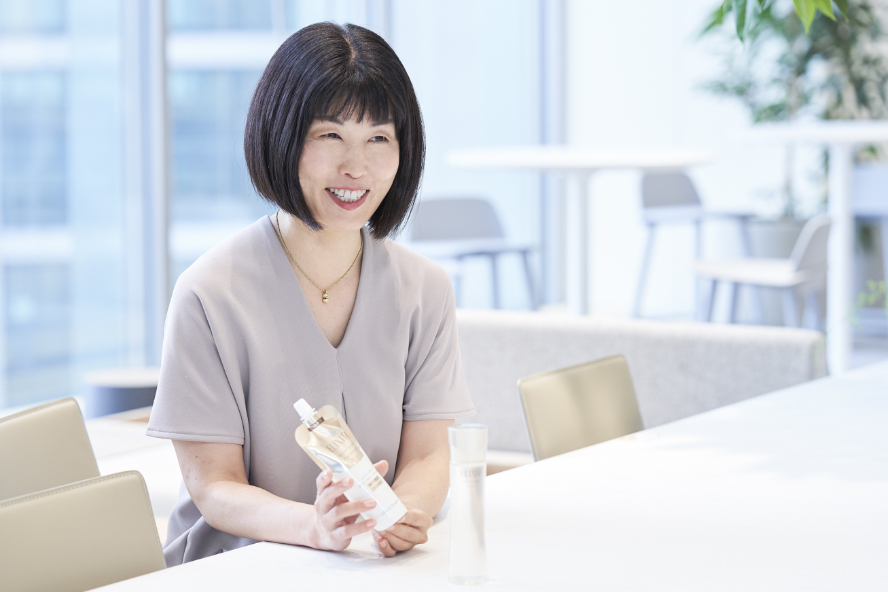 Matsukawa: Several customers voiced their empathy for this campaign video, e.g. "I could clearly understand the eco-friendliness of the refillable products," "I thought about following the SDGs when watching the video with my kids," and so on. Furthermore, as part of our promotional activities, we distributed our original reusable shopping bags* to customers who bought our products including refillable ones, and successfully attracted higher consumer attention. Many stores selling ELIXIR's refillable products gave us positive feedback saying that it was a wonderful initiative.
― ELIXIR is implementing refillable product initiatives in China as well from January 2021.
What is the response from Chinese customers?
MANG:  If we just tell customers that sustainability is good for the earth, they find it difficult to relate with, as it's too big an issue for individuals to tackle. However, many customers relate with sustainability activities when we explain that the small step of using a refillable product will lead to the happiness of loved ones and a bright future.
Another good thing is that refillable products provide customers a basis to buy ELIXIR products for the first time, and many of them become repeat buyers.
We feel that we contribute to enhancing environmental awareness among the Chinese population through our campaign message "Small changes for a big difference."
We believe that our promotional activities, such as campaign videos and original reusable shopping bags*, will help more and more people accept the new practice of "using refillable products" spontaneously. Also, we conduct these initiatives to popularize sustainably packaged products believing that they will lead to the creation of new values, such as "A better environment for Chinese consumers."
*

The conditions under which customers can get the bag free of charge vary depending on the country/region where they live.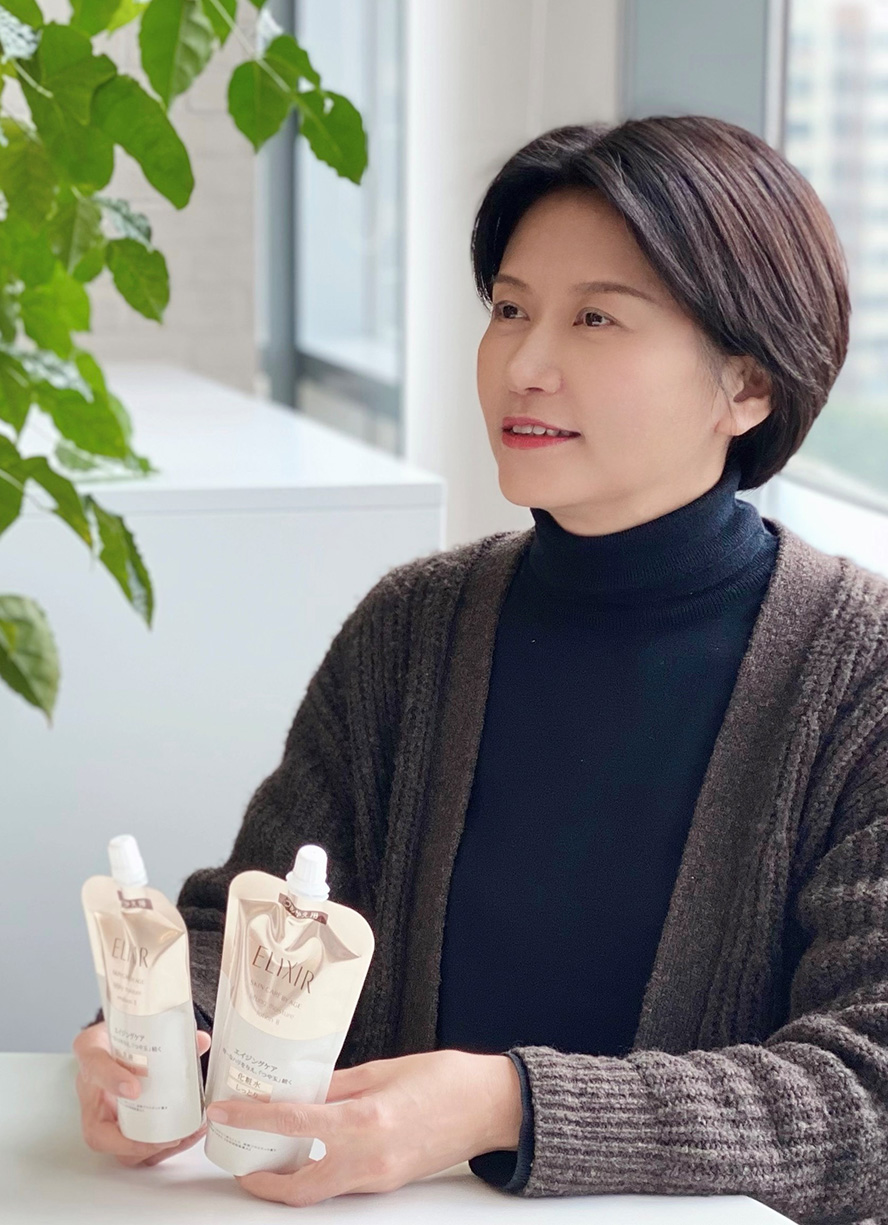 Campaign overview
With the key message of "We must do what we can now for our children's lives in the future ," we created an original 3D video in collaboration with Doraemon which was released on the official ELIXIR website on April 2, 2021. A related TV commercial has aired since April 4.
The video features a 35-year-old future version of Doraemon character Shizuka-chan, to align with and relate to the demographic who loves and repeatedly buys ELIXIR's products.
It is the first-ever 3DCG Doraemon video to feature such a scene, where three generations of Doraemon characters—Shizuka-chan's mother, Shizuka-chan, future Shizuka-chan, and Nobisuke—appear along with Doraemon watching them. The runtime is 60 seconds.
"The future will change when each and every one of us takes a small step to work together." To learn more about the campaign and video which conveys this message, please visit the campaign website:
Related website