Pursuing a holistic beauty experience in the age of the new normal! The latest beauty facility combining offline and online initiatives
『BRAND SHISEIDO GLOBAL FLAGSHIP STORE』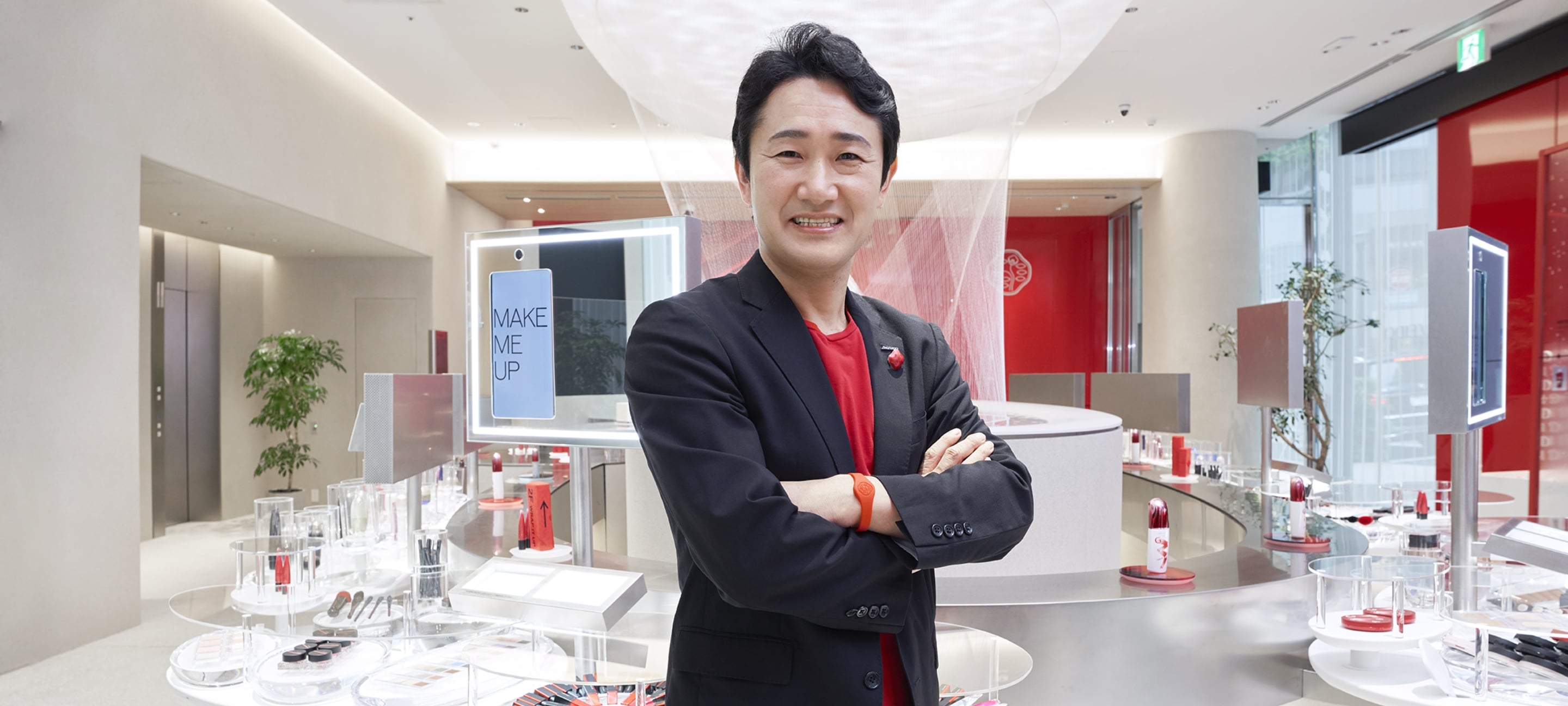 Yoshiaki Okabe, Brand SHISEIDO Chief Brand Officer
As our values and lifestyles transform in this age of coronavirus, what kind of beauty can Shiseido, whose corporate mission is "BEAUTY INNOVATIONS FOR A BETTER WORLD" propose?
SHISEIDO, a global prestige brand delivering the same products and images in 88 countries and regions, is opening its first BRAND SHISEIDO GLOBAL FLAGSHIP STORE (GFS) in Ginza on July 31, 2020.
We interviewed brand SHISEIDO Chief Brand Officer Yoshiaki Okabe, Marketing Officer Tomoya Hirayama, Store Manager Yumiko Ishibashi, and store designer Keisuke Hori about their thoughts on the GFS.
The innovative global flagship store with global media functionality
― Please tell us how the GFS was born, what it means to open it now, and why Ginza was chosen as its location.
Okabe Since 2018, Shiseido, whose corporate mission is BEAUTY INNOVATIONS FOR A BETTER WORLD, had been planning to open a global flagship store of the global brand SHISEIDO where people from around the world can experience services that embody the brand vision and Japanese beauty.
We chose Ginza because it is where Shiseido was founded and a place visited by people from around the world. We would like customers across the globe to experience brand SHISEIDO's challenges in this town of Ginza with its many stories to tell.
As our life shifts toward the "new normal" due to the coronavirus pandemic, values toward beauty are also changing, and customer needs are focusing more on health, safety, and peace of mind. By coincidence, the GFS was developed with a concept that employs digital technology to the greatest extent possible, allowing customers to experience products without coming into direct contact with beauty consultants. In Japan where touch-free purchase needs are increasing, we see an opportunity to combine offline and online experiences. The GFS is the latest beauty facility in the age of the new normal.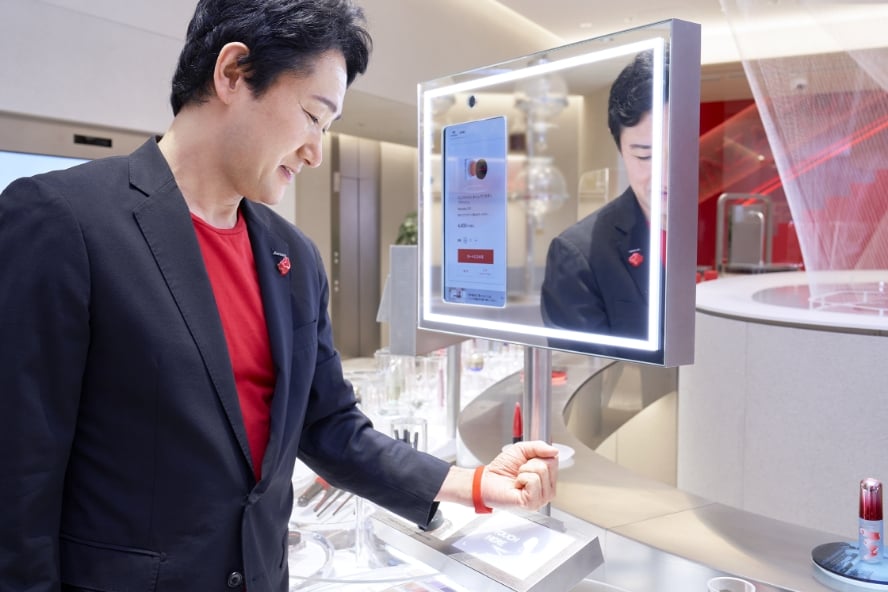 The S-CONNECT wristband records your in-store experience
― What roles do you envision the GFS will play?
Okabe The GFS has three roles. The first is to allow customers to experience the brand's essence. In addition to our corporate mission, we hope to deliver the brand concept "ALIVE with Beauty" and create an experience that gives rise to a cycle of beauty, where beauty on the outside created by makeup and skincare leads to confidence, vitality, and both becomes and brings out one's vitalized beauty from within.
The second role is to be the brand's communication hub. And the third role is to grasp hidden customer needs and respond to them through services and products.
As digital technology becomes an essential part of our life, customers are increasingly interested in digital experiences. At the GFS, we are working to offer high-quality hospitality and services representative of Japan and allow customers to deepen their experience while making operations more efficient with digital tools.
― A virtual store is also opening on the website at the same time as the GFS.
Okabe We want to make beauty proposals that are adapted to the new normal as quickly as possible by combining real and virtual stores. People are increasingly shopping online today, and a real shop alone cannot provide values that go beyond customers' expectations. In the virtual store, customers can check information from beauty consultants and purchase products as if they're in the GFS. The virtual store offers experiences that equal those of the global flagship store.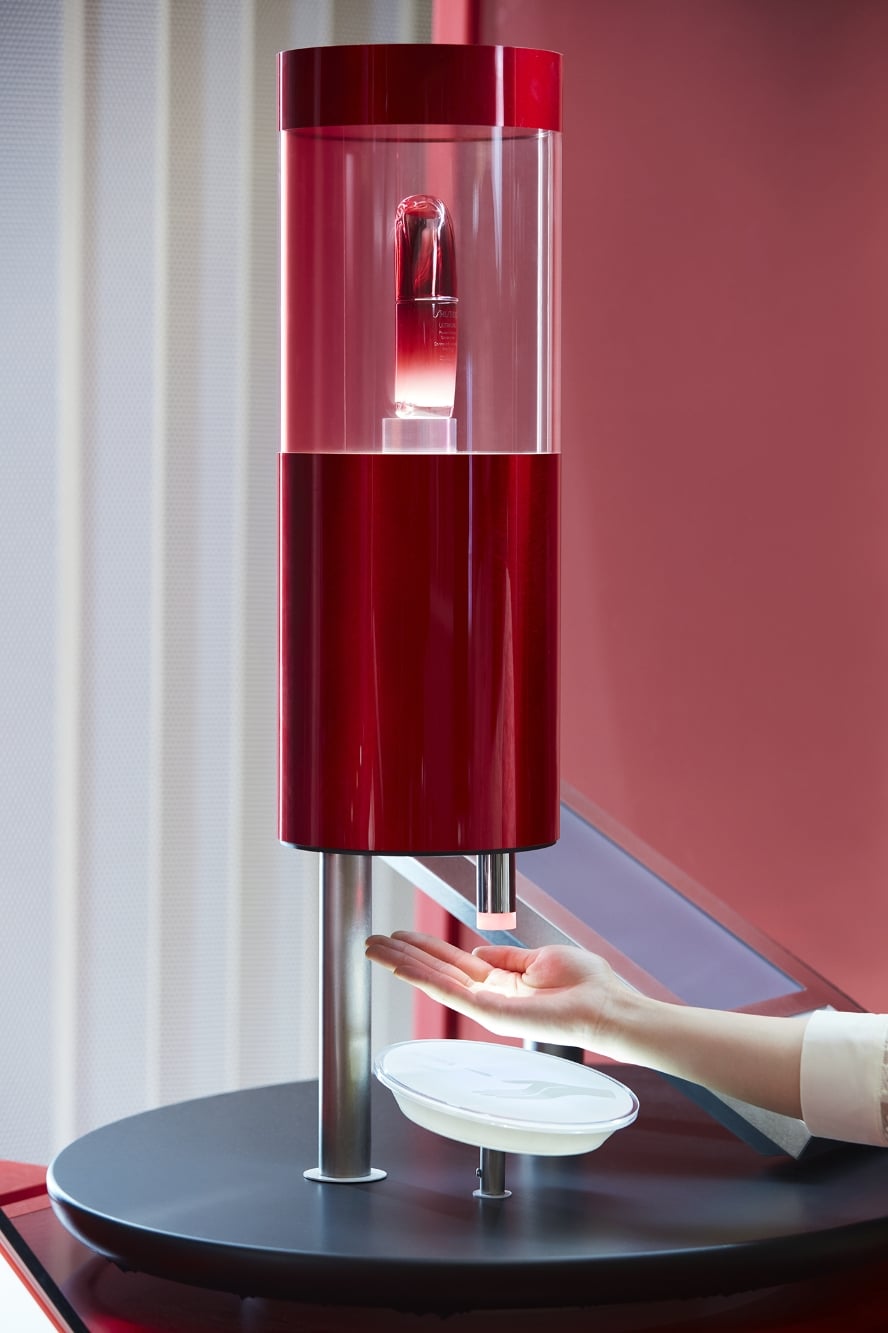 ULTIMUNE is dispensed by hand sensor
A store proposing "ALIVE with Beauty" and next-generation customer service
― The GFS utilizes technology in every corner.
Hirayama Digital technology can help us be accurate and save time. By maximizing the use of digital technology, we created an environment where customers can subjectively collect the information that they want, and focus on their experience. At the same time, it is important that humans are there to provide what only humans can. The human touch is indispensable to improving customer satisfaction, such as directly confirming one's feelings through communication. We hope to combine the strengths of both.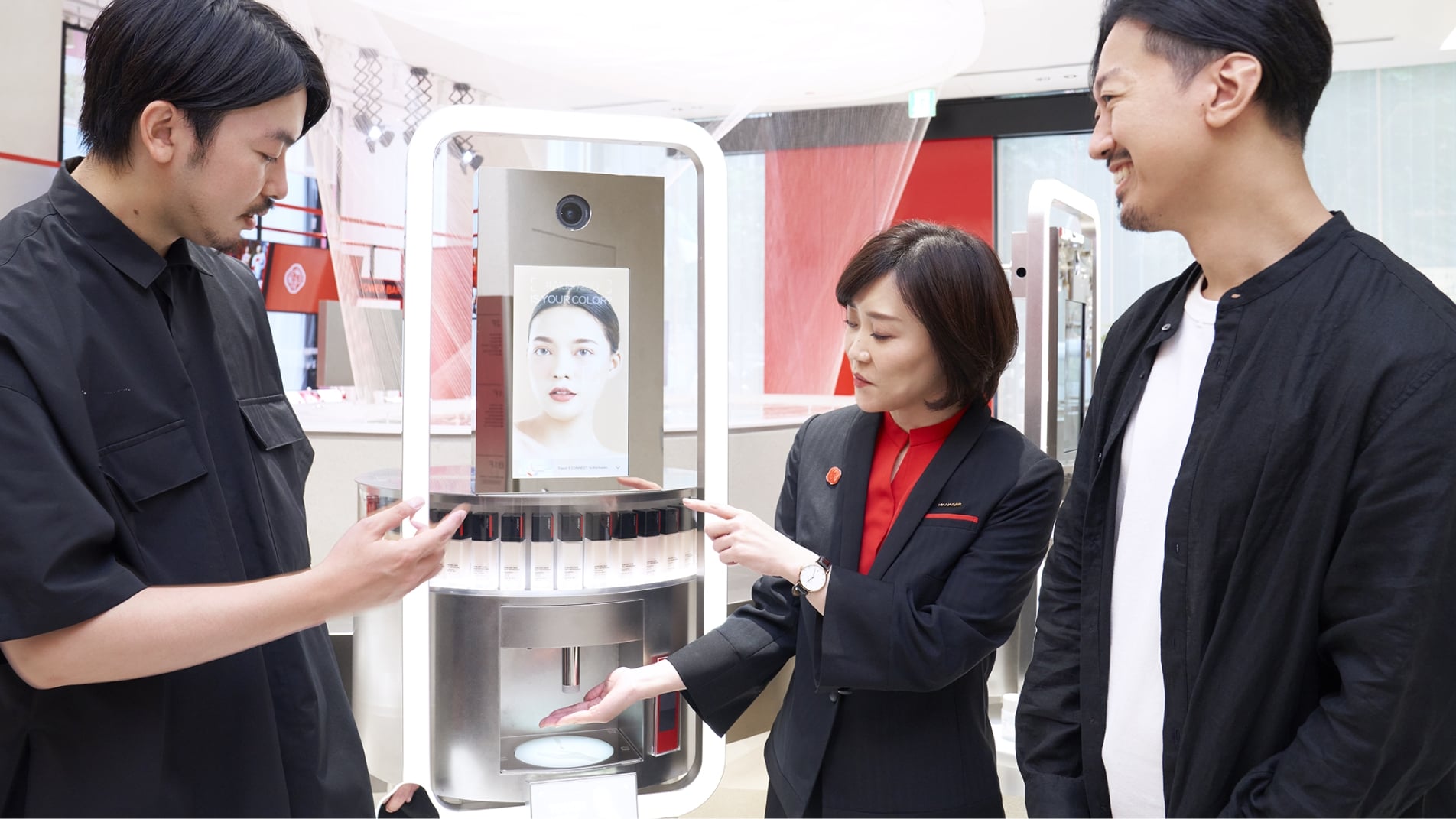 Foundation is dispensed in one of 30 shades suited to your skin
― There are services that stimulate the five senses through scents, textures, etc.
Hirayama "Inner Beauty Charge" on the basement floor offers the new experience of keeping the body and mind in balance in meditation pods. Meanwhile, on the second floor, beauty consultants assist customers through conversation. We balance digital technology with human warmth all for the comfort of customers.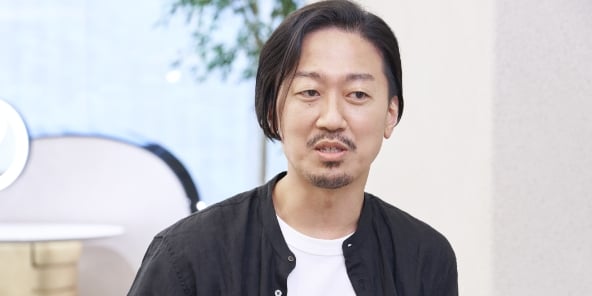 Marketing Officer Tomoya Hirayama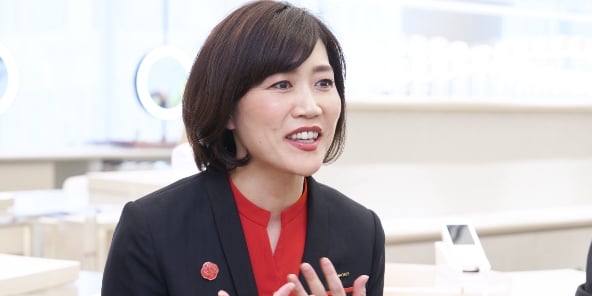 Store Manager Yumiko Ishibashi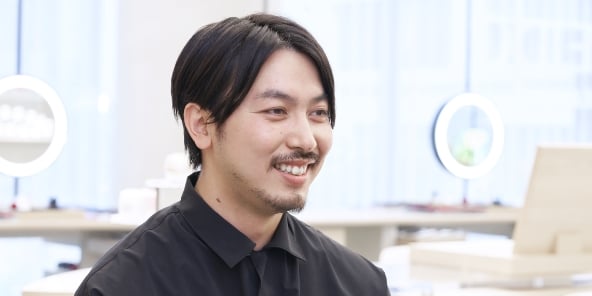 Creative Headquarters designer Keisuke Hori
― In this age of major change, communication with customers is also challenging.
Ishibashi Dialogue is indispensable to bring out hidden customer needs and make fresh proposals, so we train beauty consultants with a focus on dialogue skills. Beauty is diverse, and each person is beautiful in a different way. When customers talk with us and realize charms in themselves they were unaware of, they look really happy. Beauty consultants understand this well and enjoy conversation. To this end we foster in them a genuine desire to know the customer.
A space of well-being fusing Japanese garden and digital technology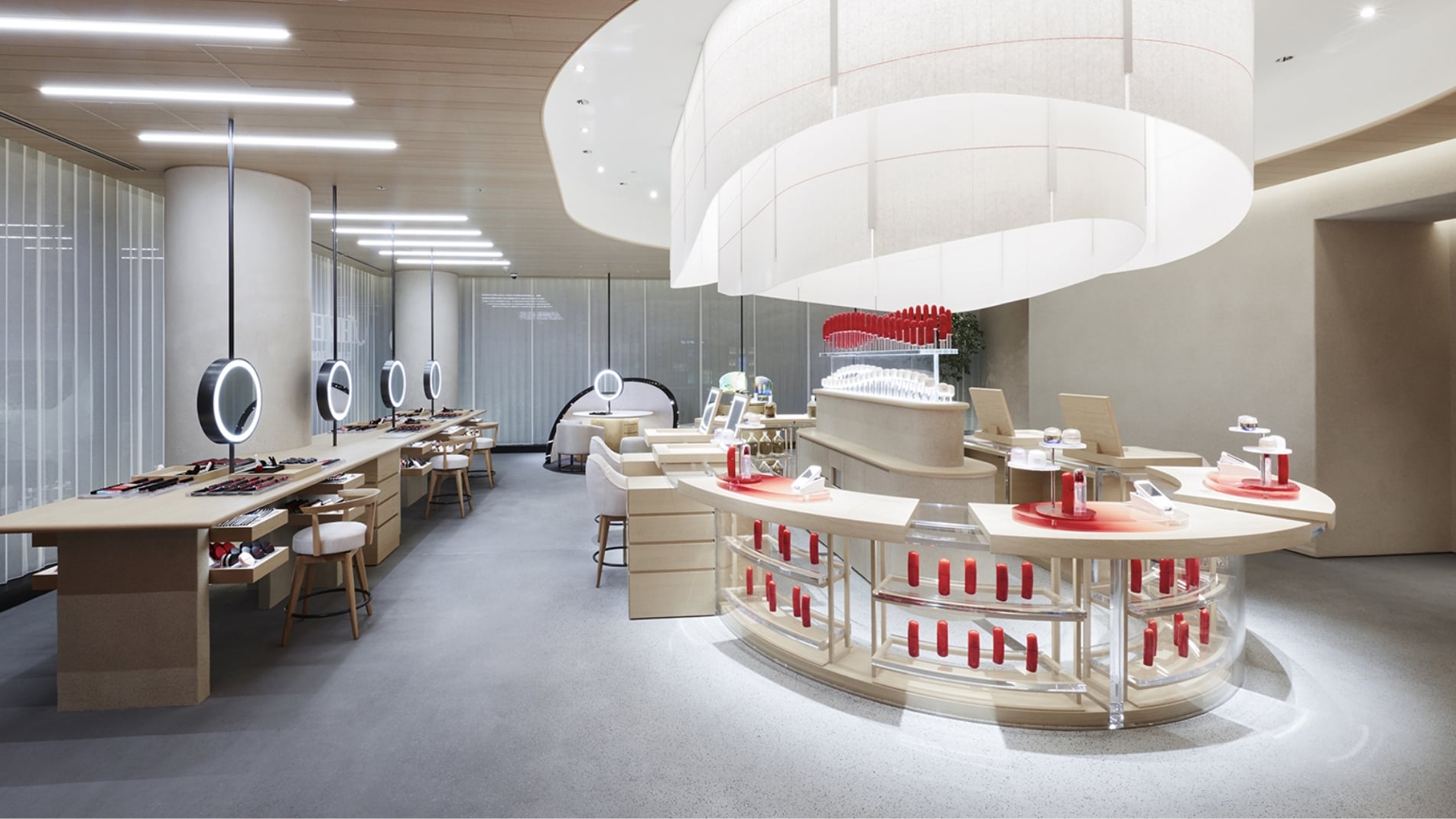 Experience Japanese beauty with the concept "Create Beauty" on the second floor
― Please tell us about the store design.
Hori We took Japanese gardens, which symbolize Japanese aesthetics and nature, as the motif and designed the store with the concept of a "Japanese Digital Garden" while focusing on the fusion with technology. Materials inspired by roof tiles, trees, and Nishijin textiles are incorporated to evoke the warmth of humanity and nature.
On the first floor, a symbolic water basin is installed at the center, evocative of a garden where you can go around freely. On the second floor, Japanese paper lanterns and Nishijin textiles are used. It's a floor where you can experience the professional techniques of beauty consultants, so it's designed to inspire the human touch and warmth of people. The wrapping takes origami as its motif and makes Japanese beauty felt in its details. The basement floor, where meditation pods are installed, is inspired by a Japanese tea room and designed with a sense of privacy to allow customers to relax and go inward. You can further take off your shoes, etc. to get the quintessential Japanese experience.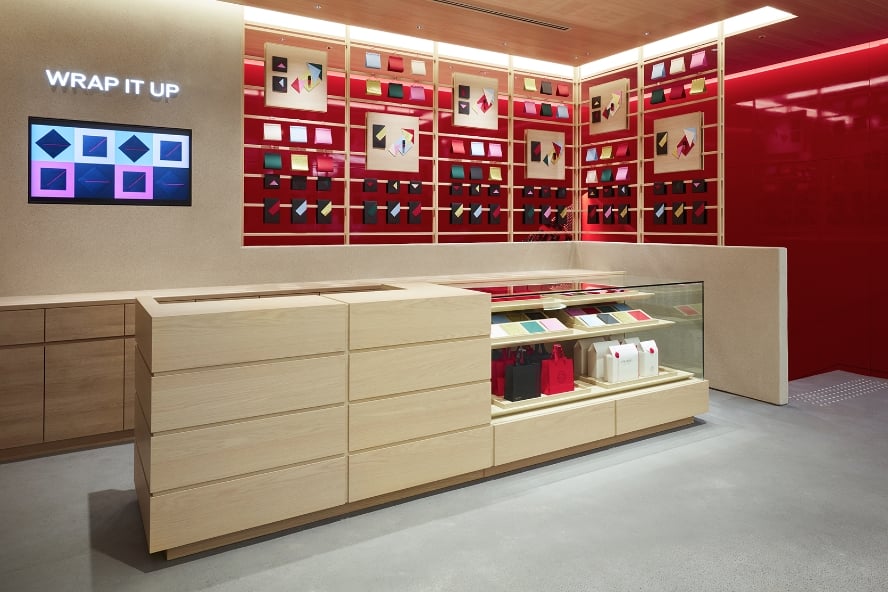 The wrapping corner embodies Japanese beauty
Okabe Videos on exercise and beautiful skin recipes are also available at the GFS. Customers can take them home and follow them at home. This store fully uses digital technology, but hospitality is at its heart. The interior and customer service pursue the comfort of customers. The GFS offers new experiences by combining the latest technology with essential communication.
Seeking new beauty values in the age of the "new normal"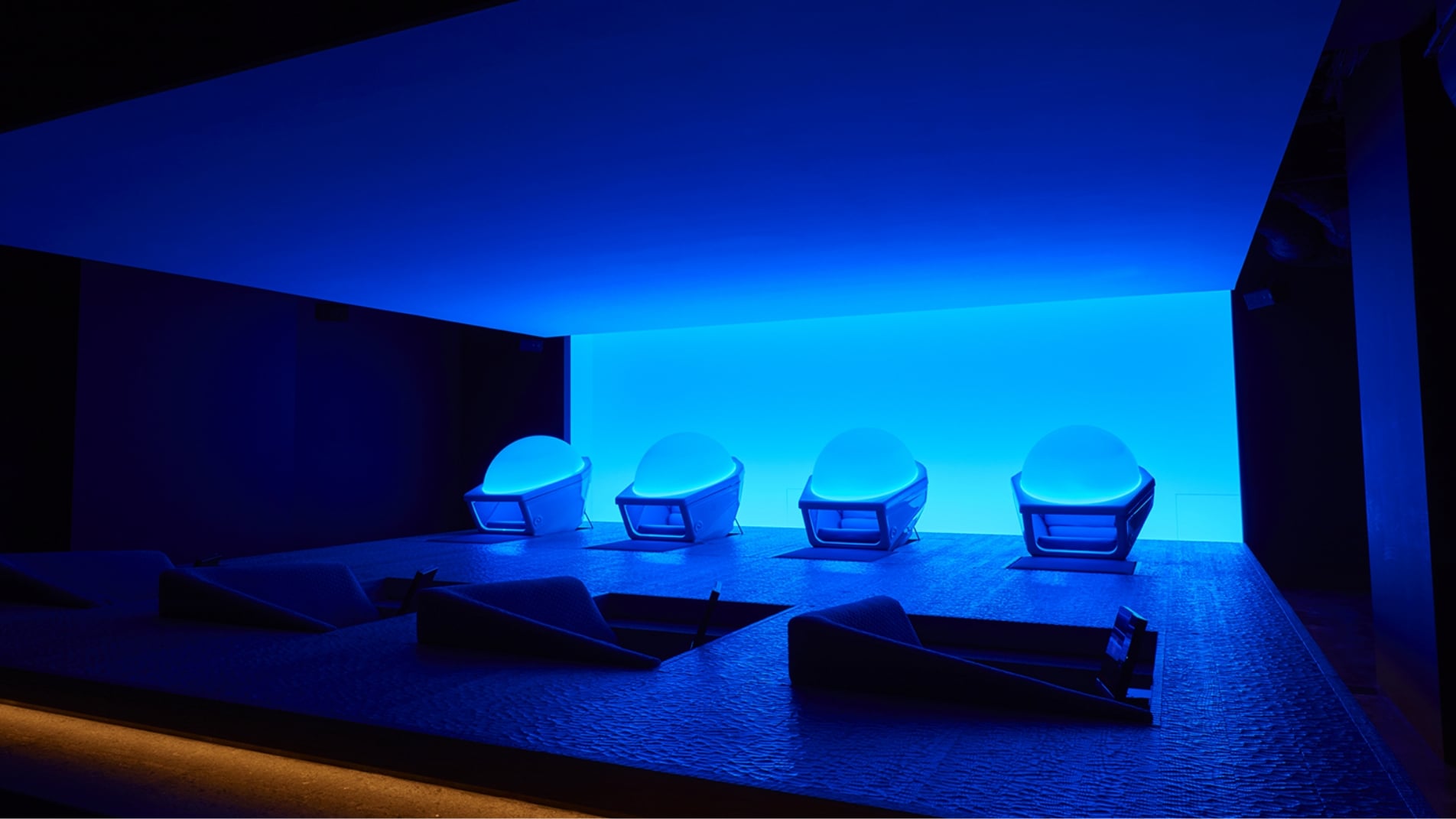 The concept "Awaken Your Beauty" on the basement floor; a program that stimulates the five senses and meditation pods offer you the "Inner Beauty Charge" experience
― As conventional practices and values transform and reorganize today, how are the values people seek from beauty changing?
Okabe We will probably incline more toward holistic beauty which focuses on both the external and internal, such as the five senses, aromachology, sleep, and inner beauty. The GFS exists as a place that proposes answers to the question of how to provide health, beauty, safety, and peace of mind. We would like to grasp society's needs through "trial and error and trial."
― How do you think the beauty experience at the GFS will empower customers?
Okabe Customers are looking for not only external beauty but also things and experiences that make their mind and body healthy. The vision of brand SHISEIDO is "Bring out the power of each person to become beautiful." Our mission is to face changing values as quickly as possible, and the GFS is where we showcase our responses.
Brand SHISEIDO's mission is to continue proposing new experiential values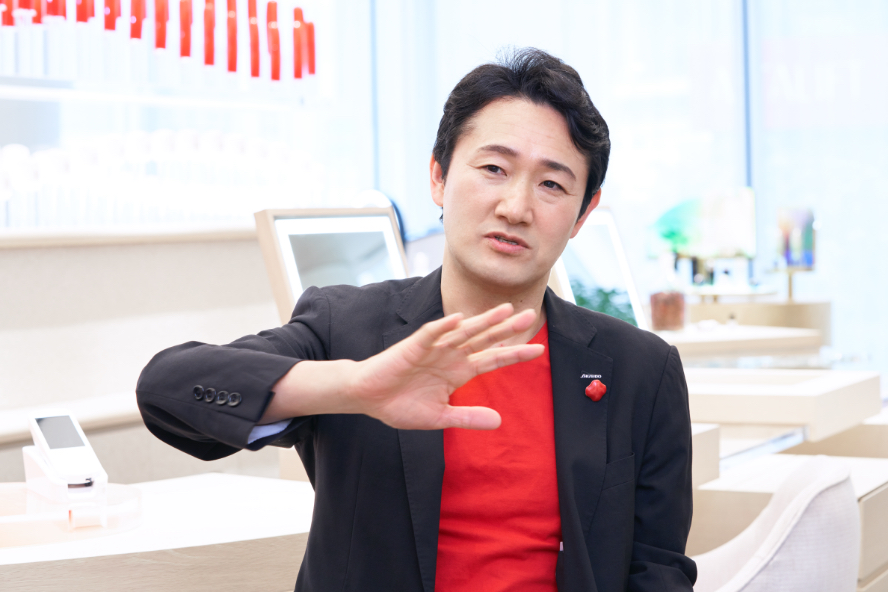 ― Lastly, please tell us about the brand's prospects.
Okabe Probably the ultimate goal is world peace. When you become beautiful, you become confident and empowered. And when you take pride in yourself, you can be kind to others and society. I expect that, if more and more people become like this, the world will become a better place. Beauty has power.
Solving the needs and supporting the customers through the GFS – creating beauty innovations that go beyond customers' expectations is our mission.
The coronavirus pandemic has led many people to self-reflection and transformed values. The four people involved in the BRAND SHISEIDO GLOBAL FLAGSHIP STORE, launched in this evermore uncertain age, are eager to respond to new needs with concepts and customer services that match the new age. They open the GFS with a wish for the health and beauty of all people in this new era, that people enjoy a physically and mentally-enriching, happy life. We hope that many people will experience BEAUTY INNOVATIONS FOR A BETTER WORLD at the GFS.
Related websites