For the reassurance of our consumers
Shiseido has been developing products to bring satisfaction and reassurance to our consumers based on technologies accumulated since its foundation in 1872. All Shiseido employees are committed to reassuring our consumers by placing the highest priority on quality and safety.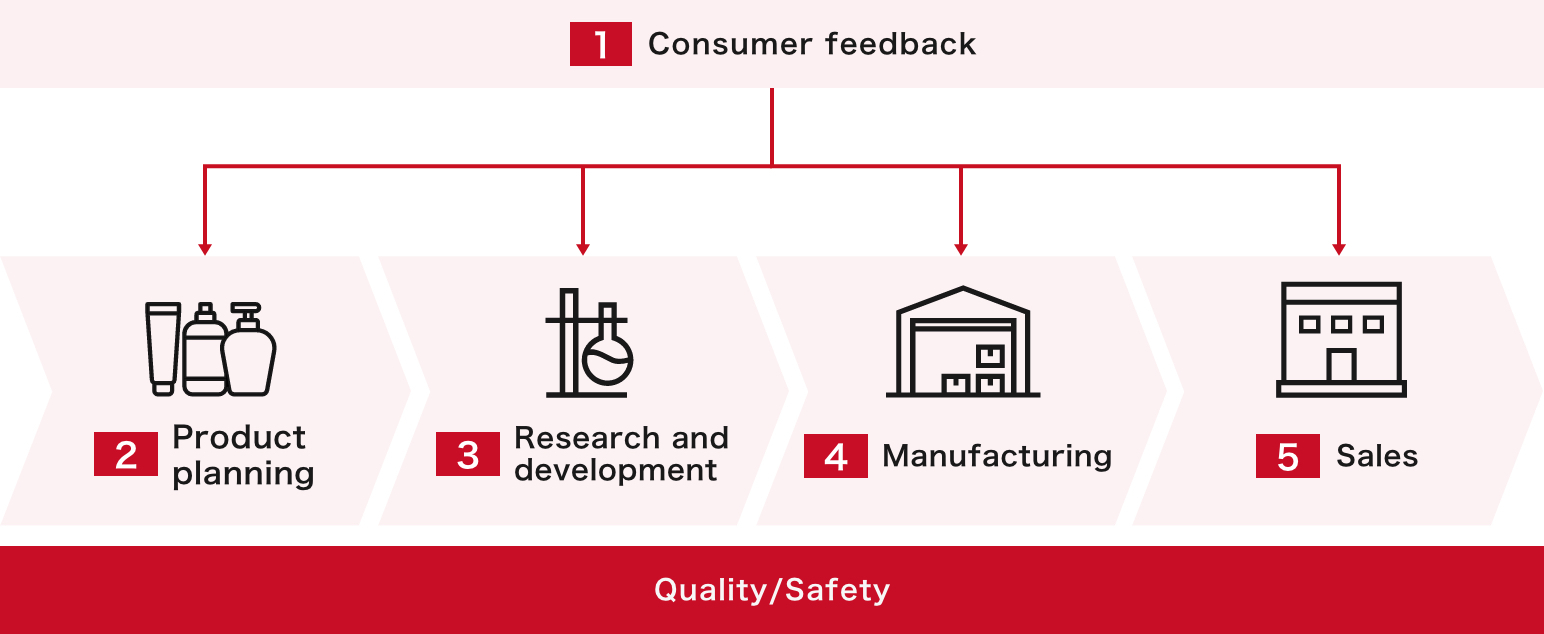 Consumer feedback and product planning
We listen to the consumer feedback to create products that resonate with the sensibilities of consumers. We also utilize such opinions in the development of new products and in product improvement, and communicate information on products to provide a higher level of satisfaction.
Consumer Feedback

We carefully analyze each of the valuable opinions we receive from consumers.
Product Planning

We make every effort in pursuing the true desires of consumers.
Communication

We communicate information to consumers in a careful manner.
Research and development
From the selection of ingredients to the examination of trial manufacturing and product testing, we carry out many diversified approaches to create products with a high level of quality as well as safety, and that are easy to use.
Select Ingredients

All ingredients are thoroughly checked for safety.
Product Safety and Efficacy

We continue our exploration for high quality until we are satisfied with the results.
Container and Packaging

We conduct research for appealing designs that protect products and can be used with reliability.
Manufacturing
We use the manufacturing technology that has been cultivated since the foundation of the company and make all necessary efforts to continue reliable manufacturing.
Our technology is communicated between factories in various locations around the world in the pursuit of products of the highest quality.
Manufacturing Process

Manufacturing technology has been passed down from employee to employee from the time of our foundation.
Quality Inspection

Careful and reliable testing is performed in a manner suitable for each product.
Contaminant-Curbing Measures

All foreign matter is removed, from visible matter to fine dust particles invisible to the eye.