Container and Packaging
Design from various perspectives, including ease of use and portability
Packaging and containers are what consumers first come into contact with in a product.
We provide sufficient consideration for the consumers who use our products, circumstances of use, ease of holding, operability, portability, and storage properties. In addition, the containers are designed with consideration for the environment.

Products are manufactured with risk assessments conducted from a variety of perspectives, including the Consumer Information Center, product planning, designers, research centers, and factories.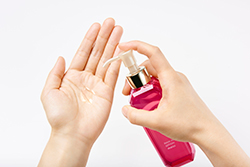 Development of packaging and containers