Corporate Governance System
Reason for Choosing the Current Structure
The Company has selected the framework of a company with an Audit & Supervisory Board structure with double check functions for business execution: supervision by the Board of Directors and audits of legality and adequacy by audit & supervisory board members. In order to maintain and improve management transparency, fairness, and speed as per the basic policy for corporate governance, the Company has reinforced the supervisory function of the Board of Directors by incorporating outstanding functions including those of a company with nominating committee, etc.
Effective January 2016, Shiseido committed to a new matrix organization encompassing five brand categories and six regions. Under this organization, the Company serves as the global headquarters responsible for providing overall supervision of the Group and the support it requires, and is promoting localization of responsibility and authority by delegating much of the authority formerly exercised by the Company to respective regional headquarters for Japan, China, Asia Pacific, the Americas, EMEA, and Travel Retail. The Board of Directors frequently discussed issues including the composition and operation of the Board of Directors to determine an ideal corporate governance system, premised on this organization and management structure. As a result, the Board of Directors concluded that adopting a monitoring board structure would be appropriate for ensuring adequate overall supervision of Shiseido. Accordingly, the Company has been implementing "monitoring board corporate governance" while leveraging the advantages of being a company with an Audit & Supervisory Board.
Diversity of Directors and Audit & Supervisory Board Members
The Company believes that the Board of Directors of the Company should be composed of directors with various viewpoints and backgrounds, on top of diverse and sophisticated skills, for effective supervision over the execution of business as well as decision-making on critical matters. Furthermore, the Company believes that audit & supervisory board members should have the same diversity and sophisticated skills as the directors, as they have a duty to attend meetings of the Board of Directors and state opinions as necessary. When considering diversity, the Company selects candidates based on attributes of personality and insight regardless of gender, age, or nationality, etc. in order to stress diversity of these attributes as well as diversity in terms of competencies including professional skills and experience in various fields related to business management.
In addition, the Company has set term limits for external directors and external Audit & Supervisory Board members so that management can benefit from views that are not bound by the Company's existing structures, and ensures appropriate transition to newly appointed external directors and external Audit & Supervisory Board members by allowing a handover period from those who have served for an extended period.
Management Supervision System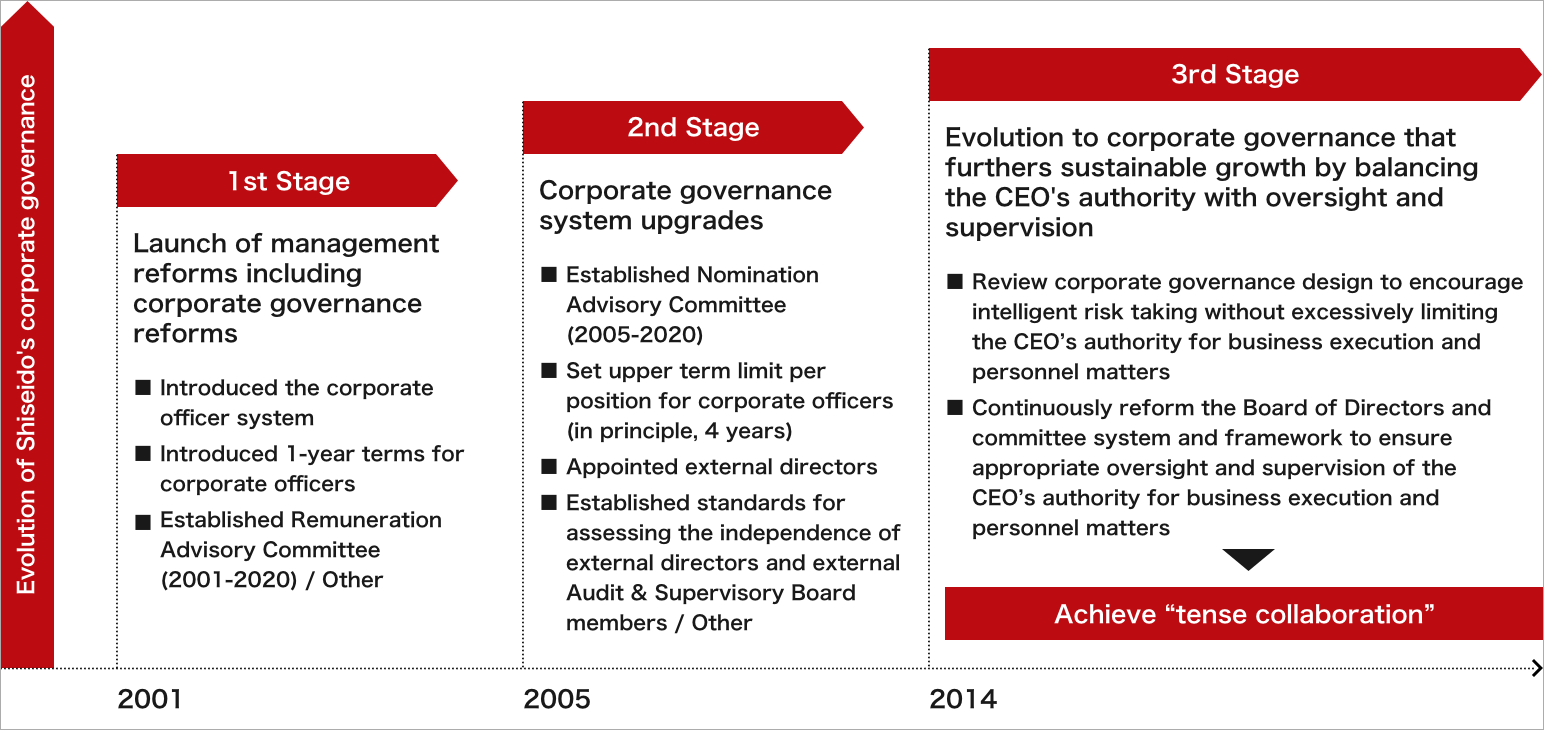 Ratio of External Directors on the Board of Directors
The Company's Articles of Incorporation limit the number of directors to 12. The Company considers issues including business portfolio and scale in electing the optimum number of directors to appropriately supervise management.
The Company shall have at least three external directors to ensure that they have a certain degree of influence within the Board of Directors. The Company has established a target of making at least half of the directors external. Independence is emphasized in selecting external directors and Audit & Supervisory Board members. In principle, external director and Audit & Supervisory Board member candidates must meet the Company's criteria for independence and have an independent mindset.
Criteria for Independence of External Directors and Audit & Supervisory Board Members (summary)
・Not a person who is or has ever been responsible for executing the business of the Company or its affiliated companies (collectively, the Shiseido Group)
・Not a person for whom the Shiseido Group is or has ever been a major client or a person who has executed business for an entity for which the Shiseido Group is or has ever been a major client
・Not a person who is or has ever been a major client of the Shiseido Group or a person who has executed business for an entity that is or has ever been a major client of the Shiseido Group
・Not a person who executes or has ever executed business for an entity in which the Shiseido Group is a major shareholder
・Not a person who is or has ever been a major shareholder of the Company or a person who has executed business for an entity that is or has ever been a major shareholder of the Company
・Not a professional such as an attorney or a consultant who has received a large amount of money from the Shiseido Group
・Not a person who is receiving or has ever received a large donation from the Shiseido Group or a person who has executed business for an entity that is receiving or has ever received a large donation from the Shiseido Group
・Not a person who is or has ever been an accounting auditor of the Company or a person who has belonged to an entity that is or has ever been an accounting auditor of the Company
・Not a spouse or close relative of any person excluded above
・Not a person affiliated with a company that reciprocally appoints a director or Audit & Supervisory Board member from the Shiseido Group
・Not a person who could otherwise be reasonably judged unable to fulfill the duties of an independent director or independent Audit & Supervisory Board member
(Please refer to the corporate Governance Report available at Shiseido's corporate website for details.)