Disaster Support Activities
Volunteer Employees Present Donations for the Victims of the Kumamoto Earthquake
The Kumamoto Earthquake that occurred in April 2016 caused serious damage to wide areas of the Kyushu region, mainly Kumamoto and Oita Prefectures, which were hit by strong earthquakes. The Shiseido "Social Contribution Club" presented donations collected from volunteer employees of the company group (a total of 2,499,500 yen from 3,444 supporters) to the authorized NPO Japan Platform (JPF) for disaster relief.
The donated money was used for assistance, especially for those who are vulnerable to disasters such as elderly people, women, children, and handicapped people, and for gender-oriented support activities, which are in line with the "JPF Emergency Response to Earthquake in Kyushu

" program.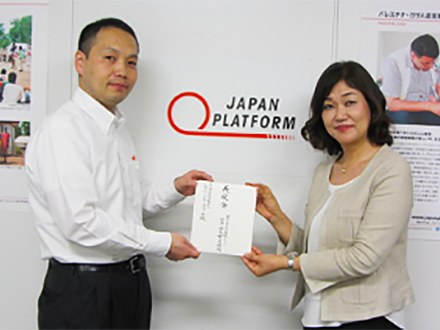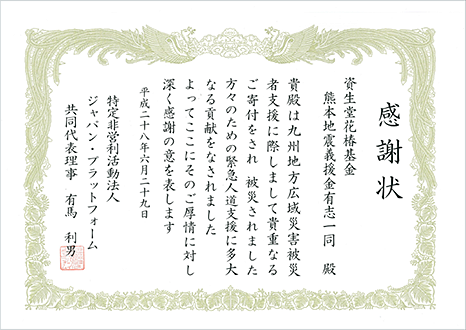 Volunteer Employees Present Donations for the Victims of Hurricane Matthew
The Shiseido "Social Contribution Club" presented donations collected from volunteer employees of the company group (418,500 yen from 837 supporters) to the authorized NPO Japan Platform (JPF) for the disaster relief of Hurricane Matthew in the Republic of Haiti, which suffered devastating damages in October 2016.
The donation money was used for humanitarian relief activities such as the distribution by JPF member NGOs of emergency relief goods (food, chlorine water purification tablets, hygiene goods such as oral rehydration solutions to prevent dehydration, and daily commodities), which are in line with the "JPF Emergency Response to Hurricane Matthew 2016

" program.