Material Science
Technology in material science, such as the development of ingredients to be compounded in cosmetic products and the completion of these ingredients as stable formulations, is an example of Shiseido's strengths. A high level of technology is required not only in the pursuit of the functions and quality of the individual ingredients but also in the stable compounding of active ingredients and realization of comfort in feel of use. We also believe that the best feel of use and realization of function during application on the skin to be important not only in skin care products but also in sun care and makeup products, and is conducting detailed research on the condition of the product when actually applied to the skin.
Technology Supporting Cosmetic Development
Shiseido Develops Technology to Control Hyaluronic Acid Volume
We developed Shape-Shifting HA Technology that controls the volume of hyaluronic acid (HA). With the new technology, HA shrinks via the addition of magnesium ions (Mg ions) and dramatically increases its penetration into the stratum corneum compared to normal HA.

Shiseido Succeeds in Developing Ingredient That is Rich in Texture and Smooth in Application
We have been promoting the research and development of cosmetics that realize a comfortable feeling . This time, Shiseido has succeeded in the development of a component (new water-soluble polymer) that achieves an unprecedented comfortable feeling with the feature of being rich and thick in texture but blending smoothly into the skin during use, with a non-sticky feeling after application.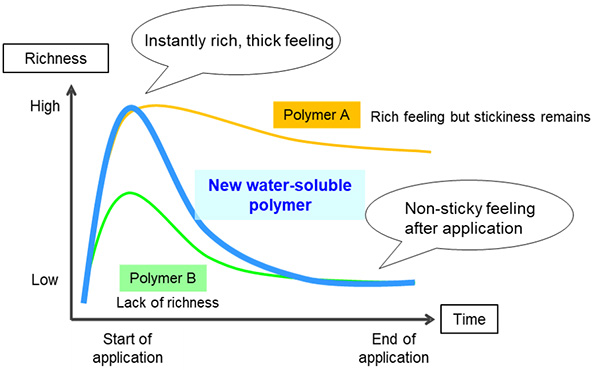 Analytical science
Study of human skin component distribution analysis using near infrared and Raman spectroscopy
Skin component distributions and how they change had been difficult to observe in vivo with conventional methods, which required processing a section of skin with a specialized chemical. However, a non-invasive evaluation was achieved through the use of three spectroscopic techniques (near infrared spectroscopic imaging, spontaneous Raman scattering spectroscopy, and non-linear Raman scattering spectroscopy). For the first time, the response of skin components such as water, proteins, and lipids to the external environment, and the detailed process of epidermal differentiation as it pertains to skin metabolism were visualized. This research received the Award for Science and Technology (Research Category) as a part of the 2022 Commendation for Science and Technology from the Minister of Education, Culture, Sports, Science and Technology (MEXT).
Related research paper (1) Egawa M et al, Visualization of Water Distribution in the Facial Epidermal Layers of Skin Using HighSensitivity Near-Infrared (NIR) Imaging. Appl Spectrosc. 2015 Apr;69(4):481-7.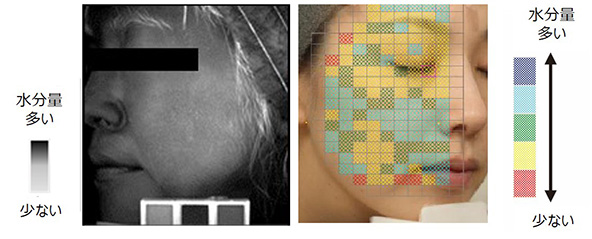 Use of an electron microscope "cryo FIB-SEM" to realistically observe microstructures of cosmetic product content, applied layer, and inside the hair
In order to observe the microstructures of cosmetics, we developed an observation technique using the latest electron microscope "cryo FIB-SEM." Since this observation technique makes it possible to observe samples at high magnification while preventing damage to the utmost limit by instantly freezing the samples, we can now observe emulsified particles in cosmetics and the dispersion state of powders "realistically," "in their true colors," and in nano order. In addition, the technique allows for detailed observation of the condition of the layer that forms when cosmetic material is applied on the skin (applied layer), as well as changes in the structure inside the applied layer. Furthermore, since it is now possible to capture 3D images of biological samples, the condition of biological samples can be observed. It is also widely used to evaluate the usability of cosmetic products.
These analytical technologies support basic research and development of cosmetics, and are being provided to our customers as easy-to-understand information.
Microstructure observation images of emulsified particles, applied layer, and hair