It is no secret that the world's natural resources are limited. At Shiseido, we place the utmost importance on the responsible procurement of raw materials and the reduction and reuse of resources. We operate from the perspective of a circular economy, and view environmental conservation and biodiversity as the key to a more sustainable world.
In all our activities, from procurement to production, we also seek ways to strengthen our response to human rights issues. Sustainable and responsible procurement requires close collaboration with all of our partner companies and suppliers. In 2020, we disclosed our medium term target for the procurement of raw materials (palm oil and paper) in consideration of both the environment – such as forest conservation– and human rights. In addition, we expanded our supplier assessment program globally and made efforts to resolve existing issues.
Sustainable Procurement of Raw Materials
The production of raw materials can result in environmental destruction and human rights violations. Raw materials such as palm oil and paper pulp have a large impact on biodiversity, and it is important that companies procure materials that are produced under sustainable conditions.
In 2020, we published our medium-term targets for the sustainable procurement of palm oil and paper, and we are in the process of switching to more sustainable raw materials.
We are also strengthening our efforts to solve issues related to mica.
By clarifying our own procurement policy, and building a support system in collaboration with other companies, we aim to make a positive change.
Biodiversity
The planet's ecosystems are the basis of our lives and industries. They support the economy with food production, water sources, and tourism, and are also a source of bioactive substances and biomimicry which can be used to create new beauty products. We rely on natural resources for the production of cosmetics, and we aim to sustain harmony with nature, using approaches based on sustainability. We believe that materials that have fulfilled their role in products should be returned to the Earth in a harmless manner.
In addition to our values of quality, safety, and efficacy, we take a holistic approach by anticipating possible issues in our entire global supply chain. We believe it is important to anticipate changes that can affect the environment and society to realize our value of sustainability.
Preserving the Earth's biodiversity is critical. Rainforests are a treasure trove of biodiversity and must be protected from unsustainable wood pulp and palm oil procurement. We are pursuing initiatives to ensure the future of ecosystems and are working to mitigate climate change by minimizing the release of carbon accumulated in rainforests into the atmosphere.
Palm Oil
Palm oil is a highly versatile raw material used in a variety of products, from food to cosmetics. Consumption has been increasing year by year, and it is considered to be one of the main causes of rainforest destruction in Asia. As well as environmental issues, such as forest conservation and biodiversity, there are also human rights issues associated with palm oil production areas. Therefore, sustainable and responsible procurement is essential.
As part of our efforts in this area, in 2010, we joined the RSPO (Roundtable on Sustainable Palm Oil), an international non-profit organization. In order to support the sustainable production of palm oil in 2018, we began purchasing RSPO certificates (credits) equivalent to 100% of palm-derived raw materials.* And in 2020, we disclosed our medium-term target of reaching 100% sustainable palm oil by 2026.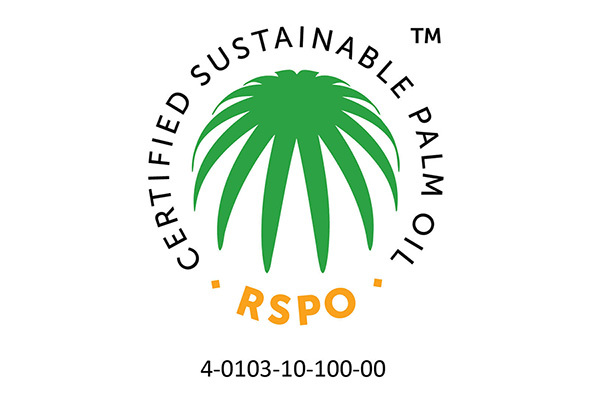 To make the switch to RSPO-certified sustainable palm oil (physical supply chain options, identity preserved, segregated, and/or mass balance), the relevant teams in our global and regional headquarters worked together to compile a list of all targeted raw materials, created a roadmap toward 2026, and developed an implementation scheme. We collaborated with suppliers regarding the timing of the switch to certified palm oil content in raw materials. We then began the implementation scheme, moving away from raw materials with a high palm oil content to certified raw materials based on RSPO's physical supply chain model.
In order to use these certified raw materials, we acquired RSPO Supply Chain Certification System (SCCS) at all of our factories. We also asked our suppliers to acquire the certification as they handle certified raw materials.
Since 2019, we've been part of the Japan Sustainable Palm Oil Network (JaSPON),and the palm oil working group of the Consumer Goods Forum (CGF), an international industry group consisting of food and consumer goods manufacturers and retailers, in order to solve issues relating to palm oil by strengthening collaboration with other companies.
Through these activities, we will contribute to the promotion of sustainable palm oil procurement and consumption, and to the resolution of environmental and social issues related to palm oil.
*

Amount of palm oil sourced in 2020: 8,334t (Percentage certified through RSPO as Book & Claim: 100%)
Paper
We actively promote the use of paper for secondary packaging, such as boxes, aiming to responsibly use resources and reduce single-use plastics.
In 2020, approximately 90% of the cartons we used was made of paper. We aim to be using 100% sustainable paper by 2023 — not only for use in secondary packaging, but also product packaging.
We also promoted the switch to environmentally friendly paper in 2020, developing a new base paper, which resulted in a 64% (weight) shift to sustainable paper.*
Cosmetics packaging must satisfy various expectations. It must be strong, environment-friendly, and sophisticated in design. In collaboration with paper manufacturers, we are developing innovative paper packaging solutions that meet such expectation sand even go beyond. We are also promoting the switch to sustainable paper for promotional materials such as product displays, bags, leaflets, and copy paper in our offices.
*

The total percentage of FSC certified paper and recycled paper is 51% (by weight ).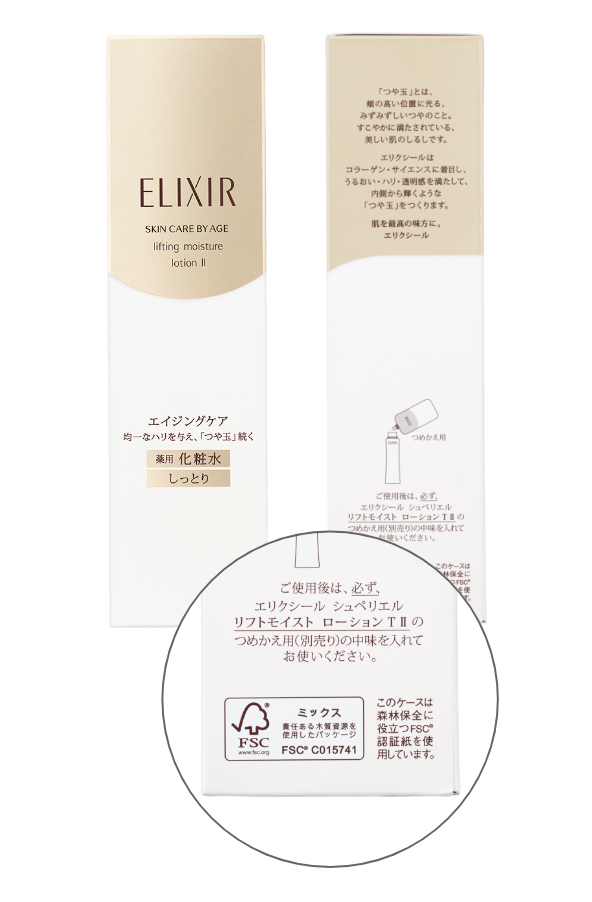 Mica
Mica is used not only in beauty, but across a wide range of industries due to its light reflecting properties and excellent heat resistance.
In 2017, we joined the Responsible Mica Initiative (RMI), which ensures sustainable mica procurement. RMI works with participating companies from a variety of industries to eliminate child labor and forced labor at Indian mica mining sites, and to establish Indian mica as a sustainably produced raw material by 2022.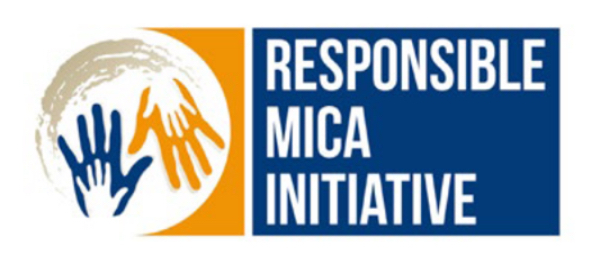 In 2020, in collaboration with NGOs and the Indian Government, RMI contributed to the improvement of income sources for 1,166 households across 80 villages through alternative employment, such as agriculture and livestock. More than 44%of children who were previously unable to attend educational establishments found regular schooling, and more than 50% of malnourished children received adequate nutrition. Our participation in RMI initiatives focused on two areas: Traceability and Workplace Standards, supporting activities aimed at improving the traceability of the mica supply chain in India, and improving working conditions — including the issue of child labor.
Dialogues with Stakeholders
In order to ensure sustainable and responsible procurement and respect for human rights in the course of our business activities, we work with various stakeholders to discuss environmental and social issues, share information, and create solutions.
●Working with NGOs/NPOs and oil palm smallholder farmers
To understand human rights issues in palm oil procurement, we participated in the Stakeholder Engagement Program in 2019. This program was held in Indonesia and hosted by Caux Round Table, Japan. Through conversations with NGOs/NPOs and oil palm smallholder farmers, we deepened our understanding of the human rights risks, abuses, and labor issues involved in palm oil production. In order to be a company that fulfils our responsibility to human rights, we will act on these discussions by setting up an ethical supply chain.
●Working with human rights experts
In October 2019, we had a series of talks with World Benchmarking Alliance/ Corporate Human Rights Benchmark, the leading research company, Verisk Maplecroft, and Rishi Sher Singh—business and human rights experts and supply chain experts in India. Their experts advised us on key areas and elements we should investigate in our company. We are currently working to implement this knowledge through our supply chain following the results of our Self-Assessment Questionnaire.
Responsible Procurement
Ethical Supply Chain Policies and Standards
At Shiseido, we strive to grow our business as well as stimulate the growth of the societies we work in. But we want this growth to be sustainable. In all our activities, we seek ways to prevent human rights problems and preserve the environment.
We have issued the Shiseido Group Supplier Code of Conduct and conduct supplier assessments and monitoring on a regular basis to ensure an ethical supply chain. In addition, the Shiseido Group Sustainable Raw Materials Procurement Guidelines have been enforced across the Group to ensure the procurement of sustainable raw materials (e.g., palm oil and paper) on a global scale.
We strive to share and resolve issues with our stakeholders and liaise with international human rights experts and people working in raw material producing regions to make sure our actions always rely on expert knowledge.
Shiseido Group Supplier Code of Conduct
The business partners that are subject to the Shiseido Group Supplier Code of Conduct have agreed to the standards. In this code, suppliers are required to accept periodic monitoring through surveys and audits. In the event that any supplier is identified to have violated it, they are requested to implement corrective actions by following guidance.
Shiseido Group Supplier Code of Conduct (Issued in Jun 2019)[ PDF : 876KB ]
Shiseido Group Procurement Policy
We established this policy in 2018 based on positive collaboration with consumers, business partners, and society. Our procurement policy is based on a consumer-oriented perspective, including the following principles:
・we carry out procurement activities to create better products, through co-creation with business partners
・we comply with all relevant laws and regulations, prioritizing respect for human rights and protection of the global environment
Shiseido Group Procurement Policy[ PDF : 136KB ]
Shiseido Group Sustainable Raw Materials Procurement Guidelines
we created guidelines for palm-derived materials and paper, which exacerbate environmental and human rights problems in the countries of origin.
Shiseido Group Sustainable Raw Materials Procurement Guidelines[ PDF : 95KB ]
Overview of our Suppliers and Purchasing Commodities
Purchasing Commodities
Items to be purchased include packaging for our products (cosmetics, personal care products, pharmaceuticals), cosmetic tools (raw materials and processed products such as resin, glass, paper, metal), production materials such as raw materials, sales support tools (POPs, premiums), OEM products, and commissioned manufacturing goods.
Overview of our suppliers
Our relationship with our suppliers is based on the following philosophies stated in the Shiseido Group Procurement Policy: "Building a Good Partnership," "Fair Purchasing Transactions," "Performance of contract", "Promoting sustainable procurement", and "Respecting diverse values".
We purchase materials for our products from over 900 suppliers*1,2 spanning countries and regions.
*1

:Companies belonging to the same corporate group are counted as one supplier. (Tier 1 suppliers only)

*2

:Each company is counted only once even if it appears in more than one category.
Supplier Assessment
We assess our suppliers every year with a purpose to build a sustainable supply chain and ensure responsible procurement. Our target is to eliminate high-risk suppliers, and we assess particularly critical suppliers as a priority.
Before entering into business with a new supplier, credibility, business policy and attitude, level of confidentiality, and other important factors are thoroughly reviewed. We then sign a purchase agreement only with those who consent to the Shiseido Group Supplier Code of Conduct. After starting business, we evaluate their efforts related to sustainability and risks once a year using one of the following methods: Sedex*1, EcoVadis, or Shiseido SAQ*2,3.
Based on results of this assessment, we categorize our suppliers into four groups; low-risk, medium-risk, high-risk, and non-assessable. To those ranked as high-risk, we provide feedback and request that they implement corrective action plans. Furthermore, given the assessment result and significance of suppliers, we conduct a third-party audit or visit selected suppliers. If we cannot evaluate a supplier due to insufficient information or response, we ask them to supplement the information or response accordingly.
*1

:Joined in August 2017

*2

:Self-Assessment Questionnaire

*3

:SAQ is used to assess suppliers that are not a member of either Sedex or EcoVadis.
Supplier audits
We select suppliers to audit, taking into account results of assessment, importance of suppliers and purchase amounts, and other factors. We explain the purpose of our audit and what we are assessing to suppliers and ask them to prepare required documents. During the audit, in addition to onsite inspection, employee interviews are conducted and required documents are verified. When we find issues, we ask suppliers to establish a corrective action plan and confirm whether issues are resolved through the plan.
Shiseido's supplier assessment flow
Supplier assessment results
Until fiscal 2018, we assessed suppliers of Global Headquarter which provide product materials, sales support tools and OEM suppliers. In fiscal 2019 , we expanded our scope and started assessment in EMEA Regional Headquarter.
In fiscal 2020, we expanded the scope further. From a category perspective, we assessed suppliers which provide product materials, sales support tools*, OEM suppliers, commissioned manufacturing suppliers and from geographical perspective, we conducted the assessment globally.
Given the expansion of the scope, we revised our KPIs and targets.
*

Sales support tool suppliers with which Global Headquarter, China Regional Headquarter and EMEA Regional Headquarter have business. For EMEA Regional Headquarter, the scope of assessment is partial.
We assessed 791 Tier 1 suppliers* at an assessment rate of 94%. Of Tier 2 critical suppliers, we assessed 15 suppliers.
*

Companies belonging to the same corporate group are counted as one supplier.
Identifying and mitigating risks
In fiscal 2020, 132 suppliers were categorized into high-risk and main risks are not conducting evacuation drills and inspections by health and safety committee, lack of company policy etc. We explained challenges and requested improvements to all the high-risk suppliers via supplier visit or online meeting*. Suppliers made corrective action plans such as conducting regular health and safety inspections, establishment of sustainability department and enactment of company policy. We confirmed that issues were resolved through the assessment.
*

Due to the spread of COVID-19, meetings were conducted online as a priority.
Furthermore, 22 suppliers were audited. Most were critical suppliers with risks. Through these audits, we identified issues with certain suppliers in relation to regular inspection of machinery, and management of chemical substances. We requested those suppliers to correct the issues within a determined period.
Within 12 months after our feedback and audits, levels of 30 suppliers were revised from high to medium or low. Of Tier 2 critical suppliers, a total of 15 suppliers were also assessed, with none categorized as high-risk.