Social Contribution Activities by Region and Facility
Insight into society and self-growth through relationships with society will lead to the growth of our employees and eventually, the growth of our company.
Japan
We Meet Up Again! Handcare and Cover Makeup Activity at Open Hospital
On October 28, 2017, Kyoto University Hospital invited inpatients, outpatients, their family members and local residents to its annual event named Open Hospital 2017, where we provided handcare and cover makeup services to visitors.
This year, our sixth year of participation, a cross-departmental team of 18 employees gathered from the Sustainability Strategy Department and the nearby Kinki area business units including Osaka Factory, Kinki Offices and Department Stores Sales Division, and provided handcare services to 247 visitors and cover makeup services to 58 visitors.
In the handcare section, we were impressed that there were so many fans of our continuing activities. The participants said, "I came here last year and this year. I love your handcare services and really appreciate them," "I will surely come next year, too."
And in the cover makeup section, we taught some makeup techniques to draw eyebrows or to cover skin concerns using Perfect Cover Foundation MV, launched on October 21 that year. One of the participants looked in a mirror and said with a smile, "My complexion looks brighter by covering only the area of concern."
[Feedback from employees who participated]
・I gave a handcare service to an inpatient lady and noticed that she looked really happy. I am grateful that I could directly feel the power of makeup.
・Though my arms got terribly tired by providing handcare service for many participants with no breaks, their words, "Thank you," and "It was so comforting" gave me genuine pleasure that cannot be experienced in my daily work.
・Doing such activities with members from other business units, who I have little opportunity to work with, was very stimulating.
We will come back to Kyoto next year for many Shiseido fans who are looking forward to our activities!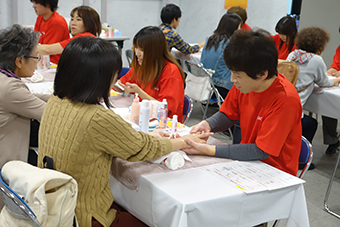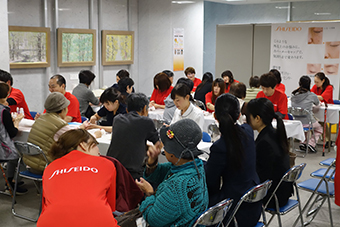 "Lip Gloss Factory," a Craft Workshop Providing Children with an Unforgettable Experience
Shiseido Japan Kyushu/Okinawa Sales Department held a craft workshop named "Lip Gloss Factory" at the "Spring Festa 2017," an event hosted by Toyota Motor Kyushu, Inc. on the premises of its factory. Our first-time participation in the event was achieved through the collaboration with three of our domestic factories (Osaka, Kakegawa and Kuki).
This event, visited by nearly 10,000 people every year, is a "festival" that local residents and families of Toyota Motor Group employees look forward to. Our "Lip Gloss Factory" attracted many people and all of its tickets sold out as soon as the doors were opened.
Through the exciting experience, participating children discovered the joy of craftwork. We look forward to continuing such activities to give children more unforgettable moments.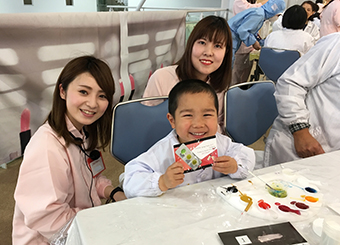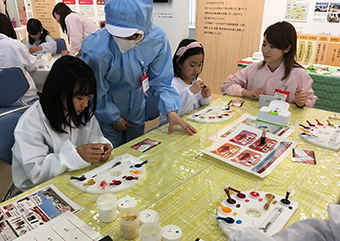 Flowers to Brighten Up the Town of Ginza! Flowerbed-making Volunteer Activities
The Quality Management Department has been participating in "Green Adaptation Campaign" of Chuo Ward since 2012, taking care of three flowerbeds in Ginza.
32 volunteer members have been engaged in flowerbed-making activities including seasonal flower planting four times a year, in addition to daily watering, weeding and cleaning. They take turns in pairs watering the flowers while interacting with each other.
In 2017, they planted linaria and primula polyantha on February 24, and dianthus and coleus on May 18 at three of their flowerbeds. Pentas and catharanthus were planted on August 25, and pansy and miniature flowering kale on December 1.
Wishing for steady growth of the flowers as in usual years, they worked considering the balance of color to make beautiful flowerbeds. Members will continue to take care of the flowers lovingly to brighten up the town of Ginza.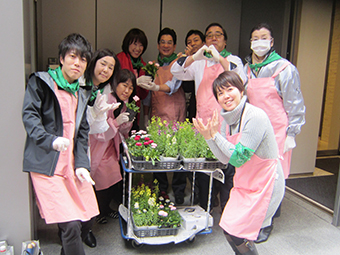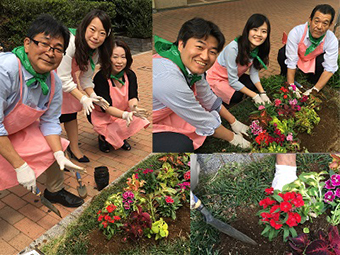 Science Cafe "Skincare for Babies" at Showa University
On October 19, 2017, Shiseido Global Innovation Center and Showa University Career Support Office co-hosted a Science Cafe for fourth- and fifth-year students of the university. Unlike regular seminars, Science Cafes are group discussions where researchers join in and raise topics for students to think about and deepen their knowledge in science.The cafe was attended by about 20 participants including teachers and students from the schools of medicine, dentistry, and pharmacy. The theme of the discussion was Shiseido's research activities on the "power of makeup" and the "importance of skincare for babies," which provided beneficial information for future medical professionals. A total of eight employees from the Global Innovation Center and the Sustainability Strategy Department facilitated the discussion.
The students were surprised about the facts that cosmetics can improve people's quality of life (QOL) and that skincare for babies decreases the incidence of atopic dermatitis. They also showed a positive response saying, "I want to utilize the information for my future work" and "I will share today's topics with friends who have babies." It was a really active and exciting session, where opinions and questions typical of young students were raised such as "What is the difference between spots and freckles?" "What kind of brightening agent is most effective?" "I need an easy-to-use, effective sunscreen product," etc.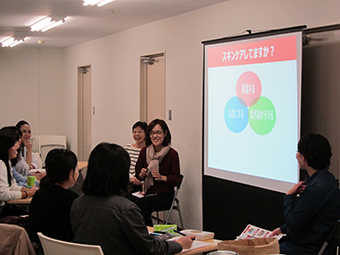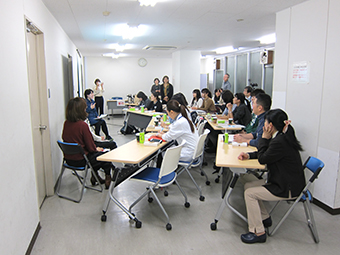 Asia and Oceania
Beauty Seminar for Art College Students
Shiseido Thailand held a work session on skincare and makeup techniques for 60 junior year students at an art college on November 2, 2017. Being very popular among the students, the seminar provides those who are studying beauty and culture with an opportunity to discover Shiseido's technology and know-how and to acquire beauty-related knowledge and skills, which they can exercise as professionals after graduation. Two identical sessions were held in the morning and afternoon, each of which was attended by 30 students who learned about skincare and makeup techniques with hands-on practice. The students' feedback was positive, such as "We learned a lot about basic skincare and makeup techniques/knowledge. Thank you for giving us this opportunity. We want to make good use of this experience in our future." We are very happy to be able to inspire young students through the seminar.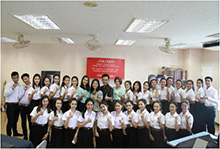 America and Europe
Annual Beauty Seminar for the Elderly
A team from Shiseido Spain offers every year a beauty seminar for elderly people at a local nursing home. On October 21, 2017, 10 employees visited the facility. Divided into two groups, they offered skincare and hand massage services, which the elderly enjoyed a lot.