Social Contribution Activities by Region and Facility
Insight into society and self-growth through relationships with society will lead to the growth of our employees and eventually, the growth of our company.
Japan
Touch Care and Hand Care Activities at Cancer Charity Event
The Shiseido Japan ACPC Trade Marketing Department participated in the "Relay for Life" cancer charity event held in Tokyo's Ueno Park on October 19, 2019.
We sent 15 members to the event. They offered free touch care* and hand care services to approximately 120 total visitors who enjoyed their relaxing and comforting effects. At the same venue, we also introduced Shiseido's Life Quality Makeup initiatives

, which are driven by the company's long-time commitment to providing makeup-based solutions to those troubled by changes in appearance due to cancer treatment or other reasons, which can produce positive psychological effects.
*

Touch care: Shiseido's original care system based on the comforting and healing effect of rubbing the back and shoulders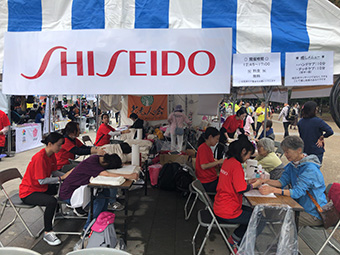 Students and Teachers Offer Beauty Care Services at Local Welfare Facilities
At Shiseido Beauty Academy, students and teachers form a volunteer group called Wakatsubaki-kai to run volunteer programs directed at the elderly and the disabled on a regular basis.
One such program took place on April 22, 2019. The group invited 10 patrons of the nearby day care center for the elderly to the Academy, and provided makeup, hand massages and haircuts by teachers.
Wakatsubaki-kai carries out various activities throughout the year, demonstrating its capabilities as a beauty school. Major examples include visiting local nursing homes to provide haircuts, makeup, hand care and other beauty care services, and participating at events hosted by welfare facilities for the disabled where it offers nail care services.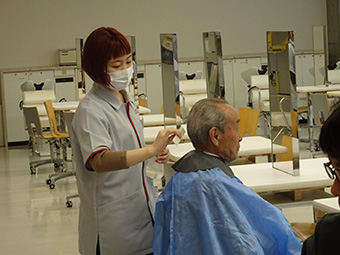 "Lip Gloss Making" Workshop Returns at Youngsters' Science Festival
Three domestic Shiseido factories (Kuki, Kakegawa and Osaka) jointly participated in the national meeting of the Youngsters' Science Festival which was held at the Tokyo Science Museum on July 27 and 28, 2019. The joint hosted a booth for "lip gloss making," encouraging visitors to create their own original colors.
The Youngsters' Science Festival offers experimental demonstrations and handicraft workshops targeted to children, aiming to inspire their interest in science and technology. The event attracts numerous visitors every year.
At the 2019 event, Shiseido's booth welcomed approximately 200 visitors in total over two days. A total of 12 employees played the role of instructor and assistant in helping participants with lip gloss making activities, introducing and sharing in the joys of makeup and benefits of cosmetic products, with each creator's one-of-a-kind color samples becoming treasured keepsakes and reminders of the summer vacation.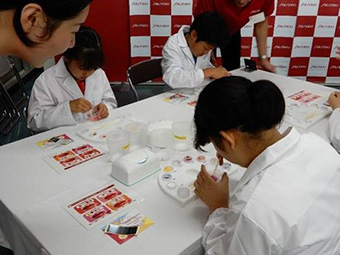 Street Cleanup in Omotesando
Ettusais Co., Ltd. is a supporter of "green bird," the non-profit organization with a clean streets initiative. Since February 2010, we have continuously participated in street cleanup activities in the Omotesando area where our office is located. In the first half of fiscal 2019, five employees joined activities on January 23.
Participation in Inclusive Design Project for Chigasaki City Museum of Art
The Shiseido Global Innovation Center participated in a fieldwork project with an inclusive design approach for the Chigasaki City Museum of Art in Kanagawa Prefecture from 2018 to 2019.
The project examined the issue of prohibitive geographical access the museum, generally due to complex, tangled paths in the surrounding area, from different viewpoints and considerations including people with disabilities. Awareness gleaned from these activities was applied in artwork as aromatic expression, then displayed in an exhibition within the museum under the title "Path to (from) the Museum.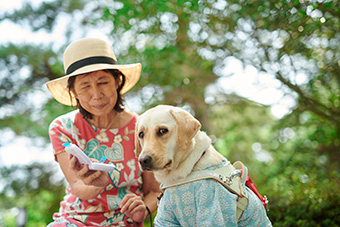 Asia Pacific
Participation in "Run for Girls" to Protect Women's Rights
Shiseido Hong Kong (SHK) was a participant in "Run for Girls 2019."
Run for Girls, a women-only charity run, is organized with the aim of promoting women's rights and protecting women from discrimination, inequality and violence in developing countries.
The SHK team, consisting of 18 runners from frontline and back-office forces, ran the distance of 64 kilometers in total for the purpose of raising money to help environmentally disadvantaged girls.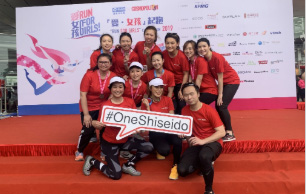 Hand Massages to Parents of Children with Cancer
Shiseido Korea hosts hand massage sessions for parents of children with cancer as a regular volunteer activity.
The latest session was held on March 26, 2019. Seven employees gave hand massages to 18 family members of young cancer patients, for a relaxing time accompanying peace of body and mind.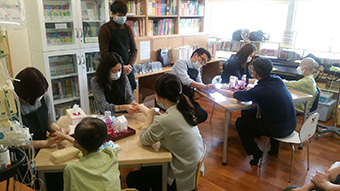 Year-end CSR Event at Girls Shelter
On December 13, 2019, Shiseido Asia Pacific and Shiseido Singapore jointly held a year-end CSR event at Gladiolus Place, a residential refuge for disadvantaged girls between the ages of 12 and 19.
Around 50 employees from the two companies volunteered to serve the event, organizing a number of programs such as skincare and haircare workshops, a food and drink party, and interior painting for the library and computer room in the house. The participating employees worked hard to ensure the girls were having a good time.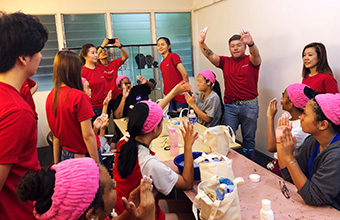 Americas and EMEA
Over 500 Employees Volunteer! The Hosting of Camellia Day
Shiseido EMEA's regional headquarters and local offices in Europe ran operations for Camellia Day in May 2019, where employees from these offices volunteered and engaged in various activities with women's support groups in the region to support women's empowerment.
On the day, more than 500 employees from 11 countries contributed their professional skills and abilities to different projects to support women in need, such as renovation work at women's shelters and homes for the elderly, operational assistance to refugee support groups, and face and body care services for women for various difficulties.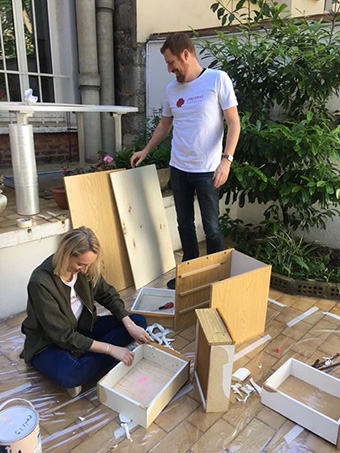 At Shiseido Spain, 30 employees engaged in volunteer activities on May 13 and 14, hosting a workshop on makeup application and skincare techniques for women with cancer, and offering face and hand massage services for elderly people at local homes.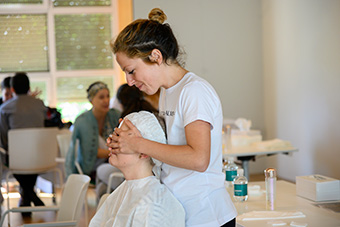 Employees Volunteer Throughout the Year
Shiseido America's regional headquarters provides employees with various volunteer work opportunities on a year-round basis. Among major programs are working at Ronald McDonald Houses, support for housing projects for disaster victims, and participating in cancer charity runs.