Primary Strategic Actions
Developing Sustainable Packaging
Since the launch of our first refill products in 1926, we have developed various kinds of environmentally friendly packaging (e.g. biomass containers, recyclable PET bottles, low-temperature combustible materials), based on the philosophy that the earth creates all value. We are the first Japanese company to join SPICE*1. We have also been actively developing biodegradable packaging*2 in addition to promoting the 3Rs (reduce, reuse, recycle) in order to utilize limited resources and resolve the issue of ocean pollution.
*1

SPICE(Sustainable Packaging Initiative for CosmEtics): A collaborative initiative by global cosmetic companies to create a future with sustainable packaging

*2

At our company, cosmetics packaging that is reduced, reused, recycled and biodegradable is defined as "Sustainable Packages."
Targets
Adopt sustainable packaging
1.

Promote the provision of refills and reduce CO2 and waste.

2.

By 2030, we will replace 100% of the resin we are currently using for containers and packaging to sustainable plastic. (Set in 2017)

3.

We will switch 100% of the paper used for Shiseido products to recycled paper, non-wood paper or (third-party) certified paper by 2023 (Set in 2019)
Product packaging
Our approach is based on the four viewpoints: Reduce, Reuse, Recycle, and Biodegradability.
Reduce/Reuse
We sell refill products for approximately 700 items in Japan so that we can reuse containers in the cosmetics business. We are reducing the resources used for containers by providing refill products in various categories, such as shampoos, lotions, emulsions, and foundations. We also try to reuse resources by making containers lighter and easier to separate after use.
Resource reduction by refill products
HAKU: We have been offering refill products for skin brightening serum, HAKU melanofocus, since 2011. By using a refill container, we reduced the number of plastics used by 60% (approx. 19 tons within a year after launch) compared with the amount used for the original product container.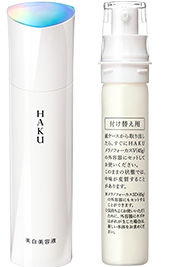 Providing easy-to-separate packages
Brand SHISEIDO: In order to make it easy to recycle used containers, we are working to provide packages that can be easily separated for products that combine different materials such as plastic and metal.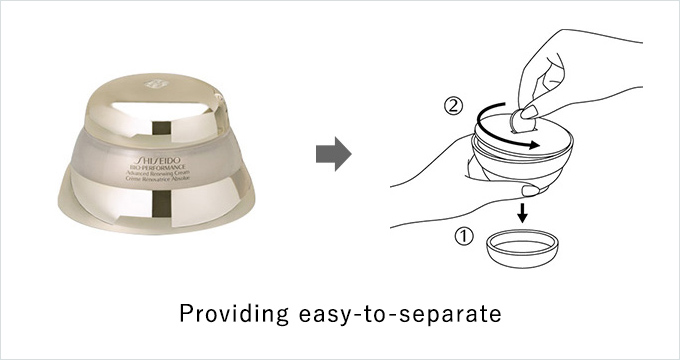 Weight reduction of eco-friendly product packages and containers
Clé de Peau Beauté: In 2014, we changed the material used for the container of the essence, Concentré Illuminateur, from glass to plastic. A three-dimensional pouch shaped like a diamond has a design that delivers both luxury feel and eco-friendliness. The weight of the container has been reduced by 90% (60% reduction in CO2 emissions per product).
The Collagen: For beauty drinks, The Collagen, and Pure White, we reduced the weight of the glass bottles by 10% through efforts we have been making since 2011.
Chou-mei-sou brands: In 2013, we changed the container for the beauty drinks, Chou-mei-sou brands, from aluminum cans to paper containers. We use a paper beverage container called Cartocan. A portion of the profit is donated to the Midori no Bokin (Green Fund) to contribute to forestation maintenance.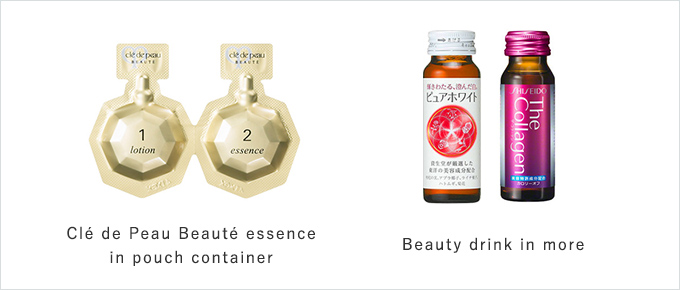 Utilization of biomass resources
Since 2009, we have been switching the material of the cartons for our skin care products (single-unit cases), such as lotion and emulsion from plastic to paper. With regard to paper materials, we actively promote adopting the paper such as recycled paper, bagasse paper*1, and FSC-certified paper*2 based on the Shiseido Production Eco Standards.
Sugarcane-derived polyethylene*3 has been adopted as the material of packaging for the domestic hair care brand SUPER MiLD since 2011, and reduced CO2 emissions by more than 70% throughout the life cycle.
*1

Bagasse paper: Non-wood paper made from fibers taken from sugar cane

*2

FSC-certified paper: What is certified as "Paper product produced from an appropriately managed forest" from the Forest Stewardship Council (FSC) in order to make supply chain related to forest resources.

*3

Sugarcane-derived polyethylene: The CO2 generated when sugarcane-derived polyethylene is incinerated is equivalent to the CO2 absorbed as the sugarcane grow. In addition, the energy consumption in the manufacturing process is less than that of petroleum-derived polyethylene due to the lower temperature in the process and the electricity consumed by the raw material production being generated from the incineration of sugarcane fiber (See Fig. 1). Sugarcane-derived polyethylene can reduce the CO2 emissions by over 70% throughout the life cycle compared to petroleum-derived polyethylene (See Fig. 2).
Fig. 1 Manufacturing process of polyethylene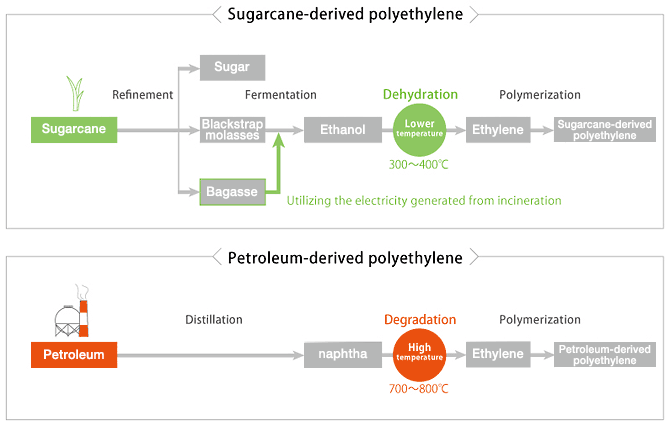 Fig. 2 CO2 emission reduction effect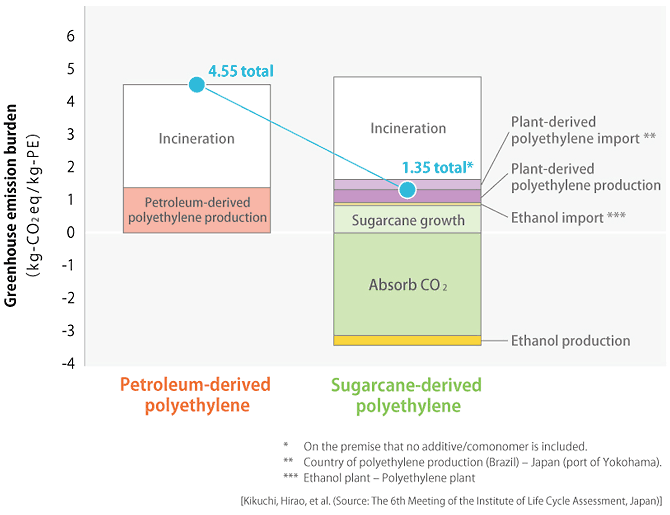 Material of the single-unit case for skin care products in Japan
The below shows the share (ratio by procured quantity) by material of a single-unit case procured in Japan.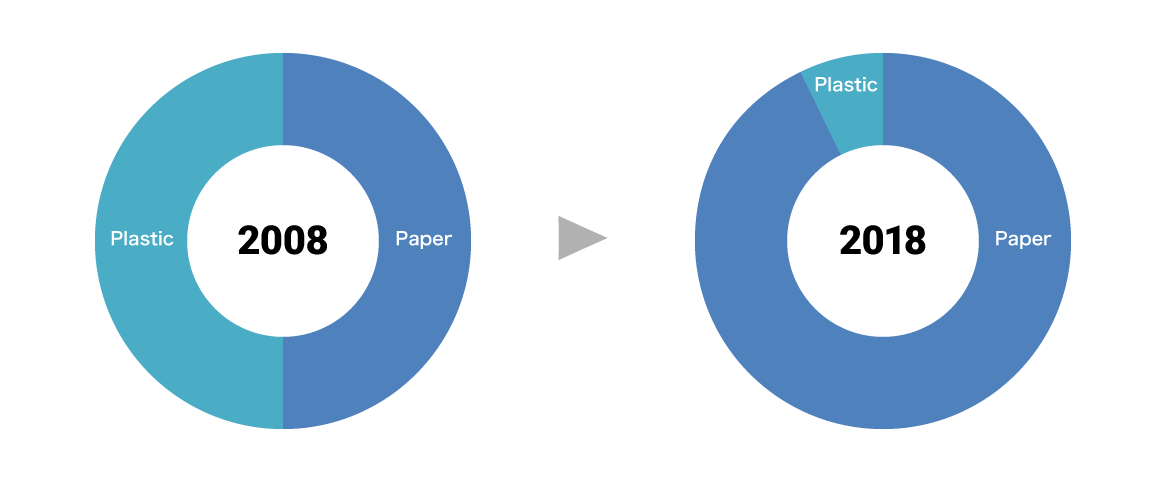 Recycling
Mechanical recycling* adoption of PET resin: We have been using the recycled PET resin that has been reproduced from post-consumer packaging waste since 2015 for the bottle material of SEA BREEZE Super Cool Body Shampoo.
*

Mechanical recycling: A technology for efficiently producing high-quality recycled PET resin from PET bottles for beverages. Compared to using petroleum-derived PET resin, CO2 emissions could be reduced by 39 tons in 2018.
Mechanism of mechanical recycling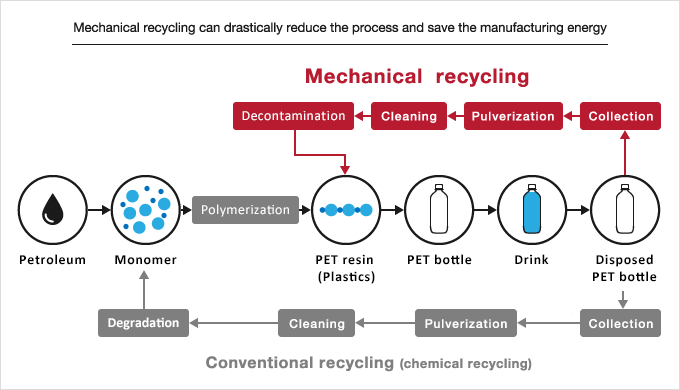 Biodegradable packaging
Shiseido initiated a joint development with KANEKA CORPORATION in April 2019, aiming to utilize Kaneka Biodegradable Polymer® PHBH®, a proprietary material with high biodegradability in seawater for cosmetics containers, tools, packaging materials, fixtures, etc. We aim to minimize the environmental impact by combining KANEKA's proprietary technology on material development with Shiseido's knowledge we accumulated for many years in container development for cosmetics.
Participation in SPICE and formation of the rules regarding environmental impact assessment of product packaging
From2018, Shiseido become the first Japanese company to join SPICE

, a Sustainable Packaging Initiative for CosmEtics. By collaborating with global cosmetics companies, we aim to develop a new scheme which will accelerate the use of sustainable packaging and increase awareness in the beauty industry by establishing the standardized methodology of packaging lifecycle assessment.