With our Suppliers
Overview of our suppliers and purchasing commodities
Items purchased
Items to be purchased include packages for our products (cosmetics, toiletries, and pharmaceuticals), cosmetic tools, production materials such as raw materials and fragrances, sales support tools, and OEM products.
1.

Packaging, Cosmetics: Raw materials and processed products such as resin, glass, paper, metal

2.

Sales support tools: POPs, premiums, etc.
Number of suppliers
Based on our philosophies "Building a Good Partnership," "Fair Purchasing Transactions," "Toward Global Procurement," and "Performance of Contract," in the "Shiseido Group Procurement Policy", we have business dealings with 296 companies
Category
Tier 1 suppliers
2018
Direct materials (Materials + OEM)
135
Direct materials (Raw fragrance)
133
Indirect materials (Promotional materials)
28
Total (Number of companies)
296
(Supervision under global headquarters, 2018 results)
Main Suppliers
We define our core suppliers as Main Suppliers from a medium-to-long-term perspective, taking into consideration the share of purchasing cost and performance from a QCDEST* perspective.
*

QCDEST (Quality, Cost, Delivery, Environment, Service, Technology)
| | |
| --- | --- |
| Number of Main Suppliers | 71 |
| Share of Main Suppliers among Tier 1 suppliers (Percentage based on number of suppliers) | 24% |
| Share of Main Suppliers among Tier 1 suppliers (Percentage based on procurement cost) | 81% |
Starting new business with Shiseido
Below is the process to be followed when we start business with new suppliers.
First contact with suppliers
①Direct proposals from suppliers
②Contacts from Shiseido
Review of proposals
We will review and examine suppliers' proposals and presentations within the Company taking into account each supplier's situation at the time of contact.
①Assessment by Purchasing Department (or other division in charge in some cases) to determine whether to adopt the proposal
②Discussion with different stakeholders to decide directions
Assessment of New Suppliers
To start business with new suppliers, we will consider the terms and conditions as follows:
①Management policy and business style
②Credit status and business stance
③Capabilities (cost, technology, quality, production capacity and service capabilities)
④Preservation of confidentiality
⑤Background and business areas
⑥Partnerships with other companies
⑦Responses on Supplier code of conduct and environmental requirements measures
Selection Process for commercialization
If there are any specific product needs for the contents presented or proposed, we will conduct a detailed examination for future commercialization.
A detailed estimate based on the product's specifications is requested to be presented by suppliers.
The following factors are concurrently reviewed and verified by our relevant divisions.
We will also conduct examination using samples for evaluation.
①Quality ②Cost ③Delivery time ④Safety ⑤Factory ownership ⑥Adaptability to our factories' production system
Final negotiation/ conclusion of purchase agreement
Conditions for procurement are thoroughly reviewed and adjusted before concluding the purchase agreement.
New suppliers are required to consent to and comply with the "Shiseido Group Supplier Code of Conduct" upon conclusion of the purchase contract.
Shiseido Group Supplier Code of Conduct
Since 2006, we have shared the "Shiseido Group Supplier Code of Conduct" with our partner suppliers to work together on ethical business activities. In response to current circumstances, where company commitments to social and environmental issues often come into question, we revised the "Shiseido Group Supplier Code of Conduct" in April 2018 to clearly state our responsibilities and challenges including respect for human rights, legal compliance, and environmental protection. In June 2019, we further revised to include a proper management of employee working hours, days off, and leave.
We also require not only tier 1 suppliers, but also their subcontractors involved in the business related to the Shiseido Group to comply with the same standards.
Partnership with suppliers
Supplier's day
In order to address changes of the times and social requirements, with regard to our concept of procurement, Shiseido considers it important to share information with business partners in a timely and accurate manner. Therefore, with the aim of widespread dissemination of the procurement policy, the procurement departments in Japan and China hold annual supplier's day to share purchasing activity and strategy with suppliers. Our procurement departments in Japan utilize each session as an opportunity to directly communicate Shiseido's procurement policy, various tasks, and requests in the fields of raw materials, fragrances, materials, and indirect materials, as well as to respond to questions and requests from business partners.
In the global headquarters purchasing department, 209 suppliers participated in the session in FY2019. And 89 suppliers attend in China, we will respect all our suppliers who share our credo and strive for mutually sustainable development.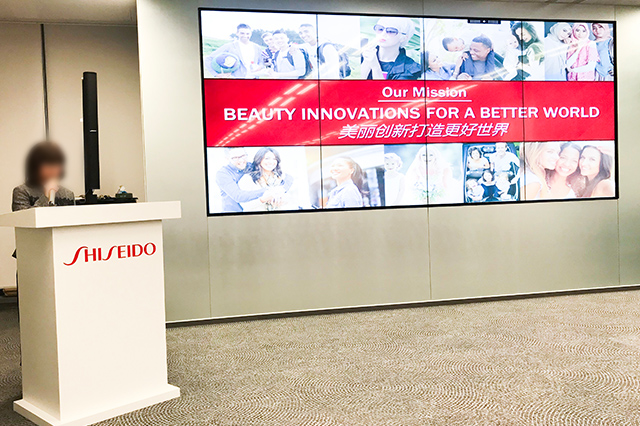 Shiseido Suppliers' Awards
Suppliers who have performed well as a result of following our purchasing policy are invited to the annual Shiseido Suppliers' Awards. In fiscal 2019, 43 companies participated in the event held at "S/PARK," which was newly opened in the Minato-Mirai area, Yokohama, in April. In addition, we awarded suppliers who performed high performances from a QCDEST perspective and five companies were awarded in FY2019. We express our gratitude to our suppliers, sharing the future of Shiseido, and working diligently to strengthen our partnership.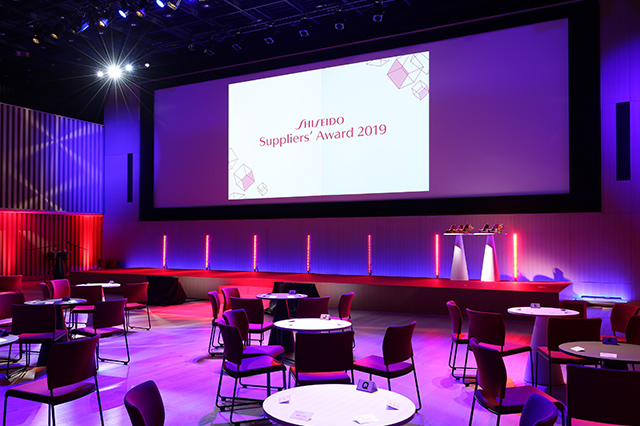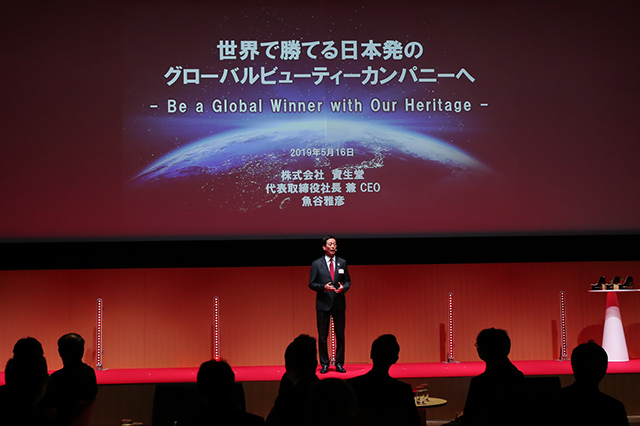 Global purchasing collaboration
Every year, we host the Shiseido International Procurement Meeting (SIPM), which is attended by all purchasing leaders from each of our global facilities. We share not only immediate issues to be addressed but also medium-to-long-term goals, and discuss global purchasing strategies. We are also promoting the global implementation of sustainability activities through this meeting.