Our Environmental Approach
Shiseido's mission from its inception was to create social value. The company's name "Shiseido" comes from a phrase in a Chinese classic, I Ching, which says, "Praise the virtues of the Earth, which nurtures new life and brings forth significant values." This demonstrates our respect for the planet, the global environment, and society as a whole. Shiseido aims to contribute to a sustainable society across all value chains in all businesses.
Environmental Policy
The Shiseido Group contributes to the realization of a sustainable society, in line with the principle "With Society and the Earth" advocated in the Shiseido Group Standards of Business Conduct and Ethics. We are promoting eco-friendly product development and sales promotion material development in accordance with our voluntary environmental standards, the Production Eco Standards, and the Sales Promotion Tools Eco Standards.
●

Shiseido Group Standards of Business Conduct and Ethics "With Society and the Earth" (Excerpt)

We promote environmental initiatives in line with our own stringent standards, and consider biodiversity as we aim for a sustainable society in which humanity and the Earth coexist beautifully.

1. We strive to mitigate climate change through efforts such as reducing emissions of CO₂ and other greenhouse gases (GHG). We also manage chemical substances properly to prevent air, water and soil pollution.
2. We strive to minimize waste in our business processes and in use by consumers, with emphasis on the 3Rs: reduce, reuse and recycle.
3. We work to develop new products and services that bring out the beauty of consumers and are also eco-friendly.
4. We proactively develop new technologies to balance environmental initiatives with our business activities.

For details, please refer to The Shiseido Group Standards of Business Conduct and Ethics.
●

Voluntary environmental standards: The Production Eco Standards and The Sales Promotion Tools Eco Standards
The Production Eco Standards (formulated in 2010)
The Sales Promotion Tools Eco Standards (formulated in 2010)
Environmental Management
●

System

In the Shiseido Group, we discuss and deliberate on a broad range of environmental issues in the Executive Committee, chaired by the CEO (Chief Executive Officer) and attended by management*1, audit, and supervisory board members. Important matters are reported to the Board of Directors and approved and supervised by the Board of Directors. In order to promote environmental management throughout the Shiseido Group, the Sustainable Environment Department, the Social Value Creation Division of Shiseido Company, Limited, reports the progress of environmental data and potential future issues to our directors and corporate officers in charge of the environment and receives supervision on environmental management*2.
*

1 Chief Financial Officer, Chief Innovation Officer, Chief Strategy Officer, Chief People Officer, Chief Social Value Creation Officer, Chief Supply Network Officer, Chief Legal Officer

*

2 Corporate Officers in charge supervise each relevant field.
Social Value Creation management system (incl. Environment)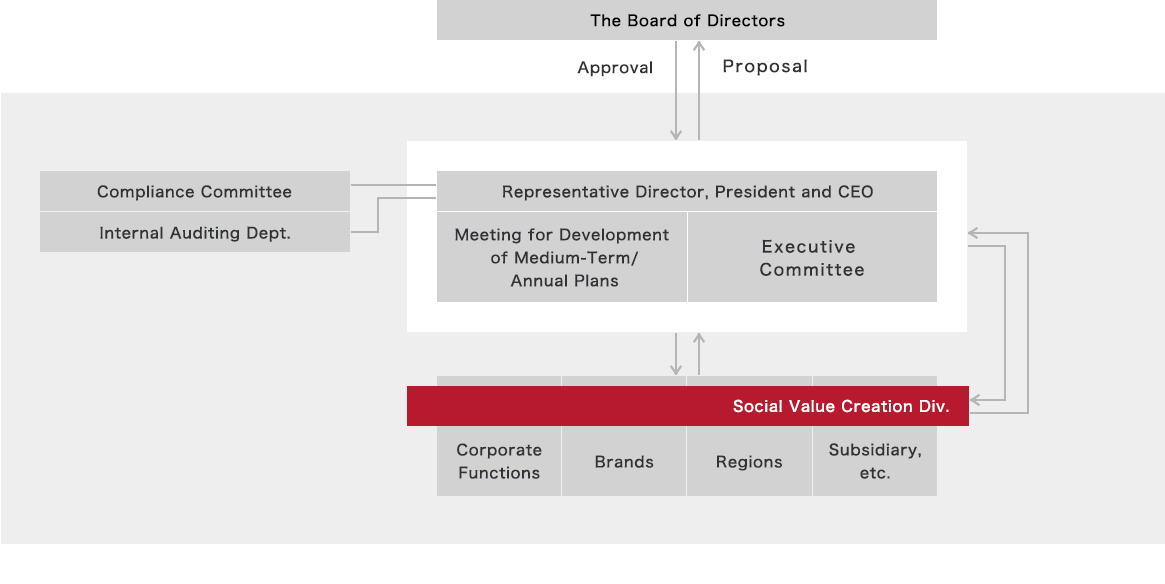 Social Value Creation – Internal Collaboration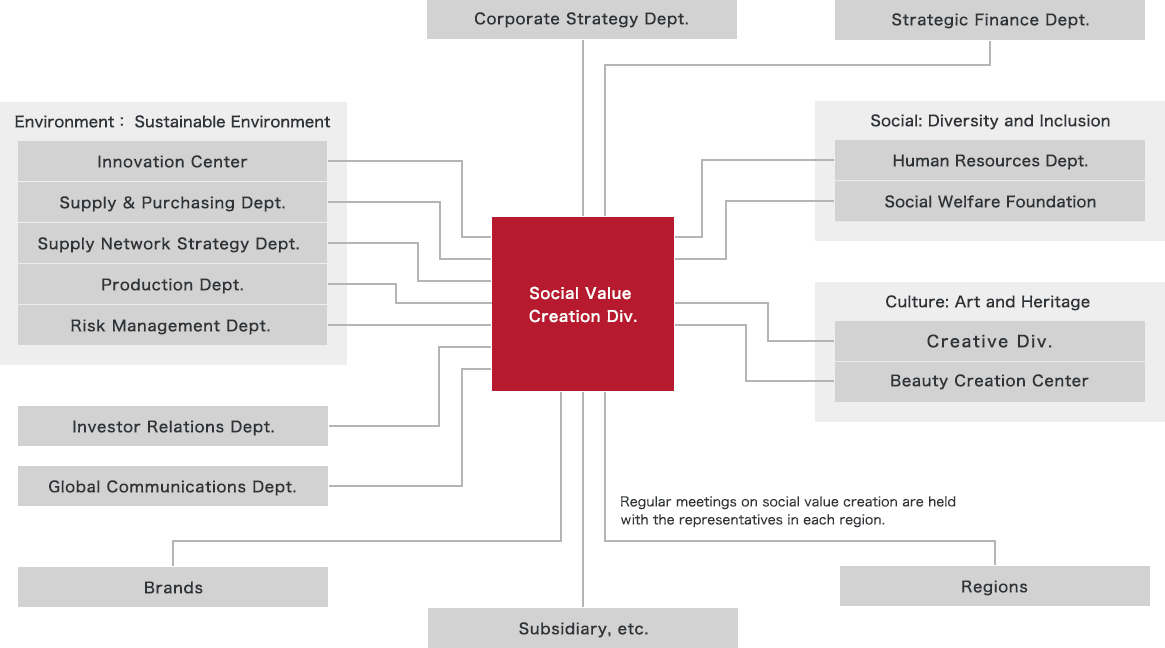 ●

Promotional activities

The Shiseido Group's production facilities introduced the ISO 14001 environmental management system for the first time in 1997. All our production facilities worldwide have obtained ISO 14001 certification. We place an Environmental Management Representative in each production facility, set environmental policies and targets, promote environmental activities, confirm compliance with environmental regulations, properly manage chemical substances, educate employees on the environment, and conduct the PDCA cycle. By so doing, we improve the management system and reduce the environmental impact. The progress of these activities is validated through third-party audits.
Under this promotion system, the Shiseido Group had no major environmental incidents, violations of environmental laws or regulations, or lawsuits related to environmental issues in 2018. We will continue our endeavor to maintain appropriate environmental management.
The Shiseido Group Environmental Management Status
Status of ISO14001 Certification
Cooperating companies
*

Although Shiseido Honeycake Industries Co., Ltd. is not a consolidated subsidiary it obtained certification in 1999 in line with Shiseido policies.