Employment and Labor
The Number of Employees
All the domestic and overseas Shiseido Group companies apply diversified employee working conditions in accordance with each business and each specific role expected of each employee, aiming to maintain and improve our competitive strength. As of January 1, 2019, the number of employees throughout our Group companies totals 45,500, which is approx. 500 up over the previous year.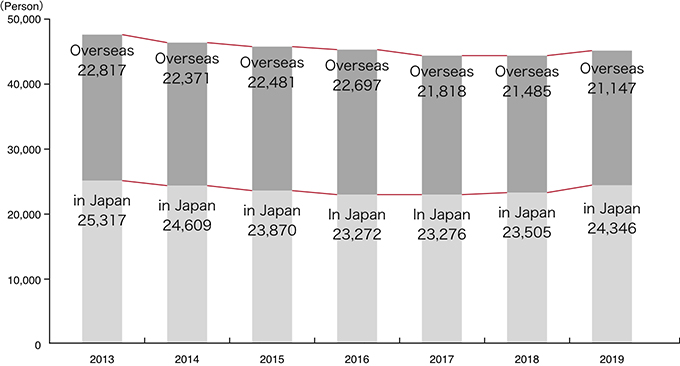 Note: Each figure up to 2015 is based on the data as of April 1 for Japan. The overseas data is based on the number of employees who worked under the direct labor contract as of the end of December in the previous year.
Starting in 2016, the figure is based on the data as of January 1 for Japan. The overseas data is based on the number of employees who worked under the direct labor contract as of the end of December in the previous year.
Wage
The wage system of Shiseido is based on abilities and results, which eliminates some elements such as promotion by seniority and dependence on personal background. In addition, the system for evaluating abilities and results is fair and transparent based on the rules for handling evaluations and is aimed at increasing the satisfaction level of employees.
The basic salary ratios of employees in the domestic Shiseido Group in FY2017 by job category and gender are as follows: Management level: Male 105: Female 100; General management: Male 100: Female 100; and Beauty staff: Male 85: Female 100 (as of January 1, 2019).
Employee Benefits and Welfare
Aiming for our employees and their families to enjoy "prosperous and comfortably affluent life," we are focusing on employee benefits and welfare as well as improving our working conditions so that employees can actively engage in corporate and social activities.
Welfare System to Support Employees
to Advance Their Business Career and Design Their Own Life Style
Shiseido is supporting employees to advance their business career and design their own life style based on their self-control and responsibility in their work and life, providing them with our diverse welfare system.
We have introduced not only systems and measures that support employees to balance work and childcare/nursing care in order to realize work-life balance and various other measures, such as housing support including company housing and housing compensation, property accumulation savings, employee shareholding system, consolation payment system, etc., but also the "Cafeteria system (welfare plan by selection)". The company prepares menus responding to employees' lifestyles and needs, such as "promoting an active workplace", "self-enlightenment", "childcare/nursing care", and "health promotion", and employees can select necessary support as needed, according to their own points.
Life Planning Support for Employees by Corporate Pension Plan
Shiseido supports employees' life planning management.
Retirement allowances in Shiseido Group companies consist of "defined benefit pension plan", "defined contribution pension scheme" or "prepaid retirement allowance" and "lump sum retirement pay".
Employees enjoy benefit after selecting a plan between defined contribution pension scheme and prepaid retirement allowance. With regards to defined contribution pension scheme, Shiseido helps support employees to actively practice post-retirement life design planning through periodical provision of asset management and investment information. Some local subsidiaries are providing defined benefit type plan, lump sum retirement pay and defined contribution type plans.
Employment
In Shiseido Group, both companies and employees are maximizing their efforts to maintain employment of workers, and our commitment to stabilize the employment certainly complies with laws and regulations in each respective region and country. In employing workers, upholding The Shiseido Group Standards of Business Conduct and Ethics, we try to respect diversity and to realize such a working environment that employees could feel rewarded.

Basically, Shiseido introduces regular employment system, and as far as targeted candidates are concerned, it does not matter whether it would be a new graduate or previous graduate. Meanwhile, the Group companies also employ experienced candidates, targeting those who have already accumulated their professional career. Offering diversified job opportunities, with an objective of careful adjustment of employees' working conditions, Shiseido tries to organize employment systems.

Furthermore, in case that employees could be significantly affected due to relocation to a new branch or transfer to another office, our labor agreement stipulates that Shiseido should set up a committee consisting of management and labor union members to sincerely discuss and settle specific problems for immediate solution.