Primary Strategic Actions
Reducing Environmental Burden
From the perspective of craftsmanship, including the procurement of raw materials, we are promoting activities to reduce our environmental burden. In this way, we are working to fulfill our responsibilities as a global corporate citizen and contribute to society. We are stepping up efforts to reduce CO₂ emissions, a primary cause of climate change. We are also making progress on a global scale with regard to ethical procurement (palm oil, paper), which puts a halt to deforestation. At the same time, we are proceeding with water usage reduction and working to reduce and recycle waste in order to lessen the burden placed on the environment.
CO2
CO2 reduction initiatives
With regard to greenhouse gases (GHG), including CO2, which is one of the causes of climate change, we aim to reduce emissions at all production facilities and across all our businesses and strive to mitigate climate change.
Support and active participation in TCFD
In April 2019, Shiseido has expressed its support and active participation in the Task Force on Climate-related Financial Disclosures (TCFD), which was established by the Financial Stability Board (FSB). From here on, we will actively promote disclosure of information concerning both business risks and opportunities caused by climate change from such perspectives as strategy, risk management and governance based on the TCFD recommendations.
Production facilities
In the Shiseido Group's production facilities, we are promoting the selection of appropriate equipment that takes into consideration energy saving performance as well as environmental measures based on the environmental management system ISO 14001.
Solar power generation: East Windsor Factory, Shiseido America, Inc. (New Jersey, USA) introduced the fixed-tilt solar power system in 2007 and the solar-tracking solar power system in 2010. With an annual power generation of approximately 2.3 million kWh, more than 70% of the factory's annual power consumption is covered by solar power. This initiative contributes to the reduction of 1,200 tons of CO2 annually. In 2010, the factory won the 2010 New Jersey Governor's Environmental Excellence Award. By selling polystyrene foam, a packaging material used to deliver materials, to a recycling company from 2012, the factory reduces waste by 7.5 tons and CO2 emissions by 0.8 tons annually.
Renewable energy: Since 2018, Kakegawa Factory, Kuki Factory and Osaka Factory of Shiseido Company, Limited have adopted renewable energy*. About 38% of the electricity used in these three plants is sourced from hydroelectric power, which contributes to a reduction in CO2.
*

Adopted "Aqua Premium" by TEPCO Energy Partner, Incorporated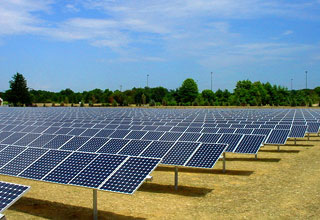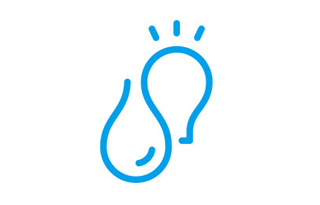 Logistics
Improving delivery efficiency with 10-sided cardboard boxes: Since 2008, the Kuki Factory of Shiseido Company, Limited has adopted 10-sided cardboard boxes for the logistics of our products*. Arranging 10 sides for the cardboard boxes maintains the durability and thins the cardboard paper, which enables the packing of shampoo refills (and refill products) produced in the factory to be done without gaps. By reducing the amount of cardboard materials and improving delivery efficiency, we have saved resources and reduced CO2 emissions by 800 tons.
*

Adopted for TSUBAKI, SUPER MiLD, AQUAIR, and SEA BREEZE brands produced at the factory.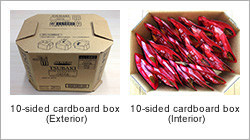 Product development
We provide eco-friendly products and services to reduce CO2 emissions. We are also working on product environmental impact assessments and information disclosure (Product Life Cycle Assessment: LCA).
Deforestation(Palm oil, Paper)
The raw materials of the Shiseido Group's products are mostly plant-derived. To promote environmental protection while developing together with society, we dedicate ourselves to sustainable procurement across all our business activities, including the procurement of raw materials. We are strengthening our response to sustainable protection of the environment, in particular, with regard to palm oil, a raw material used in surfactants, and paper, used for the packaging of goods, because both can be a direct cause of deforestation.
Procurement of sustainable palm oil
Palm oil, a raw material for cosmetics, is mainly produced from oil palms in Southeast Asia. Environmental protection in palm oil production areas and consideration of human rights of people working on plantations are essential to build an ethical supply chain. Shiseido joined RSPO (Roundtable on Sustainable Palm Oil)

and formulated

Shiseido Group Sustainable Raw Materials Procurement Guidelines[ PDF : 136KB ] in order to procure palm oil and palm kernel oil that is environmentally and socially friendly. In addition, we are making progress toward obtaining RSPO supply chain certification*1 at the Shiseido Group factories. Through these efforts, we are shifting toward sustainable palm oil procurement.
Please check the details in 2018 Performance - Procurement of sustainable palm oil.
*1

RSPO: Roundtable on Sustainable Palm Oil

*2

RSPO Supply Chain Certification: Certification to ensure logistically reliable delivery of RSPO RSPO-certified raw materials.
Procurement of sustainable paper
We are promoting the procurement of recycled paper, non-wood paper, and (third-party) certified paper, in consideration of the environment at the place of origin.
Target: Switch 100% of the paper used for Shiseido products to recycled paper, non-wood paper or (third-party) certified paper by 2023 (set in 2019)
For other sustainable raw material procurements, please check Responsible Procurement.
Water
We aim for the sustainable use of water while respecting water circulation in water systems, as well as the water utilization by local communities. To that end, we will first identify the actual situation regarding the use of water resources through the various value chains in our business activities. Based on this, with the aim of the sustainable use of water, we strive to reduce the impact of our business activities on water circulation and water utilization.
Water-saving initiatives
Product development

We develop water-saving products that can reduce water consumption when used by our customers to contribute to the conservation of water resources. Reducing water use by developing a facial wash that rinses off well: Japan's skincare brand, Senka, developed a foamy cleanser that can be rinsed off quickly with less water and launched it in 2016. This facial wash helps reduce the amount of water necessary to rinse the foam off by about 35%*2 (1080 liters per year) compared to conventional facial wash*1.

*1

Conventional facial wash: Cream type (in tube)

*2

Confirmed by Shiseido

Production facilities

The long-term consequences of climate change imply an increase in drought risk in Europe. Therefore, Unité de Gien Factory and Val de Loire Factory, based in France, set water consumption per production volume of contents as their KPI. They are working to reduce water consumption from the viewpoint of long-term risk management.

Please check the details in 2018 Performance.
Waste
With the aim of realizing a recycling-oriented society, the Shiseido Group is working on the reduction of waste in the processes of all business activities, keeping 3Rs (Reduce, Reuse, Recycle) and biodegradable packaging utilization in mind. We also strive to properly manage industrial waste.
Waste recycling
We are working on the recycling of waste generated by activities at our facilities. Our 2018 recycling rate was 89%.
Proper disposal of industrial waste
We hold workshops on industrial waste (lecture-style workshops, on-site confirmation workshops at intermediate processing companies) twice yearly to manager-level position holders, to those in charge of industrial waste handling across all domestic departments, and to each Shiseido Group company with the aim of understanding laws and legal compliance and sharing key points of compliance. As a result of these activities, we had no accidents or legal violations related to waste in 2018.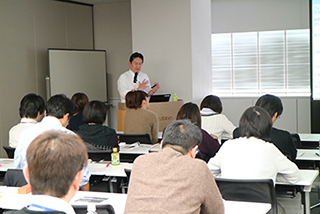 Biodiversity Conservation
The business activities of the Shiseido Group have a considerable impact on biodiversity, from procurement of raw materials to sales and disposal. We recognize that we are performing actions in the course of our business which can have an impact on the bounty of the Earth and we have set out the following ideas on biodiversity to maintain our business in the future. These apply to the entire value chain.
Biodiversity conservation activities
Raw material procurement and products
Environmental protection is taken into consideration when procuring palm oil and paper used for cosmetics packages. Please check the details in Responsible Procurement.
Afforestation at raw material production sites for the hair care brand "TSUBAKI": Since 2011, Shiseido promotes camellia planting and conservation activities at the abandoned farmlands of the Goto Islands in Nagasaki Prefecture, the production site of raw material for the hair care brand "TSUBAKI." Due to the aging of the population in this area, abandoned farmlands are becoming a social issue. As Shiseido aims at sustainable and socially responsible raw material procurement, we achieve this through protecting and growing camellias in collaboration with the local residents. In 2018, 32 employees participated and planted Yabutsubaki seedlings for 75 trees (0.18 hectares) in Shin-kamigoto Town, Minamimatsura-gun, Nagasaki Prefecture. It is an activity that contributes to Goals 15 (Sustainable management of forests), a part of the Sustainable Development Goals (SDGs) established by the United Nations.
Protection of the environment at the raw material production site of the Chou-mei-sou brands: Since 2013, a portion of our profit from beauty drink, Chou-mei-sou brands, has been donated to environmental protection on Yonaguni Island, Okinawa which is the raw material production site. The island is rich in nature and is home to both endangered and endemic species of flora and fauna. In 2013, we created the Yonakama Picture Book, which introduces 137 kinds of flora and fauna inhabiting the island and distributed it to the island's children and all 800 households. In 2014, we removed about 100 tons of exotic water plant, hyacinth, that had overgrown the rivers on the island.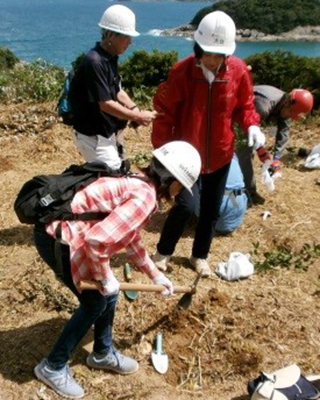 Facilities
Honey bee protection in production facilities in France: Many crops rely on bees to be pollinated, but in Europe, there are concerns about the decline of bees. Therefore, at the Val de Loire Factory and Unité de Gien Factory at Shiseido International France S.A.S., we have included the conservation of bees and the ecosystem of the local community in our sustainability plan. Along with setting up beehives, we have banned the use of agrochemicals on the factory premises. About 400 kg of honey was produced in a year from the beehives installed.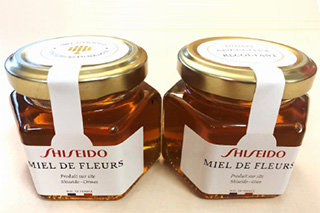 Afforestation activities in Shiseido Thailand Co., Ltd.: Since 2008, we have planted mangrove trees in various parts of Thailand. In 2018, 52 employees participated and planted 500 trees in a mangrove forest in Samut Prakan Province.
Rooftop greening in the Head Office's Ginza Office: When rebuilding the Ginza Office (Chuo-ku, Tokyo) in 2013, we investigated the natural environment in the surrounding area and built a roof "Shisei Garden" that contributes to maintaining the diversity of ecosystems. Based on survey results, we selected trees in the garden and cultivated plants that become raw materials for cosmetics. The garden is a relay point for animals that are connected to nearby natural parks and is also used for the environmental education for employees.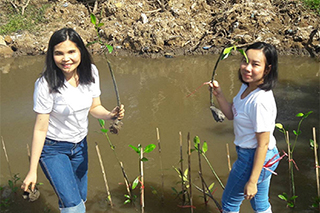 Biodiversity assessment
When rebuilding the Ginza Office (Chuo-ku, Tokyo) in 2013, we investigated the natural environment and animals in the surrounding area and utilized the results to design our roof garden. The investigation results showed that the Ginza district had a small animal population with a small number of types of animals. On the other hand, it was confirmed that in the neighboring large greens such as Hibiya Park and Hamarikyu, there was a large animal population and they are breeding and foraging. From these results, we found that if we had green space on the rooftop of the new headquarters building, that could be a stopping point for birds and insects, thus we could contribute to the biodiversity-friendly community development.