Realizing a Rewarding Workplace
Realizing a Rewarding Workplace
Shiseido aims to "become a company where both mentally and physically healthy employees fully enjoy their time for personal development and create innovation." We call this "WORK LIFE BEAUTY." We are working to implement flexible work arrangements and resolve the issue of long working hours to create a rewarding workplace where every employee can work with enthusiasm.
Domestic business sites and affiliated companies are concluding labor-management agreements pertaining to overtime work by business site according to laws and regulations, and reporting to concerned administrative authorities.
As for concluding the labor-management agreements, not only do we state the statutory limit related to working hours but also include aspects of the risk of long-time work based on government guidelines. With this agreement, Shiseido is setting a maximum of 80 hours per month of overtime work even in exceptional cases (instances of 45 to 80 hours of overtime work per month are limited to up to 6 times per year).
Shiseido's efforts to reduce long working hours are as follows.
1. Spread Knowledge of the Labor-Management Agreement
Based on the understanding that overtime work is mandatory upon the order of the employer (supervisors), Shiseido complies with laws and regulations by informing the details of the agreement to personnel in charge at respective workplaces and personnel in charge of human resources at respective workplaces and periodically informing managers with subordinates, etc. We also provide relevant information to employees by using in-house bulletin boards and other means.
2. Promotion of Activities to Review How Employees Work
From FY2011, Shiseido established the guidelines (key performance indicators [KPI] and goals related to working hours) for reviewing how employees work and is currently promoting relevant activities at all domestic business sites. According to the "Agreement 36 (Saburoku kyotei)", we have devised three objectives in the guidelines for reviewing how employees work to 1) reduce overtime work, 2) improve the acquisition rate of annual paid leave, and 3) reduce overall actual working hours. Accordingly, we are making progress in terms of reviewing promotion methods of work that address each business site and workplace. We are also horizontally expanding good internal examples by developing and distributing the "Guidebook to Review How Employees Work", which is a collection of case studies for review.
Since FY2016, all Shiseido Group offices in Japan clearly have stated concrete measures to conduct "Workstyle reform" and have been carrying out further improvements.
3. Promotion of Measures to Switch Off Office Lights
At all Shiseido Group's business sites* in Japan, including affiliated companies, office lights are switched off at 10 p.m. and the lights-off time at Shiodome Office is set to be 8 p.m.
*

Excluding factories, stores, and storefronts that are implementing 24-hour operations or shift work.
Furthermore, working from home, which had been introduced in headquarters, Global Innovation Center (GIC), Shiseido Japan Co., Ltd. and some of the affiliated companies, has been formalized as a teleworking system since April 2017 (qualified workers and jobs are determined by each workplace). As a measure of introducing diverse work styles, use of satellite offices and other practical systems are available for all employees including working mothers and those who are taking care of their families.
4. Verification of Actual Status of Overtime Work Between Employer and Employees
Actual work hours and acquisition rate of paid leave are being regularly verified between employer and employees, reflecting the results in labor-management initiatives after sharing the issues.
Additionally, in order to respond to the requests for more diverse working forms, Shiseido is improving childcare- and nursing care-related leaves/short working hours/time-off systems based on laws and regulations. In particular, Shiseido made it possible to use short working hours for employees with children up to the third grade in elementary school beyond the legal requirement. (Conditions for limited-term contract employees vary depending on contract terms; however, the conditions are higher than what have been stipulated by law.)
Furthermore, Shiseido has a spousal accompaniment for childcare system in place, by which employees with childcare responsibilities may request to accompany a spouse transferred within Japan. We also have a leave system to allow employees to take leave up to three years so that they can accompany spouses who are transferred overseas.
At the same time, regarding work-related systems, Shiseido has introduced a specialized discretionary work hour system for researchers at GIC.
Support for Balancing Work with Childcare and Nursing Care
As a means for all employees to realize work-life balance and increase productivity, Shiseido has since 1990 been introducing various systems to help both men and women move up the career ladder while carrying out various activities such as childcare and nursing care.
Click here for details on Support for Women's Empowerment
Specifically, such initiatives include the establishment and operation of the "Kangaroom Shiodome" daycare facility located within a business site, a paid childcare leave system within a limited period of two weeks to encourage male employees to take childcare leave, and introduction of the Kangaroo Staff System* for Beauty Consultants (BCs) to work shorter hours for childcare.
Employees' use of leave and shorter working hour systems related to childcare and nursing care is increasing every year. As of 2018, 1,330 employees (including 30 male employees) used the childcare leave (including short-term paid parental leave), 2,162 employees (including 3 male employees) worked shorter hours to care for their children, 22 employees (including 2 male employees) took nursing care leave, and 32 employees (including 2 male employees) worked shorter hours for nursing care.
Moreover, as a part of activities aimed at becoming a company where both men and women can advance in their careers while raising children or nursing family members, we are also promoting reforms to the way BCs work.
In implementing these reforms, we solicited feedback from BCs to ascertain the current situation and left in place the balance support systems introduced to date. Next, we conducted individual interviews with BCs currently raising children and their superiors, to ensure that systems could be utilized in ways tailored to the diverse working styles of each individual. Through the interviews, as well as having BCs share information about their childcare environments, we have communicated our expectations as a company with regard to BCs who are raising children, and confirmed the working styles that will lead to career advancement while taking into account the circumstances each BC faces.
As a result of promoting these reforms, 98% of BCs working short hours for childcare have revised the way they work, and consequently, they have gained an even greater awareness of career advancement than ever before.
* Kangaroo Staff System (Japan)
Shiseido introduced the "Kangaroo Staff System" throughout Japan in 2007 to support evening storefront activities by having temporary workers take the place of BCs engaged in consumer service activities so that the BCs could work short hours to care for their children.
This program has enabled us to create a workplace environment that allows BCs who had difficulty balancing the competing demands of work and childcare to have children with peace of mind, since they would be able to care for the children while working to advance Shiseido's "100% consumer-oriented" philosophy. In recent years, the Kangaroo Staff program has more than doubled in size to 2,014 Kangaroo staff providing such support for more than 1,000 BCs making use of child-rearing work hours.
Number of Employees Who Used Child Care System in the Shiseido Group in Japan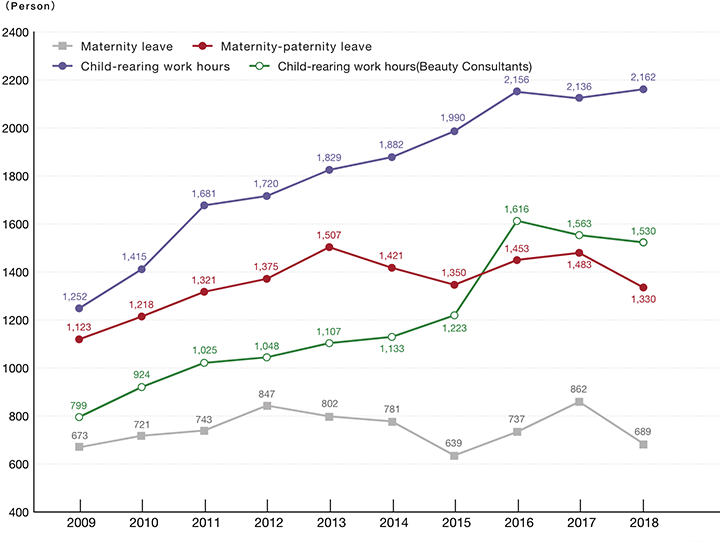 Note1:

Years ended December. Results for FY2015 are for 9 months between April and December.

Note2:

The data is subject to the number of persons who used the systems among the domestic Shiseido Group managers, employees in general positions, Beauty Consultants, employees in specialized positions (routine operations specific to worksites), affiliates' employees and limited-term contract employees.

Note3:

The targeted number of people is 23,505 as of January 1, 2018 (7,858 BCs).

Note4:

Number of employees who used the childcare leave and child-rearing work hours is a cumulative total.
Since we are forecasting an increase in the number of employees who will continue working while using child-rearing work hours and nursing care work hours, employees are expected to be more conscious about their work and try to acquire time management, risk management and communication skills to consistently achieve results within their limited time. At the same time, managers are expected to exercise their management capabilities to raise motivation while understanding each and every employee's situation.
Overview of Work/Childcare and Nursing Care Programs Previously Introduced by Shiseido
Support Program
Year
Introduced
Details
Maternity/paternity leave
1990
A system by which employees may take leave after having a baby until the child is three years old for a total of up to five years (Employees may take leave a total of up to three times for the same child in the case of special circumstances. <Revised in 2009>)
Child-rearing work hours
1991
A system by which employees may shorten work hours by up to two hours a day if they have children in up to the third grade of elementary school.<Revised in 2008>
Nursing care leave
1993
A system by which employees can take up to one year off at a time per family member for a total of up to three years.
Nursing care work hours
1993
A system by which employees may shorten work hours by up to two hours a day for up to one year at a time per family member for a total of up to three years.
Cafeteria system for childcare support
1998
A system by which employees can receive a fixed annual subsidy to offset childcare fees for children in nursery school.
Childcare plan
1999
A plan implemented to improve communication structures that enable employees to confirm with their managers the process from pregnancy onward to return to the workplace.
Kangaroom Shiodome
2003
An in-house daycare center for Shiseido employees' children at the Shiodome Office. Accommodating a fixed number of children, the center is also partially open to the children of employees of nearby companies.
Short-term paid parental leave
2005
A system by which employees may take leave up to two consecutive weeks until the child is three years old. This short-term paid parental leave system encourages male employees to take leave.
Nursing care leave system for children
2005
A system by which employees may take paid leave if they have children not yet enrolled in elementary school who require nursing care due to sickness or injury. Employees may take leave of up to five days per year for one child and up to ten days for two or more children per year. (Paid leave) Half-day leave is also permitted.<Revised in 2010>
Childcare support center
2006
Medical office staff at the head office provide support centering on health issues, including various concerns or questions related to pregnancy, birth and child-rearing.
Maternity wear
2006
A system in which maternity wear is provided for BCs.
Kangaroo Staff system
2007
A system by which alternative staff relieve BCs working child-rearing hours.
Guidelines governing transfers of employees with childcare and nursing care responsibilities
2008
A system of rules that prevents transfers of employees that would require them to move while working child-rearing or nursing hours.
Spousal accompaniment for childcare
2008
A system by which employees with childcare responsibilities (e.g., with children up to the third grade in elementary school) may request to accompany their spouse who is transferred within Japan.
Leave to accompany spouse when transferred overseas
2008
A system by which the company allows up to three years of leave so that employees can accompany spouses who are transferred overseas.
Encourage fathers whose infants are less than 8 weeks old to take paternity leave
2010
A system by which the company allows fathers who acquired paternity leave within 8 weeks after their spouses gave birth may take paternity leave again.
Cafeteria system for Child education support
2014
A system by which employees can receive support for outgoing expenses spent on child education, such as cramming schools, correspondence studies, enrichment classes, etc. for children.
Kangaroom
Kakegawa
2017
An in-house daycare center for Shiseido employees' children. Accommodating a fixed number of children, the center is also partially open to the children of employees of nearby companies.