Diversity and Inclusion
Having created a slogan to "love the differences," Shiseido endeavors to build a corporate culture that respects the diversity of its workforce, irrespective of gender, age, nationality and any other individual attribute, and encourages dynamic discussions aimed at creating new value. We pursue this endeavor as part of ongoing efforts to fulfill our corporate mission to create BEAUTY INNOVATIONS FOR A BETTER WORLD.
Support for Women's Empowerment
Shiseido actively promotes gender equality as part of the management strategies to establish the organizational culture that continues to enhance employees' vitality and improve results, with the aim of "enhancing corporate trust of employees, who are major stakeholders in the company". At the same time, efforts are made to enhance the level of company recognition externally through advanced initiatives that are unique to Shiseido.
In fiscal 2005–2012, we formulated the "Gender Equality Action Plan" and promoted the "cultivation of the corporate culture", in which we pursued a reform in awareness and actions to enable women to take active roles. We also worked on "strengthening the appointment and promotion of female managers and human resources development" with the assumption of employing skilled employees. At the same time, we also worked on "reviewing how employees work to improve productivity" as a company-wide initiative in order to correct long-hour labor, which keeps women from taking active roles, and to realize employees' work-life balance.
As a result, we have sizably increased career awareness among female employees. The ratio of female managers (Japan) has risen to 32.3% as of January 2019, a significant improvement from before the plan formulation. Also, upon reviewing how employees work, we carried out a number of measures, introducing teleworking programs, and company-wide Lights Out and Go Home On Time Day campaigns. These have achieved certain results, particularly in decreasing the number of long-shift workers and halving overtime work hours.
We will aim to further improve the productivity by working with people with disabilities and foreign people and realize a flexible and highly productive way of working by establishing role models in women's career development and according to diverse values.
Note: Female managers ratio in overseas offices: 66.3%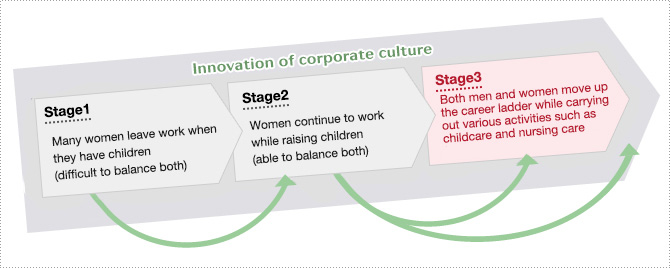 We have intensively cultivated a company culture in which diverse employees, including women, play active roles while demonstrating their skills and proactively building their career.
Also, expecting to see a woman president in the future, we aim to raise women's ratio in our company's senior management such as department directors and hold "NEXT LEADERSHIP SESSION for WOMEN", leadership training sessions for women employees, headed by the president. As one of our constant efforts to foster future women leaders, we held the first series of the sessions in 2017 and plan to have two more, in which participants go through a 10-month comprehensive leadership development program that offers lectures given by women leaders from outside the company, a workshop to learn from horses' demeanor, individual coaching sessions and other lessons. The goal of the program is to help participants have a clear image of their future job with greater responsibilities and influence, discover their own unique-to-women leadership style to become more confident in themselves, and upgrade their management skills. The contents of the program include, therefore, not only general leadership development training but also assistance in solving concerns and problems unique to women.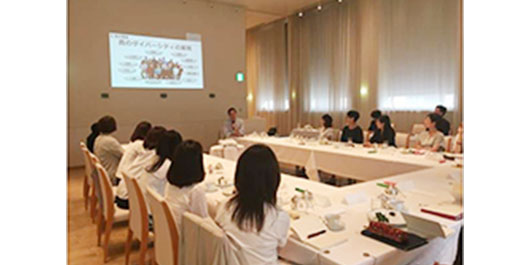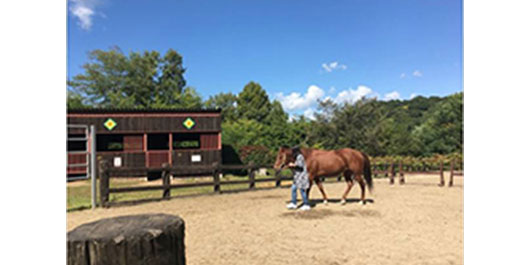 Shiseido Tops in Overall Ranking for Three Straight Years in "100 Best Companies Where Women Play Active Part"
Shiseido achieved "The First-Place of Overall Ranking" for three straight years since the year 2014 in "100 Best Companies Where Women Play Active Part" organized by "Nikkei Woman" and "Nikkei Womenomics Project". Adding to it, we were awarded a prize on "The First Place of Diversity Penetrance" as a category ranking.
This ranking was based on "Survey on Female Workers' Workplace Opportunities" conducted by "Nikkei Woman", women's career and lifestyle magazine published by Nikkei Business Publications, and Nikkei Womenomics Project, and evaluated 534 companies with valid responses. The survey measures how female workers are treated and promoted in terms of four categories: 1) promotion to managerial positions, 2) work-life balance, 3) active use of women's ability, and 4) diversity penetrance. After appropriate weights are added to the scores of each category, the results are summed up to derive deviation scores for the overall ranking of "Companies Where Women Play Active Part" and for the previously mentioned four category rankings.
Shiseido has been promoting various initiatives since 1990 with the aim of becoming a company in which women continue to take active roles through corporate culture reform/reform of employee awareness, by establishing internal systems, such as child care leaves/child care time system, and others, prior to the law and establishing child care facilities within affiliates as part of the initiatives to support people to balance work and child care. From 2004, we have been dealing with enabling women to take active roles as a corporate strategy. Through Stage 1 - "many women leave work when they have children" and Stage 2 - "women continue to work while raising children", we are currently aiming to become a company that enables a situation of Stage 3 - "both men and women move up the career ladder while carrying out various activities such as childcare and nursing care". Shiseido was awarded as a double winner of Overall Ranking and Diversity Penetrance in 2016 and has received requests from various organizations to share its initiatives, which are highly valued by society.
To achieve our mid- to long-term strategy "VISION 2020", we will work on creating the model for Shiseido to remain vital for the next 100 years. Furthermore, to actualize our vision, "be a global winner with our heritage", we will focus on management with the emphasis on diversity. Shiseido will further evolve to "the best company that is a great place to work" for anyone.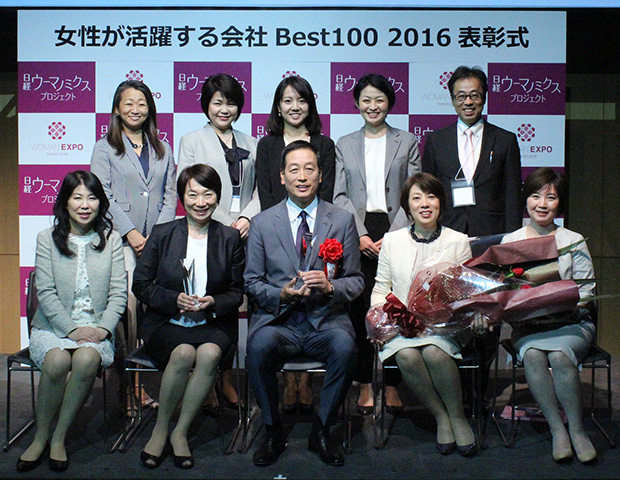 Ratio of Female Managers
To facilitate the promotion of female managers, the Company has launched the "individual personnel development" program targeting candidate employees. Program participants are given opportunities particularly to engage in higher levels of work duties (work assignment) and expand areas of professional focus (workplace transfer), learning the basics of management while working to achieve solid results. As a result, the ratio of females to total managerial positions has reached 30% as of January 2019.
For further advancement, we promote leadership training, digital skills improvement and other programs to develop global business professional capabilities. In social contribution, we established KODOMOLOGY CO. LTD. in February 2017 to entrust the operation of in-house nurseries. Through this service, we will help many working parents achieve work-life balance, thereby helping realize a society where everyone can play an active role.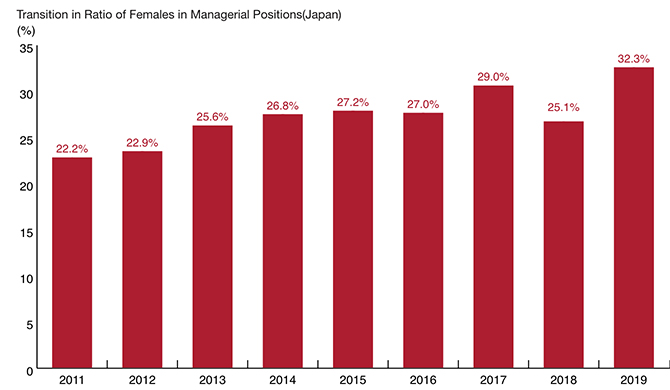 Supporting LGBT
We are working on various activities such as creating an environment where every employee can be themselves at work, deepening the understanding of LGBT and supporting LGBT persons.
For example, we have held in-house sessions for understanding LGBT (since July 2015) and revised the employment regulations in which one can enjoy the same treatment for having a same-sex partner as that for an opposite-sex partner (as of January 1, 2017). By doing these, we are promoting the correct understanding of LGBT and preparing in-house systems for the employees who are LGBT persons.
Also, we participate in Japan's biggest LGBT supporting event, Tokyo Rainbow Pride, and continue social support activities such as makeup advice, sampling activities (volunteers from the Company) and makeup advice for patients who have undergone gender reassignment surgery, etc.
Through these activities, we were certified as Gold, the highest grade, in 2017 by "work with Pride", an organization that evaluates companies' LGBT support efforts.
Employment of persons with Disabilities
As one of our measures for "creating a workplace where all employees can actively work", we promote the employment of individuals with disabilities.
Currently, about 310 such employees are taking active roles in the Shiseido Group.

We promise the employees with disabilities that "we seriously expect achievement from them", "we provide necessary consideration, but no special treatment" and "we willingly support those with the passion to work hard", and continuously reinforce the recruitment and retention of employees who may bring diversity to our organization.
In a special subsidiary, Shiseido's Hanatsubaki Factory Co., Ltd., 50 employees, primarily developmentally challenged individuals, are working at the four locations in Tokyo, Osaka and Kakegawa.
As of June 1, 2019, the number of employees with disabilities accounts for 3.25% in Shiseido Company, Limited and 2.21% in the Shiseido Group in Japan as a whole.
Employment of Non-Japanese Nationals
Shiseido has become more active in employing a diverse workforce, regardless of nationality, at the head office in Japan, in addition to overseas subsidiaries. Persons with wide-ranging backgrounds are now assigned to various sections and departments in the Company. For non-Japanese nationals hired by the head office, the Company conforms to Japan's immigration control systems, especially related to resident status requirements, and treats them appropriately based on relevant employment regulations.
Post-retirement Reemployment System
Shiseido has been introducing a post-retirement reemployment system since FY2006 aimed at developing an energetic corporate culture and establishing an environment in which middle-aged and older employees who have grown within Shiseido can continue to work as long as they have the motivation and ability to do so.
In FY2014, we launched the EL Partner System to reemploy those wishing to continue working, and in FY2018, we enhanced reemployment conditions for assuming more important responsibilities. Particularly in areas such as R&D, we re-hire "senior scientists" to hand down their highly specialized techniques and know-how to future generations.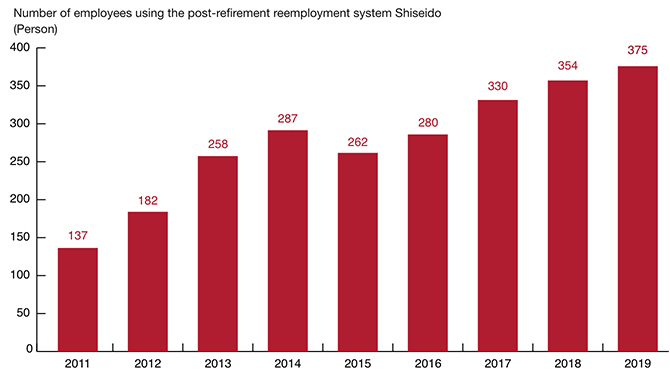 Employment of Fixed-term Employees
The domestic Shiseido Group employs fixed-term employees based on labor-related laws and regulations and provides appropriate treatment with various social insurance and holidays stipulated by the law according to employment regulations and various other regulations.
Starting from FY2018, in accordance with the law, for fixed-term employees of five years or more at the Company, we switch their employment contract to a permanent type upon request.
Employment of Temporary Employees
Temporary employees are working at the respective business sites and domestic Group companies of Shiseido according to the Worker Dispatch Law.
With regard to the employment of temporary employees at Shiseido Group, we are implementing various measures such as concluding agreements with employment agencies, development and management of registers, and appointment of personnel in charge of management, all of which is based on the Worker Dispatch Law policy related to measures that should be established regarding employment agencies and other relevant laws and regulations.
Shiseido will continuously and appropriately respond to amendments in or reinterpretations of respective laws and regulations.