Follow-up System
Regulatory requirements (in Japan)
The ministerial ordinance on good vigilance practice (GVP Ordinance) established provisions regarding post-marketing safety management of cosmetics. The post-marketing vigilance under the ordinance generally consists of three steps.
Step 1: Collection of information
Routinely strive to collect safety management information, and record and retain such information.
Step 2: Assessment
Based on the collected safety management information, assess whether the marketed cosmetics, among other products, show any risk of adverse events on the human body, and prepare and retain records thereof.
Step 3: Actions to be taken
Based on the assessments, draw up and implement safety assurance measures to prevent any adverse events on the human body, and prepare and retain records thereof.
Specific actions include submitting reports to the Ministry of Health, Labour and Welfare; disposal of, recalling and suspending the sale of the product of concern; changing the formulation and labeling of the product of concern; and providing information to healthcare professionals.
Specific actions taken by Shiseido
・Response to inquiries by consumers (in Japan)
Shiseido staffs its offices throughout Japan with customer support representatives. In case that a consumer becomes aware of an abnormality such as a rash after using a cosmetic product marketed by Shiseido, they should consult the store where they purchased the product, our Consumer Communication Center by phone, or a dermatologist. Upon receiving a report of such an event through any one of these routes, Shiseido will have someone contact the consumer promptly from the office of the nearest Shiseido Sales Company that has the jurisdiction over the store where the consumer purchased the product. A customer support representative will visit the consumer to ascertain the nature of their specific physical conditions and to offer empathetic help such as advice to stop using the cosmetic product to allow recovery as soon as possible. Depending on the consumer's physical conditions, our representative may advise them to seek medical attention or, as necessary, accompany them to a medical institution with the consumer's consent. Shiseido Sales Companies are prepared to make referrals to dermatologists should such an event occur. Moreover, if the dermatologist determines that an investigation is warranted to determine the cause, Shiseido will provide samples for ingredient patch tests.
・Collection and assessment of information related to safety management (in Japan)
All inquiries from consumers are entered into a database system called "Mirror", which stores consumer feedback information. If a consumer contacts Shiseido's Consumer Communication Center or visits the store for consultation, a beauty consultant will enter the consumer's feedback on a mobile information terminal such as the Beauty Tablet (or B-TAB), and that information will be entered into "Mirror" on the same date. The data stored in "Mirror" are checked daily by multiple departments that implement/oversee safety management from the viewpoints of the product unit, ingredient/drug unit and manufacture batch unit so that signs indicating an issue with a product will not be overlooked. Moreover, besides information from consumers, study reports published in academic conferences or in the literature, notices released by regulatory authorities or industry groups and safety-related news reported by the press are also being monitored routinely by multiple departments. In the unlikely event that troubling signs are detected, the information will be sent immediately to the safety management supervisory department, which will launch a detailed investigation without delay. Such an investigation includes the convening of a third-party panel made up of dermatologists and other outside experts to verify the information from the objective viewpoint of third parties, in addition to in-house scrutiny.
・Communication with dermatologists (in Japan)
Our academia liaison office, which is responsible for receiving communication from dermatologists, has set up a homepage for physicians. Shiseido has a system in place that makes it easy for those in clinical practice to report anything they notice to Shiseido. The system includes sending e-mail responses to physicians, providing a wide range of information to specialists, and regularly sending "Information Letter," a brochure providing information on topics such as cosmetics and dermatology, to dermatologists who have contacted Shiseido. In addition, Shiseido also provides samples if a physician needs the samples for a patch test to assess an ingredient contained in a product in order to make a diagnosis.
・Collection and assessment of information related to safety management (outside Japan)
Shiseido complies with the local laws and regulations, collects and assesses information and takes actions as appropriate in each of the countries and regions where Shiseido does business.
Specifically, overseas subsidiaries affiliated with the Shiseido brand also use the Mirror system as in Japan, and the information entered into the system is shared with and accessible by both overseas subsidiaries and the relevant departments at Shiseido's headquarters in Japan. In addition, Shiseido's regional research centers (in Europe, America, Southeast Asia and China) provide support on safety, technical and quality issues to overseas subsidiaries and sales distributors within each of their jurisdiction. Shiseido collects and analyzes information under this organizational structure. In the event of a problem, the relevant departments at Shiseido's headquarters work closely and take responsive actions in a prompt and courteous manner, taking into consideration the local circumstances of each overseas region.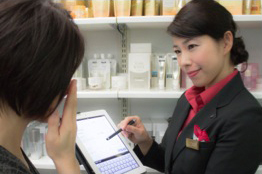 An in-store beauty consultant with a B-TAB helping a consumer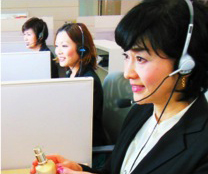 Consulting staff at work in the Consumer Communication Center