Skin capillaries closely linked with skin elasticity!?
IFSCC Conference 2019 in Milan
Top Award (Podium Presentation Category)
Holistic Beauty: Three-Dimensional Macroscopic Visualization of Vasculature in Skin and its Physical Relevance in Skin-Aging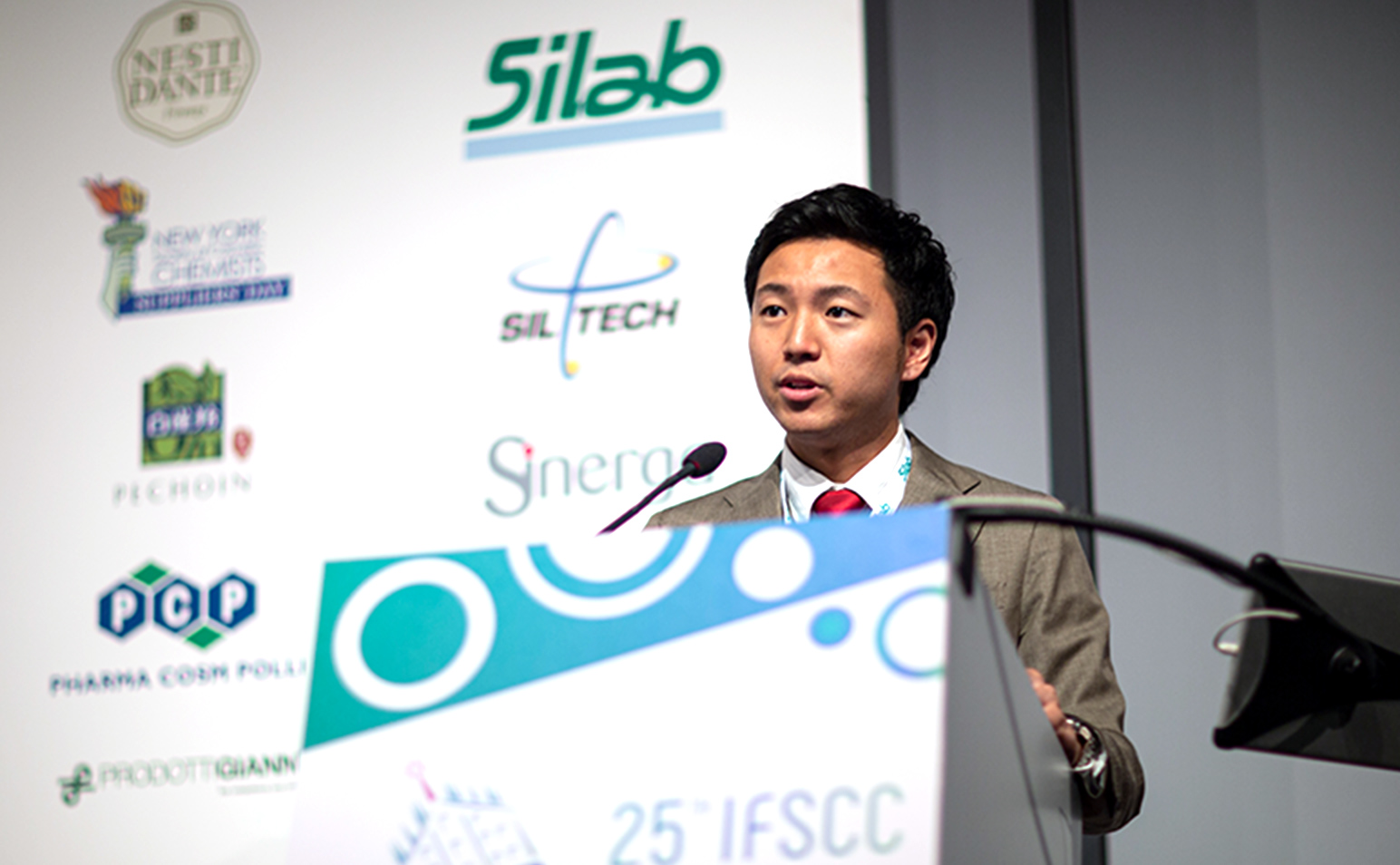 ■ What research was conducted?
Through 3D visualization of skin capillaries thanks to Shiseido's special technology, it was uncovered that the capillaries are closely linked with skin elasticity!
Blood vessels are found all over the human body. When strung together, the total length is believed to stretch over approximately 100 thousand kilometers (roughly two times the circumference of Earth). Capillaries account for 90% of total blood vessels. Have you ever heard that capillary density decreases with age? If this idea is new to you, you may think that "that's just the way it is" when it is coupled with the term "aging".
By leveraging Shiseido's original 3D visualization technology, capillaries were visualized, and a close link between capillaries and skin elasticity was uncovered. In other words, 3D visualization of the structure of skin capillaries gave rise to a new perspective that initiated this research.
■ What was discovered?
The structure of capillaries changes with age and blood vessel status is correlated with skin elasticity!
From 3D visualization images, it became clear that whereas capillaries of individuals in their 20s are thick and dense, standing upright near the epidermis, those of individuals in their 50s show a decrease in density near the epidermis. This image makes it crystal clear that "capillary density decreases with age."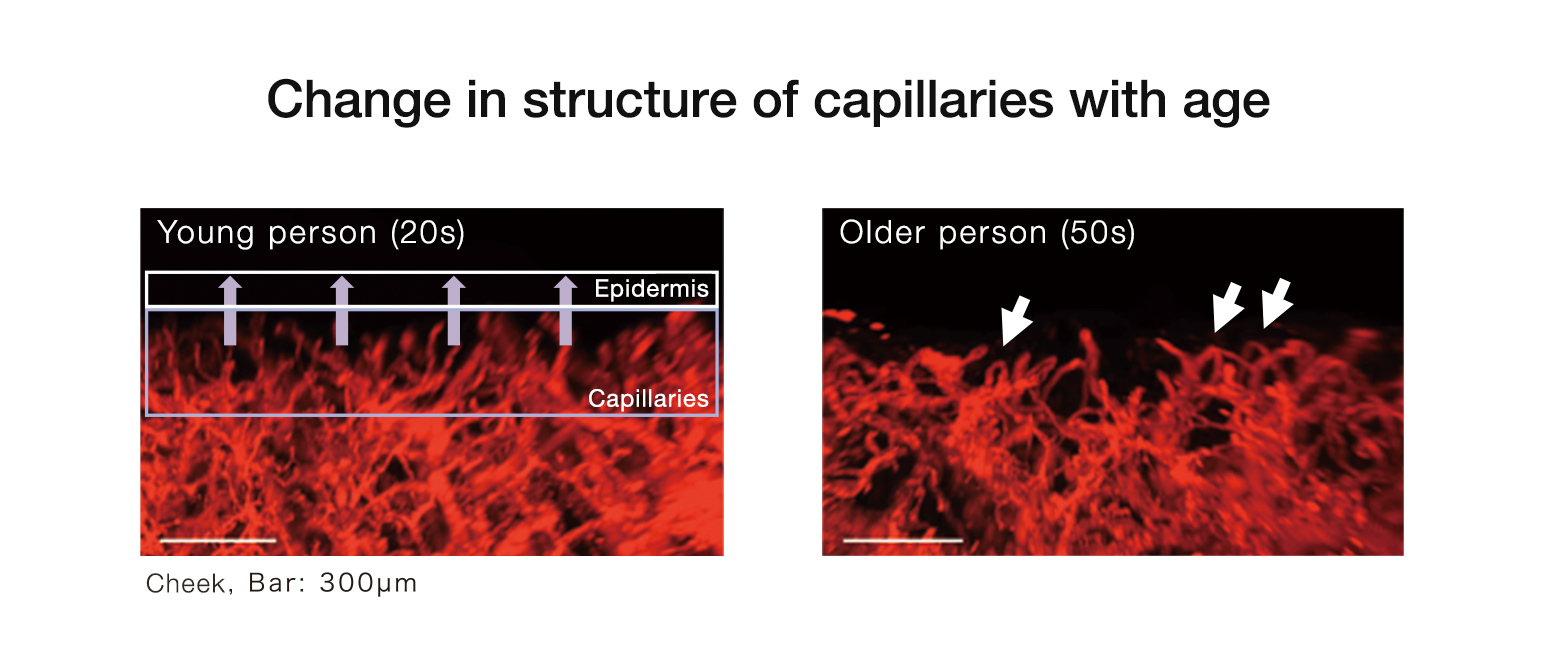 Taking a close look at these images, does it bring to mind a typical phenomenon of something also skin-related that decreases with age? That's right, it's skin elasticity. A new hypothesis was developed that capillaries support skin elasticity by playing the role of a pillar. After conducting a study on the relationship between capillaries and skin elasticity, a correlation between the two was identified.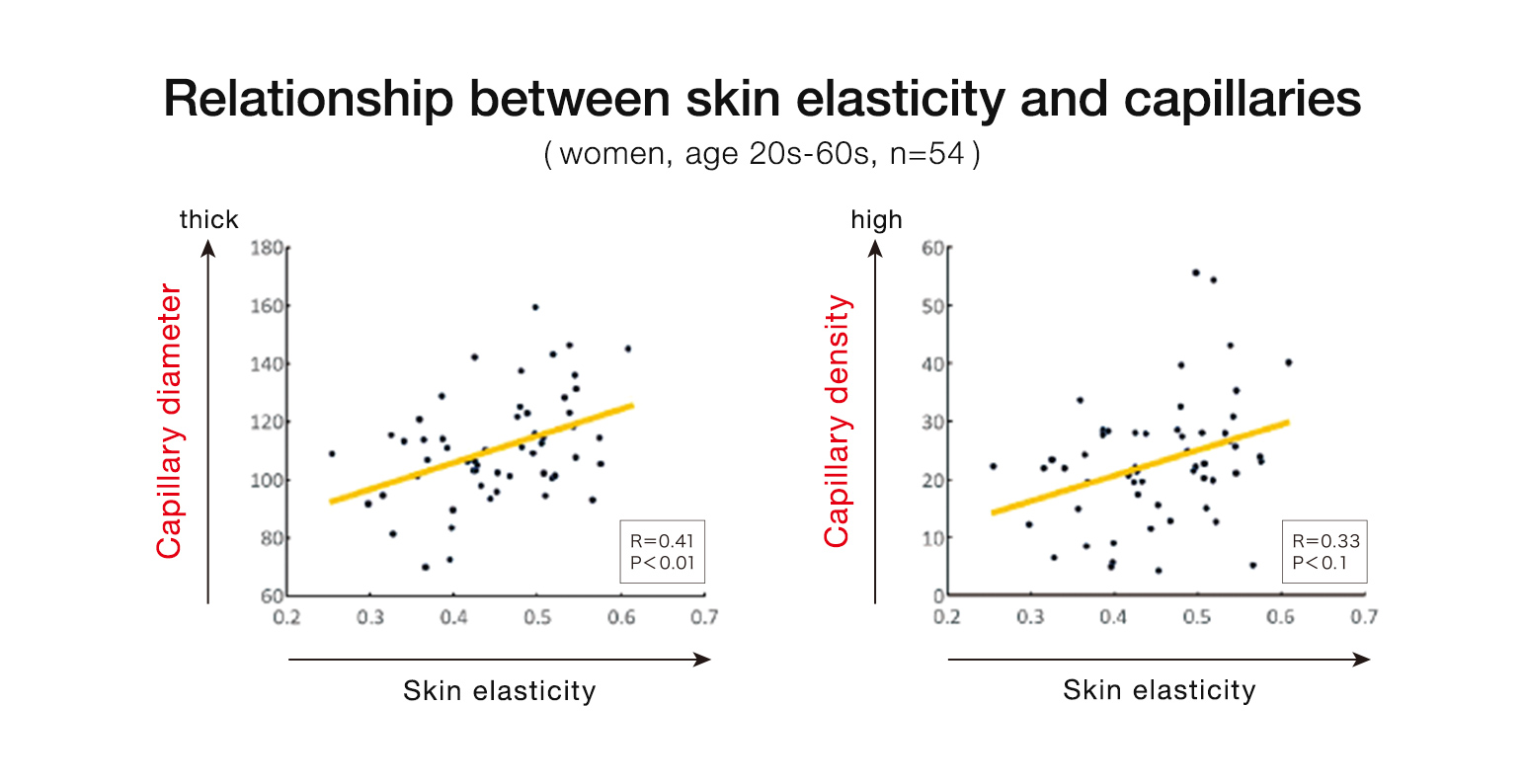 Furthermore, collagen is known to play an important role in skin elasticity.
After carefully scrutinizing the relationship between capillaries and collagen, it was clarified that collagen was produced around the capillaries. This suggests that capillaries may play a role in inducing collagen production by fibroblasts.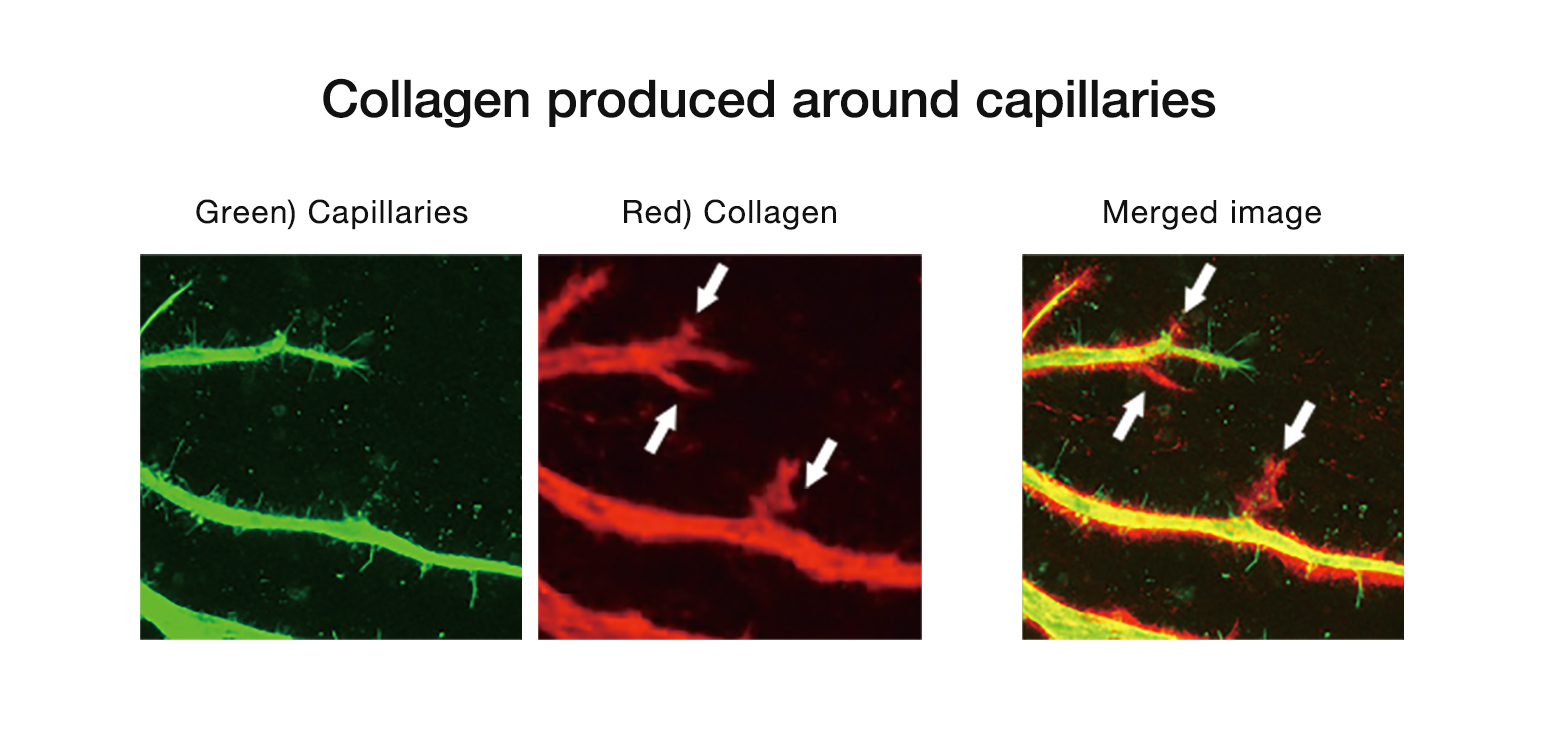 Further study revealed that integrin-α5, which is expressed in endothelial cells of capillaries and plays a role in binding other molecules, is indispensable for maintaining skin elasticity.
Unfortunately, integrin-α5, which is involved in the production of collagen as well, is one of the factors that decrease with age. In other words, in order to maintain skin elasticity, skin care that prevents integrin-α5 decrease is important.
We have discovered an ingredient that enhances integrin-α5 expression. We will take advantage of this award-winning research in new product development.
Link to press release