Reflecting Consumer Feedback
Consumer Services: Action Policy
Shiseido Japan's Consumer Communication Center is promoting initiatives to make effective use of consumer feedback in an effort to realize its medium-to-long-term strategy VISION 2020. The initiatives aim to ensure that feedback, including consultations and requests received, is shared in the company adequately to be used more effectively for the purpose of product development and service enhancement. We gather and analyze such valuable information, share resultant findings throughout the company, and request individual divisions to consider reflecting specific findings in developing and improving products, services and beauty information.
In January 2017, Shiseido Japan announced the Voluntary Declaration of Consumer-Focused Management, which has compiled a set of relevant concepts and policies. Following this, the Consumer Communication Center has been relocated under direct control of the President to strengthen its structure in line with the Declaration.
Having solidified the structure, we will work to be quicker to detect vital changes in consumer and social trends and make appropriate requests to enhance business activities, in order to contribute to increasing corporate value from the consumer-focused perspective.
Major Initiatives
Shiseido Consumer Communication Center was originally established in 1968, and in the five decades since, it has continued to listen to opinions and inquiries of consumers, respond to each in a sincere and flexible manner, and provide useful information. To better serve in this role, efforts have been made to raise the quality of the contact service, which was awarded five stars by HDI*1 -Japan's Quality Ranking Monitoring in 2016, a first in the cosmetics industry. We have continued working toward further improvement, such as by introducing the mystery call and mystery chat*2 programs.
The service's capability-building efforts have been expanded, particularly from 2018, with the launch of new programs such as factory and lab tours and seminars inviting internal and external experts. We have also begun to provide support for individual efforts to obtain Consumer Affairs Advisor and Consumer Affairs Professional (CAP) industrial qualifications, seeking to raise the professional performance levels of all consumer contact personnel.
At the same time, we are implementing various measures to increase consumer convenience, primarily by adding brand-specific toll-free numbers and expanding online chat-based service functions. As a result, the service has received a growing number of contacts while maintaining an outstandingly high response rate.
For global consumer support operations, we are working to develop appropriate capabilities in cooperation with responsible functions at each regional headquarters of the Shiseido Group.
*1

Established in the U.S. in 1989, HDI is the world's largest international organization for the IT support service industry. Many of the top 500 companies in the world listed in the U.S. financial magazine "Fortune" are members of HDI. HDI-Japan performs the HDI Benchmarking assessment of the companies' consumer help desks in order to improve support service levels.

*2

Third-party surveys to assess the quality of telephone and online chat (e.g. LINE Chat) service.
Gathering/Sharing/Utilizing Consumer Feedback
In Japan, Shiseido gathers consumer feedback via multiple media and channels. Our consumer contact service and offices are accessed approximately 140,000 times per year through toll-free numbers, electronic and postal mail, LINE and other communication services; our Beauty Consultants report approximately 90,000 comments per year from storefronts using dedicated tablets; and additional feedback is collected from blogs, Twitter and other social media. All gathered data are managed by the internal system, except for some related to a number of affiliated companies' products to be subjected to independent control.
Collected feedback is processed so as to be shared by the management and workforce alike via internal mail and intranet, with the aim of using it to add value to our products and services. For instance, as part of the product planning process, we develop packaging design and label description in due consideration of various factors involving intended users; perform user surveys on the target products or services before and after market launch; and utilize survey findings promptly for possible improvements.
Integrated data management and sharing systems are in place to allow reporting to responsible officers and related divisions in a safe and timely manner.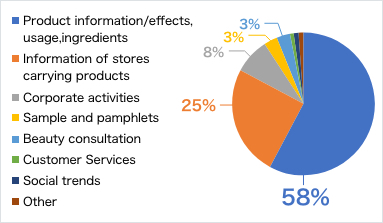 Consumer Feedback Information Management Systems
Shiseido has upgraded its consumer feedback information management system in accordance with business globalization strategies. To replace the previous program installed in 1996, "Mirror*3" was introduced in 2011 in Japan and overseas to address feedback from consumers around the world. With Mirror currently in operation in about 20 countries and regions, we are undertaking challenging tasks to amass and analyze relevant data from around the world efficiently to be able to help create new value for the Shiseido Group.
In Japan, data gathered and stored in Mirror is fed into "Focus," a text mining tool, to extract and visualize useful information, a system offering an easy-to-use, well-organized consumer feedback database accessible to the entire workforce. Additionally, we employ social media listening tools to retrieve useful consumer opinions not directly delivered to the company.
*3

The name implies our hope to review/reflect the actual state of Shiseido's activities through the "mirror" of consumer feedback.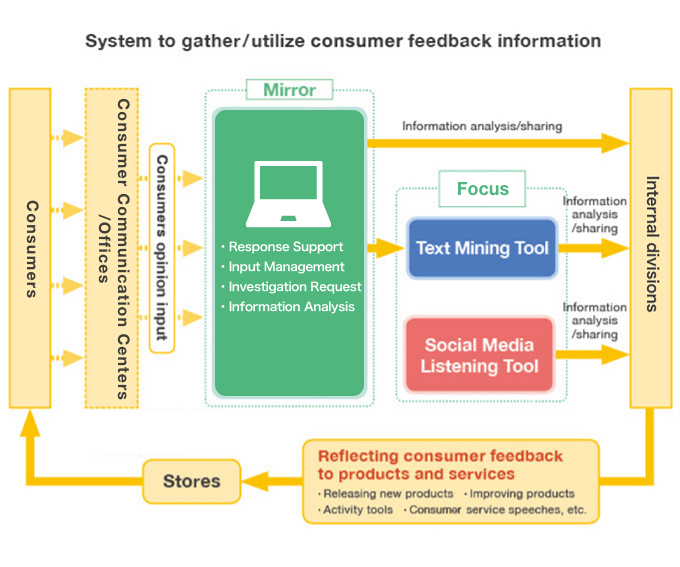 Increasing Points of Contact with Various Consumers
Seeking to provide support to social media-savvy younger generations, we launched accounts on Twitter (2015), Yahoo! Chiebukuro (2017) and the LINE app (2018). Using these digital tools, we are broadening consumer communication activities.
Also, the Consumer Support FAQ webpage has been redesigned, particularly by introducing a chatbot program in June 2018 to respond to a growing number of questions relating to transporting cosmetic products, such as flash temperature and alcohol concentration.
We have introduced AI technology to the "Beauty Consultation on LINE" app to improve consumer convenience and satisfaction from the program. To further improve consumer convenience, the Web Beauty Consultant*4 has been installed to cooperate with "AI Mimi-chan," the program's chatbot character, in performing consultation tasks. Users can choose either of two options: AI Mimi-chan, who is available around-the-clock to respond to relatively simple, general questions; or the Web Beauty Consultant, available having substantial experience in storefront service and during operational hours and suitable for more personalized advice. To increase consumer satisfaction, we are striving to raise the accuracy of AI-programed responses and quality of human consultation skills.
We are also enhancing our Twitter-based consultation service, implementing a number of measures in addition to simply responding to inquiries. Major measures include expressing our appreciation for praise from users; increasing assistance with addressing problems; and providing guidance to Beauty Consultation on LINE. We are thus building multi-media structures aiming to boost consumer satisfaction, thereby increasing Shiseido fans.
*4

The Web Beauty Consultant offers LINE Chat-based consultation service.
Collaborative Education Activities to Learn on Consumers' Perspective
Shiseido promotes education activities to deepen employees' understanding of users' viewpoints—how they feel about using cosmetic products and how they have chosen specific items—in an effort to help improve our products and services, thereby increasing consumer confidence in Shiseido.
The Consumer Communication Center receives an average of 400 calls and e-mails every day. To be able to satisfy any requests and expectations delivered to the Center, communicators participate in product workshops and e-learning programs on a regular basis. Some of them have honed their specialist skills as call center operators to win awards at industry competitions and become qualified instructors, and are often invited to lecture at seminars outside the company.
In 2017, we organized hands-on workshops to facilitate employees' better understanding of the physical and mental circumstances of elderly consumers. Participants engaged in telephone support simulations with consumers wearing age-enhancing prosthetics. This program aimed to promote consideration for various needs of users in the process of product development and improvement. Relevant findings were incorporated into the "Manual for Consumer Support Leaders" when it was revised in March 2018, in order to share the information with related persons in the Group and affiliated companies across Japan, in addition to consumer contact personnel.
Shiseido Japan appoints Consumer Support Leaders (CSLs) in major cities in Japan, who are assigned to spearhead office-wide consumer support service initiatives at each location. The Consumer Communication Center organizes a range of upskilling programs for CSLs, including: lectures by invited specialists; study meetings with internal researchers on measures to ensure product safety; information exchange sessions for CSLs from different locations; and assistance with obtaining industrial qualifications.
We work to share with all personnel, including communicators and CSLs, various information on consumer relations in a timely manner, aiming to help each individual employee think and act for the benefit of our consumers.
Based on our belief that consumer feedback is a valuable company asset, we offer internal opportunities to monitor consumer contact operations at will, register more than 100 applications every year from broad-ranging sections and functions from corporate officers and auditors to factories, research labs, divisions in charge of quality control, product development, marketing and sales, and affiliated companies. In addition, monitoring opportunities have been incorporated in the curriculum of Shiseido Beauty Academy's Beauty Consultant course with an enrollment capacity of 90, starting last year. For factories, in addition to monitoring we also offer follow-up workshops to help them with using consumer feedback effectively to improve their activities.
Furthermore, especially targeting employees with difficulty taking collective training, Shiseido Japan runs e-learning courses which are available to the entire workforce. This year's courses were designed to offer work-specific programs, which were attended by a total of 3,500 participants.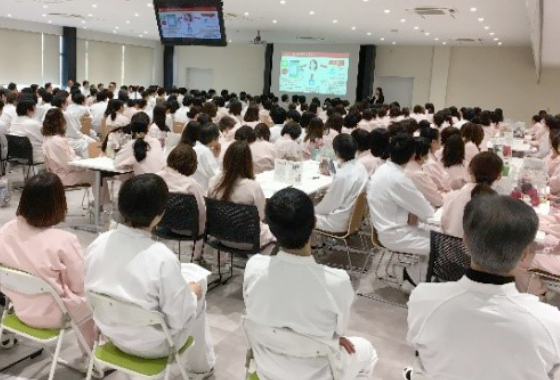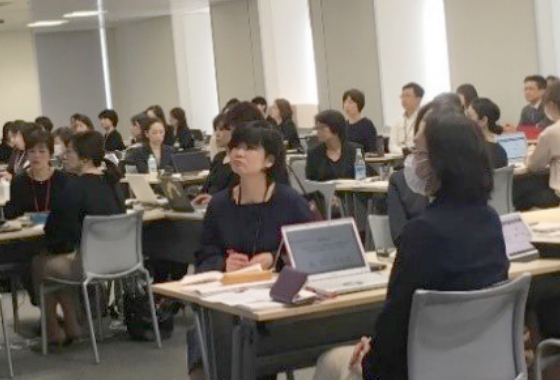 Product Manufacturing that Reflects Consumer Feedback
PRIOR Rich Cream
Cream added to lineup (2019)
In October 2019, PRIOR added a cream to its line of existing toner and milky lotions. The category was introduced in response to the request from many long-time users of the brand for a more complete skincare lineup.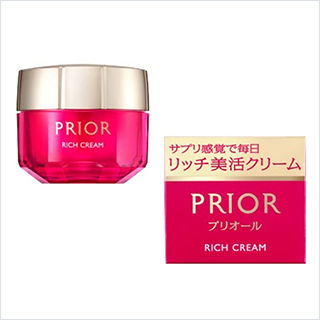 AVÈNE Milky Gel Enrich
Offered in large size (2019)
AVÈNE Milky Gel Enrich has been made available in large size starting from September 2019. The rollout of the new size variation reflects the desire of many loyal users to use the product in generous portions and from longer-lasting reserves.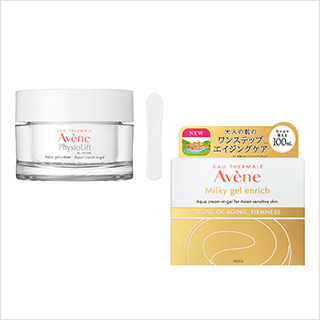 AQUA LABEL High-Performance Skincare
Redesigned flip-top bottles (2019)
The container for the full lineup ranging from toner and milky lotion to cream has been redesigned with a flip-top solution to the need for quick, one-handed operation and no additional clutter, both concerns voiced in feedback. The new bottles were released for all products in August 2019.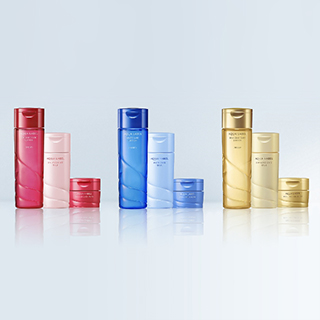 CLÉ DE PEAU BEAUTÉ Refined Lip Luminizer
New package design to display product color (2019)
The lipstick holder has been redesigned to display the color of the product without the need to open the package. The new packaging has been available since January 2019.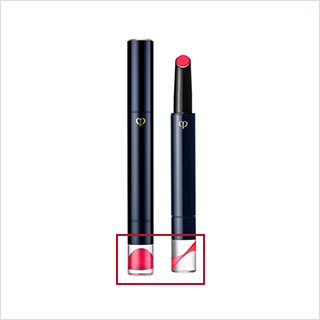 MAQUILLAGE Perfect Black Liner
"Cartridge included" indicated on each package (2018)
To resolve the issue of customers mistakenly believing that the product includes only a holder and no cartridge, we altered the package description with a number of indications that a cartridge is included.