Reflecting Consumer Feedback
Consumer Services: Action Policy
The Consumer Communication Center of Shiseido Japan Co., Ltd. gathers and analyses consumer inquiries and requests, and shares information throughout the company in order to realize its medium-to long-term strategy. Through these efforts, the Consumer Communication Center recommends the development and improvement of products and beauty information, as well as the improvement of services, to related divisions.
In January 2017, Shiseido further strengthened its Consumer-oriented management system by announcing its philosophy and policy on consumer-oriented management in the form of a "Consumer-Oriented Voluntary Declaration." At the Consumer Communication Center as well, we engage in daily activities under the Customer Response Action Guidelines. Going forward, we will continue to work to promptly detect changes in consumers and social and work to reflect them in our corporate activities, thereby contributing to the enhancement of corporate value through "Consumers-Oriented."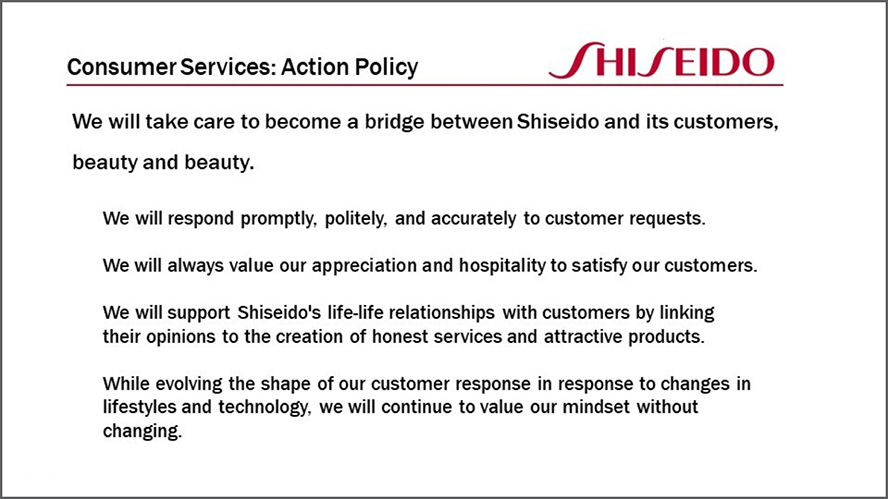 Major Initiatives
For more than half a century since its establishment in 1968, Shiseido's consumer support desk has responded sincerely and flexibly to customer opinions and inquiries and delivered useful information. We are also actively working to improve our response quality. In 2016, we obtained the five-star certification for the first time in the cosmetics industry under the quality monitoring rating stipulated by HDI-Japan*1, and in 2020, the chat department received the three stars for the inquiry contact rating. We will also periodically implement Mystery Call Mystery Chat*2 with the aim of further improving customer satisfaction.
In Japan, in addition to communicators who respond directly to consumers, we also provide opportunities for consumer support leaders who are in charge of customer service at business sites nationwide to visit factories and research institutes to deepen the knowledge necessary for customer service. In addition, Shiseido is actively improving its skills as an entity in charge consumer relations by participating in seminars conducted by lecturers from inside and outside the company, holding workshops by Shiseido researchers on safety and product development, and encouraging employees to acquire qualifications with the aim of enhancing their expertise.
While promoting human resource development, we are also increasing consumer convenience by adding brand-specific toll-free numbers and strengthening our response through LINE chats, and enhancing the FAQ system. In addition, in order to stably operate consumer support desks even after the COVID-19 pandemic and to evolve our working styles, we introduced LINE chat at home in 2020 and a remote call center system in 2021, and began responding to consumers at home.
Regarding global consumer response, the person responsible for consumer response in Japan and each regional headquarters (China, Asia Pacific, the Americas, EMEA, and Travel Retail) collaborates to promote consumer support.
*1

:HDI is the largest membership organization in the world in IT support services established in the U.S. in 1989. It is a member of a number of corporations that rank among the 500 Fortune Global Companies in the U.S. Economic Magazine. HDI-Japan conducts surveys and certifications to evaluate corporate customer contact points with the aim of improving support services.

*2

:This is an external survey that evaluates the service levels of telephone support and LINE chatting.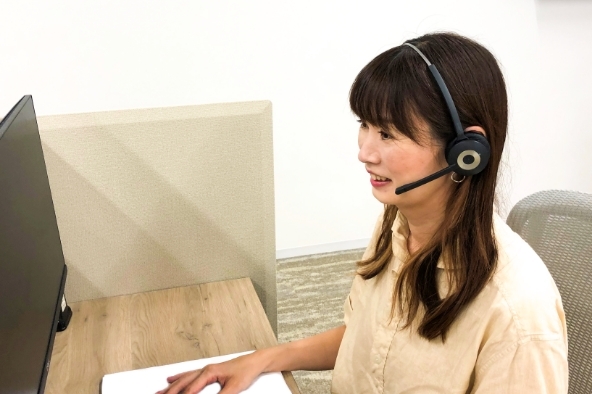 Gathering/Sharing/Utilizing Consumer Feedback
In Japan, we collect consumer feedback on our products and services in a variety of situations and methods. These include about 100,000 annual accesses to our consumer support desks and offices via toll-free calls, e-mail, LINE, and letters, as well as about 130,000 in-store customer comments posted by Beauty Consultants working at retail outlets on dedicated tablets, as well as Twitter and other SNS comments.
With the exception of some affiliated companies that independently manage information, information gathered is managed by the system, and is shared by all employees through e-mail or the intranet. In this way, it is used to create value in our products and services.
In addition, by centralizing management in the system, information can be promptly reported to the officers in charge and related divisions, which is also useful in terms of risk management.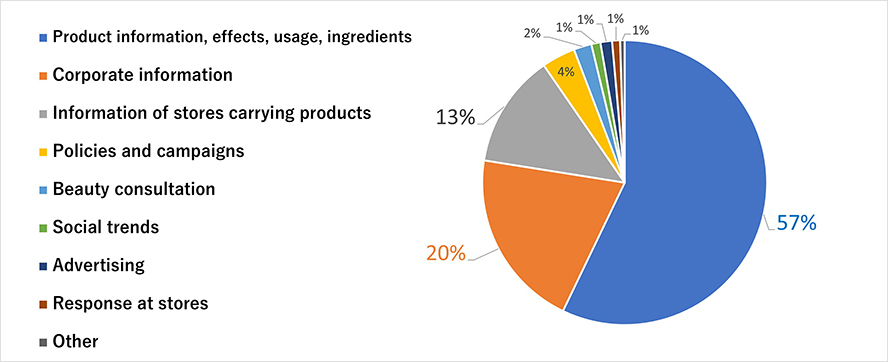 Consumer Feedback Information Management Systems
We use Mirror*3, a system for collecting and analyzing consumers feedback in Japan, to reflect it in our products and services.
Consumer feedback, which is aggregated into the Mirror, is linked to VOICE text mining system, enabling all employees to easily visualize consumer feedback and analyze and utilize it according to their purposes. We also use social listening to reflect consumer feedback that does not directly reach companies in our corporate activities. In addition, we are working to improve quality globally in collaboration with GQS*4, a quality information management system that aggregates quality-related requests received from consumers around the world.
*3

:Drawing from the idea that through the voices of our consumers, there is a "mirror" that reflects the actual state of Shiseido's activities for us to see and contemplate.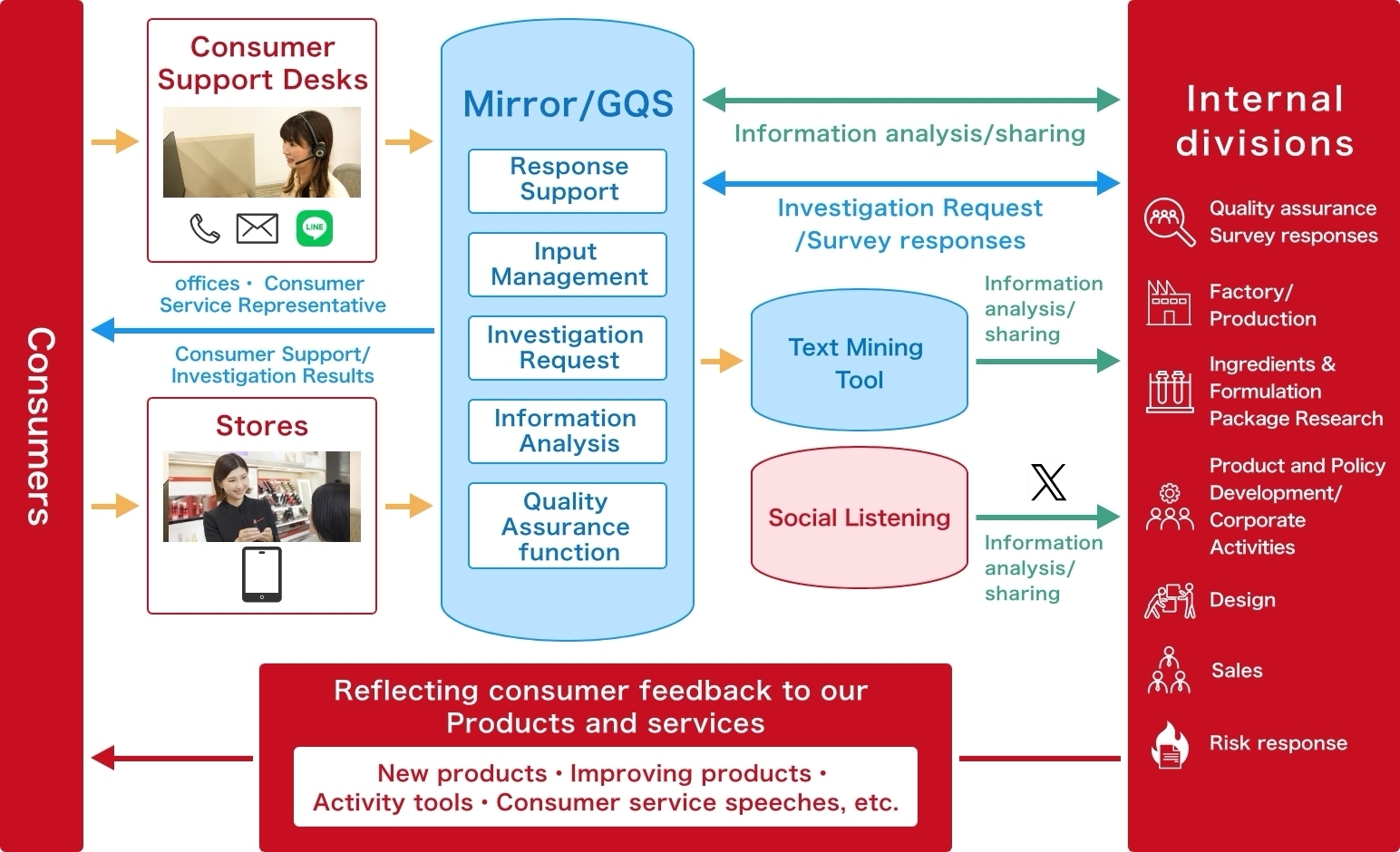 Increasing Contact Points with Various Consumers
In response to the growing number of users of SNS, we have established an official account for LINE apps and Twitter, Yahoo! Chiebukuro*5 to strengthen communications with a wide range of consumers.
In the "Consumer Support Frequently Asked Questions" section of our website, we answer questions on alcohol concentrations and the risk of combustion in the transportation of cosmetics in chatbots. Beauty Consulting in LINE, which uses LINE apps, collaborates with Web Beauty Consultants, who respond to personal inquiries, and AI Mimi-chan, a chatbot that answers simple questions 24 hours a day, to respond quickly to consumers. Twitter provides support for consumers who have trouble, as well as thanks them for their inquiries and compliments. Through these various channels, we aim to improve consumer satisfaction.
*5

:Yahoo! Chiebukuro is a Japanese language Q&A website
Collaborative Education Activities to Learn on Consumers' Perspective
We strive to improve our products and services by knowing deeply the feelings and backgrounds of consumers, and to become a trusted company, we are also focusing on "co-development" activities for our employees.
On a daily basis, we distribute consumer feedback through our intranet, internal digital signage, internal SNS, and e-mail to create opportunities for all employees to touch the opinions of consumers, thereby raising awareness.
Furthermore, for divisions involved in consumer response and manufacturing, we hold seminars to share consumer feedback tailored to each division and to review individual awareness and behaviors. In these ways, we encourage each employee to become aware of being "Consumer-Oriented" in their daily operations, and we are conducting activities to instill this idea in all corporate activities.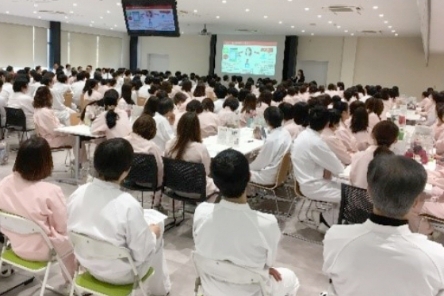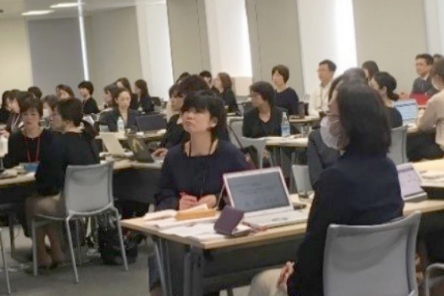 Product Manufacturing that Reflects Consumer Feedback
SHISEIDO Ethanol for Hand Sanitizer, SHISEIDO Hand Cream N
Launched hand sanitizers with special attention to sensitive hands and hand creams (2020-2021)
In response to comments that hands are rough due to frequent hand washing and disinfecting, we developed hand sanitizers with special attention to sensitive hands. The distinguishing feature is that the hand cream is not oily after application, and it only leaves minimal fingerprints on smartphones and other devices.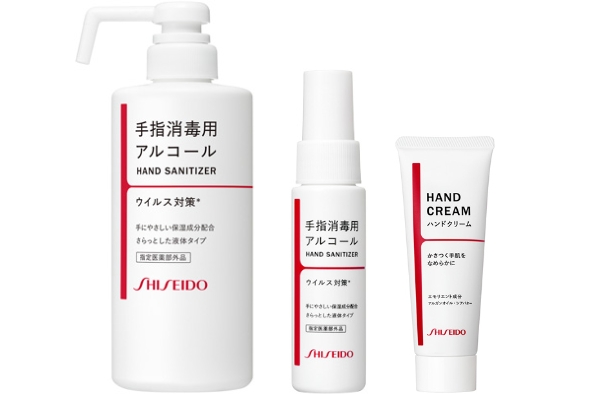 MAQUILLAGE Dramatic Cover Jelly BB
Evolve coverage of BB cream, which doesn't rub off on masks so easily (2021)
In 2020, we launched the Maquillage Dramatic Nude Jelly BB, which doesn't rub off on masks so easily, in response to the complaints about makeup rubbing off on masks. Following this, we added two colors of BB with coverage in response to requests that consumers want good coverage with a light feel.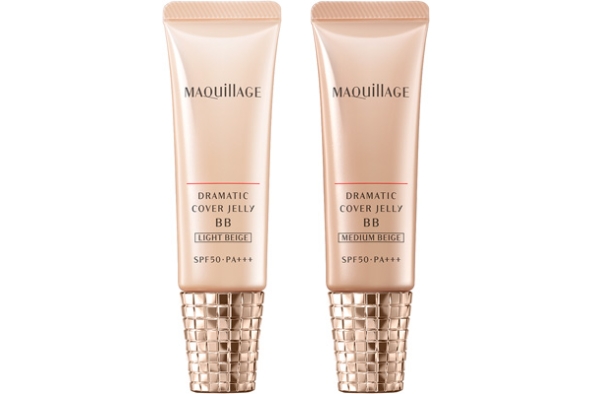 BENEFIQUE Reset Clear N
Adopted dispensers (2021)
In conjunction with the renewal, we have adopted dispensers and refills to easily get the correct amount at every usage.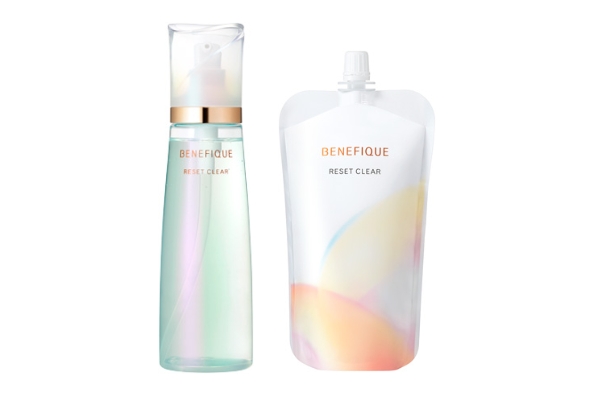 ELIXIR Reflect Balancing Oshiroi Milk C
Launched the optimal cover type just for those no foundation days (2020)
ELIXIR Reflect Balancing Oshiroi Milk C, which was released in 2018, has been popular since it was released as a morning milk which needs no base makeup. On the other hand, in response to comments that customers "would like to have more coverage" on days they don't use foundation, we launched another type that naturally covers blotches and unevenness.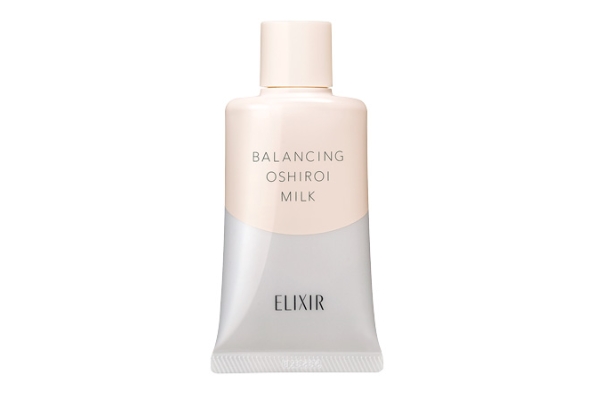 PRIOR Color Conditioner N
Added gray color to lineup (2020)
In response to many statements from customers who want to "enjoy their gray hair as it is," we launched Gray products in addition to black, dark brown, and brown products from PRIOR hair color conditioners.