What's new?
Shiseido discovered that sagging is caused by cavitation of the dermal layer associated with aging.
The mechanism of sagging has finally been disclosed!
Human beings experience a decline in various physical functions with age, such as in the muscles and bones. Sagging is another example of this, and facial sagging is particularly undesirable because it gives a more aged appearance. In the award-winning research in 2014 (Poster Award), we clarified the internal structure of the face that provides support to the skin; however, in this research, we focused on the skin to elucidate the mechanism of how sagging occurs in the skin. Although little was known about sagging previously, these two discoveries have revealed the whole picture of the mechanism behind sagging.
We succeeded in capturing special light to photograph the moisture. Based on this finding, a system of two cameras was developed to provide wide-area images of the moisture in the face, as well as imaging of the micro area moisture, as small as a single skin grain.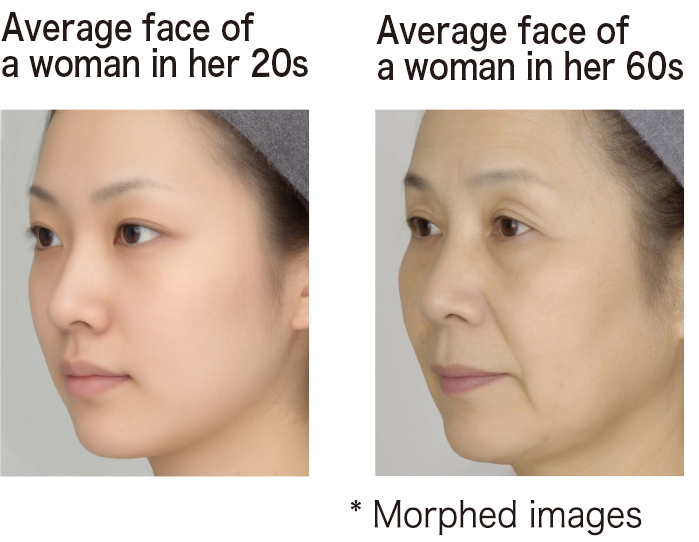 The dermal layer, which is located underneath the skin surface, is packed with collagen and provides the skin with resilience. The research that won the award on this occasion revealed that much of this important dermal layer is lost in aged, sagging skin. The dermal layer becomes hollow with age, which then causes the loss of resilience in the skin and the inability to support the face, finally resulting in sagging. Since the state of the lost dermal layer appears like a cavity, we decided to refer to this phenomenon as "dermal cavitation." In addition, this dermal cavitation phenomenon was found to be closely related to the sweat glands, the organ responsible for the secretion of sweat. Sweat glands are found all across the body and are normally located deep inside the dermal layer where a meshwork of collagen that maintains skin elasticity is found, and the secreted sweat travels through narrow tubes to the surface of the skin.
An investigation with a focus on the locations of dermal cavitation showed that these sweat glands had shrunk and had migrated towards the skin surface. A large mass of the dermal layer was lost after the migration of the sweat glands and replaced by white subcutaneous fat, producing an appearance similar to cavities. Therefore, it was found that the shrinking of the sweat glands caused the dermal layer to become hollow and lose resilience, leading to the inability to support the skin overall and the resultant sagging.