What's the technology?
A two-camera system to visualize the moisture in the skin by simple photography!
System 1: Whole-face image -> Shows the parts of the face where moisture is rich or lacking
System 2: Micro-imaging of skin surface -> Shows how moisture permeates into the skin
Cosmetic shops have devices that measure moisture and skin texture by applying a skin scope on the face. Such equipment is very useful in capturing the current state of the skin, so the information can be used as reference in future skin care. These devices use electrical resistance to calculate the moisture in the face based on the state of skin texture but they do not actually measure the moisture content itself. However, in order to develop effective skin-care products, the amount of moisture needs to be calculated more accurately. The new camera systems made this possible.
We succeeded in capturing special light to photograph the moisture. Based on this finding, a system of two cameras was developed to provide wide-area images of the moisture in the face, as well as imaging of the micro area moisture, as small as a single skin grain.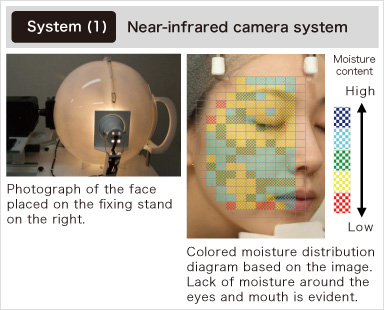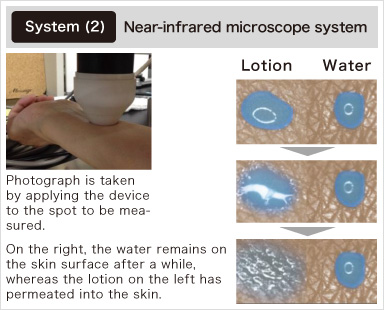 This technology uses a camera that captures near-infrared rays, which are invisible to the human eye. The light we normally see is visible light. However, the light we cannot see includes ultraviolet, infrared, and far-infrared light. Of these, we used a camera that detects near-infrared light, which has a slightly longer wavelength compared to visible light.

This near-infrared ray camera shows water and oil as black in the photograph. The camera system that we have developed applies color according to the concentration of moisture and prepares a distribution diagram understandable at a glance.