What's the technology?
It is actually very difficult to see inside the skin without cutting it. Clear images of collagen obtained with a special laser were praised all over the world!
In general, skin research involves observations inside the skin by cutting it and using a microscope. However, you cannot cut the skin on the face of a living person for research purposes. Thus, the actual research normally uses skin from body parts other than the face; however, not all skin is the same. For example, the skin of the face and arm is different in terms of thickness, melanin content, and collagen content. Therefore, the aim of this research was to enable skin observation with a special laser without incision.
In particular, collagen is located in the dermis, the deep layer of the skin. Images of collagen in a very limited area in the superficial dermis had been available in the past; however, they were not as clear as those taken with this award-winning technology.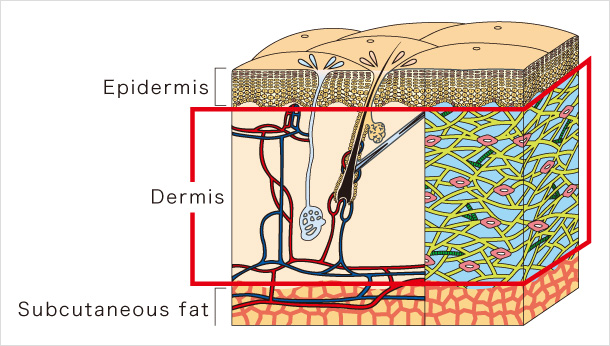 Since this technology required the development of a unique laser device, joint research was conducted with Takeshi Yasui, Visiting Professor at Osaka University and Professor at Tokushima University, who is a leader in this field. Clear images of collagen without incision revealed how much damage collagen receives from ultraviolet radiation. Further research on this topic will be highly beneficial for obtaining information about the skin, such as confirmation of the preventive effect of sunscreen and exploration of the mechanism of wrinkle formation, which has not yet been clarified.