What's possible with the research?
Discovery that the component causing skin roughness is actually found on the skin surface—leading to the development of special powder for skin care while wearing makeup!
Rough skin refers to the state where the skin is dry with peeling and uneven texture. This causes uneven application of foundation, and in worse cases, inflammation and redness of the skin. What is happening inside rough skin? First, we find an enzyme responsible for protein degradation: it is called plasmin and is widely present in the epidermis of the skin. This plasmin originates from an enzyme called plasminogen, activated by another enzyme, urokinase, to change into plasmin, which in its turn has a negative impact on the skin.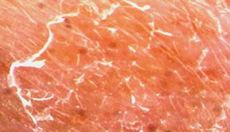 Enzymes may be associated with positive effects on the skin, such as from enzyme drinks. However, there are many types of enzymes, and some, such as urokinase, activate other enzymes and trigger a negative impact on the skin. This award-winning technology takes its origin from the discovery that urokinase is actually found on the surface of the skin. Until then, it had been generally agreed that rough skin should be prevented by moisturizing. However, since it was proved that urokinase, the cause of rough skin, exists on the skin surface, it became possible to prevent rough skin by simply removing this substance. As a result, we developed a special powder for use in foundation. This technology prevents rough skin through skin care in the morning and at night, as well as during the day while wearing makeup.