Global System for Generating
Innovation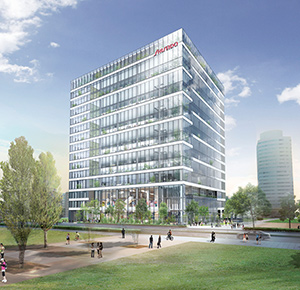 To maintain our competitive edge in global competition and sustain our position as a global leader, we must take steps to reinforce our strengths in innovation. Shiseido has a solid foundation of quality that is highly important for the creation of innovation. In addition, we possess a base of knowledge and technologies that we have cultivated for more than 100 years. Our diverse range of researchers with specialized know-how approached their work creatively, and the symbiotic interactions between knowledge and technologies have fostered the creation of entirely new products and services. Furthermore, by adding the new value acquired through aggressive external tie-ups and M&A, we have generated innovation and launched new markets. This framework is a part of Shiseido's DNA and is a key strength supporting our ability to realize sustained growth.
Our global R&D system is organized along the lines of a hub-and-spoke network. The Innovation Center in Japan, which acts as the hub, is primarily responsible for basic research and research into new categories. Overseas R&D bases, which develop value that is fine-tuned for customers in local markets, are linked to this hub much like the spokes of a wheel. In addition, at the end of 2018 we will open the Global Innovation Center (GIC) as a new R&D base that will play a core role in the hub of this system. As an urban open lab, the GIC will integrate diverse knowledge and human resources from leading research institutions in Japan and overseas as well as companies in other industries. It will also gather information and technologies consolidated from R&D bases in local markets. As a result, the GIC will help us to provide optimal value to consumers in countries around the world. This will make it possible to construct a two-way innovation ecosystem that transcends national and industry boundaries. Moreover, the GIC will also leverage new knowledge and technologies acquired through M&A, and combine them with technologies cultivated in-house by Shiseido. These initiatives will contribute to the generation of new value as we move forward.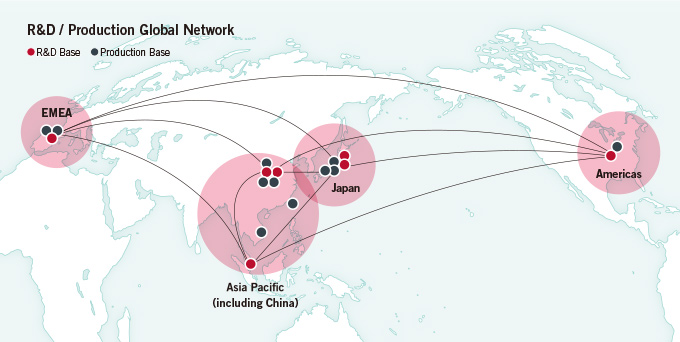 Examples of Initiatives
1.

Enhancing Capabilities toward Personalization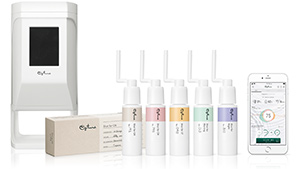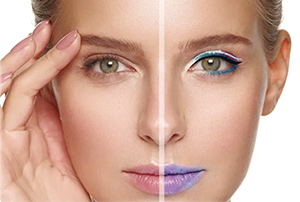 Cosmetics personalization has become a major trend, and we are working aggressively in the development of new beauty innovation. Our new skincare system, Optune, uses dedicated smart phone application software that measures the condition of the skin. This skin-related data is analyzed together with data for the weather, mood, physical condition, and other factors. Finally, Optune identifies and provides a serum and moisturizer combination that suits the present condition of the consumer's skin. In addition, in November 2017 we acquired Giaran Inc., a U.S. venture company with virtual makeup technology that leverages AI. Moving forward, by combining new digital technologies with the research know-how that we have accumulated, we will further expand personalization in beauty.
2.

Innovative Artificial Skin Formation Technology — Second Skin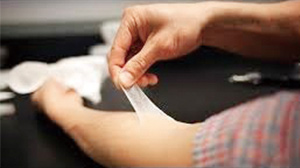 Second Skin,* an innovative patented technology that was recently acquired by Shiseido, enables consumers to immediately conceal wrinkles and sagging. Through the layered application of an exclusive emulsion on top of a polymer-base cream, Second Skin forms an artificial skin that tightens the skin and smooths irregularities. Moving forward, Shiseido will draw on this technology to provide a wide range of other benefits to consumers around the world, such as the development of skincare and sunscreen products that remain highly effective for extended periods. To that end, we will leverage the synergies between our capabilities in research technology development and our strengths in global marketing.
* Acquired from U.S. venture company Olivo Laboratories, LLC, in January 2018
Strengthening Production and Supply Systems to Support Growth
Working to achieve its medium-to-long-term strategy, VISION 2020, Shiseido has taken steps to strengthen its competitive edge. As a result, the Company is experiencing increasing demand in Japan and markets around the world. Moreover, with the rollout of cross-border marketing initiatives, we are seeing growth in demand from consumers overseas who find strong value in high-quality, made-in-Japan cosmetics. In order to meet this growth in domestic and overseas demand, we determined that we need to strengthen our production system for the medium-to-long term. Accordingly, we are currently building the Shiseido Nasu Factory (tentative name) in Tochigi Prefecture, with the aim of starting operations in 2019. This will be Shiseido's first new manufacturing base in Japan in 36 years. Furthermore, we are also moving ahead with construction of the New Osaka Factory. Its completion is scheduled for 2020, and production operations will subsequently be transferred from the current Osaka Factory to the new facility. This new factory will substantially increase our production capacity. In addition, we will build a new distribution center that will be able to handle both domestic and overseas distribution and product storage and shipping. Going forward, these initiatives will not only enable us to address growing demand but also support our efforts to add new value, thereby further reinforcing our global supply chain system.