Six Regional Headquarters
and Our Global Management Structure
Shiseido has transitioned from its previous headquarters-oriented management system to a global management structure that delegates a broad range of authority and responsibility to regional headquarters around the world. Our matrix organization cross-matches six regions with five categories. Under this structure, the Company is working to achieve significant global growth through marketing activities attuned to the needs of regional consumers, and flexible decision-making.
Region x Brand Matrix Organization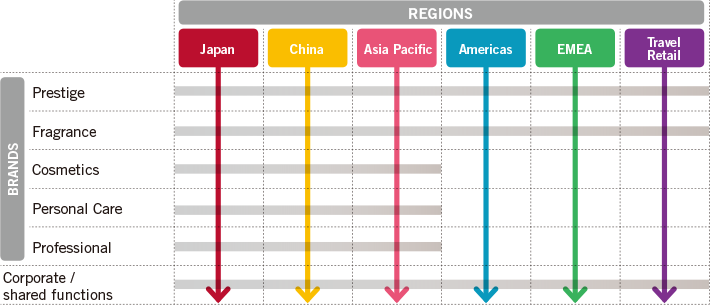 Net sales in 2020 and CAGR for 2017 to 2020
Figures in parentheses show a like-for-like basis excluding business transfers, etc. (Announced March 5, 2018)

Principal foreign currency exchange rates:
¥110 / USD, ¥128 / EUR, ¥16.5 / CNY
1. Effective from 2018, the Company has changed its reportable segment classification method in line with the Group's internal management structure.
2. As of 2018, internal transaction prices have been partly changed.