We have completed the first three years of our medium-to-long-term strategy VISION 2020, which focused on rebuilding our business foundation, and have commenced a new three-year plan aimed at further accelerating our growth. Thus far, we have implemented a range of initiatives targeting sustained growth, including measures to increase investment and bolster productivity. As a result, our sales increased at a CAGR of 9% during the three-year period, and in 2017 we achieved record-high operating income as well as increased dividends for the first time in nine periods.
Strengthening investment in key areas, funded by stable cash flow
To ensure sustainable growth beyond 2020, Shiseido will invest over ¥300 billion during the three years from 2018 in key areas, including human resources, supply chain management, research and development, and IT. While substantial cash flow generation will be required to support that level of investment, our cash generation capability has steadily increased, and in 2017 EBITDA was over ¥100 billion. During the four years from 2017 to 2020, we will generate a total of over ¥350 billion in operating cash flow.
Increasing capital efficiency by improving the cost structure and balance sheet
To increase capital efficiency, we will aim to realize operating margin of 10% or more through top-line growth and further cost structure reforms. Meanwhile, we will implement balance sheet management through appropriate inventory control, leading to a cash conversion cycle (CCC) of 100 days or less. In this way, we will aim to realize ROE of 14% or higher, against cost of shareholders' equity of 5%, and ROIC of over 12%, which exceeds our 4% weighted average cost of capital (WACC).
Bolstering returns to shareholders in the medium-to-long term
In terms of returns to shareholders, we emphasize total returns, comprising direct returns through dividends and increases in share price over the medium-to-long term. In determining dividends, we will focus more on our consolidated results and free cash flow, and from 2018 we will adopt the dividend on equity (DOE) ratio as a measure of our capital policy. Through these efforts, we will strive for long-term stability and continuously enhance returns to shareholders by improving our business results.
Initiatives to Increase Corporate Value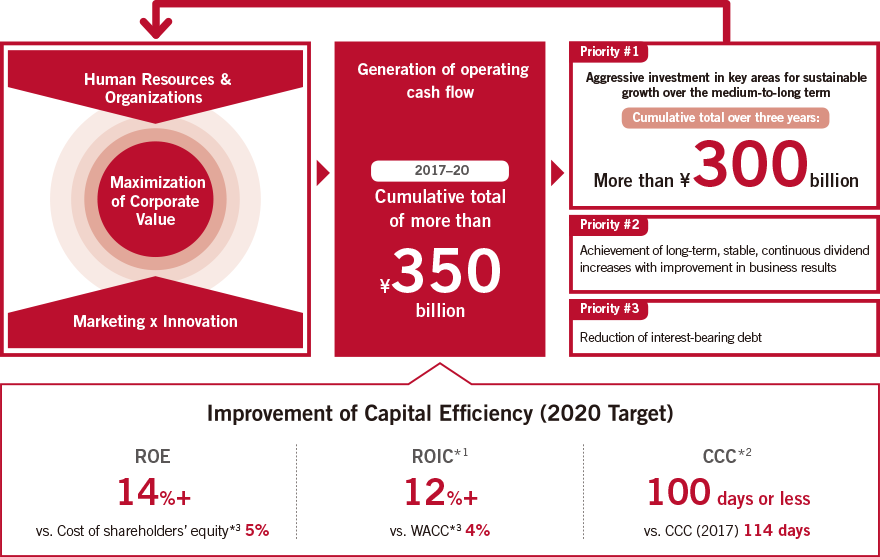 *1 ROIC (Return On Invested Capital) = Operating Income x (1 – Effective Tax Rate) / (Interest-bearing Debt + Equity)
*2 CCC: Cash Conversion Cycle (days) = Receivables Turnover Period (days) + Inventory Turnover (days) – Payables Turnover Period (days)(average of each indicator during the period is used)
*3 The figures for cost of shareholders' equity and WACC (Weighted Average Cost of Capital) are Shiseido's estimates.