Net sales increased 16.0% year on year on a local currency basis. Key factors supporting this increase included global growth in the prestige category, where we continue to expand strategic investment, and additional sales from brands added by the Shiseido Group in 2016. Due to the positive effect of yen depreciation, net sales increased 18.2% year on year on a yen basis.

Operating income recorded a substantial increase. This was mainly due to an increase in the operating margin accompanying the growth in sales, improved efficiency in marketing investment, and benefits derived from cost structure reform.

Accompanying the increase in operating income, the operating margin increased 3.7 percentage points year on year.

Under the medium-to-long-term strategy "VISION 2020," we have a target of over 14% for ROE in 2020. Due to an impairment loss for Bare Escentuals, Inc., ROE was 5.6% in the fiscal year under review.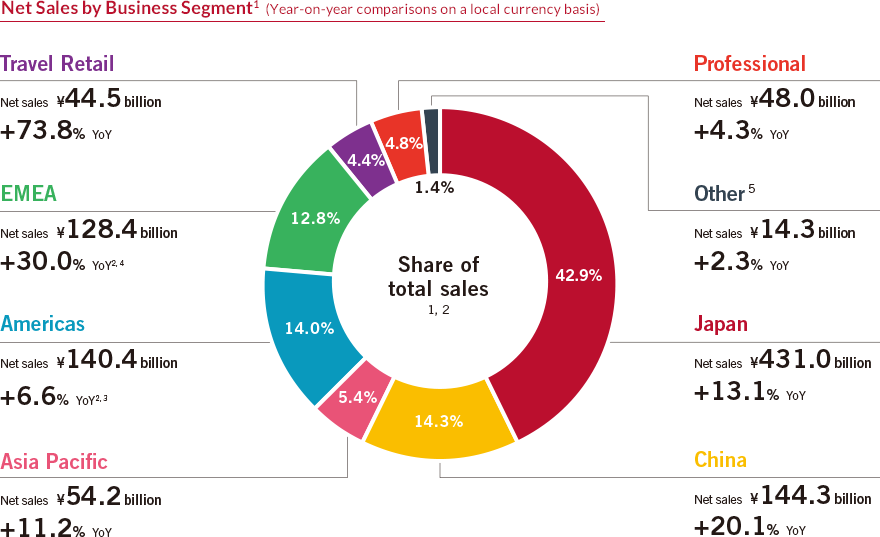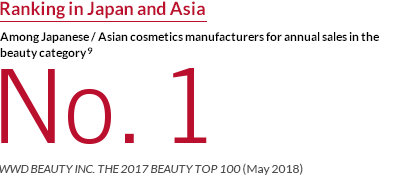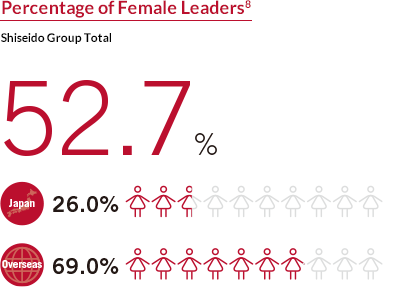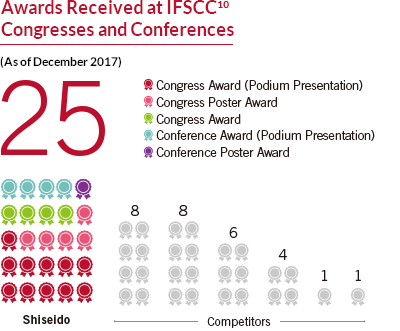 Effective from 2017, the Company has revised its reportable segment classification method in line with the Group's internal management structure. As a result, report able segment classifications have been changed to the "Japan Business," "China Business," "Asia Pacific Business," "Americas Business," "EMEA Business," "Travel Retail Business" and "Professional Business" segments.

Effective from 2017, the U.K.-based

bareMinerals

and

NARS

, which were previously recorded under the Americas Business, are recorded under the EMEA Business; and the Latin America–based Fragrance business, which was previously recorded under the EMEA Business, is recorded under the Americas Business.
Organic sales excluding the impact of

Laura Mercier

and

Dolce&Gabbana

declined 12% year on year.
Organic sales excluding the impact of

Dolce&Gabbana

rose 7% year on year.

"Other" includes manufacturing operations, the Frontier Science Business, the Restaurant Business, etc.

The number of employees includes full-time employees and temporary employees. Temporary employees include part-time workers. Dispatched employees are excluded.

As of January 1, 2018

As of December 31, 2017

Excluding food and daily necessities

The International Federation of Societies of Cosmetic Chemists is an organization that brings together cosmetic chemists from around the world in pursuit of cosmetic technology development that achieves greater functionality and safety.