Review of 2015 to 2017
Accompanying the full-scale start of the Centers of Excellence, our marketing initiatives around the world leveraged the digital and makeup strategies created in the Americas. We also recruited people with high levels of expertise in the cosmetics business. In these ways, we consolidated and reinforced our organization. In addition, we acquired venture companies with leading-edge technologies. We responded proactively and rapidly to the bareMinerals challenges by initiating a turnaround plan, rebalancing our distribution toward growing and profitable channels, and posting an impairment loss in 2017.
Results in First Three-Year Period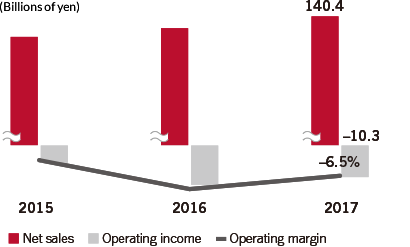 Future Market Landscape
In the U.S. prestige market, over the period from 2017 to 2020, we are forecasting a CAGR of +8 percent for both makeup and skincare. We expect these categories to lead our growth in the U.S. market. Conditions in the department store channel will likely be difficult, while significant growth is anticipated in the e-commerce channel.
Note: According to research by Shiseido. NPD full fiscal 2017 (Department/Specialty Channel, brick and mortar plus retailer.com)
Key Strategies
To thoroughly improve profitability, we will take steps to rejuvenate the bareMinerals brand. To that end, we will refine brand positioning, optimize sales channels, reevaluate fixed costs, and implement other measures. In addition, to build a solid position in the makeup market, we will accelerate the growth of NARS and Laura Mercier and reinforce the SHISEIDO makeup line. Moreover, through aggressive CRM initiatives, collaboration with major e-commerce website operators, and other initiatives, we will work to bolster sales through our own sites as well as other retail sites.
Based on these initiatives, our 2020 targets are net sales of ¥138.0 billion and an operating margin (before amortization of goodwill, etc.) in the double digits.
* Please refer to materials from the briefing on the New Three-Year Plan for details.
Materials from the Briefing on the New Three-Year Plan [PDF:17.00MB]