Review of 2015 to 2017
The EMEA Business worked to build a foundation for higher profitability by integrating overlapping cosmetics and fragrance organizations in each country in EMEA. We also stepped up investment in the license business with the Dolce&Gabbana luxury fashion brand, which we started in October 2016.
Results in First Three-Year Period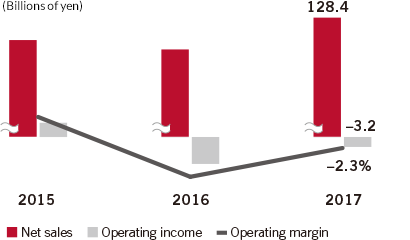 Future Market Landscape
In the EMEA prestige market, growth is expected to be driven by the United Kingdom, Russia, and the Middle East. Due to high growth in the makeup category in particular, we are forecasting a CAGR of +5 percent in the EMEA prestige market over the period from 2017 to 2020.
Note: Euromonitor International forecast in 2017 Premium (skincare, sun care, fragrance)
Key Strategies
In fragrances, we will expand investment, centered on Dolce&Gabbana, and optimize each brand's business model in line with market characteristics. In the skincare category, we will increase SHISEIDO brand awareness and equity, and in the prestige channel we will launch Clé de Peau Beauté in key countries. We will also reinforce our presence in the makeup category, centered on SHISEIDO, bareMinerals, NARS, and Laura Mercier. Moreover, we will further increase productivity by optimizing our integrated organizations as "One Shiseido."
Based on these initiatives, the 2020 targets for the EMEA Business are net sales of ¥143.0 billion and an operating margin (before amortization of goodwill, etc.) in the double digits.