Review of 2015 to 2017
The Asia Pacific Business achieved solid results with the establishment of a new regional headquarters in Singapore and initiatives to strengthen "Made in Japan" brands led by localized marketing. South Korea had been a challenge for many years. However, under the leadership of management with expert knowledge of the local market, we achieved growth and moved from a loss to a profit in South Korea.
Results in First Three-Year Period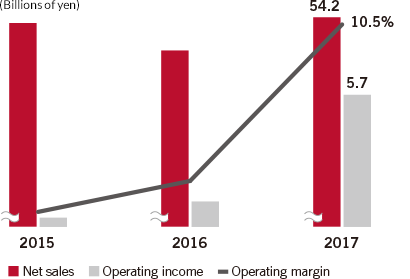 Future Market Landscape
We anticipate continued growth in market scale, mainly in such areas as ASEAN countries, South Korea, Oceania, and Taiwan. We are forecasting a CAGR of +7 percent in the Asia Pacific market over the period from 2017 to 2020.
Note: Euromonitor International forecast in 2017
Key Strategies
In the prestige category, we will diversify our contact points with consumers, which had been centered on department stores, and open up new channels, including free-standing stores and e-commerce. Furthermore, in the cosmetics/personal care category, we will establish a portfolio of "Made in Japan" brands, which are highly regarded in the local market, and strengthen categories with growth potential. We will also advance collaboration with major e-commerce operators.
Based on these initiatives, for the Asia Pacific Business we will aim to achieve net sales of ¥77 billion and an operating margin of more than 10 percent for 2020.