Review of 2015 to 2017
Our share of the domestic market, which had been declining, turned around and began to increase during the three-year period, and we established solid growth momentum. Through the regional headquarters, which integrated head office and sales functions, we established marketing initiatives integrating R&D, production, sales, and other functions. These initiatives made a strong contribution to our efforts to increase domestic sales and to capture inbound demand. In addition, we worked to strengthen digital marketing and e-commerce initiatives and to restructure our brand sales channels.
Results in First Three-Year Period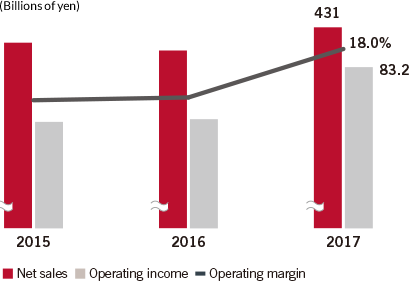 Future Market Landscape
Moving forward, the Japanese market is expected to record sustained growth due to such factors as expansion of the prestige and mid-priced markets and rising inbound demand. In addition, new fields, such as medical cosmetics and personalization, are also drawing considerable attention. We are forecasting a CAGR of +2 percent in the Japanese market over the period from 2017 to 2020.
Note: Euromonitor International forecast in 2017
Premium + mass (skincare, sun care, color, fragrance, hair care, deodorant, bath & shower, other sets/kits)
No. 1 in Japan Strategies
To solidify the No. 1 position in the Japanese market, we will continue to focus investment on SHISEIDO and other prestige brands, as well as the three skin-related segments in which we have distinct strengths—skincare, base makeup, and sun care. In addition, we will further accelerate the expansion of our share by introducing innovative products. Across all channels, we will take efforts to expand and strengthen contact points in line with consumer behavioral patterns and purchasing styles. We will also work to attract the younger generations and children of baby boomers, who will lead new markets in the future. In particular, we will continue to invest in marketing for millennials, who very well could be called digital natives. In these ways, we will take steps to expand our market share.
Inbound Strategies
Demand from inbound tourists to Japan is increasing. In response, we will continue to implement cross-border marketing, with a focus not just on Japan but on all of Asia as a single market. Through multiple touch points, including cities, airports, in-flight offers, and cross-border e-commerce, we will aggressively step up our brand initiatives for SHISEIDO, Clé de Peau Beauté, ELIXIR, ANESSA, SENKA, and other brands. At stores in Japan, we will further enhance our service to inbound consumers by assigning interpreters and leveraging digital tools that facilitate counseling in multiple languages.


Based on these initiatives, the 2020 targets for the Japan Business are net sales of ¥490 billion and an operating margin in the high teens.