Review of 2015 to 2017
With a focus on growth potential of the travel retail channel, the Travel Retail Business was incorporated into the Company's management strategy. To strengthen the organization, we recruited professionals with experience in the travel retail business. We achieved significant growth by implementing aggressive marketing investment centered on Asia Pacific and strengthening our relationships with major retailers operating duty-free stores around the world.
Results in First Three-Year Period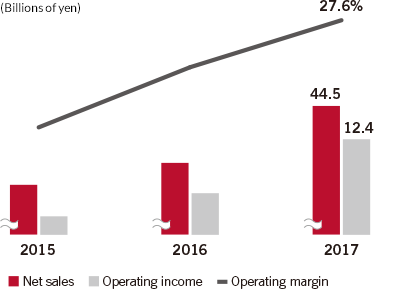 Future Market Landscape
By area, we expect the Asia Pacific region to lead growth, and we are forecasting further market expansion. By category, we expect makeup to record the highest growth, and we are forecasting a CAGR of +10 percent in the global travel retail market over the period from 2017 to 2020.
Note: Market Growth of Cosmetics & Fragrances, forecast by Generation Research (as of September 2017)
Key Strategies
In addition to core brands SHISEIDO and Clé de Peau Beauté, we will also develop other brands such as IPSA and Laura Mercier and accelerate growth, centered on Asia. Moreover, we will strengthen marketing through digital communications, with a focus on travelers. Also, by establishing partnerships with major retailers and strengthening our retail excellence capabilities, we will aim to achieve significant increases in sales and productivity.
Based on these types of initiatives, the 2020 targets for the Travel Retail Business are net sales of ¥111 billion and an operating margin in the mid-teens.