Review of 2015 to 2017
In the China Business, we transitioned from a headquarters focus to a regional orientation, and our profitability improved significantly. We concentrated our marketing investment on the prestige business and e-commerce. In the prestige business, we recorded significant growth, with the CAGR for the last three-year period reaching +41 percent. In addition, the share of China Business sales excluding Hong Kong attributed to e-commerce increased from approximately 15 percent in 2015 to 26 percent. In the cosmetics business, we rebranded AUPRES and changed the contract terms for Za and PURE&MILD, which included reinforcing self-service sales.
Results in First Three-Year Period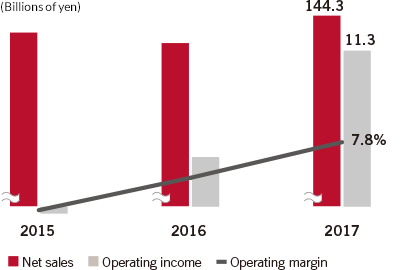 Future Market Landscape
The Chinese market is expected to see higher spending by younger consumers (born between 1980 and 2000), as well as market growth led by expansion in tier 3 and tier 4 cities. In addition, due to further growth in what is already one of the world's largest e-commerce markets, we are forecasting a CAGR of +7 percent in the Chinese market over the period from 2017 to 2020.
Note: Euromonitor International forecast in 2017
Premium + mass (skincare, sun care, color, fragrance, hair care, deodorant, bath & shower, other sets/kits)
Key Strategies
We will implement three key strategies to achieve further growth in the China Business. First, we will accelerate the prestige business. Centered on SHISEIDO, Clé de Peau Beauté, IPSA, and others, we will bolster brand equity through localized marketing. In addition, centered on NARS, we will take steps to strengthen the makeup category, which is an area of growth. Second, we will expand into tier 3 and tier 4 cities, where growth in consumption is anticipated. We will expand our key sales counters while leveraging Group synergies. Third, we will strengthen digital marketing and e-commerce. The function of e-commerce will change from sales channel to marketing platform. With a focus on this change, we will offer a seamless brand experience aligned with consumer purchasing behavior. Moreover, to address diversifying needs, we will strengthen exclusive products and personalized services. In addition, by aggressively implementing CRM initiatives that leverage data, we will increase e-commerce to about 40 percent of sales in the China Business in 2020.
In the cosmetics business, we will implement initiatives targeting sustained growth and further gains in profitability. For AUPRES, we will shift investment to tier 3 and tier 4 cities, and the digital marketing and e-commerce field, which is expected to record high levels of growth. To increase the profitability of Za and PURE&MILD, we will reinforce self-selection sales and open up new channels. For ELIXIR and ANESSA, we will advance into local cities and work to further expand brand awareness and sales by leveraging their value as highly reliable brands from Japan.


Based on these initiatives, our 2020 targets for the China Business are net sales of ¥204 billion and an operating margin in the low teens.