Testimonials
Customers' experience with Shiseido Life Quality Makeup.
Makeup helps
me regain
my true self. Ovarian Cancer
Ms. Maki Tsunoda
We interviewed Ms. Maki Tsunoda to tell us about her lifestyle while battling ovarian cancer, and her encounter with Shiseido Life Quality Makeup. We also spoke to her husband, Mr. Noriaki Tsunoda, who is supporting her in her battle with cancer.
The shock of seeing my
eyebrows and eyelashes
fall out
was greater than
my hair.
I am currently undergoing treatment for relapsed ovarian cancer. The first time that I noticed some irregularities was back in 2013, when I thought it odd how my stomach felt heavy, so I visited a local clinic to find out what was wrong. I was immediately told to visit a large hospital, and that is where I met my current attending doctor, who told me that the diagnosis was, without a doubt, ovarian cancer. My family had a history of cancer, and while I had always been aware that I also ran the risk of cancer, I felt that it was a little too early to leave my husband behind.
What pained me was when the side effects of the anticancer drugs began to appear. I did not know how to deal with it. I thought that only the hair on my head would start falling out, but when I learnt that I would also lose my eyebrows and eyelashes, I was taken by surprise. Back then, I had become really concerned imagining how my face would look without them. It did not occur to me that makeup could help cover the lack of eyebrows and eyelashes. The side effects of the drugs were completely draining me of physical and mental strength, and I became depressed, as thoughts crept into my mind that I may never be able to smile again. I sought consultation with the clinical psychologist, and received advice that I should try to go out often, and even though it was basically only on weekends, I made an effort to travel to places by train.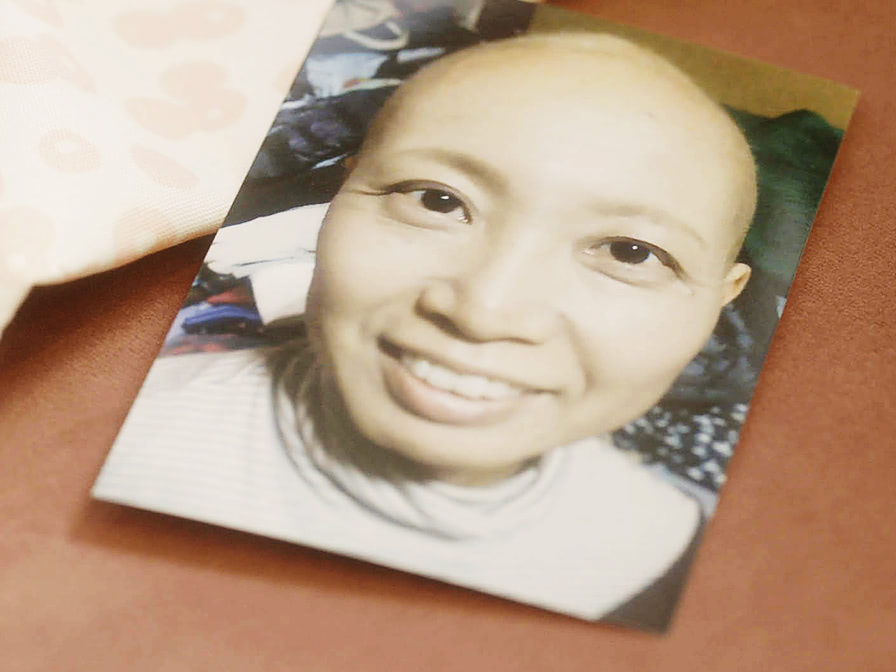 Putting on makeup in the
morning makes me
feel
upbeat and positive.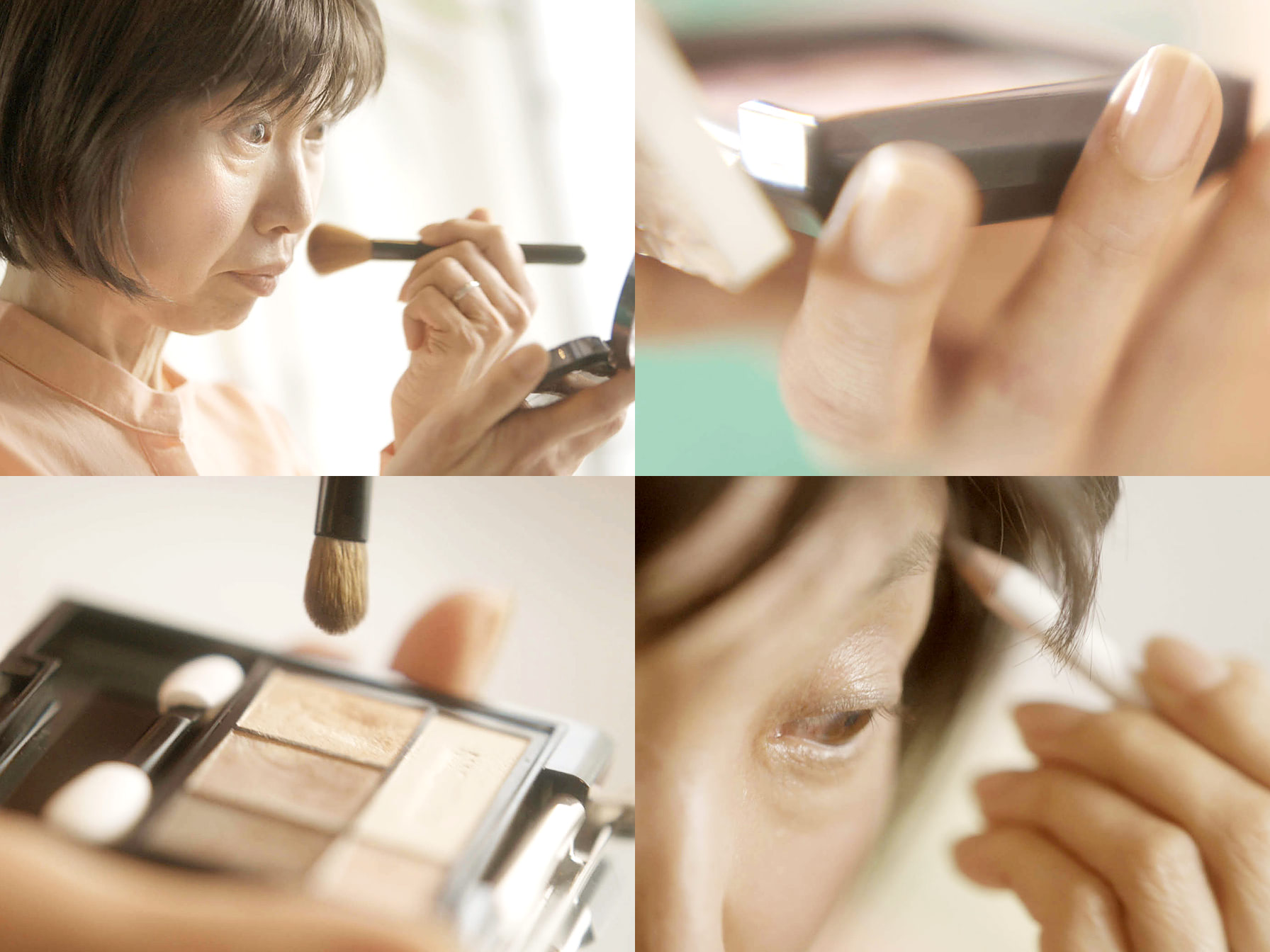 My first encounter with Shiseido Life Quality Makeup was when I participated in a symposium for cancer patients. The staff applied the makeup on me at the symposium, and I was amazed by the results. The makeover made me feel like I was under a magical spell. They also taught me techniques on how to draw my eyebrows and to apply blush. When undergoing a series of treatments, the facial complexion gradually turns dull, but I was given advice that when this occurs, applying blush adds color onto the cheeks to brighten the entire face.
What I find most difficult when doing my own makeup is drawing the eyebrows. At one point during my treatment, my eyebrows fell out completely, and it was difficult to set the line when there was not a single brow left. Initially, I had refrained from telling the people around me that I was undergoing treatment, but one day, I decided to tell them about my illness. When the psychologist asked me why I had decided to tell people about my condition, I gave the question some thought, and I realized that it was because my eyebrows were back! It rather amused me to think that I felt comfortable meeting people when I have eyebrows. I feel really high-spirited when I get my eyebrows just right.
I love putting on makeup. When I visit the hospital without an advance booking, I get nervous not knowing whether the doctor will have the time to see me for a consultation or not. So, on mornings like that, I would start to put on my makeup, which helps me feel more calm, upbeat, and positive. By applying makeup, it helps me regain a sense of my usual self – not completely, but almost. It makes me unafraid to leave the house, and I think it makes it easier for me to go out and face people.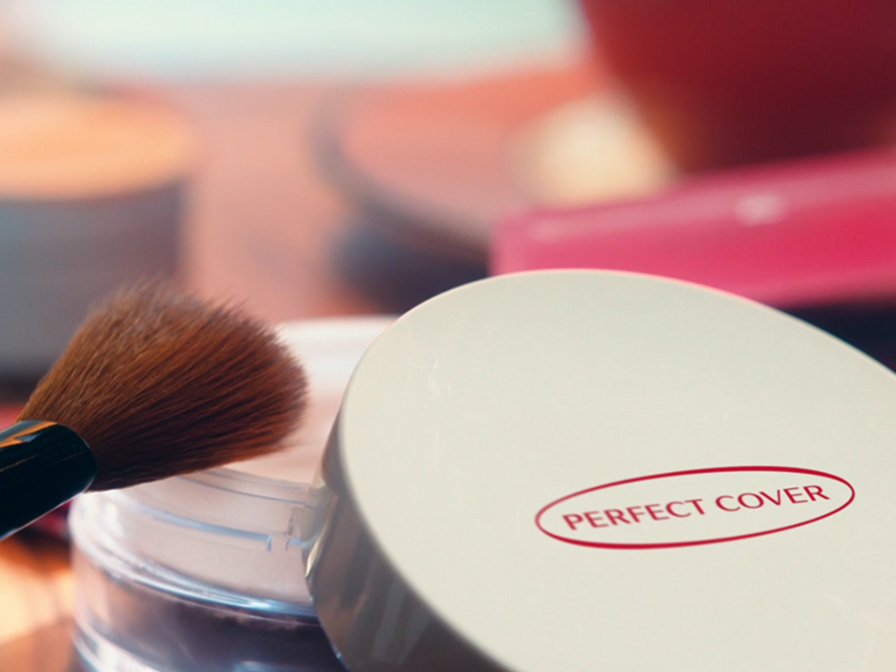 When I'm smiling,
I can be my true self.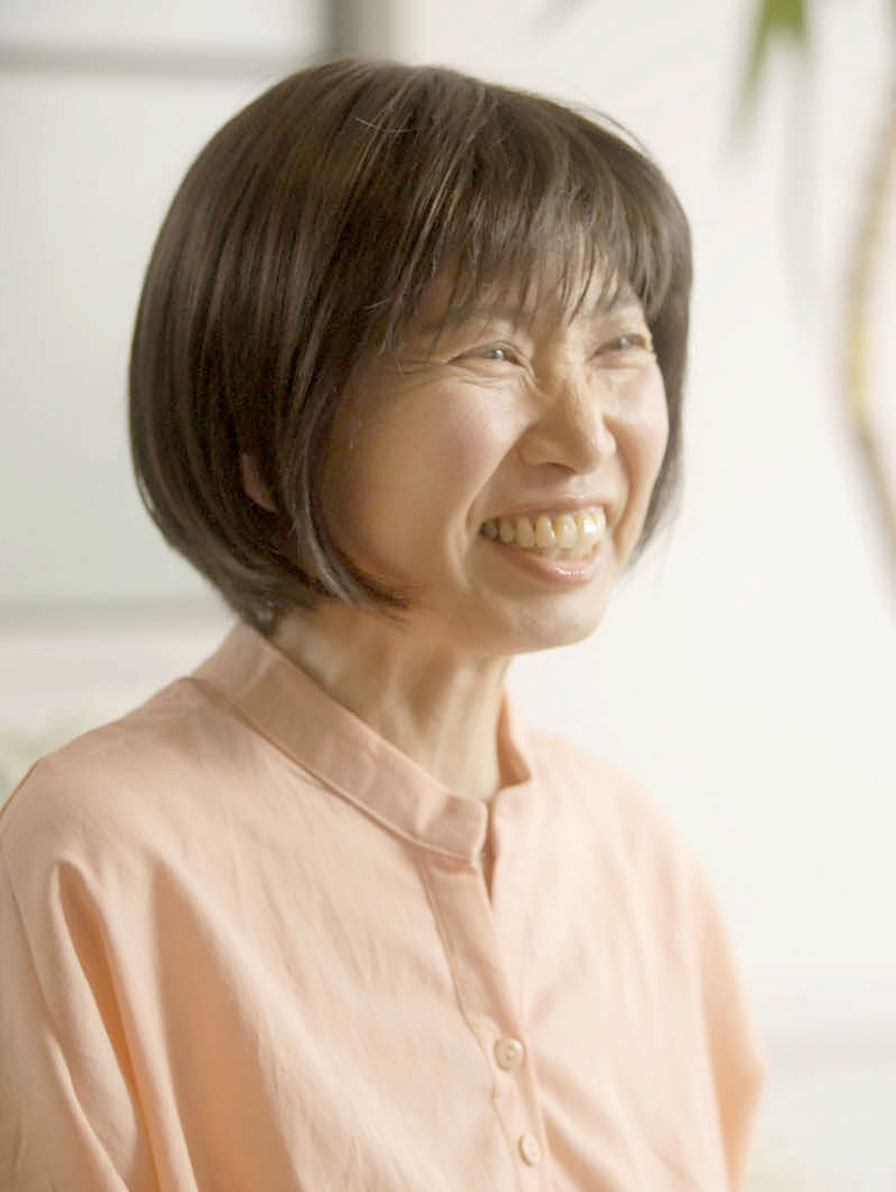 Before I had cancer, partly because we had not been blessed with children, I did not have a sense of longing or hope for the future. Having experienced a life-threatening illness, however, I came to realize how precious life is, and how being able to spend ordinary days are truly a blessing. I came to appreciate many things. Before falling ill, I was not the type to smile often, but recently, I have frequently been told by those whom I have recently come to know, that I have a lovely smile. Nowadays, it seems that a smile has become a regular fixture on my face.
What I enjoy these days are practicing Tai Chi or Qigong, finding pretty flowers while taking a walk in pleasant weather, or dining out with my husband and savoring some delicious food. I think it is during those times, when I am able to smile, that I feel most true to myself.
We also spoke to her husband, Mr. Noriaki Tsunoda.
Her face lights up when
she's doing something
that she enjoys.
Prior to falling ill, my wife was somewhat reclusive, and not the type of person to eagerly go out in front of people. Now though, I feel that she has gained the confidence of speaking out in front of other people, such as in places like patient association gatherings. I may be exaggerating, but it seems that her illness has marked a turning point in her life. Since being diagnosed, she has become more active and enthusiastic in going out, like starting Tai Chi and Qigong. She tells me that when she does Tai Chi, it really puts her in positive spirits, and that she wants to continue practicing it. I think that makeup is also one of the things that helps lift her mood. When she is doing something that she enjoys, her face lights up and she truly looks happy.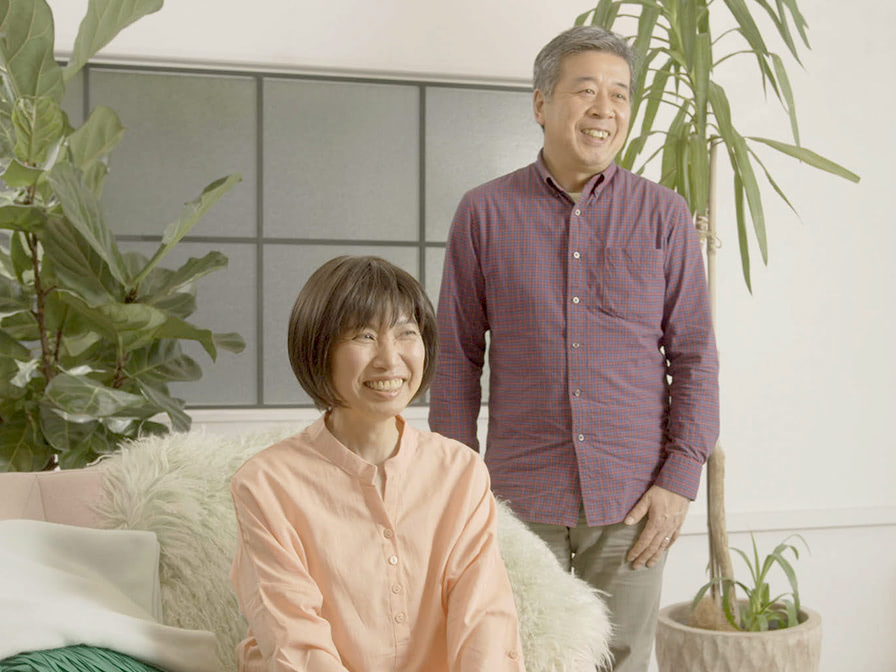 * These interviews were made possible thanks to the kindness of the interviewees who support the purpose of this activity, and was posted in February 2020. We wish to take this opportunity to express our sincere appreciation to all people involved.
Makeup can be
the key to
a positive
outlook on life. Burn Scars
Mr. Takeshi Miyaji
We interviewed Mr. Takeshi Miyaji, to tell us about his lifestyle after suffering serious burns, and his encounter with Shiseido Life Quality Makeup.
I suffered 90% burns over
my entire body
in a fire accident.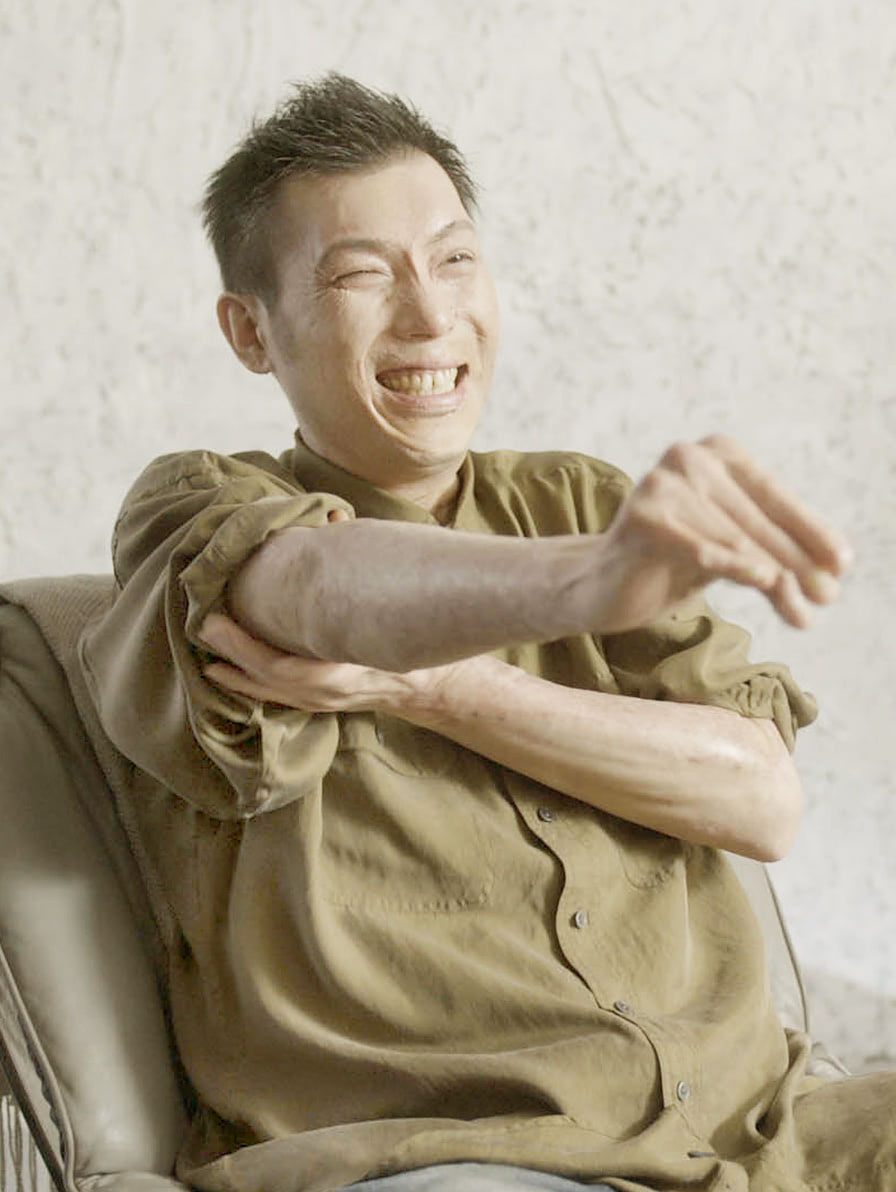 My burns were caused from a fire accident that happened 14 years ago. I was getting ready to prepare a deep-fried dish, and was heating the oil on the stove in a pan. I looked away for a few moments, and it suddenly caught on fire and the kitchen was ablaze. In an effort to prevent a major disaster, I tried to move the pan, but ended up spilling the oil all over my body. As a result, I was immediately hospitalized, unconscious and in critical condition. I woke up lying on a bed in the ICU, after spending about 3 weeks in a coma. After regaining consciousness, some time had passed before I looked at my severely burnt face, but the moment I saw myself, a feeling I cannot even describe with words overwhelmed me. I think the closest to what I felt was despair. Considering that I had lost the skin all over my body from burns, I had repeatedly undergone skin transplant surgery while remaining in a life-threatening condition.
Things were extremely hard for me back then, and I sometimes thought that it would have been easier for me if I had just died in the accident. The skin tissue that hardens after suffering a burn is called scar tissue, and the parts where the scar tissue has thickened is called a hypertrophic scar. These hypertrophic scars would harden and solidify, making it difficult to move my body. These scars were partially the cause of symptoms such as being unable to expand my chest, or bend my fingers. It was also painful and itchy. On top of these physical discomforts, there was also the emotional pain of experiencing flashbacks of the accident.
I became a different
person,
and I was terrified
to face other people.
My encounter with Shiseido Life Quality Makeup was through an introduction from the hospital. Even after I was out of the hospital, I visited regularly, and during a consultation, I was told by my attending doctor that Shiseido had makeup to help reduce the appearance of scars and was asked whether I would be interested in trying it. Thus, it all began when I met with a Shiseido staff member at the hospital.
The reason why I decided to try makeup was because there was a period when I suffered social phobia. I was not the same person I used to be, as I had deformed scarring on my face and body, and I was terrified of facing other people. This person with all of these wounds was not the person that I used to be. I believe that humans are all afraid of something new and different, and afraid of what others may think. By putting on makeup, I felt that maybe it would help me to become more positive, or that it would impact me in some positive way.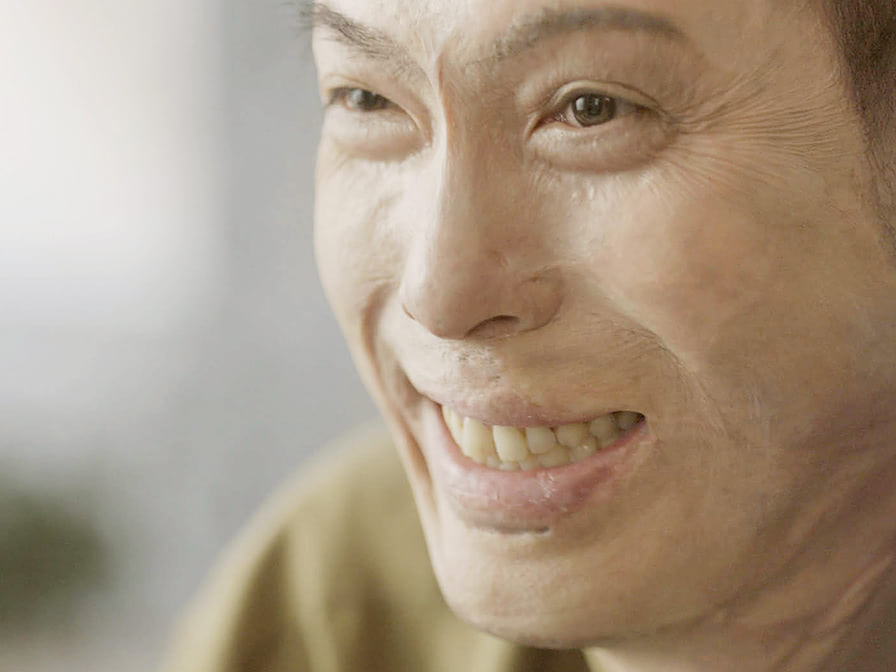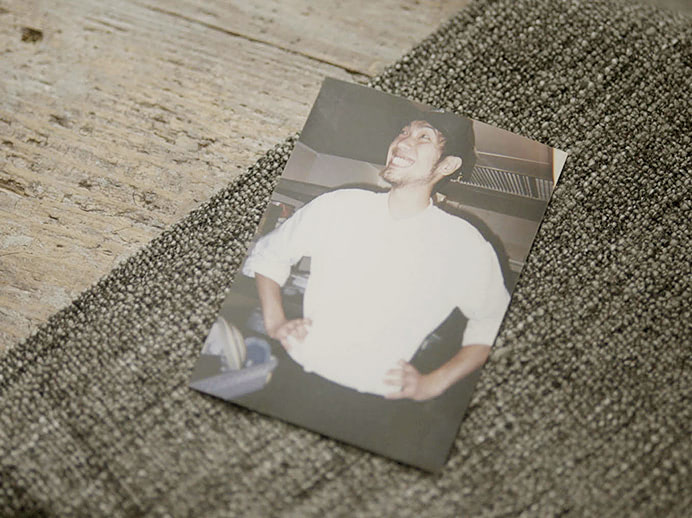 My first makeup
experience…seriously?!
I felt rather bewildered the first time I tried on makeup. Although the scar would disappear, seeing my face with makeup on felt very awkward. Needless to say, I had mixed feelings. While there was a part of me questioning whether it really would help lessen the discomfort that people felt when looking at me, I also held a sense of hope that it really would improve my appearance. Even though my mother complimented me on the way I looked in the photo with makeup on, I was not ready to take what my family said to me for granted, so I was like, "seriously?!"
I have gotten a lot more accustomed to applying makeup now. I think this is largely owing to the fact that the staff explained the reasoning of the makeup method to me in a way that I could understand. When I do wear makeup, I start by drawing my eyebrows and applying foundation on my face. Next, because there is a patch of scarred skin on the left side of my mouth where beards do not grow, I would add a bit of color similar to my beard. When it is on too thick, it becomes sticky, so I only apply a sheer layer for a natural looking finish. Rather than wearing makeup whenever I leave the house, I wear it when I go to work, or when I attend a relative's wedding. I wear makeup when I want to look nice and smart.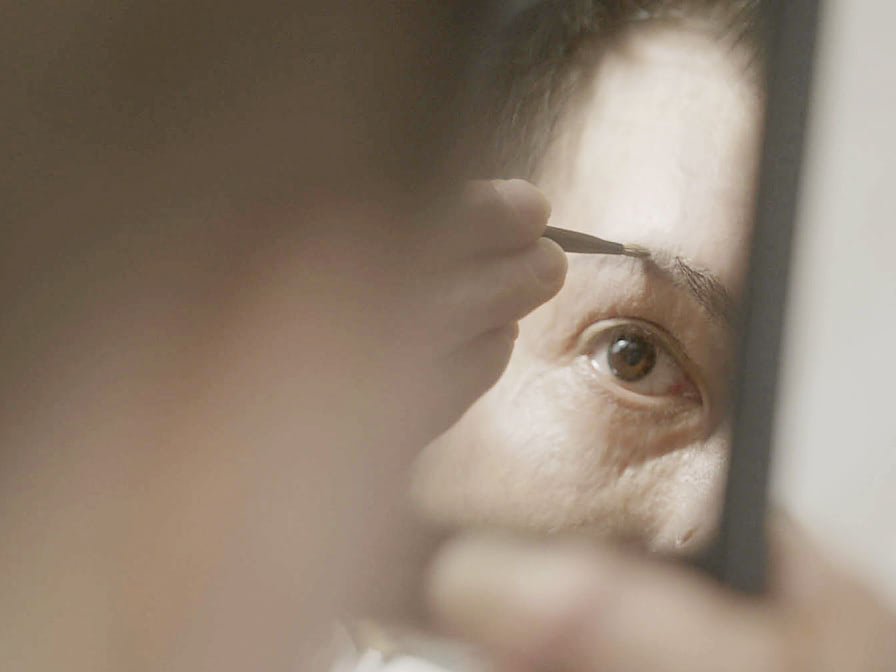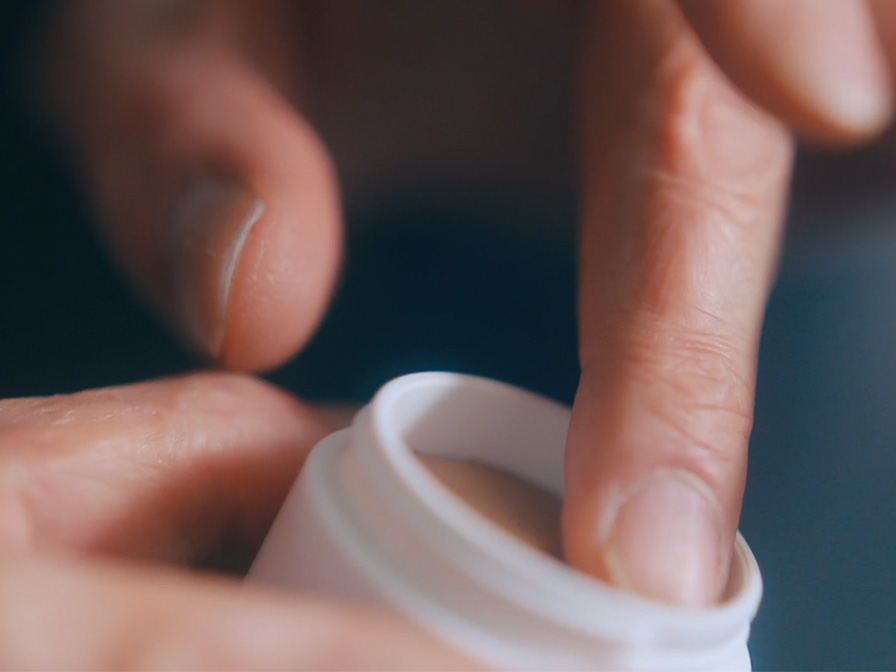 I think I'm grateful
for anything and
everything in my life.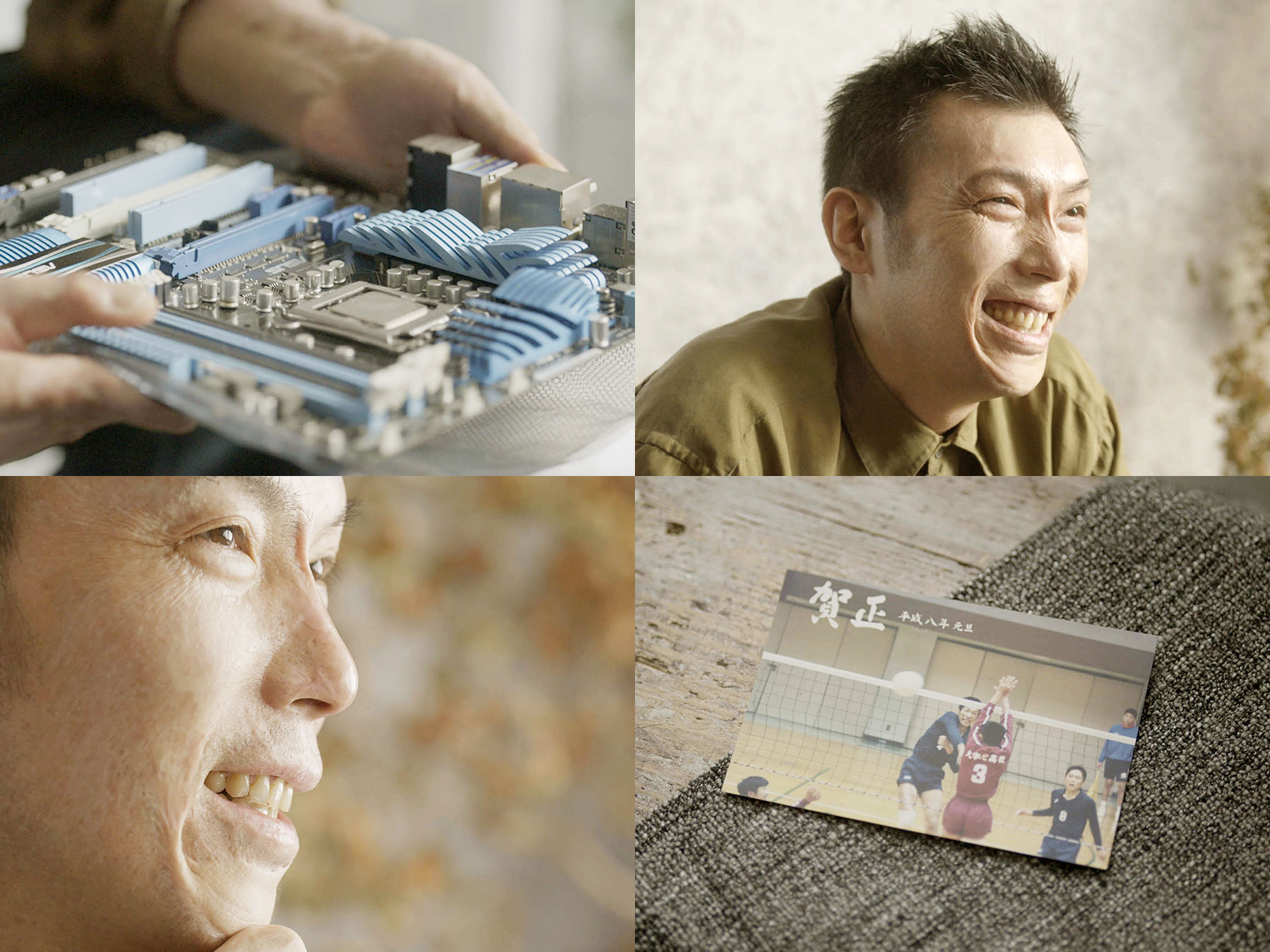 I am a bit of an oddball, and I would prefer to see other people happy rather than to fulfill my own happiness. I repair computers for work, and it really makes me happy when I succeed in fixing a particularly complex job. I am especially elated when I am able to recover photographs from datafiles. I often receive requests from my customers saying, "I've lost all the photo data on my smartphone, but are you able to retrieve it? There are some pictures of my kids in there." While I am working on recovering the data, I would imagine the joy it would bring them when I succeed, which are the most pleasurable moments in my life.
The reason why I decided to cooperate in the Shiseido Life Quality Makeup activities, such as participating in this interview, is from my hope that it will help someone. While I was in the hospital, I witnessed many people who were experiencing a hard time, and so I thought that it would be nice if I was able to help other patients like me who are suffering from burn scars or other wounds. I used to be a volleyball player when I was a student, and regardless of whether I failed or lost, I would always feel regret if I did not try my best to pick up the ball and stand strong again. I think that perhaps this experience has helped me. In my case, without a smidgen of doubt, I think it would have been more painless for me to have died in the fire, considering that I had to restart from a condition where I had no skin on my body. However, I do not dwell on what could have been. Now, I have come to appreciate the various things in my life, and I think that I am pretty grateful for anything and everything.
* These interviews were made possible thanks to the kindness of the interviewees who support the purpose of this activity, and was posted in February 2020. We wish to take this opportunity to express our sincere appreciation to all people involved.
I was so excited,
transforming into
a new me. Hemangioma
(arteriovenous malformation)
Ms. Yumi Sonoda
We interviewed Ms. Yumi Sonoda, to tell us about her life since being diagnosed with hemangioma (arteriovenous malformation), and her encounter
with Shiseido Life Quality Makeup.
I realized that
I had to accept myself.
It was around 13 years ago that I was cleaning up the house in the morning, and all of a sudden, blood started to drip from my nose and would not stop, which was followed by blood beginning to seep out of my eyes. The blood from my nose came from an artery, causing me to bleed profusely, and it was difficult to stop. I went to the hospital right away, and they were somehow able to stop the bleeding; however, because of the massive hemorrhaging, my family had thought that they might lose me. The cause of the symptoms was hemangioma. It was not a simple case of hemangioma, but it was an arteriovenous malformation that is a hypoplasia of the blood vessel, also designated as an intractable disease.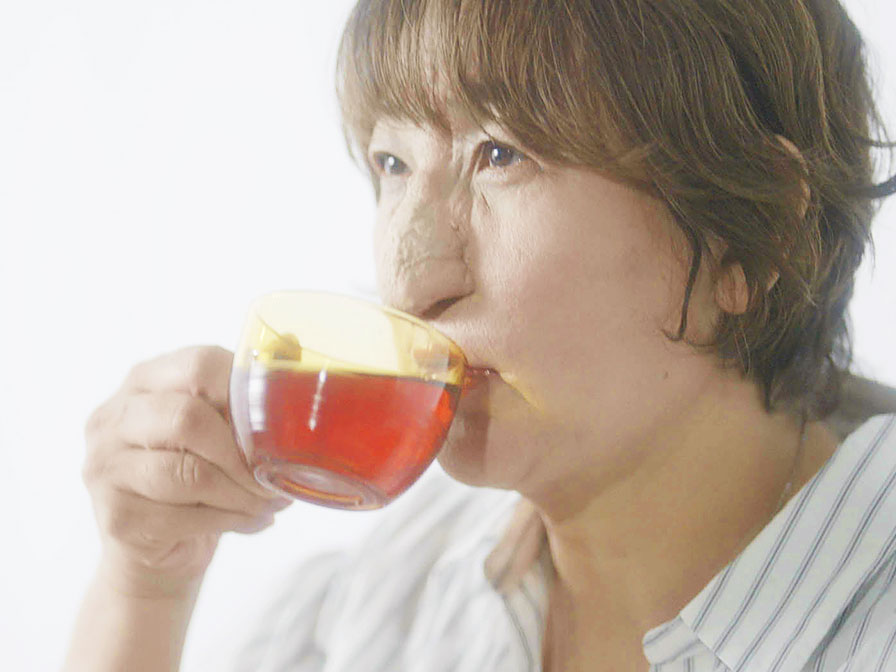 There were no hospitals nearby that could offer treatment for this disease, so I had to make regular visits to a hospital outside of the prefecture. Since parts of my face, such as my nose, was damaged due to the large excision of the affected area, I underwent various surgical treatments, such as flap grafts, while also undergoing cosmetic surgery. Conducting cosmetic surgery while excising the lesion, however, proved to be difficult, and there were times when I would become increasingly depressed seeing my face gradually change. However, I knew that if I felt depressed, my parents would also feel depressed, and my daughter and son would also worry. I slowly came to realize that this could not go on, and that I had to accept who I had become and move on.
The source of
my power has always
been my family.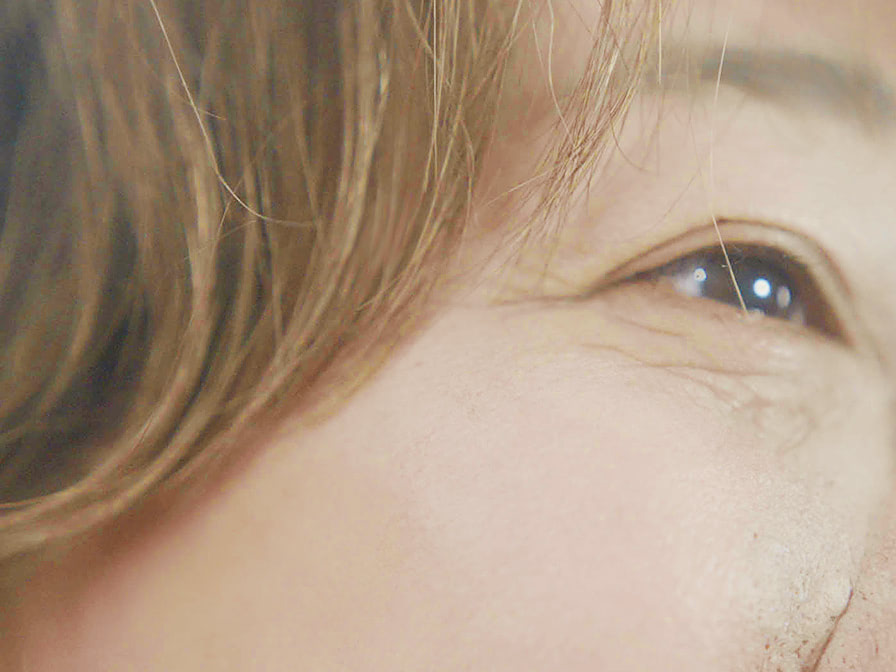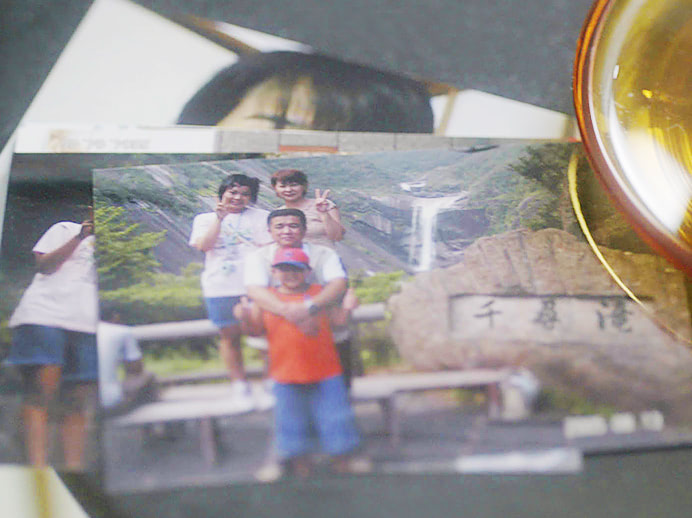 Although I am not so worried about my appearance now, in the past, I used to be extremely conscious about how I wanted to avoid people looking at me, and after getting scars on my face, I spent my days constantly wearing a mask. There were some people who did not even recognize me because my face had changed. When that happened, there were times when I intentionally avoided acknowledging them because I could not be bothered to explain to them what had happened.
My son also asked me to wear a mask when I was outside, so I never took my mask off when I went to visit the school for events and such. One day, right before my son was due to graduate from high school, he asked me to come to his club activities' farewell party. If I were to go, I had to remove my mask because they would also be serving food, but my son told me that I did not need to wear a mask, which made me feel so happy. I think that back then, my son was asking me to wear a mask because he was worried that I might experience the discomfort of being the target of curious stares from other people, but now, he tells me that I do not need to wear a mask, and he happily introduces his friends to me.
My daughter has always been cheerful and encouraging. My daughter gave up her career options because of my medical treatment so that she could help out with the family business. It pains me that I am responsible for my daughter leaving behind her career aspirations, but my daughter has always looked out for me. My family is truly the source of my power.
I was amazed by
how much I could change.
My encounter with Shiseido Life Quality Makeup was at a lecture meeting held for the patients' association. At the meeting, they also conducted a makeup demonstration, and I took part in a trial after the demo. Back then, I thought that it was a complete waste to even wear makeup, so I did not. Yet, when I tried this cover makeup, I got really excited seeing how different my face looked. It was truly like magic. It was not a case of totally regaining my former self, but I think I had discovered a new me.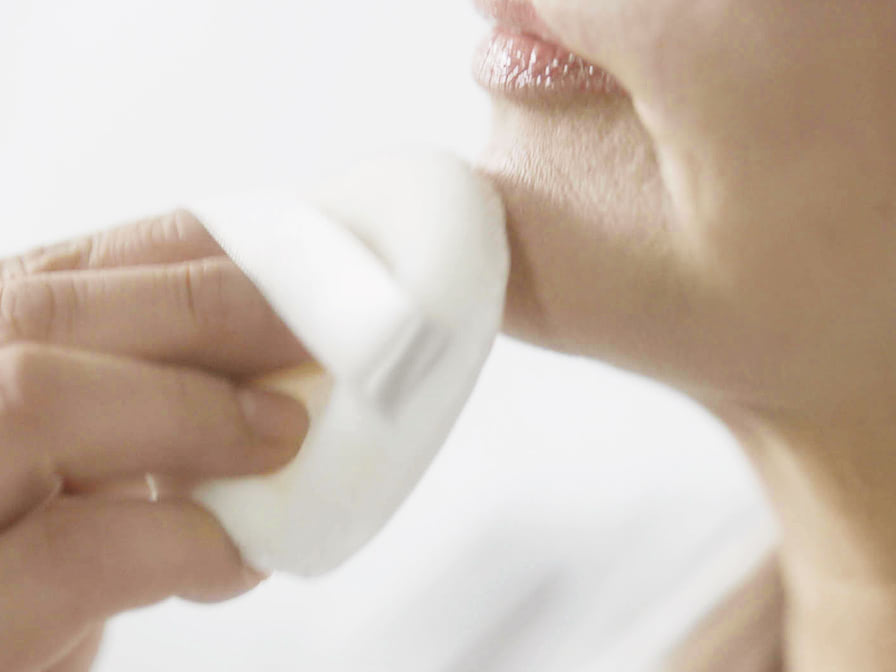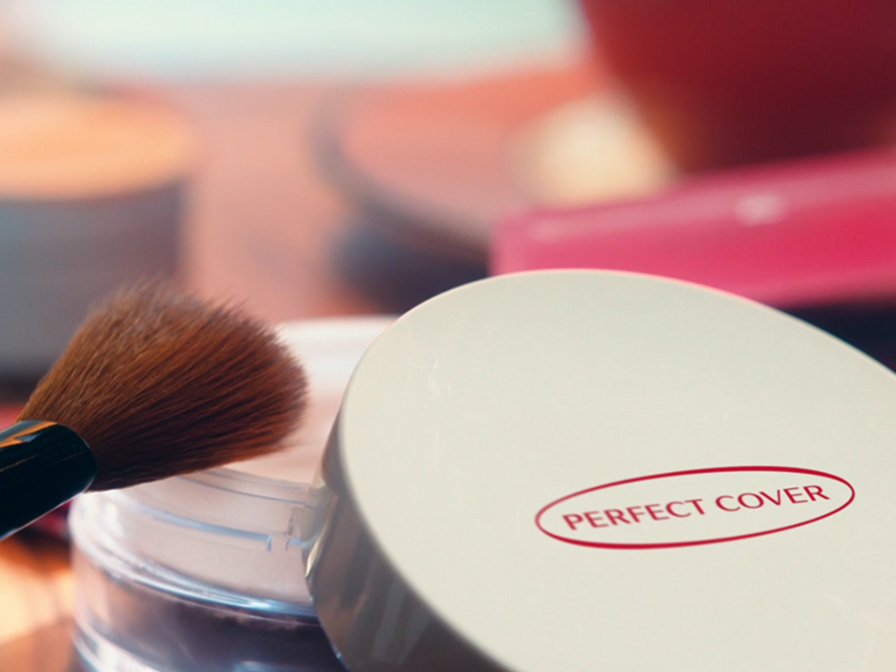 I feel that my mother is happy when I wear makeup, and she tells me, "you look so pretty when you properly do your makeup – from now on, you should wear it every day." Since I started wearing makeup, I have become more confident in going out. Before, I used to feel uncomfortable talking to people, but perhaps it is because of the makeup that I have become much more relaxed in talking to other people.
With makeup,
I can switch my mood.
Usually, I only wear base makeup during the day, but on special occasions such as when I am about to present a speech at a lecture meeting or something, I put on my makeup properly. On these occasions, I am often asked by the people I meet, what brand of makeup I am using, and they comment how well the makeup covers the skin flaws. When applying my makeup, the area of my face that concerns me the most is my nose. I have a very deep scar, but simply applying a touch of Shiseido Perfect Cover Foundation with a brush along the grooves of my scar makes a tremendous difference. I also try to reduce the redness of my skin with the foundation.
I find it difficult to shape the lip line, so I take time and draw it carefully. When I get the lips just right, I feel elated. When I put on makeup, it makes me feel like it is the start of a brand new day. It switches my mood, and I feel uplifted and motivated. I believe that makeup has helped transform me into a much more cheerful person than I was before.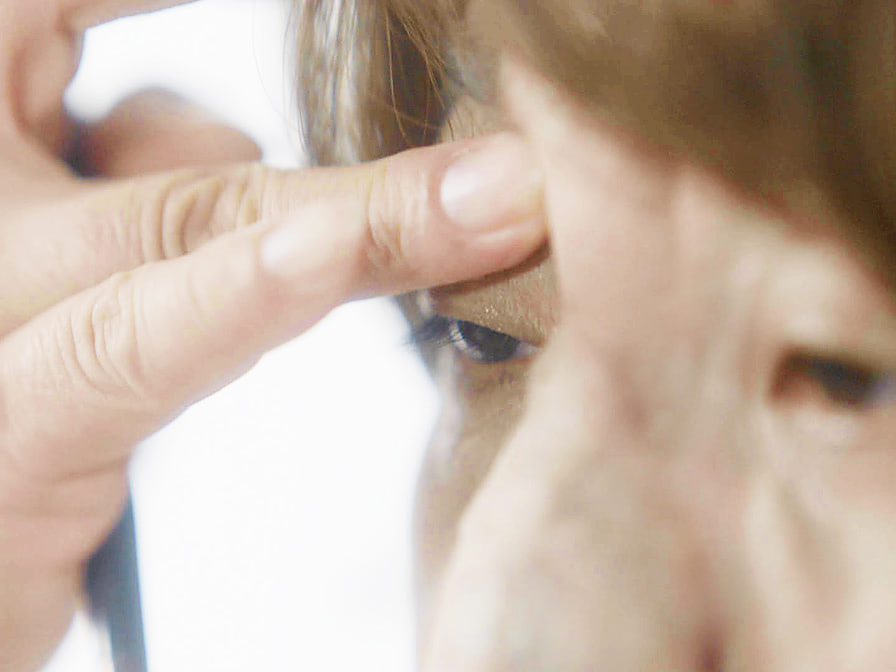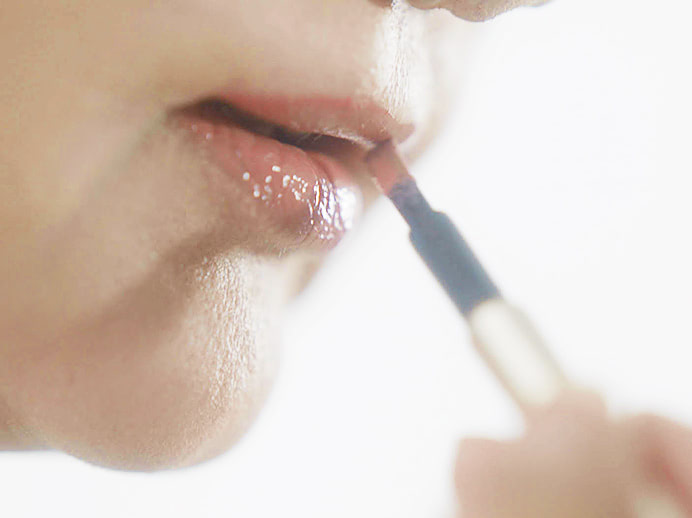 Ordinary days
make me happy.
My hobby is metal carving and glasswork, and I often create pieces of work. Although I mainly create accessories, when I recently created a small plate, it was very well received by my family. Creating these pieces requires an extended period of time, so I divide the work process into several parts, and work on it a little bit at a time. Right now, I enjoy doing anything. I think that merely being able to pass time and days in an ordinary fashion is a joy in itself. I have fun when I am cooking or when I am working. What I enjoy the most though, is the time spent with my grandchild. When my grandchild causes mischief, he looks at my face and gives me a cheeky little grin, which is absolutely adorable.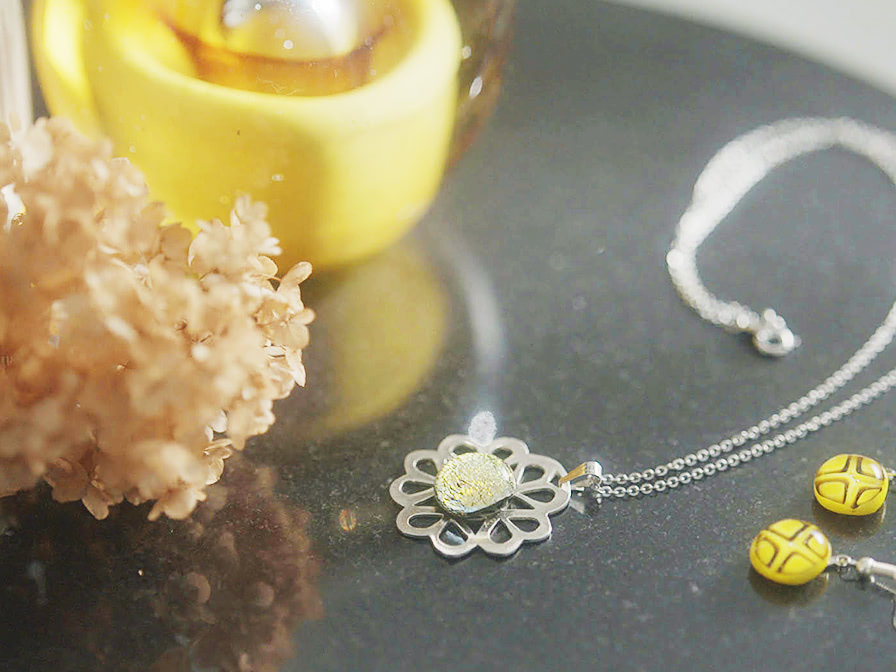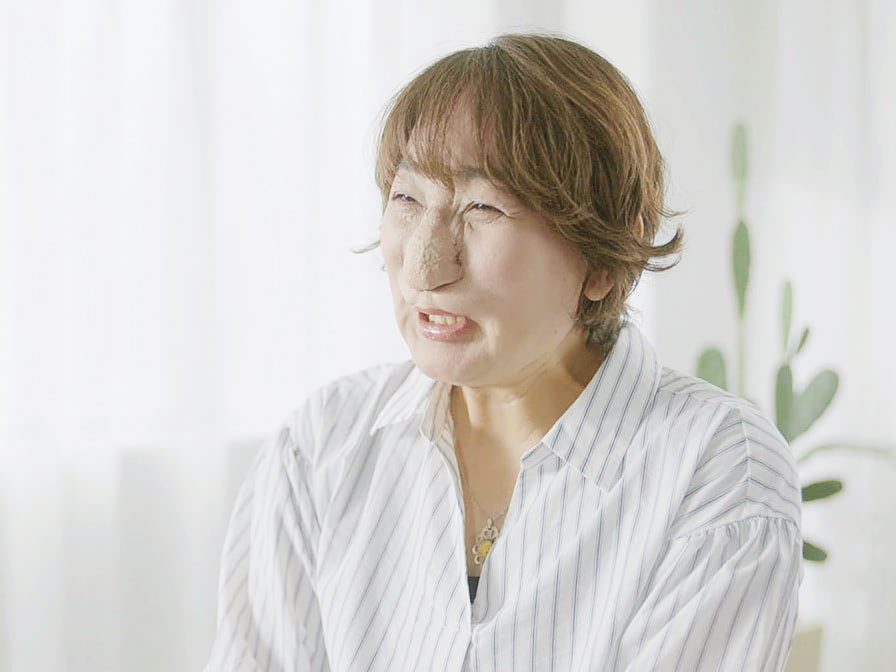 * These interviews were made possible thanks to the kindness of the interviewees who support the purpose of this activity, and was posted in February 2020. We wish to take this opportunity to express our sincere appreciation to all people involved.
Links
Learn more about our products specially designed for uneven skin tones and surfaces (such as burn mark, surgery scars and other scars) that are difficult for conventional foundation to address.