For medical professionals
Shiseido Life Quality Makeup addresses changes in appearance caused by cancer treatment (skin tone changes, eyebrow hair loss), birthmarks, conspicuous discolorations, vitiligo, and uneven skin surfaces (scars, burn marks).
It is more than applying makeup; taking care of our looks helps us take care of ourselves emotionally and preserve our dignity.
We hope you will introduce Shiseido Life Quality Makeup to your patients who may be interested.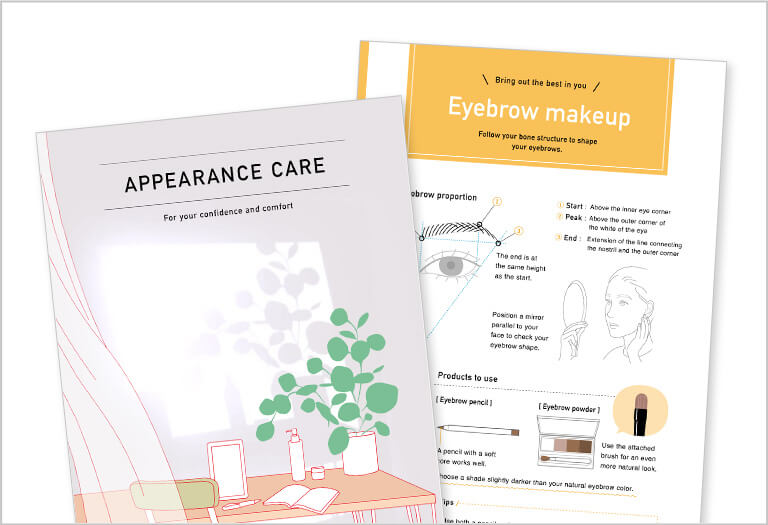 APPEARANCE CARE

For your confidence and comfort
The booklet addresses typical skin concerns for people with cancer with simple beauty and grooming techniques for all ages and genders. Find tips for skincare, makeup, hand care, lip care, hair care and more.
Results of the Perfect Cover Series user survey
At the start of the test, makeup consultant instructed monitors on how to use PERFECT COVER Series. Monitors used test samples for 2 weeks.
Period of time:March 2021
Monitors:Those with skin color changes, unevenness, etc.(female 23, male 5)
Skin concerns you want to cover the most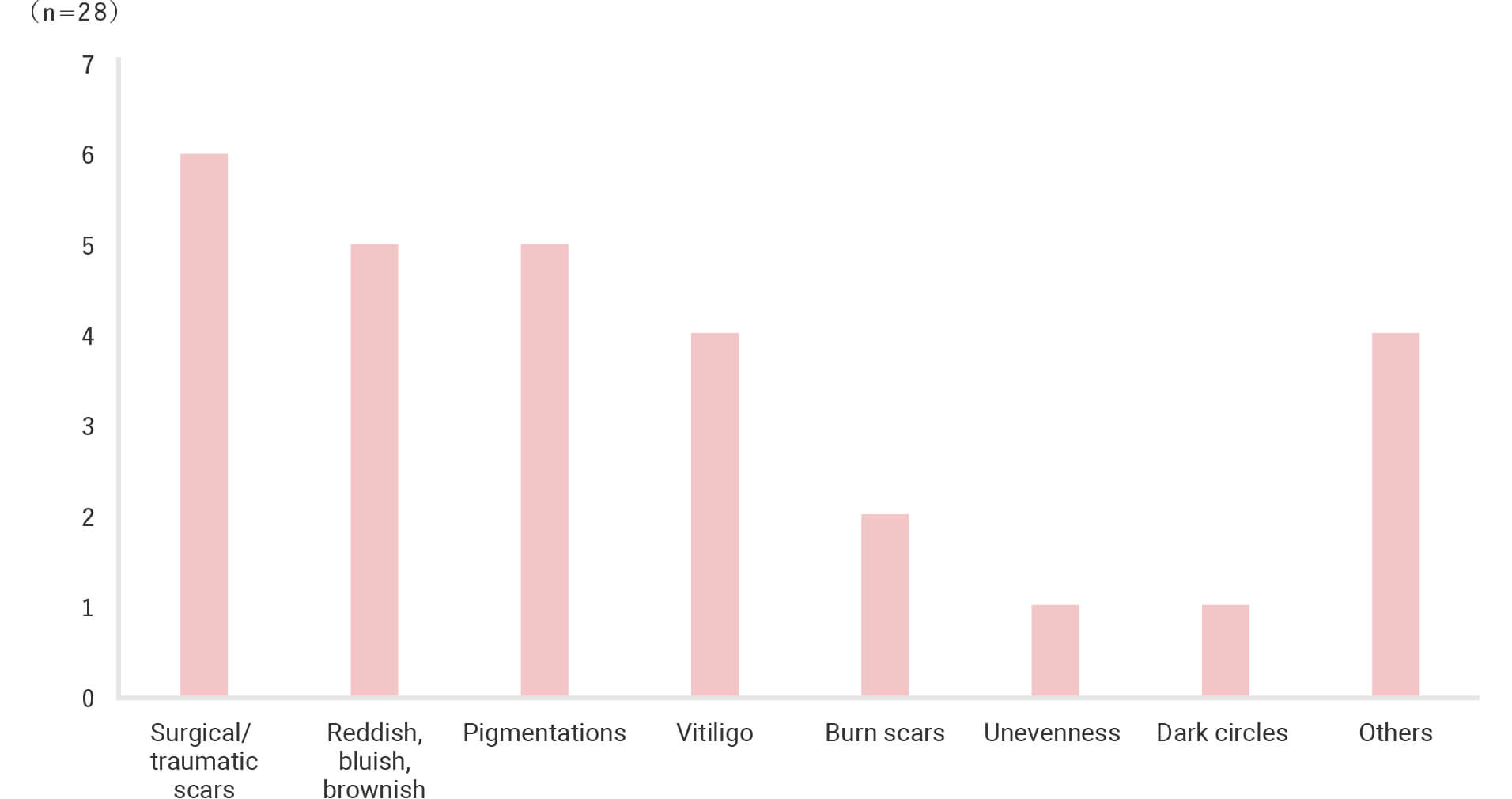 Changes due to the use of the PERFECT COVER series
Makeup satisfaction
After using the test foundation for 2 weeks, 93% answered that they were more satisfied with the finishing of covering the skin concern.*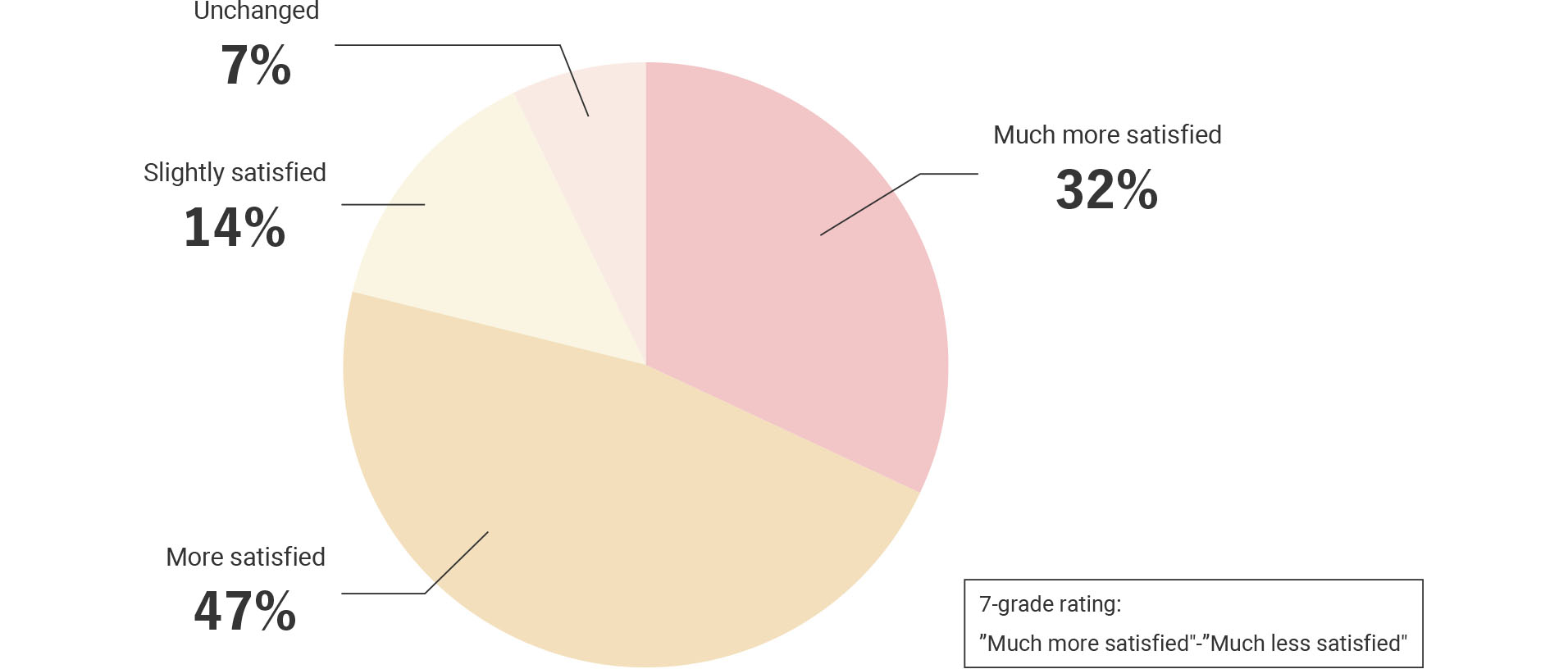 * Total of "Slightly satisfied", "More satisfied" and "Much more satisfied"
Changes in daily life
97% said there was some change in their daily lives compared to before using the test foundation.*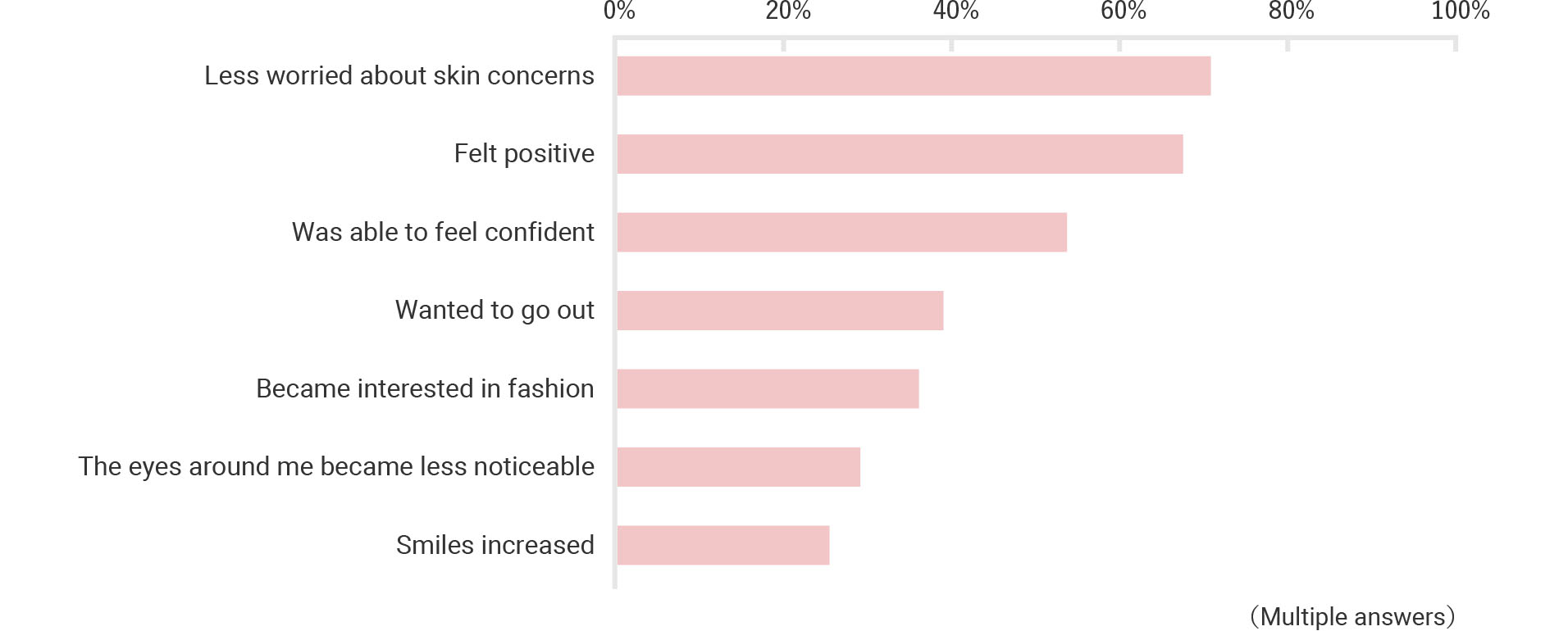 Other answers
・Wanted to try something new
・Became able to spend the day with peace of mind
・Was able to wear the clothes they wanted to wear, which made them feel better

* Percentage of monitors who have selected one or more "changes in daily life"
Testimonials
Woman
in her 40s

I used to check my face in the mirror all the time. But while using this foundation, I looked in the mirror less. I felt safe and relieved.

Woman
in her 20s

With the makeup, I stopped caring about my complex. My feelings became positive, and I was happy to go to work. The power of makeup is amazing!

Woman
in her 30s

I think it was a very good experience to come across a wonderful product that has eliminated my worries. I would like to convey to those who are struggling with skin concerns that there are cosmetics with such excellent functions.

Woman
in her 20s

After using it, my worries were alleviated and I started being able to wear the clothes I wanted to wear, which made me happy. Feeling beautiful really has the power to invigorate and encourage people!

Man
in his 40s

The foundation was very smooth and easy to use. It fits the skin well and looks natural. Even if I am busy in the morning, I can cover the skin marks in a short time.
* These testimonials are individual experiences and results may vary.
This page contains medical information and is intended only for medical professionals.
It is not the purpose of this page to provide information to the general public.
Do not post a link to this page on any social networking service (SNS) such as Twitter and Facebook.

Do you agree to the above terms of use?