In 2021, Shiseido formulated a vision for 2030 and a medium-to-long-term strategy WIN 2023 and Beyond based on our aim to "Be a Global Winner with Our Heritage." In the three-year period from 2021 through 2023, we are focused on our medium-term strategy, WIN 2023, as the first phase of this vision. This section summarizes WIN 2023 and Beyond, our progress and results for 2021, and commentary by the CFO on our financial strategy.
KEY FIGURES
2023 Target for
Skincare Sales Ratio
2023 Target for
Operating Margin
2023 Target for
Free Cash Flow
Background of the Strategy
Various management themes emerged due to the rapid changes in the business environment caused by COVID-19, prompting us to change our business model in light of consumers' changing values and purchasing behavior. We also realized the need to reform our profit structure, characterized by a high fixed cost base and low levels of productivity and efficiency compared to our peers. Furthermore, we recognized a necessity for structural reforms to remedy our high dependence on demand from inbound tourism and improve profitability in EMEA and Americas. We also identified issues for further growth, such as the expansion of our growth foundation through digital transformation (DX) and raising the efficiency of our supply chain and production capacity.
Shiseido has also forecasted and analyzed external market conditions through 2030. Our analysis of the global beauty market indicates that prestige and premium markets will return to a growth trajectory of around 5–6% per year on average, as consumers pay increasing attention to health and pre-symptomatic conditions and place more emphasis on skin health, which is closely related to both of these issues. In particular, we predict that attention will shift to functional skincare and sun care in addition to keywords such as "clean," "natural," and "sustainable" and scientific evidence grounded in fields such as dermatology. But it is not only beauty devices and treatments that are expected to expand. Growth is also predicted for the inner beauty market. With the advancement of digital technology, we believe that not only will e-commerce (EC) expand, but that marketing based on data analysis will also flourish, particularly those approaches that are tailored to the preferences of individual consumers.
Medium-to-Long-Term Strategy: WIN 2023 and Beyond
Based on this analysis, in 2021, Shiseido launched WIN 2023, the first phase of our medium-term strategy to achieve our vision for 2030: becoming the world's No.1 company in skin beauty.

During the three-year period from 2021 to 2023, we are implementing radical transformations focused on profitability and cash flow rather than growth via sales expansion in a bid to solidify our foundation as a skin beauty company.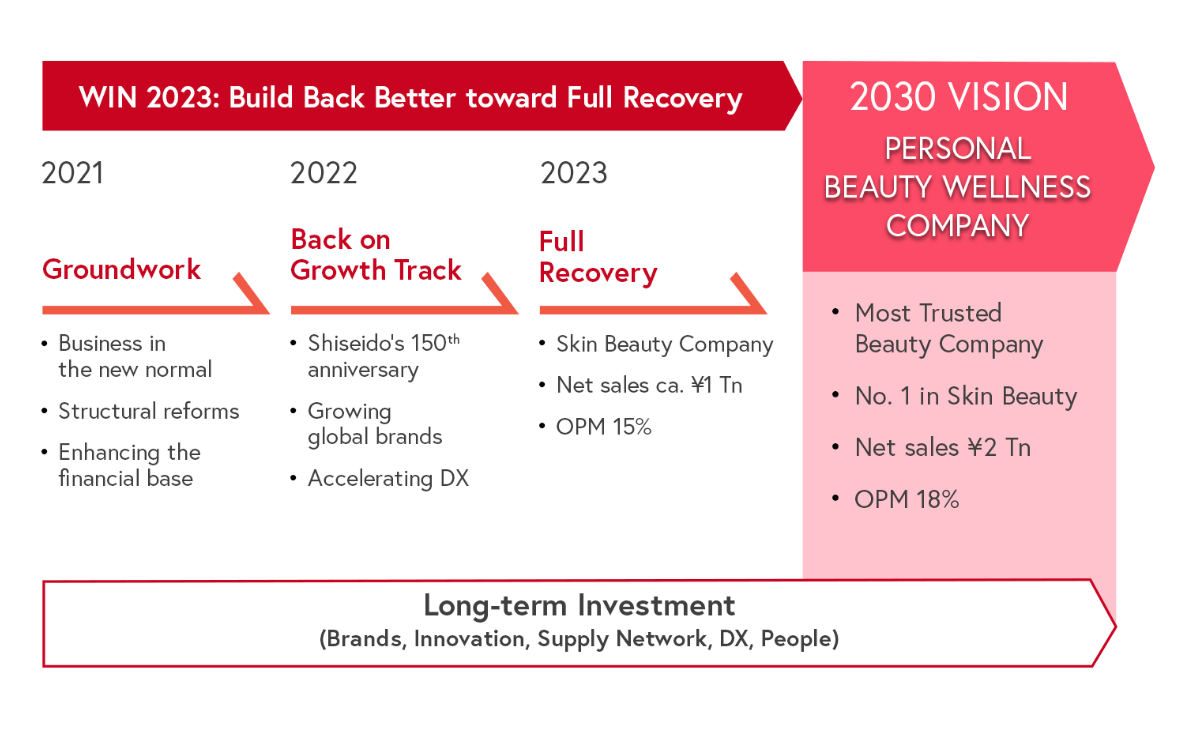 We designated 2021 as a period of "Groundwork" to focus on structural reforms centered on reviewing our business portfolio and strengthening our financial base while responding to and preparing for current and post-COVID-19 markets. We are positioning 2022, which marks the 150th anniversary of Shiseido's founding, as the "Back on Growth Track" year to accelerate further growth of our global brands and DX initiatives. The final year of the WIN 2023 strategy will be a year of "Full Recovery." We aim to achieve net sales of approximately ¥1 trillion and an operating profit margin (OPM) of 15% as a Skin Beauty Company. Furthermore, we will continue to strengthen our active investment in our brands, innovation, supply network, DX, and people over these three years.
Our key strategies are outlined below.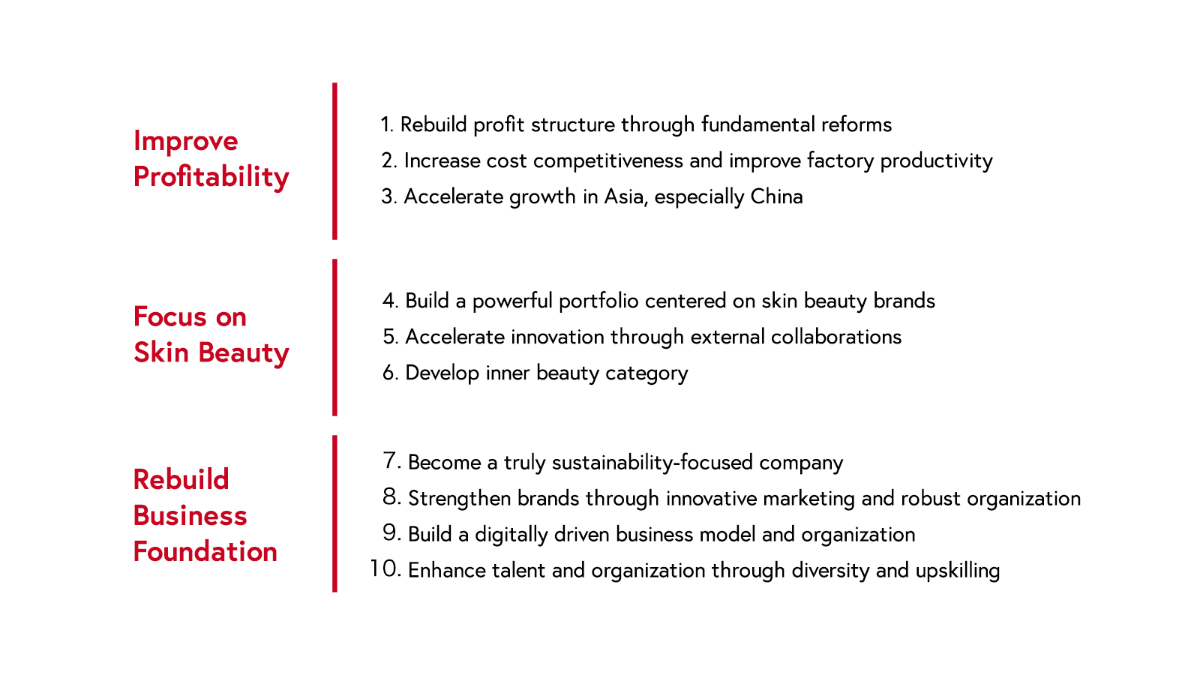 Key Strategies and Progress
Under WIN 2023, Shiseido is concentrating its resources on skin beauty, our area of strength where strong market growth is expected. We aim to promote our brands, expand our portfolio, and develop new businesses in this area. Our goal is to become the world's leader in this field by 2030. With skincare at the core of our business, we aim for versatile value creation in areas that include sun care, men's products, makeup, and beauty devices, as well as supplements for inner beauty. We will also reinforce collaborations with external expertise and technologies to accelerate M&A and open innovation. We aim to increase the composition of our premium skin beauty business as a percentage of total Group sales from 60% in 2019 to 80% by 2023. As we make steady progress with our strategic investments and the restructuring of our business portfolio, we expect the ratio to surpass 75% in 2022.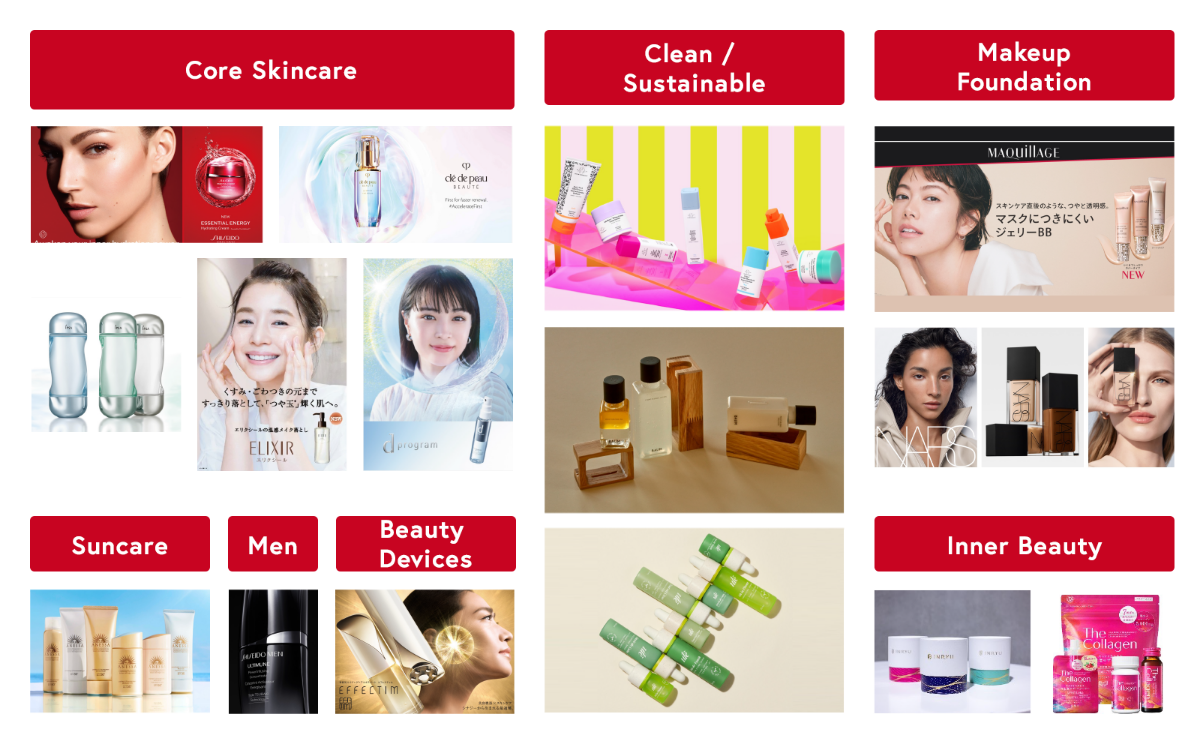 To drive an increase in profitability, the Shiseido Group is building the foundation to become a Skin Beauty Company. We are implementing organizational reform that emphasizes profitability and cash flow and will allow us to achieve a 15% OPM. In addition to rebuilding our business portfolio, we plan to implement agile and fundamental global reforms to enhance cost competitiveness, improve productivity and efficiency, accelerate DX, and strengthen growth in Asia, particularly China.

In 2021, we carried out structural reforms worth more than ¥200 billion, including business transfers and the termination of license agreements, to streamline our portfolio. As a result, we increased the proportion of high-margin skin beauty brands in our sales and established a base for future revenue growth by reducing inventories, scaling back the number of SKUs, and improving our factory utilization rates.
Global Transformation Roadmap
DX is one of our key strategies for rebuilding the growth foundation. We are further leveraging our diagnostic capabilities through data and beauty tech, accelerating EC and omnichannel initiatives, strengthening our data analytics and digital marketing expertise. We are also acquiring and nurturing digital talent, consolidating our organizational structure, and increasing collaborations with our business partners.

In 2021, we made steady progress in DX in each of our regions through the introduction of new platforms, especially for prestige brands, and increased promotional activities. As a result, we achieved 34% net sales through EC (over 20% growth), which is just shy of our 2023 target of 35%. In terms of stepping up our digital marketing, we are strengthening consumer engagement in various ways, one of which was to broadcast over 200 live streams, and we plan to roll out our own virtual skin consultation program in 2022. For our organizational structure and talent development, Shiseido Interactive Beauty Company, Limited, a joint venture with Accenture, started operations in July 2021 and is responsible for accelerating DX in Japan. In December 2021, we entered a strategic partnership with Tencent, a major Chinese internet and technology company. In addition, the total number of employees enrolled in the Shiseido+ Digital Academy, our professional development program, has exceeded 10,000.
We are also promoting research and development (R&D) and supply network reforms to support further growth. We established the R&D philosophy DYNAMIC HARMONY under our new R&D structure, revamped in January 2021, and are working on new strategies to drive innovation. Under WIN 2023, we are increasing investment in R&D to 3% of net sales. The Osaka Ibaraki Factory and the West Japan Distribution Center are now fully operational, strengthening our production and logistics systems. These facilities also expand our supply capacity and increase in-house manufacturing and productivity, in addition to reducing our environmental footprint. Through these initiatives, we aim to improve the COGs ratio by 2 percentage points in 2023 compared to 2019.
See the pages below for more details of the strategy.
Vision for 2030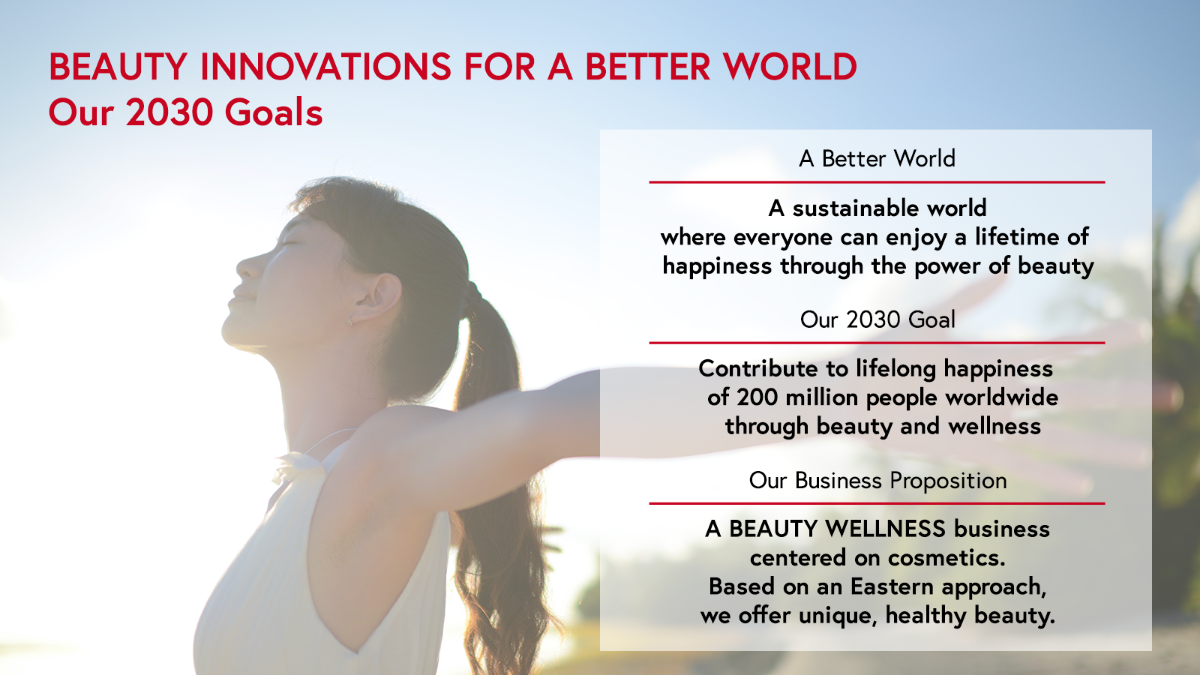 Our mission is BEAUTY INNOVATIONS FOR A BETTER WORLD. We believe in creating a sustainable world where everyone can enjoy a lifetime of happiness through the power of beauty. Our goal for 2030 is to achieve growth through our core business of premium skin beauty and contribute to the lifelong happiness of 200 million people worldwide through beauty and wellness. To that end, we aim to become the world's No.1 Skin Beauty Company with a beauty wellness business centered on cosmetics and based on an Eastern approach. Our financial targets for 2030 are ¥2 trillion in net sales and an OPM of 18%.
Shiseido's vision for 2030 and beyond is to be a Personal Beauty Wellness Company. This concept is based on our desire to contribute to a lifetime of unique and healthy beauty for each and every one of our consumers through a fusion of skin beauty and inner beauty. We will leverage various technologies and offer personalized solutions based on capturing the skin and body conditions as well as through individual consultations, providing a variety of purchase options and continuous engagement. This cycle will help us create a Healthy Beauty Platform and fulfill our aims to become a lifetime partner for our consumers.