Jul. 7, 2016
Publisher: Shiseido
R&D/Supply Network
Announcement of 10 Grant Recipients for 9th Shiseido Female Researcher Science Grant
Supporting Female Researchers Who Will Play a Leading Role in the Future and Broadening Perspectives for the Next Generation
Shiseido has selected 10 grant recipients for the 9th Shiseido Female Research Science Grant that supports female researchers who will lead the next generation in the natural sciences (total number of applicants: 178 people). The grant award ceremony is scheduled to be held on July 8th, Friday. The recipients will each receive a grant of 1 million yen from Shiseido.
Background to the Establishment of the Shiseido Female Researcher Science Grant
Female researchers in Japan account for only 14.7% of total researchers which is significantly lower than that in other countries (e.g., 45.4% in Portugal which ranked first, and 34.3% in the United States which ranked 14th, according to the White Paper on Gender Equality 2016, Cabinet Office). It was also noted that this proportion tends to decrease in more senior positions. One of the reasons for this disparity is that women are more susceptible than men to life stages such as giving birth, childcare, and taking care of elderly parents, while at the same time the support infrastructure is insufficient. In view of these circumstances, Shiseido established this Shiseido Female Researcher Science Grant in 2007 with the purpose of supporting the research activities of female researchers specializing in natural science who are aiming to be leaders in their respective fields.
Supporting Female Researchers Who Will Play a Leading Role in the Future
In order to extend support to the largest possible pool of applicants, Shiseido does not set age limits and has expanded research areas to encompass all natural science research. Shiseido allows these funds to be used to hire babysitters while on business trip, or research assistants, etc. to support female researchers' ability to continue their research free of concerns about their particular life stage. Winning an award of this grant contributed to women moving up a career ladder in and outside of academia. Nearly half of 79 past recipients were promoted after receiving this grant.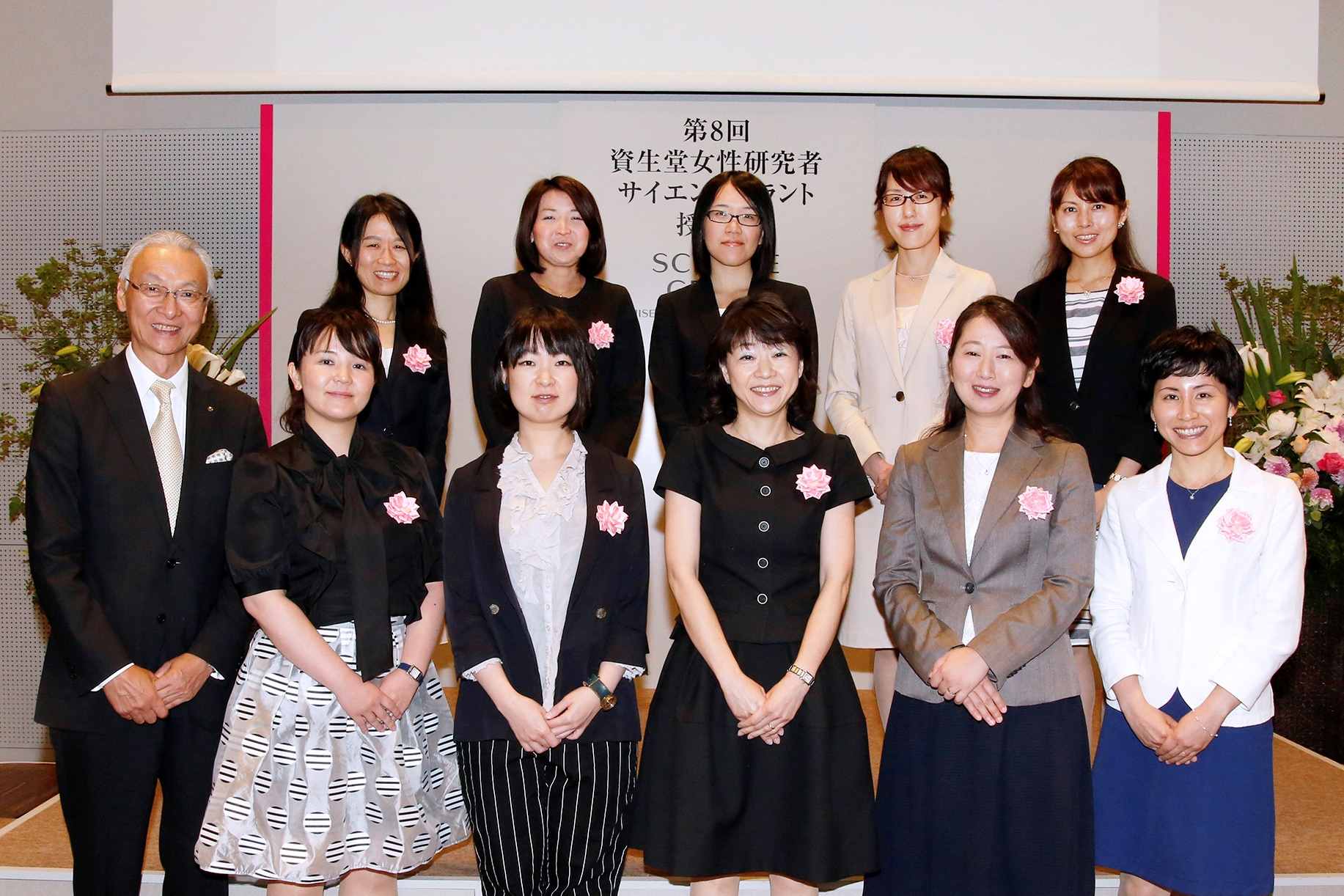 8th grant presentation ceremony
Download Small Image[188KB]

Download Large Image[806KB]

Outline of 9th Shiseido Female Researcher Science Grant Award Ceremony
Date:
July 8th, 2016, Friday, 10:00 – 12:00

Place:
Space FS Shiodome (Shiodome FS Building 3F, 1-1-16 Higashi-Shimbashi, Minato-ku, Tokyo)

Ceremony Agenda:
- Greeting by Ceremony host (Youichi Shimatani, Chairman of the Grant Committee, Chief Research and Development Officer, Shiseido Co., Ltd.)
- Commemorative trophy presentation / speeches by the 9th and 8th Grant recipients
- Congratulatory speech by outside committee member (Dr. Kashiko Kodate, the Grant Committee member, Professor Emeritus at Japan Women's University)
- Keynote address 'Hail the Winners!' (Dr. Ikuko Kakizaki, the Grant Committee member, Associate Professor at Hirosaki University)

9th Shiseido Female Researcher Science Grant: List of Grant Recipients
Name
Affiliated Institution
Post

Ayumi Asai, Ph.D.
Kwasan and Hida Observatories, Graduate School of Science, Kyoto University
Associate Professor

Miki Inada, Ph.D.
Department of Applied Chemistry, Faculty of Engineering, Kyushu University
Assistant Professor

Masayo Inoue, Ph.D.
Molecular Profiling Research Center for Drug Discovery (molprof), National Institute of Advanced Industrial Science and Technology (AIST)
Research Scientist

Clara Morita-Imura, Ph.D.
Faculty of Science and Engineering, Chuo University
Assistant Professor

Ryoko Uda, Ph. D.
National Institute of Technology, Nara College, Department of Chemical Engineering
Associate professor

Tomoko Kamasaki, Ph.D.
Division of Molecular Oncology, Institute for Genetic Medicine, Hokkaido University Project
Assistant Professor

Madoka Ichikawa-Seki, D.V.M., Ph.D.
Laboratory of Veterinary Parasitology, Cooperative Department of Veterinary Medicine, Faculty of Agriculture, Iwate University
Assistant Professor

Masayo Soma, Ph.D.
Department of Biology, Faculty of Science, Hokkaido University
Associate Professor

Helena Tellez Lozano, PhD.
International Institute for Carbon-Neutral Energy Research, Kyushu University
Assistant Professor

Tomoko Fujino, Ph.D.
Department of Chemistry, Tohoku University
Assistant Professor

*The content of the release is correct as of the time of release, but please note that it may in some cases differ from the latest information.