Feb. 9, 2022
Publisher: Shiseido
Management / Financial Result
Notice of Transfer of the Professional Business
—Aiming for Further Growth of the Business in Cooperation with Henkel—
Shiseido Company, Limited (the "Company") has determined to transfer its Professional business, which delivers hair care, hair color, perm, straightening, styling, and other professional products mainly to hair salons in Japan and Asia, including the SHISEIDO PROFESSIONAL brand (the "Business") to Henkel AG & Co. KGaA (headquartered in Düsseldorf, Germany; "Henkel").
The trademark of SHISEIDO PROFESSIONAL, a comprehensive business brand covering a wide range of products within the Business, will be licensed to Henkel, while all other hair product brands*, such as SUBLIMIC, PRIMIENCE, and CRYSTALLIZING, will be transferred. The Company will retain 20% of the shares of the company succeeding the assets related to the Business in Japan, thus aiming to support further growth of the Business.
Henkel has global operations in the beauty care business with a strong foothold in both professional and consumer hair categories. The Company is confident that integration of its Professional business, whose brands are well established in Japan and Asia, with the Henkel Group, which possesses an extensive track record in the hair category in Europe and the United States, will provide the Business with global-level investment opportunities and business structure.
The assets related to the Business held in Japan will be transferred to the Company's wholly owned subsidiary through an absorption-type corporate split, followed by a transfer of 80% of its shares to a subsidiary of Henkel. The shares and related assets of subsidiaries operating the Business overseas will be transferred to Henkel Group companies (collectively, the "Transaction").
(Note) Key brands: SUBLIMIC (hair care), PRIMIENCE (hair color), CRYSTALLIZING (perm), STAGE WORKS (styling), THE GROOMING (men's)


1. Background and Objectives of the Transaction
In its medium-to-long-term business strategy "WIN 2023 and Beyond," the Shiseido Group has positioned the three years from 2021 to 2023 as a period to solidify its business foundation required for a global skin beauty company and has launched a fundamental business transformation and portfolio restructuring.
Shiseido's Professional business activities started in 1974 with the establishment of a professional products sales department. In 2004, after a series of mergers and acquisitions, Shiseido Professional Inc. ("SPI") was founded, which now offers a variety of mainstay items for hair salons such as hair color and perm solutions, hair care, styling, and other products.
Henkel, established in 1876, is a global company with over 140 years of history and about 53,000 employees worldwide. Its sales in 2020 reached 19.3 billion euros, while operating profit was 2.6 billion euros (adjusted for one-time expenses and income, etc.). Headquartered in Germany, Henkel operates worldwide with the three business units: Adhesive Technologies, Laundry & Home Care, and Beauty Care, with a strong foothold in both professional and consumer hair categories. In recent years, Henkel Beauty Care has expanded its footprint, particularly in the professional hair segment, in Europe and the United States. Therefore, the Company is confident that integration of its Professional business, whose brands are well established in Japan and Asia, with the business of the Henkel Group will foster global competitiveness and expansion. Particularly in Japan, it will expand the scale of operations and product development capabilities, leading to an overwhelming presence in the market.
The transfer of the employees to the new owner is an important consideration and factor in this transaction. Basically, all employees of the Business will be transferred to the new companies, such as SPI, with new opportunities for career development.
(Note) The Professional business engages in manufacturing and distribution of technical and retail products mainly for hair salons. It is a separate business from the beauty salon business, which is operated by Shiseido Beauty Salon Co., Ltd.

2. Details of the Transaction Procedures
Global brand holder functions of the Business including the Business in Japan (wholesale to SPI, etc.) and export operations (wholesale to overseas subsidiaries, etc.) will be transferred from the Company to SPI with an effective date on or before December 31, 2022 (planned) through an absorption-type corporate split (the "Company Split"), followed by a transfer of 80% of the outstanding shares of SPI to Henkel Nederland B.V. (Nieuwegein, Netherlands; the "SPI Share Transfer"). The overseas assets and operation of the Business will be transferred from the Company's subsidiaries operating in Asia to Henkel Group companies through a share transfer (the "Other Share Transfer") and asset transfers (the "Asset Transfers") in accordance with local laws.
Obtaining clearance from relevant authorities based on domestic and international competition laws is a prerequisite for carrying out the Transaction. Since the Company Split is a simple absorption-type split carried out between the Company and its wholly owned subsidiary, some of the disclosure items and details have been omitted.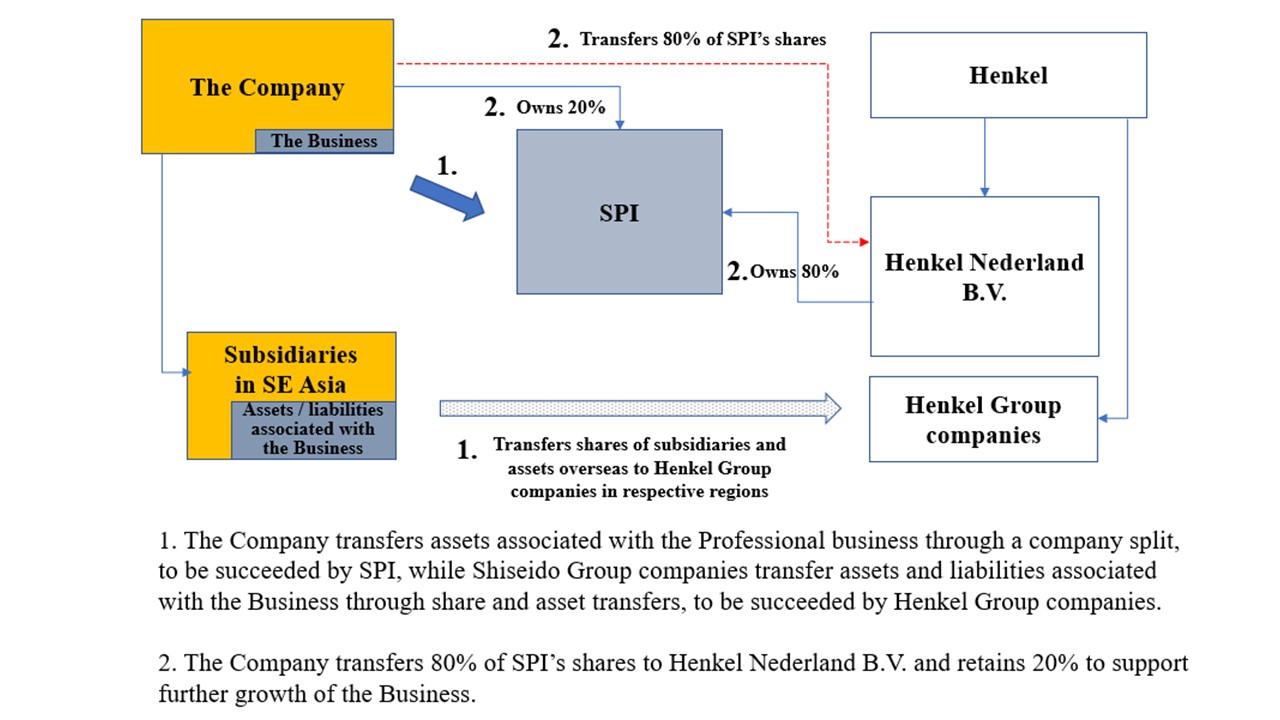 Reference: Overview of the Transaction Scheme
Download Small Image[134KB]

*The content of the release is correct as of the time of release, but please note that it may in some cases differ from the latest information.