Mar. 20, 2019
Publisher: Shiseido
Product / Brand
Culture / Sports
Exhibition of SHISEIDO "Essential Energy" wins Gold Award "iF Design Award 2019"
"EXPERIENCE A NEW ENERGY", an exhibition representing the development and world of research for SHISEIDO's skincare line "Essential Energy" available in 85 countries and regions around the world, has won the Gold Award "iF Design Award 2019" (Interior Architecture Category) among 6,375 entries from 52 countries and regions. (67 design experts selected a total of 66 Gold Award winners after a strict selection process.)
The award ceremony was held in Munich, Germany, on Friday, March 15. The winning works will be exhibited at the "iF design exhibition Hamburg"*1 and featured in the "iF WORLD DESIGN GUIDE"*2 and "iF design app"*3.
*1 iF exhibition facility in HafenCity, Hamburg. The winning designs and projects will be exhibited in three groups.
*2 iF design web portal: http://ifworlddesignguide.com/
This comprehensive web portal focuses on design and presents not only iF Award-winning works but also information on companies, people and projects related to design.
*3 Android/iOS mobile app (free). The winning designs from the past three years are presented.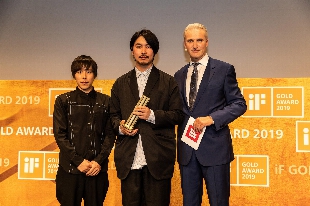 K.Nakae(HAKUTEN)、K.Hori(SHISEIDO)、R.Wiegmann (iF International Forum Design GmbH)
Download Small Image[66.7KB]

Download Large Image[362KB]


"EXPERIENCE A NEW ENERGY"
Download Small Image[32.3KB]

Download Large Image[260KB]

iF design web portal

What is the iF Design Award?
The iF Design Award is one of the world's most highly regarded design awards, held annually by the International Forum Design*4. Founded in 1953, the International Forum Design is based in Hannover, Germany, and selects particularly well-designed products and services from around the world each year. Over 6,000 entries from around the world are strictly judged and selected by renowned experts. The Award has seven categories: Product, Packaging, Communication, Interior Architecture, Professional Concept, Service Design and Architecture.
*4 An independent design organization with the longest history in Germany, which selects outstanding designs each year and grants the "iF Design Award".

Review
The exhibition offers a dramatic yet delicate brand experience. Shiseido's new skincare products are developed based on neuroscience, and visitors can experience them by "touch" and "sight". The products appear in the climactic final section of this mysterious exhibition design.
Comment from the winner at Shiseido
We are extremely honored to receive the prestigious Gold Award "iF Design Award 2019" (Interior Architecture Category). We are delighted that so many people experienced the world of SHISEIDO "Essential Energy" with their five senses, culminating in this international recognition.
Yoji Nobuto
Executive Creative Director, Creative Division
Shiseido Company, Limited

<Staff>
ECD:Yoji Nobuto / SHISEIDO Team 101*
CD:Yu Miura, Rikiya Uekusa / SHISEIDO Team 101
AD&D:Keisuke Hori / SHISEIDO Team 101
Production:WOW / HAKUTEN

*In-house team in charge of SHISEIDO's creations, composed of communication, space and packaging design professionals.

ECD: Executive Creative Director
CD: Creative Director
AD & D: Art Director & Designer


About "EXPERIENCE A NEW ENERGY"
This exhibition aims to convey the functionality of SHISEIDO "Essential Energy" that reawakens the skin, where visitors can touch the interactive artworks of changing colors, shapes and sound. The product experience is offered in the climactic final section when visitors' senses are heightened, in order to convey a deeper product experience. Communicating the brand value of "art and science" is also an important brand experience, so the focus is put on creative works that awaken the five senses and aesthetic sense through technology.
In addition to the Gold Award "iF Design Award 2019" (Interior Architecture Category), the exhibition won EXHIBITION OF THE YEAR at the FRAME AWARDS 2019, as well as the DSA Design Award Gold Prize 2018.

■About SHISEIDO
The company namesake, this prestigious brand represents the Shiseido Group, offering skincare, makeup, sun care and fragrance products. It aims to maximize each person's power to become beautiful and realize mental and physical beauty full of vitality.
"Essential Energy" is SHISEIDO's skincare line that reawakens "skin sensors" with cutting-edge technology and creates energetic, beautiful skin.


SHISEIDO brand website

*The content of the release is correct as of the time of release, but please note that it may in some cases differ from the latest information.