Jun. 17, 2020
Publisher: Shiseido
Technology / R&D
Sustainability
Announcement of 10 Grant Recipients for 13th Shiseido Female Researcher Science Grant
~Supporting female researchers who will play a leading role in the future and broadening perspectives for the next generation~
Shiseido Company, Limited ("Shiseido") has selected 10 grant recipients for the 13th Shiseido Female Researcher Science Grant*1 (total number of applicants: 134 people). This grant is founded on the principle that supporting female researchers who will play a leading role in the next generation contributes to the development of science and technology. This research grant provides various unique advantages covering a wide range of research fields not limited to cosmetics-related fields, sets no age limit for application, and allows funds to be used for supportive activities in the particular life stages of recipients (such as childbirth and childcare) in order to continue pursuing their research. Of the 119 grant recipients up to last year, approximately 40% of researchers established their own laboratories after winning the award and are actively engaged in research activities.
This year, we will begin hosting an online gathering for female researchers. Through the internet, researchers can freely participate from remote locations to create flexible and diverse research networks and better familiarize with role models. We will share issues faced by many female researchers and support activities for resolution.
The first online gathering is scheduled on Monday, July 13.
*1 Each recipient will be awarded a research grant of 1 million yen.
Background to establishment of Shiseido Female Researcher Science Grant
In the field of Science, Technology, Engineering and Mathematics (STEM), the wide gender gap is a matter of concern. In Japan, female researchers account for 16.6%*2 of total researchers, and although on a moderate uptrend in recent years, the country is ranked 29th in the world, significantly lower than others*3 (e.g., 47.2% in Iceland which is ranked first, and 33.4% in the U.S. which comes 18th). This falls against a backdrop of an insufficient support environment and infrastructure for childbirth, childcare, nursing care, etc., which is believed to have great impact on women's research activities. In view of these circumstances, Shiseido established this Shiseido Female Researcher Science Grant in 2007, and has been active for 14 years with the aim of supporting female researchers who are motivated to take a leadership position and anticipated to contribute to the development of science and technology.
*2 Based on the Survey of Research and Development 2019, Ministry of Internal Affairs and Communications.
*3 Based on the Survey of Research and Development 2018, Ministry of Internal Affairs and Communications.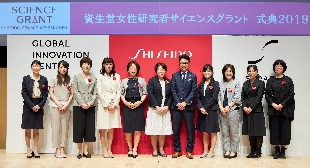 12th grant presentation ceremony
Download Small Image[62.1KB]

Download Large Image[1408KB]

Supporting female researchers
This grant has expanded research areas, targeting female researchers in all fields of natural sciences. Funds are allowed to be used not only for research expenses such as reagents and equipment, but also for supporting expenses such as babysitter fees during business trips, employment costs for research assistants, and conference participation fees, etc.
Previous grant recipients have commented that this grant provided them with opportunities to communicate and exchange opinions with other researchers from different fields, leading to the further development of research.

Shiseido has set "Respectful Society" as one of its Sustainable Beauty Initiatives toward achieving its corporate mission "BEAUTY INNOVATIONS FOR A BETTER WORLD" and aims to achieve "gender equality" promoted under the United Nations' Sustainable Development Goals (SDGs). Shiseido will continue to engage in a wide range of women's support activities to realize a society in which women can maximize their potential.

Outline of grant recipient online gathering
Date and time: Monday, July 13, 2020 13:30-15:00 
Purpose: Creating research networks for grant recipients 
Format: Online gathering via Microsoft Teams* 
* Connecting each site from the Shiseido Global Innovation Center (S/PARK) 2F S/PARK PLAZA
(1-2-11 Takashima, Nishi-ku, Yokohama-city, Kanagawa prefecture).
Name
Affiliated Institution(s)
Post
Research Theme(s)

Aya Mizutani Akimoto, Ph.D.
Department of Materials Engineering, School of Engineering, University of Tokyo Associate Professor
[Material Engineering/Medical Engineering/Polymer Chemistry]
Adhesion control of hydrogel surfaces by surface-initiated precise polymerization

Mari Yuasa, Ph.D.
Institute of Biomaterials and Bioengineering, Tokyo Medical and Dental University
Assistant Professor
[Life Science/Drug Discovery Chemistry]
Development of new retinoid combination therapy that regulates maturation and degradation of nuclear receptor protein

Michiko Horiguchi, Ph.D.
Division of Pharmaceutics, Faculty of Pharmaceutical Sciences, Sanyo-Onoda City, Tokyo University of Science in Yamaguchi
Junior Associate Professor
[Pharmaceutics/Manufacturing Pharmacy]
Development of the nano drug delivery system for the targeted cells and tissue

Miho Sekai, Ph.D.
Kyoto University, Graduate School of Medicine, Department of Molecular Oncology
Assistant Professor
[Immunology/Oncology]
Understanding the mechanisms of "non-self (cancer cell)"-recognition by epithelial cells and immune system

Momoko Ikeuchi, Ph.D.
Faculty of Science, Niigata University
Associate Professor
[Plant Development Biology]
Search for novel peptide hormones regulating plant organ regeneration

Reiko Tajiri, Ph.D.
Department of Integrated Biosciences, Graduate School of Frontier Science, the University of Tokyo
JSPS Research Fellow (RPD)
[Developmental Biology]
Artificial synthesis approach to understand how insects form cuticle of a wide range of material properties

Rie Wakabayashi, Ph.D.
Department of Applied Chemistry, Faculty of Engineering, Kyushu University
Assistant Professor
[Biotechnology]
Utilization of self-assembly peptides for development of functional emulsion formulation

Ritsuko Morita, Ph.D.
Laboratory for Tissue Microenvironment RIKEN Center for Biosystems Dynamics Research (BDR)
Research Scientist
[Stem Cell Biology]
Identification of cell-cell communication networks in lineage priming of hair follicle stem cells

Yuki Hibiya, Ph.D.
Submarine Resources Research Center, Research Institute for Marine Resources Utilization, Japan Agency for Marine-Earth Science and Technology (JAMSTEC)
JSPS PD
[Space Geochemistry/Planetary Material Science]
Development of multi-element separation method from fine-grained planetary materials: toward understanding the evolution of the early solar system

Yuki Izawa-Ishizawa, M.D., Ph.D.
AWA Support Center, Tokushima University
Associate Professor
[Pharmacology]
Development of Prevention Strategies against Acute Aortic Diseases by a New Method Fusing Medical Big Data Analysis with Basic Research

*Listed in alphabetical order by given name without honorifics.
*The content of the release is correct as of the time of release, but please note that it may in some cases differ from the latest information.