Dec. 22, 2016
Publisher: Shiseido
Culture / Sports
Shiseido's Online Video Ad Wins Gold at 2016 56th ACC CM FESTIVAL, Japan's Largest Ad Award
Tops 2016 Ad Awards: Best of Best (Overseas) Ranking by Monthly Magazine "Brain"
Shiseido's online video ad, "High School Girl?" won gold in Film Section, B Category* and bronze in the Entertainment Section of Japan's largest advertising award, 2016 56th ACC CM FESTIVAL, held on November 1, 2016.
*B Category features video advertisements released online.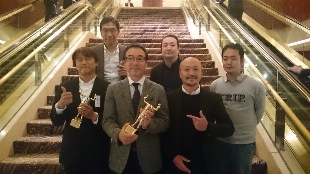 Masato Kosukegawa, Masahiro Kijima, Takahiro Hayashi, Kenji Nishina, Yoshito Imai and Kouji Mizoka
Download Small Image[61.5KB]

Download Large Image[624KB]

About ACC CM FESTIVAL

ACC CM FESTIVAL was established in 1961 by All Japan Radio and Television Commercial Confederation as an award for TV and radio advertisements. It is widely known as the largest advertising award in Japan. The number of entries this year totaled 2,685; among them, 367 entries in Film Section B Category with 1 ACC grand-prix, 3 gold, 3 silver, and 4 bronze winners. Entertainment Category received 245 applications, resulting in 1 ACC grand-prix, 3 gold, 6 silver, and 11 bronze awards.

▼ACC CM FESTIVAL website (Japanese only):
http://www.acc-cm.or.jp/festival/

The online video ad also ranked first in the 2016 Ad Awards: Best of Best (Overseas) ranking released on December 1, 2016, in "Brain", a monthly magazine for advertising and creative professionals (Sendenkaigi Co., Ltd.) The top position is the result of reviecving international awards, including three golds received by the ad in the world-largest advertising awards – the Cannes Lions, the Clio Awards, and The One Show.

▼Ranking in "AdverTimes", online media by Sendenkaigi (Japanese only):
https://www.advertimes.com/20161214/article240635/2/

Furthermore, on December 15, 2016, the video was announced medalist in the Web advertisement category of the 55th JAA Advertising Awards, a competition for advertisements chosen by consumers.

About the Online Video "High School Girl?"
The aim of the video ad, released exclusively on YouTube on October 16, 2015, was to convey the power of makeup to young people. Various elements of the video aroused interest in the advertising world: the level of detailed attention by Director Show Yanagisawa and Director of Photography Jin Ohashi, the makeup skills and techniques of Shiseido's hair and makeup artists, and the cast who were actually high school students and went through long hours of shooting. As a result, the total number of views on YouTube after release exceeded 9.5 million.
▼"High School Girl?" Original Movie
*The content of the release is correct as of the time of release, but please note that it may in some cases differ from the latest information.